Connected Living Comes of Age
Americans will spend $90 billion on smart home devices by 2023, as connected living becomes the new normal.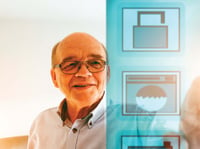 Call it a case of "getting smart." According to COGNITION Smart Data, nearly 40 percent of Americans currently use smart technology in their homes, and acceptance continues to grow. About 65 percent of homeowners own a smart home device or plan to purchase one this year. Once a homeowner purchases one smart home device, they are 70 percent likely to purchase another one. And 60 percent of homebuyers say they will pay more for a smart home. Read more
---
---
Connected Living: The Next Frontier
Connected Living offers homeowners new levels of convenience, efficiency, and independence as our smart homes can now learn our behaviors and respond accordingly to enhance comfort and cost-savings. Thorough COGNITION Smart Data, Green Builder Media is closely tracking key trends, market drivers, and innovations within the exploding connected living sector. Learn more.