Get Your Copy of Green Builder's Media Kit Today
2023 Media Kit
Please fill out the form on this page for access to our 2023 media kit.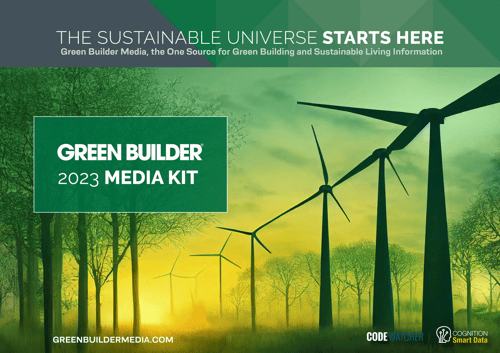 Sustainability is the undeniable sweet spot of the construction sector and Green Builder Media has been at the center of this evolution. We are the go-to resource for millions of early adopter building professionals and consumers who are committed to sustainable living.
In a recent reader survey, 95.9% of respondents indicated that they believe green building is now already mainstream or moving quickly in that direction.
Green Builder Media has a deep and meaningful connection with our audience, offering them information and market insights about the importance of decarbonized, net zero, electrified, healthy, intelligent, resilient, water-conserving, solar-powered homes and buildings.
We are the leading edge of the building industry, not just with our editorial voice, but also with our media offerings. Our 2023 lineup of exceptional projects and programs include:
Housing 2.0: Year-long activation with Sam Rashkin designed to engage building professionals how to build more sustainable homes at a fraction of the cost; 2023 is our 3rd year for the program and generated over 2,000 leads and 6 billion impressions for our sponsors

Millennial Impact Campaign: Targeted editorial and engagement campaign for Millennial home owners/buyers to help them make more informed home and product purchase decisions; 2023 will be the 3rd year for this campaign and in 2022 generated over 5,000 leads and 14 billion impressions!

COGNITION Smart Data: Market intelligence to inform your marketing, positioning, customer segmentation, and business development strategies; and given that 87.6% percent of our pro audience uses data in their decision-making process, you can become an invaluable resource for them with COGNITION insights

VISION House Projects: Showcase your products in the industry's most advanced and sustainable projects; While our projects are beautiful, we dig deeper to focus on the performance of the home

Micro Projects: Highlight your solutions and sustainability story in targeted projects that generate custom content, testimonials and case studies—the ultimate influencer marketing program

Product Launch Packages: Creative content marketing programs to launch your products and generate leads

Lead Nurturing: We can nurture the leads our programs generate to move them through your sales funnel so your sales team has hyper-qualified, actionable leads

Magazine: Print media is alive and well, at least Green Builder, and we have the numbers—and the awards—to prove it! Green Builder magazine won best trade publication for the 9th year in a row, and 88% of recent survey respondents stated that they still rely on magazines for information
Ask us about our other advertising, content marketing, and custom programs!
CONTACT INFORMATION: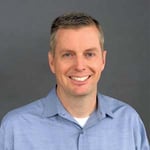 Craig Coale
Publisher
(512) 344-9754
craig.coale@greenbuildermedia.com