Where Climate is a Concern, Smart Tech Crosses the Demographic Divide

Michele Lerner, Associate Editor
5 min read
Homeowners often expand into C02-reducing smart home technology once they get over the hurdle of setting up home devices.
Sponsored Content
If reducing your carbon footprint matters to you, you may want to update the steps you already take such as using less energy, reducing your use of plastic or biking everywhere. Even if you have a love-hate relationship with technology, smart home features can help you live a greener life.
Not surprisingly, when it comes to smart home technology, the gender divide and the tech bro image tend to rise to the surface. Approximately 82% of men have a smart home device, compared to 49% of women, according to a survey by ValuePenguin . But when you look at smart home devices through a money-saving lens, or a climate concern perspective, they have a broad, cross-gender, cross-politics, cross-demographic appeal.
Overall, 65% of Americans have a smart device of some type in their home. But 75% of people who are very concerned about climate change have a smart home device, compared to 58% of people who say they are somewhat concerned about climate change and 42% of people who say that are not that concerned.
From Novelty to Necessity Controlling your thermostat, lights and security from one location is simplified with home automation systems like Vivint's Smart Hub.
Many people begin enhancing their homes with entertainment items, such as voice-activated speakers, or security products such as doorbell cameras. What they discover, however, is that once they've set up even a basic network of smartphone-enabled gear, other products that will actually save them money can be added with little effort.
One way to think of these energy-saving devices is as "investments" in the home. Because they reduce energy costs, water use and so on, they compensate you for what you initially spent to buy and install them. These include Smart thermostats. Lighting controls. Water heater controls. Leak detectors. The list doesn't stop there.While some smart home devices, such as smart thermostats, have obvious environmental benefits, others, such as remote controllers for sprinklers, can also be used to ratchet down monthly bills and reduce your overall CO2 footprint..
"Smart home devices have the potential to reduce energy consumption, manage demand, support time-of-use rate structures, and share valuable energy data with customers, among other benefits," according to a report by E Source , a consulting firm that works with cities and utility companies to increase their sustainability efforts.
The E Source researchers found that most promising devices for energy savings include smart thermostats, motorized window coverings, and smart outlets. Also, they recommend smart EV charging, thermostats and water heating systems, especially because these devices automatically shift demand to non-peak periods and optimize performance.
On the other hand, the E Source researchers found that smart lighting and smart appliances offer minimal energy reduction. However, because these products offer convenience and other "wow" factors, their presence encourages people to embrace other tech, and add it to the home network.
ValuePenguin's survey identified six smart home devices that are environmentally friendly: a smart thermostat, lighting, kitchen appliances, smart plugs and outlets, vacuums, and sprinklers. Among those who own smart devices, 49% own at least one of those. The ability to customize settings and operate the home more efficiently with these particular devices is important because they impact activities that normally require heavy use of resources such as gas, electricity, and water, according to the survey. For each of these devices, consumers who identify themselves as very concerned about climate change are the most likely to own them.
Who Will Buy?
Overall, 49% of consumers surveyed by ValuePenguin said they would be willing to pay more for a smart home device to be more environmentally friendly. But that willingness to pay more also varies according to the generation of the respondent. By far the most willing to pay more to be greener are Gen Xers at 79%, followed by millennials at 56%.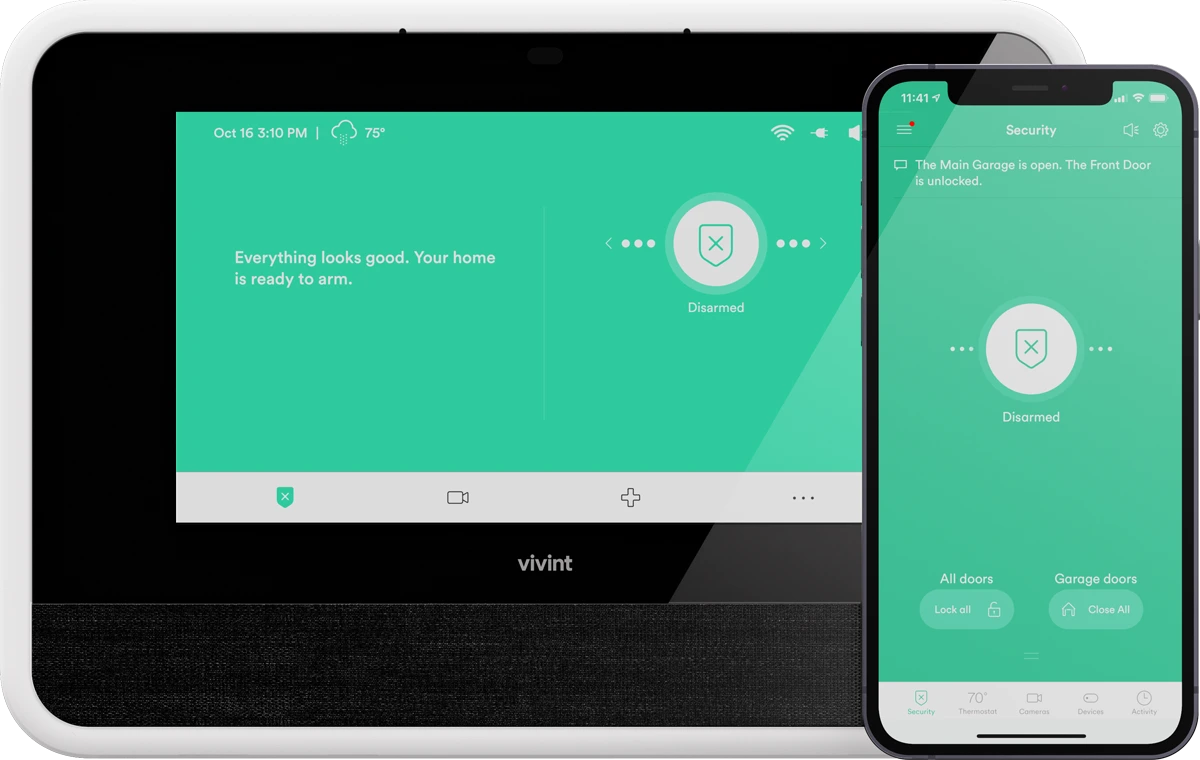 Smart home automation systems like Vivint's can be controlled remotely from an app on your phone to optimize your use of electricity while maintaining your security and allowing you to come home to a comfortable home.
Members of the Gen Z generation were a little behind, at 35%, which is likely because this young generation is concerned about establishing financial sustainability for themselves, along with mitigating climate change. Baby Boomers (23%) and the Silent Generation (16%) are less willing to spend more for smart home devices with environmental benefits.
The easier it is to be environmentally friendly, the more likely people are to embrace and sustain those actions. When it comes to smart homes, a drawback for some people can be the array of apps and passwords required to operate multiple systems or devices. The solution for many people is to switch to a connected home automation system.
For example, Vivint's Smart Hub home automation system allows you to control every connected device in your home from one location. You can use the Vivint app for remote control when you are away.
Automated Ups and Downs
A key "green" advance of the latest generation of green devices is automation: their ability to self-learn, or respond to various types of sensors.
For example, motorized window blinds can be tied to light sensors. They go down to avoid heat gain in summer and to up to allow in sunlight to warm your home in cold weather. In addition:
You can automate your thermostat to reduce your energy use and override the automation remotely if you'd like to come home to a warm or cool house.
You can control your lights, so that they turn on and off as people move through the home.
Smart sensors can be connected to immediately identify a leak and to monitor your indoor air quality.
Fans can be set to automatically run and then shut off to improve your indoor air quality, while avoiding the issue of forgetting to turn them off.
You can schedule your smart appliances to operate at a time when there's less demand for energy.
You can connect your security system with a smart home automation system to monitor deliveries and to let a contractor into your home if there's an emergency. With Vivint's system, you can connect a variety of smart home devices and integrate them with a Nest thermostat, Amazon Alexa, or Google Assistant, so you don't have to start over with an entirely new set of devices.
Smart home devices represent a powerful and important tool in our transition to a net-zero energy infrastructure. Used in combination with high performance building practices, including increased insulation, better windows and air sealing, they can fast track a homeowner's efforts to get off fossil fuels.
---
Publisher's Note: This content is made possible by our Today's Home Buyer Campaign Sponsors: Whirlpool, Vivint, myQ, Sonos and Jinko Solar . These companies take sustainability seriously, in both their products and their operations. Learn more about building and buying homes that are more affordable and less resource intensive.
Feb 28, 2022 9:46:43 AM · 5 min read
---

Michele Lerner is an award-winning freelance writer, editor, and author who writes about real estate, personal finance, and business.