Simple Smart Tech to Keep Your Home Systems Functioning

Michele Lerner, Associate Editor
5 min read
Your home is more than where your heart is – ideally, it's also a highly sophisticated system of complex components.
While you may think of your house as the place where you live, the multiple components that go into building or remodeling a home so that it functions efficiently can be viewed as part of a system. Thankfully, even the most low-tech person can learn to operate the high-tech controls that keep their home humming.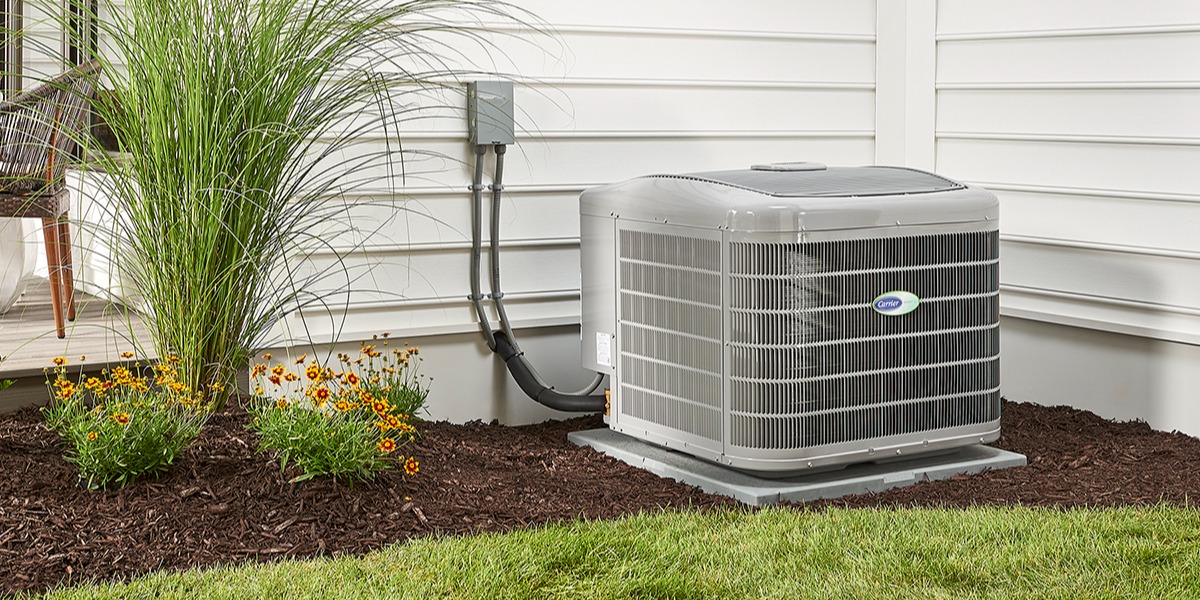 Decades ago, "smart homes" required extremely sophisticated technology that typically managed one part of the home at a time. One system worked the lighting program and another managed security, while still another maintained the temperature in the home. Tech devices could operate the sound system, open and close the blinds, and preheat the oven on your way home from work. Programming each of these elements in the home took time and, often, a high level of technical expertise.
Smart new homes and remodeled homes today are viewed more holistically. They're frequently designed and built as a system that works together for maximum comfort and efficiency. Instead of thinking of the exterior materials of your home as one part and the insulation, heating, ventilation and air conditioning, plumbing, windows and doors as separate pieces, builders today plan these parts together to optimize their performance.
From an energy-efficient perspective, a "home as a system" approach considers the way four components of your home work together: the exterior envelope, the mechanical systems, the residents and the environment. Paying attention to all of these parts of your home and how they interact can improve the comfort of your home, indoor air quality, humidity levels and environmental impact.
Managing Your Home as a System
Once your home has been built or remodeled to function as a system, you'll need to learn how to manage the system for a high-performance house. The type of equipment you install and the system you use to manage it depends in part on your budget.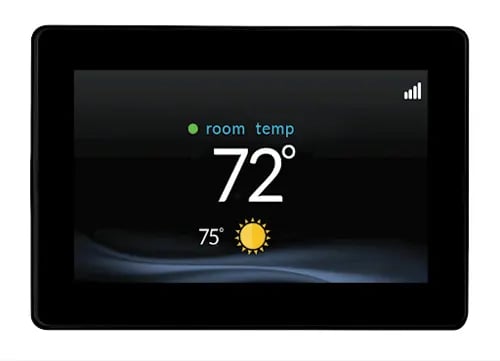 But you don't need to install top-of-the-line equipment and control systems to get the benefits of a connected home. In 2023, Carrier introduced InteliSense™ technology, which is available on their mid-tier Performance series line of products, including heat pumps, air conditioners.
InteliSense technology includes sensors on outdoor units that allow for diagnostic review of the system's operations by collecting liquid line and suction line pressure and temperature measurements, and outdoor air temperature readings. Sensors on the indoor units collect supply and return air temperatures, read basic fault codes and measure blower motor rotations per minute. Sensors are also placed on ductwork.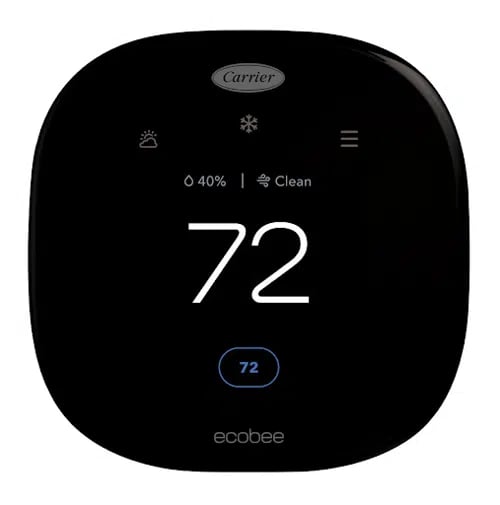 The data collected by these sensors connects to a Wi-Fi-enabled ecobee for Carrier smart thermostat and, with homeowners' permission, can be accessed by Carrier dealers for remote troubleshooting, system usage analysis and servicing. Remote diagnosis means that a technician with the right skills and the right equipment can be dispatched to address issues. In some cases, problems may be resolved without a technician coming to your home at all. The detailed information provided by InteliSense makes it easier for even less experienced technicians to handle equipment issues with the help of the service tech app.
Top-of-the-line Technology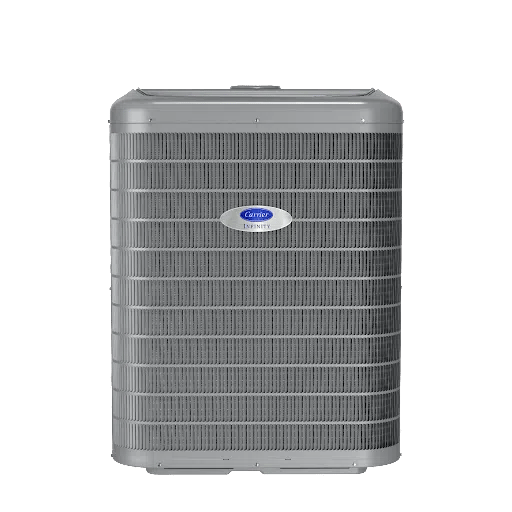 If you're interested in top-of-the-line equipment and controls, you may want to consider Carrier's Infinity® System, which is a complete system including an Infinity indoor and outdoor unit and an Infinity System Wall Control which learns your habits and adapts your equipment for optimal efficiency. Automatic software updates are handled through the Wi-Fi-enabled control, which operates both your indoor and outdoor heating and air conditioning systems, along with monitoring and correcting your indoor air quality.
Add an Infinity air purifier with "Captures & Kills®" technology to inactivate 99% of select airborne pathogens. In addition, systems with Greenspeed® Intelligence quietly manage airflow to reduce temperature swings in your home. It also automatically responds to changing weather conditions outside of your house, which means that the heating or air conditioning system won't have to work as hard to keep your home at your preferred temperature.
A common complaint of homeowners, especially those with more than one level of living space, is that the temperature fluctuates too much from one room to another. Naturally, the upper level is warmer in summer, while the lower level could be freezing from air conditioning and less sunlight. Operating a home as a system can solve that problem because the insulation and materials used to build or remodel the home function in conjunction with the heating and air conditioning system to regulate temperatures in all rooms.
Sophisticated control systems can be used to monitor the temperature in individual rooms and areas of your home. The Infinity System Control has features such as zoning, smart setback and Touch-N-Go® scheduling to help you use less energy. The Infinity System Control interface tracks your energy use and communicates with your equipment to help it operate more efficiently.
Other innovations that work together for an optimally comfortable and streamlined home include technology that balances indoor humidity. In the summer, the Infinity system can remove up to 400% more moisture than a standard HVAC system.*
Instead of spending your time managing the various parts of your home that affect the humidity, air quality, temperature and energy use, Carrier's Infinity heating and cooling systems can be managed in one place with a mobile device with internet access or your Infinity System Control.
Systems that Communicate
Smart home technology started with the phase of homeowners – often with the help of tech experts – managing each piece of their smart home separately. Controlling and coordinating those elements, phase two of home technology innovations, offered homeowners the opportunity to manage all their systems with one control center or on their smartphone.
The new phase of your home as a system is for the technology to directly connect with experts outside your home. In addition to automated software upgrades through Wi-Fi, Carrier's Infinity System outdoor units include a Bluetooth module, which means if repairs or maintenance are required, it may be possible to manage that remotely without needing a technician to come to your home. The Infinity® System Control technology can communicate directly with a local Carrier expert to remotely monitor your system and send updates with homeowner opt-in.
Saving energy and on your utility bills doesn't have to require an engineering degree. It's easier to rely on connected systems that monitor your home and make it simple for you to control your own comfort.
(* Infinity 26/24. Based on Carrier testing, all data was run with the systems cycling once they met the assumed home load. The assumed load at AHAM conditions (80/70, 80) is the capacity of the variable-speed running continuously in dehumidification mode. The difficult conditions load was determined by a Wrightsoft ® load calculation for a home in Florida at 69 OD 72/63 ID. This condition was provided by a customer in Florida as "worst case.")
---
Publisher's Note: This content is made possible by our Today's Homeowner Campaign Sponsors. These companies take sustainability seriously, in both their products and their operations. Learn more about building and buying homes that are more affordable and less resource intensive.
Jul 25, 2023 4:26:06 PM · 5 min read
---

Michele Lerner is an award-winning freelance writer, editor, and author who writes about real estate, personal finance, and business.