All Buildings Should Have a Digital Twin
Digital twins are a popular technology for tracking building performance in the commercial building world, but the residential sector should use the concept, too.
According to Adam Wilbrecht, chief knowledge officer for Cunningham Group Architecture, the common vision for the post-pandemic future is the connection between the real world and the digital world. He writes about this in his blog for Sustainable Brands:
Within the built environment, this concept is embodied by the "digital twin"—a 3D, virtual replica of an operational building that stores and displays both static and dynamic data. In this way, digital twins fulfill a myriad array of new value propositions for a building's owner.
The digital twin originates from building information modeling (BIM), which is the only common technology in today's design and construction industry. BIM not only locked 3D design as the new paradigm, but it also enabled rich data and analytics tools to be applied against the design. Chief among these are building sustainability and performance, building operations and maintenance, and occupant health and wellness.
By using Internet of Things (IoT) devices and sensors, builders can track the performance of a building. They can use this dashboard of dynamic information to improve the way a building operates, predict maintenance, pre-order repair parts, and catalog reusable or recyclable materials that can be salvaged at the end of the building's useful life.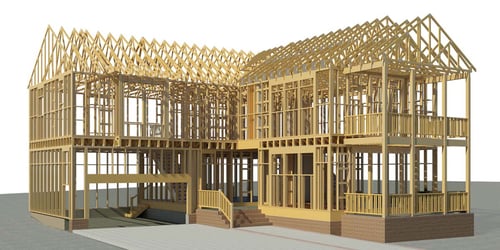 Smart builders are already using IoT systems this way. C.R. Herro will be tracking the performance of his off-grid house in the Seattle Cascades when it is completed this summer. And the research team at Mariposa Meadows, will be using similar systems to monitor a cluster of buildings in the Colorado Rockies.
The information gleaned from tracking the performance of both these demonstration projects will be used to catalog best practices for the building industry. But builders can create their own demonstration project of sorts by creating a digital twin for best-selling home plans. They can use the IoT data to tweak and improve the design and performance of the home, understand how it operates in different regions, and, ultimately, market the superior quality of the homes to prospective buyers.
Architect and building science expert Sam Rashkin has long been an advocate of digitization for home building. "BIM provides the opportunity to virtually build a home on the computer where all critical issues for design, cost, and productivity can be optimized before building in the field. The cost savings potential is huge by enhancing speed, quality, accuracy, efficiency, waste reduction, and system integration."
Watch his webinar, Why the Housing Industry Is Long Overdue for Disruption, where he talks about how an industry ripe for disruption will ultimately have to embrace technology to remain relevant.
According to Rashkin, on the front end, builders can use BIM technology to realize cost savings while producing high-performance buildings. Then, as Wilbrecht points out, they can use BIM digital twin technology to monitor and improve building performance in real-time and into the future.
Read Wilbrecht's full post here.
---
Cati O'Keefe is the editorial director of Green Builder Media. She has 25 years of experience reporting and writing on all aspects of residential housing, building and energy codes, green building, and sustainability.