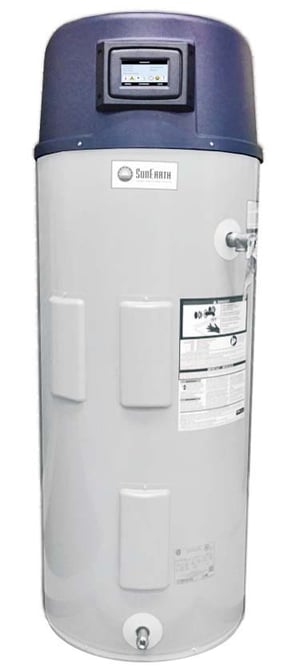 SunEarth's SunWaterPV water heater offers a simple solution for homes with low- and moderate occupancy.
The unit utilizes thermal battery technology with no photovoltaic (PV) interconnection restrictions. A 50-gallon unit with a dedicated PV system of about 1,000 watts feeds two PV-driven elements that are completely separate from the grid. SunWater also has a 4.5-kw backup.
A full touchscreen system offers visual indicators such as Solar Supply, Grid Supply, Energy Balance, Tank Temperature and Energy Savings. The system also allows users to program in different modes, with the ability to run at the desired times, for designated amounts of time. With the 50-gallon unit—80-gallon and 120-gallon models are coming to market soon—there is a three-hour recovery period, which means SunWater can meet all of a homeowner's daily hot water needs without utilizing any grid energy. This makes the unit ideal for homes with a two- three-person occupancy, or vacation homes, when compared to a traditional solar hot water collectors.