New Free Ebook on Green Product Selection and Improving Indoor Air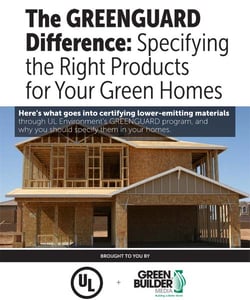 The goal of this book is to not just to educate builders and manufacturers about the importance of healthy, sustainable homes, but also to empower home owners to make the right choices when it comes to their homes and the health of their families.
The good news is that there is a wealth of information on how to build better homes, and there are thousands of third-party-certified low-emitting products that can help make indoor environments free from unnecessary chemicals and pollutants.
The book includes information on:
Why people should care about indoor air
Rising asthma rates
How low-emitting products are certified through UL Environment
How to build homes with better indoor environments
The future of IAQ in home building
Links to resources including an interactive graphic with tips on how to improve a home's indoor air.
Fill out the form on this page to download this important resource today!
Your information may be shared with eBook sponsor