Germ Warfare In New Homes

Alan Naditz
3 min read
Here's how builders can ensure there are effective antimicrobial protections in all of their new homes.
Growing concerns about microbes and cleanliness in the post-pandemic world have sparked a rapid rise in interest in sustainable antimicrobial technologies and odor control solutions for cleaner living. To help meet needs, the construction industry is placing more emphasis than ever on incorporating these technologies into new and existing buildings.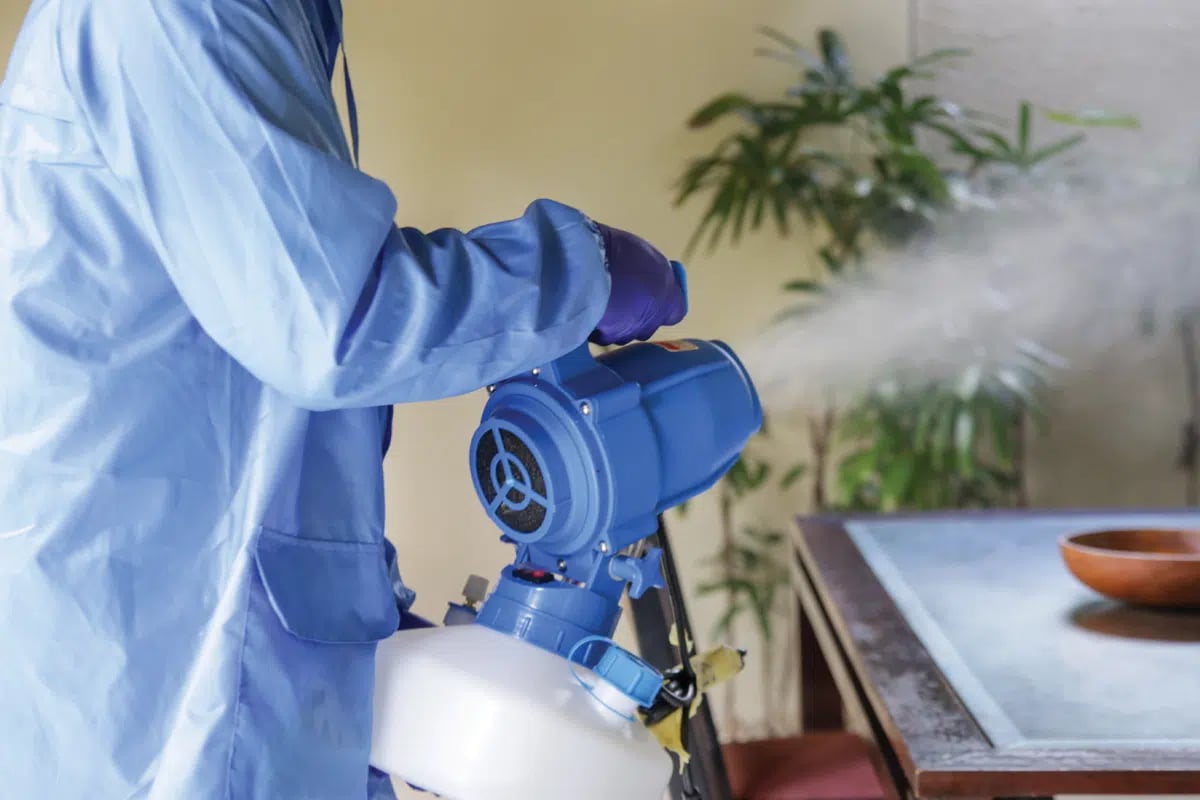 The pandemic made disinfection of surfaces and air even more crucial than earlier efforts at indoor purification.
Indoor cleanliness is critical in our homes where our families spend most of their day. There are countless surface treatments we already use specifically to help reduce the growth and spread of microbes. However, standard cleaning products and surface disinfectants often have limited residual activity in high-touch point areas—such as faucets, door frames and handles, countertops, walls, and floor tiles—once they dry
But what if homes could be developed with materials that can stay cleaner between washes by providing ongoing antimicrobial product protection?
The Hunt for Cleaner Building Products
Universal preventative measures that continually reduce contaminants and never wear away could be the ideal solution. Building materials—ranging from sealants, grouts, and decorative paints to flooring, insulation, door hardware, and light switches—often stain, crack, smell, accumulate dirt, and break down prematurely, resulting in damaging, long-term consequences.
This is because these products often include substances such as starches, organic adhesives, and cellulose sugars that can serve as nutrient sources, encouraging the growth of bacteria, molds and mildews.
Architects and building specifiers are therefore increasingly seeking products that feature built-in antimicrobial technologies or coatings capable of protecting materials to keep surfaces cleaner and fresher for longer. At the same time, building specifications in the construction sector are becoming increasingly stringent, requiring improved levels of durability, making the use of antimicrobial technologies to protect against premature material degradation a sound investment.
Homes With "Always On" Antimicrobial Protection
Silver and zinc have long been used for their antimicrobial properties in many industries because they are effective at low concentrations against bacteria, yeast, and molds. These additives work at a cellular level, continually disrupting the growth and reproduction of microorganisms.
Products designed to provide enduring protection against microbes such as molds and mildews are expected to boom in popularity thanks to COVID-19.
More recently, silver- or zinc-based additives have been incorporated into a wide range of products during manufacture to provide continuous antimicrobial protection, ensuring that surfaces stay cleaner, smell fresher, and last longer. These sustainable antimicrobials can be incorporated into products to never wash off or wear away or be applied as a coating that adheres to a surface, providing the perfect complement to routine cleaning with surface disinfection products.
Built-in antimicrobial solutions and coatings effectively act as a barrier to help reduce the growth of microbes, improving overall environmental cleanliness. Reports such as " Anti-microbial coating innovations to prevent infectious diseases " and " Anti-microbial agents and microbial ecology " confirm that statement.
Selecting a supplier with in-depth knowledge of global regulatory requirements can also help manufacturers navigate the complexities of biocidal regulations in various geographical markets. For example, it is crucial to select an antimicrobial solutions provider whose products are registered with the Environmental Protection Agency (EPA) in the U.S. or notified with the Biocidal Products Regulation (BPR) in Europe.
Sustainability In Our Homes of the Future
The improved product integrity offered by antimicrobial protection also fits with today's environmentally conscious world, where there is an ever-increasing focus on sustainability. Using building materials treated with "always on" antimicrobial technologies makes new or renovated properties more attractive to buyers, and it has longer term benefits.
The treatments incorporated in these products provide enduring protection by slowing the growth of degrading microbes—such as molds and mildews—keeping building materials cleaner, reducing odors, and promoting longer product life. Extending the product life of the material reduces the expenses and environmental costs associated with premature repair or replacement. This translates into decreased material consumption and reduced wastage, helping to shape a cleaner, greener planet.
However you look at it, the implementation of built-in antimicrobial technologies and coatings in the construction industry is a win-win situation—from protecting properties for owners to offer greener building practices. The main aim now is to implement these sustainable products in every household around the world to ensure cleaner and more sustainable living.
---
This article appears courtesy of KDM Communications , a specialist scientific marketing agency offering creative design and compelling content for its clients.
Oct 23, 2023 8:00:00 AM · 3 min read
---

Alan Naditz is managing editor of Green Builder Magazine. He has covered numerous industries in his extensive career, including residential and commercial construction, small and corporate business, real estate and sustainability.