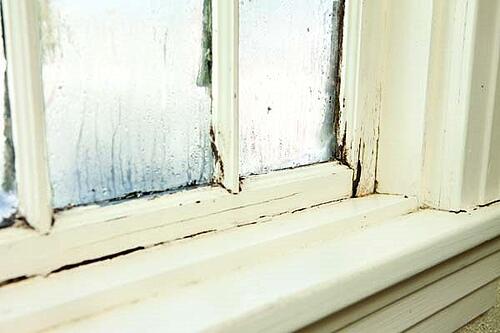 It's one of the most common homeowner questions.
REPLACING OLD SINGLE-PANE WINDOWS can greatly increase the energy efficiency of your home. But in some cases, replacing windows is not possible, either because of the expense or because you want to retain the historical integrity of your house. In this case, you have two options:
Wood Window Restoration. Typically, damage occurs to wood windows when paint isn't maintained and water enters the wood, and compromised weatherstripping can cause drafts. Careful restoration can bring your vintage wood windows back (see photo above). Depending on the state of neglect, steps may include:
stripping and sanding,
repairing any rot,
reglazing (setting the glass),
replacing damaged sash cords,
painting and caulking, and
weatherstripping.
Once repaired, the most important thing you can do is maintain your wood windows by keeping them painted.
Low-E Storm Windows. You can enhance your existing windows' performance by adding low-E storm windows on either the interior or exterior. If your windows are standard sizes, you can find matching storms at your local Big Box store. A study conducted by the Pacific Northwest National Laboratory shows that low-E storm windows can result in whole-house energy savings of 10 percent. And because they cost significantly less than replacement windows, you'll see the payback in five to seven years.
New Emphasis on Window Installation
To keep pace with increasingly advanced glazings, window and door makers have fine-tuned the science of installation. That's a good thing, because you can put the best-made, highest-rated window in a new home and still feel a cold draft next to the frame. But if that happens, chances are it's your fault—not the window maker's. You didn't follow the precise instructions they provide, free of charge.
It used to be that window installation tips were often simplistic—or considered the builder's responsibility. But companies such as Milgard and Marvin have poured a lot of research, experience and money into educating end users about their products.
The Internet, of course, has made that process much easier. But the building science of installation has improved alongside new flashing systems, expanding foam sealants, and clad and composite window frames.
Take a look at the websites below (and the sample instructions we've pulled directly from their pages), and you're likely to learn some best practices that will save you labor, keep you from having to reinstall a window, and even improve energy efficiency. They also include tips that will help increase the product's durability.
Milgard
Sample Instruction: "In removing existing materials [for retrofit installation] it is important not to disturb the existing weather barrier, as it will still be used." http://pro.milgard.com
Marvin (Integrity Line)
Sample Instruction: "If a flexible adhesive membrane is not used to pan the sill, be sure to properly seal the bottom corners of the rough opening." www.integritywindows.com