Windows Bring Nature Indoors

Samantha Carlin
3 min read
CR Herro's admiration for nature and demand for energy efficiency have converged when selecting the best windows for the VISION House Seattle Cascades.
Sponsored Content
CR Herro's new home, VISION House Seattle Cascades, will feature four different Western Window Systems products. Herro wanted his home to embrace the majestic beauty of its natural surroundings, nestled at the base of Mt. Rainier. He worked with Western Window Systems to create sweeping window systems that offer stunning panoramic views of the Cascades Mountains while maintaining energy efficiency and comfort.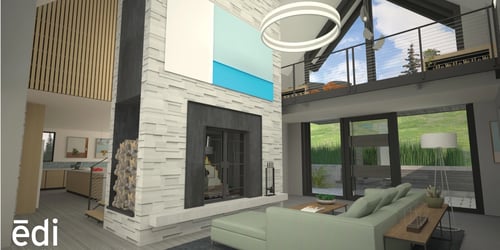 The hinged glass door allows for great views without compromising. The door's aluminum extrusion keeps the elements out while maintaining impressive energy efficiency, which helps homeowners interested in reducing energy costs.
The High-Performance Lowdown
Western Window Systems' Performance Line was chosen for the home because of its energy efficiency, structural advancements, and contemporary design. Herro selected the Series 7600 Multi-Slide Door, which has a thin profile with large rolling glass panels that slide into wall pockets, for the main entertaining space to create a seamless indoor-outdoor space, as well as the Series 7900 Double Entry Door with a concealed lock and self-closing technology.
He also selected Series 7670 Casement Windows, which hinges on the side and swings outward for enhanced ventilation, and 7630 Direct Set Trapezoid Windows, which span the entire facade with narrow sightlines and a clean look.
"You don't have to compromise security," Herro says. "You can feel safe and secure and comfortable in your home, but still get to experience the nature that's right outside those windows."
Window Durability
Western Window Systems' innovative approach to fenestration has enabled the company to create large-format glass panes without sacrificing durability or efficiency. The Performance Line is built to withstand the elements.
Scott Tiefenthaler, Custom Sales Representative at Western Window Systems, points out how they achieved this: "All of our glass doors deliver a design pressure rating of 50. Stainless steel hardware is used for door systems, and hinges and signature rollers can handle extreme panel sizes and heavy glass."
The windows deliver a performance rating of CW-PG50 or better and support triple-pane and laminated glass, which are essential options for noise reduction.
Window Energy Efficiency in All Climates
"Western Window Systems' Performance Line is designed for energy efficiency, strength, and design flexibility," Tiefenthaler explains. The Performance Line products feature custom Insulbar profiles for increased thermal performance and strength.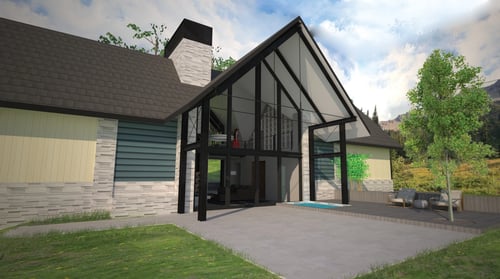 In this digital rendering, CR's finished home will be covered in windows from floor to ceiling, opening up to the expansive views of the lush Seattle Cascade wilderness.
The windows enhance energy efficiency through a signature aluminum extrusion and tout low U-value ratings across the board. In addition, the glass is low-E, argon-filled dual-pane glass, allowing it to meet strict energy requirements.
"You could put an aluminum door in a colder climate and still get the U-values to keep the warm air in the home and deflect the cooler air away from the home," says Jeremy Flynn, Vice President of Custom Sales at Western Window Systems.
Ventilation and Natural Light Prominence
Since we now spend astronomically more time inside our homes, demand for larger windows is at an all-time high. Homeowners better understand the benefits of proper ventilation and natural light, both of which can improve mental and physical health.
"So many people want to take advantage of every little part of their piece of property," Flynn says.
According to Time, natural light can lead to better sleep, improved mental focus, and reduced stress. Daylight can help improve circadian health, and visual access to the outdoors can help refresh a cognitively exhausted mind. Exposure to nature and natural light has also shown decreased levels of anxiety and depression.
Fenestration Bottom line
Now, with reliable and energy-efficient windows, Herro can reduce his energy consumption and enjoy a great view and an abundance of natural light.
"Before, people would have to give up energy savings if they wanted to have the view, and that's no longer an issue anymore," Flynn says.
"Western Window Systems is focused on revolutionizing how people live by blending indoor-outdoor spaces with beautiful moving glass walls. With a focus on excellence, innovation, and partnership, we strive to meet our clients where they are and improve their quality of life," Tiefenthaler concludes.
Mar 7, 2022 9:34:53 AM · 3 min read
---

Samantha is able to express her passion for the environment -- both natural and built -- as the special projects manager at Green Builder Media. Prior to joining the Green Builder Media team, she worked as an order management specialist at C.A. Fortune, a consumer brands agency. She is a recent graduate of the Master in Environmental Management program at Western Colorado University with an emphasis on sustainable and resilient communities. Originally from the suburbs of Chicago, she is currently thriving in Gunnison, CO where she enjoys the surrounding geology, mountain biking, and skiing.