Review: ProVia's Custom Home Visualizer Makes Big Decisions Easier

Matt Power, Editor-In-Chief
3 min read
Sponsored Content
With a sleek online 2-D visualizer, backed by sustainable manufacturing, ProVia offers clients a "heads up" pathway to product selection.
At first glance, you might think ProVia is in the 2-D visualization business. But you'd be missing the bigger story. This is a company that manufactures windows, entry doors, metal roof systems that look like shake and slate, super polymer siding and a range of realistic-looking stone veneers. Each product has a distinctive look and texture.
Christine Baio, media strategist at ProVia, notes that "selecting a style or color from a brochure or holding up a sample or color swatch just doesn't cut it anymore. Our Visualizer Design Tool allows the contractor and client to upload a photo and experiment with all our styles and colors."
I gave a test run to ProVia's visualizer , and it performs as advertised, powerful enough to give you a good sense of what the product looks like installed, but with a shallow learning curve.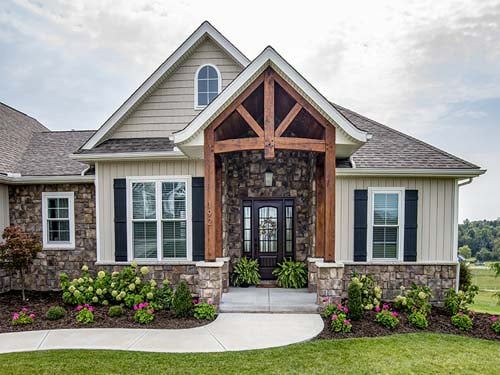 ProVia's portfolio of exterior products includes a range of stone veneer that is thoughtfully produced using energy from a new solar array.
For example, the company has a nice lineup of stone veneer colors and patterns, but choosing one without seeing it in the actual environment would feel like a big gamble without the visualizer. I like the option to upload high resolution photos or renderings of your own home. But to keep it simple, I used one of their stock homes for my materials test.
With a stock photo, as with custom shots, you have a lot of flexibility. Rather than simply changing the color of windows, for example, you can switch out product styles, replacing a casement window with a double hung, or an arched window shape, all with an intuitive "point-and-click" interface.
Baio notes that the Visualizer is free, and meant to "eliminate guesswork and uncertainty" on the part of both building pros and homeowners.
"Let's face it," Baio says, "Remodeling a home can be a stressful time for homeowners–they're making a big investment and enduring a messy, noisy disruption in their routine. Why not make their task easier?"
To that end, the Visualizer allows you to "drill down" to specific details about textures and styles. For example, if you want to test out Fieldstone veneer as a siding material, you can also choose from several different grout colors. Curious about how your home might look with "Mountain Berry" colored trim? You can select trim and select from a palette of color options to mix and match with siding and fenestrations.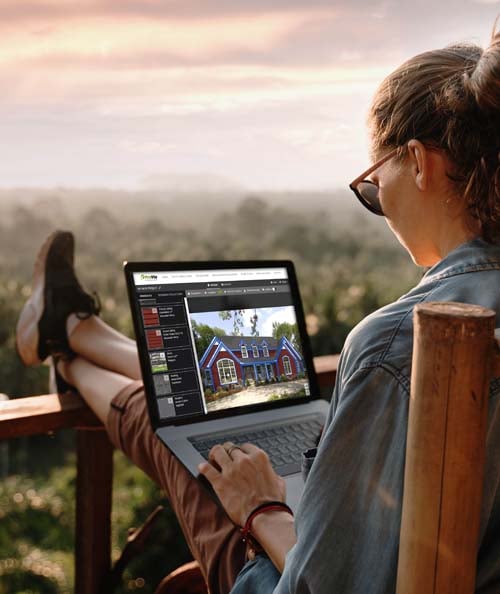 With its simple interface, ProVia's Visualizer Design Tool offers both professionals and homeowners a powerful tool for choosing windows, doors, siding, stone, and roofing.
Of course, ProVia's investment in this Visualizer is no accident. They're in the building product business. Fortunately, they've made sustainability integral to that portfolio. Their doors and windows have been ENERGY STAR certified since 2002, and they've just been awarded their 14th Energy Star Partner of the Year Sustained Excellence Award from the US Environmental Protection Agency and the Department of Energy.
Equally important, they've put serious conservation and efficiency efforts into their plant operations and materials sourcing.
"Sustainable product development is important to ProVia," Baio notes. "We keep raising the bar. Our stone manufacturing plant employs rainwater holding tanks and uses recycled water on the production line, our residential metal shake and slate roofs are manufactured from domestically sourced recycled steel, and our siding products contribute to LEED and ICC 700 National Green Building standards."
In addition, the company just installed a 1.792 MW solar array at their stone manufacturing facility, comprised of 4,480 solar panels. It will reduce electrical power consumption by 60 percent, and prevent the emission of 1,472 tons of CO2 annually. You can learn more about ProVia's products, Visualizer tool, and operations on its website .
Aug 6, 2021 11:12:54 AM · 3 min read
---

Veteran journalist Matt Power has reported on innovation and sustainability in housing for nearly three decades. An award-winning writer, editor, and filmmaker, he has a long history of asking hard questions and adding depth and context as he unfolds complex issues.