European Style Windows Add "Wow" to Net-Zero Modular Home

Matt Power, Editor-In-Chief
2 min read
A sleek, smart modular home to be assembled this year in Colorado will feature climate-sensitive windows and doors suitable for the project's lofty efficiency goals.
Later this year, we'll be introducing our newest VISION House exhibition project, a sleek, modular and ultra-compact home called Transcend. We'll be installing and chronicling a prototype model in Lake City, Colo., not far from the Mariposa Meadows project installed by our company President, Ron Jones, and recently featured in The Washington Post .
One of the home's most important "infrastructure" components will be its ultra-efficient windows and doors. We'll be working with a company called Arq-Espacio , with a new factory and office based in Cancun, Mexico.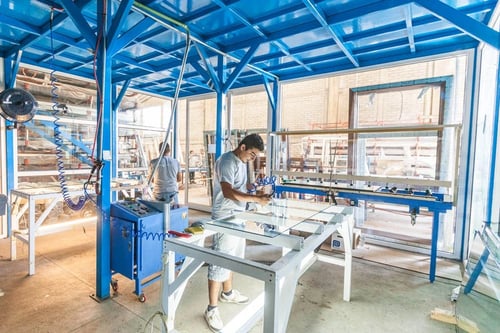 At the Arq-Espacio plant in Mexico, skilled workers use state-of-the-art software and automation to produce European-style windows and doors with advanced glazings.
I spoke with one of the chief operating officers of Arc Espacio, Leonardo Uribe Guerrero, to learn more about the company: "We realized that thermally efficient windows were becoming more of trend, so we modeled ourselves as a specialist in Euro style windows," Guerrero recalls.
Uribe defines European style as products that are precision engineered, with more complex locking and hardware mechanisms than typical production windows. This is no accident. The company is able to create products that are compliant with strict European standards, thanks in part to a German-made automated CNC machining center (essentially a machining robot).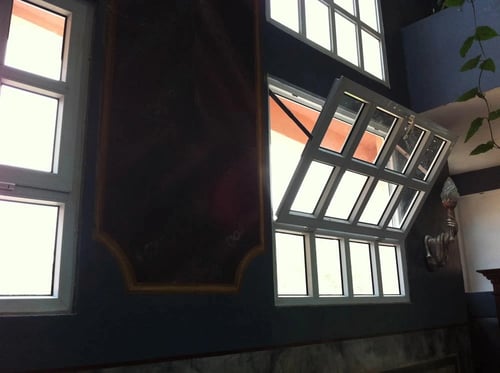 Precision hardware will allow many of the windows and doors on the Transcend house to tilt or turn open, making the most of the compact floorspace.
"Our products are very different from the typical double-hung windows or doors you buy in the US," Guerrero explains. "We have cutting edge technology, but we're not building thousands of standard sizes. We describe ourselves as a boutique factory, but we can do any kind of custom jobs, with a very high grade of materials—without layering on high costs of customization."
Arq-Espacio fits well with the Transcend project's goals: to offer luxurious feeling yet compact home with many semi-custom amenities—without pushing the final price point out of reach. At the same time, its energy and water footprint will be at or below net zero.
"I'm excited about this project," Guerrero says. "We'll be able to do any number of things as we install the windows and doors. For example we could either put remote handles on windows, or motorized controls, which are very practical, and can be tied to the home controls."
We'll have more on Arq-Espacio 's installation at the Transcend site when it launches early summer.
Apr 22, 2022 12:47:33 PM · 2 min read
---

Veteran journalist Matt Power has reported on innovation and sustainability in housing for nearly three decades. An award-winning writer, editor, and filmmaker, he has a long history of asking hard questions and adding depth and context as he unfolds complex issues.