Saving Energy with Windows & Doors

Matt Power, Editor-In-Chief
9 min read
When selecting windows, focus on performance, materials, and warranty.
When installing new windows or doors, up-front cost alone should not be your guide. Instead, consider three variables: glazing (glass) efficiency, frame material, and thermal spacing.
Glazing technology has improved by leaps and bounds over the past few years. Today, you can get a high-performance window or door that looks good and performs well at any price point.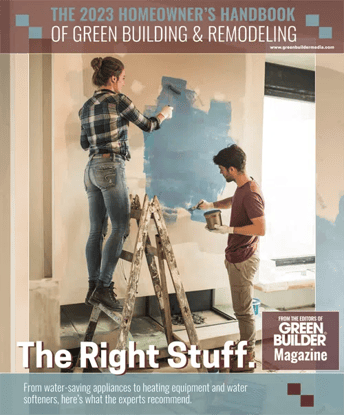 The windows and doors you select for your house—retrofit or new—must meet your local energy code requirements, and ideally, should be ENERGY STAR-qualified for your home's climate.
Energy Costs: Picking The Right Window
If you want to reduce utility bills, you need to consider the impact of windows. In climates with a significant heating season, windows have represented a major source of unwanted heat loss, discomfort and condensation problems. But today it is possible to have lower heat loss, less air leakage and warmer window surfaces that improve comfort and minimize condensation.
Similarly, in climates that mainly require cooling, windows typically represent a major source of unwanted heat gain—but low-E finishes that reject solar heat without darkening the glass have changed the rules. These glazings significantly reduce solar heat gain and improve comfort, at the same time providing clear views and daylight.
As an example, a study by the Efficient Windows Collaborative shows that the annual heating cost of a typical house in Boston drops from about $750 a year to $550 (24 percent) by switching from double-pane windows to triple-pane with high solar gain, low-E glass. Keep this in mind when you are assessing the "first cost" of new windows.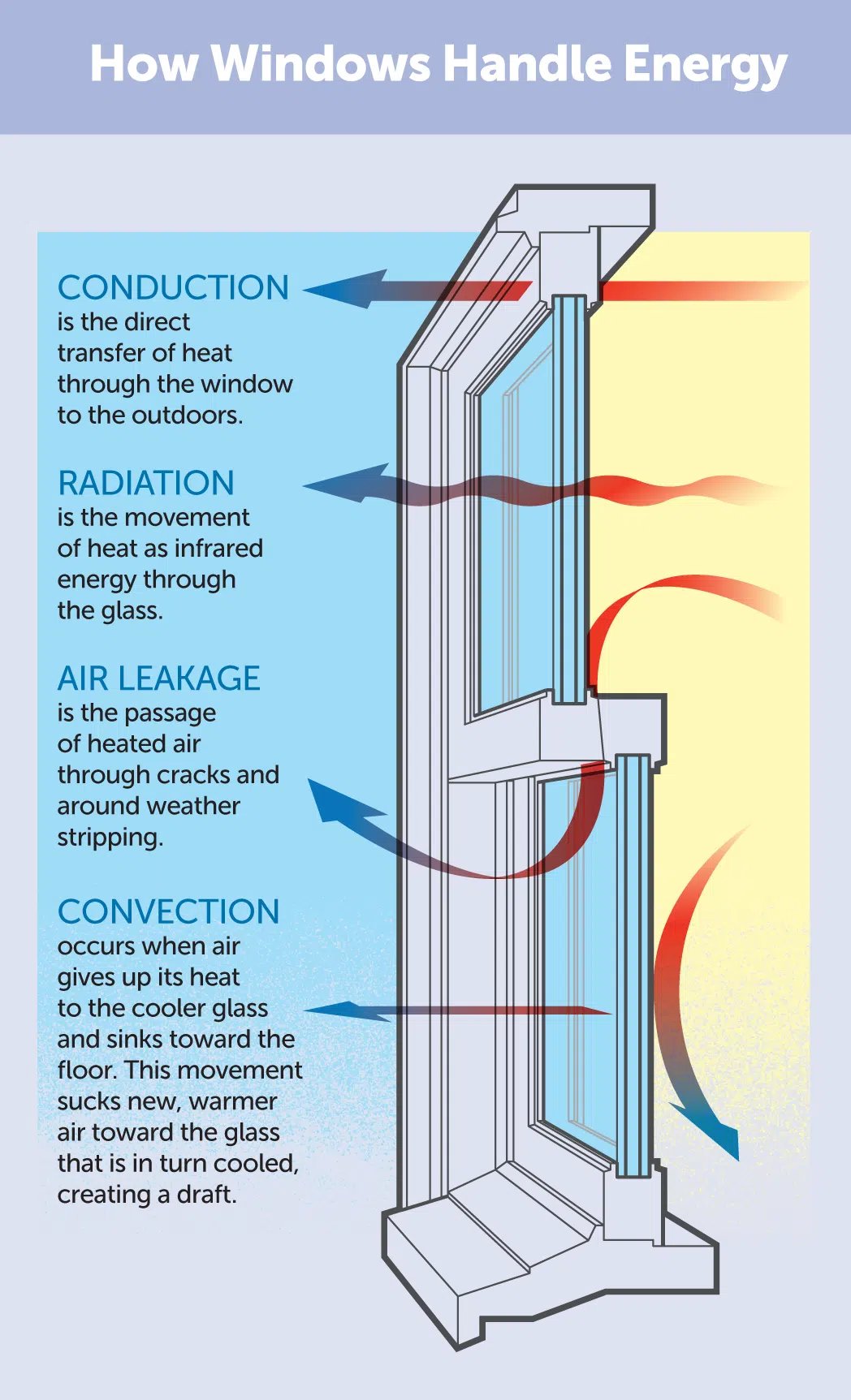 Comfort: Know the Science
For homeowners, how comfortable a house feels can be just as important as its energy efficiency. An older window with a lower glass temperature feels colder because more heat is radiated from a person's body to the window.
Cold glass can also create uncomfortable drafts as air next to the window is cooled and drops to the floor. This sets up an air movement pattern that feels drafty and accelerates heat loss.
High-performance windows with lower U-values will result in a higher interior window temperature in winter and thus greater comfort. Proper installation along with weatherstripping designed to seal tightly will also improve comfort by reducing cold air leakage.
During the summer, direct sunlight strikes people and surfaces, creating overheating and discomfort. Windows with low solar heat gain coefficients will reduce the solar radiation coming through the glass. That's where low-emissivity (low-E) glass comes in—reducing heat gain while still providing sufficient light and view.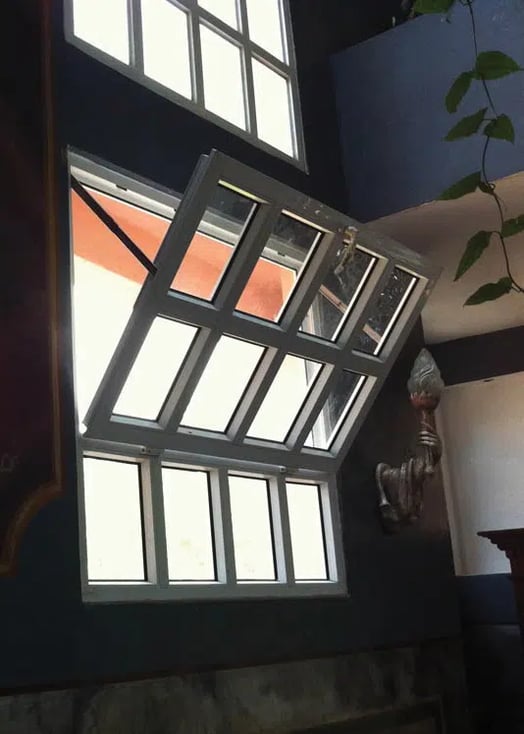 The combination of high-performance glazings with multi-functional hardware and low-cost customization gives this Mexico-based window maker an edge in the U.S. market. The company is family owned and has invested heavily in robotic equipment from Germany that can create windows and glass doors in almost any specification. www.arq-espacio.com.mx
Block Sun for Less Window Condensation, Fading
High-performance windows with new glazing technologies make homes more comfortable. They create warmer interior glass surfaces, reducing frost and condensation. High-performance windows with warm edge technology and insulating frames have such a warm interior surface that condensation on interior surfaces is significantly reduced under all conditions.
Another concern for homeowners is the effect of sunlight on the home and its contents. Many organic materials, such as carpet, fabrics, paper, artwork, paints and wood may fade upon exposure to sunlight. Window selection can influence the type and intensity of transmitted radiation.
Ultraviolet (UV) rays are the most harmful radiation in sunlight. They are the most energetic and thus most likely to break chemical bonds, leading to fading and degradation.
Finishes on glass can reduce the UV transmitted by up to 75 percent. UV absorbers can be incorporated into thin plastic films in multilayer windows or as an interlayer in laminated glass.
In both cases, the UV transmission can be reduced to less than 1 percent. However, it is important to note that the remaining visible light that is transmitted can still cause fading in some materials. Using low-E coated glass or windows incorporating plastic layers rather than clear uncoated glass will reduce fading.
Energy-Efficient Window Frames
Efficient windows don't stop at just the pane. It's also important to consider the type of window frame.
Composite Frames. These frames are made from composite wood products, such as particle board. They resist moisture and decay better than conventional wood, and typically have the same or better structural and thermal properties.
Vinyl Frames. These frames have a hollow cavity that can be filled with insulation to increase their energy efficiency. To prevent sunlight from breaking down the material, they usually are made from polyvinyl chloride with ultraviolet light stabilizers.
Wood Frames. Wood is a natural insulator, so these frames provider higher insulation values. However, wood naturally expands and contracts in response to hot or cold weather conditions, which may affect their performance.
CREDIT: U.S. DEPARTMENT OF ENERGY
A Breakdown on High-Performance Windows
Windows are an important factor in improving the performance of the building envelope. But with so many options available, selecting the right window can be challenging.
To increase insulation, homeowners should choose a double- or triple-pane window. Between each pane is an insulating air pocket, so more panes means more insulation. These windows can be filled with gases such as argon or krypton to provide better insulation than air.
In addition, insulated windows can include low-emissivity (low-E) coatings, which can reduce energy loss by 30 percent to 50 percent, according to the U.S. Department of Energy (DOE). Some windows are tinted or coated with heat-absorbing glazing, which absorbs solar radiation and reduces the solar heat gain coefficient, visible transmittance and glare.
Storm windows are another option for efficient windows. Though they don't add more insulation, they can help reduce the amount of air flow through windows, which can help with heating and cooling costs.
The table below demonstrates the performance of common high-performance windows compared to standard single-pane windows.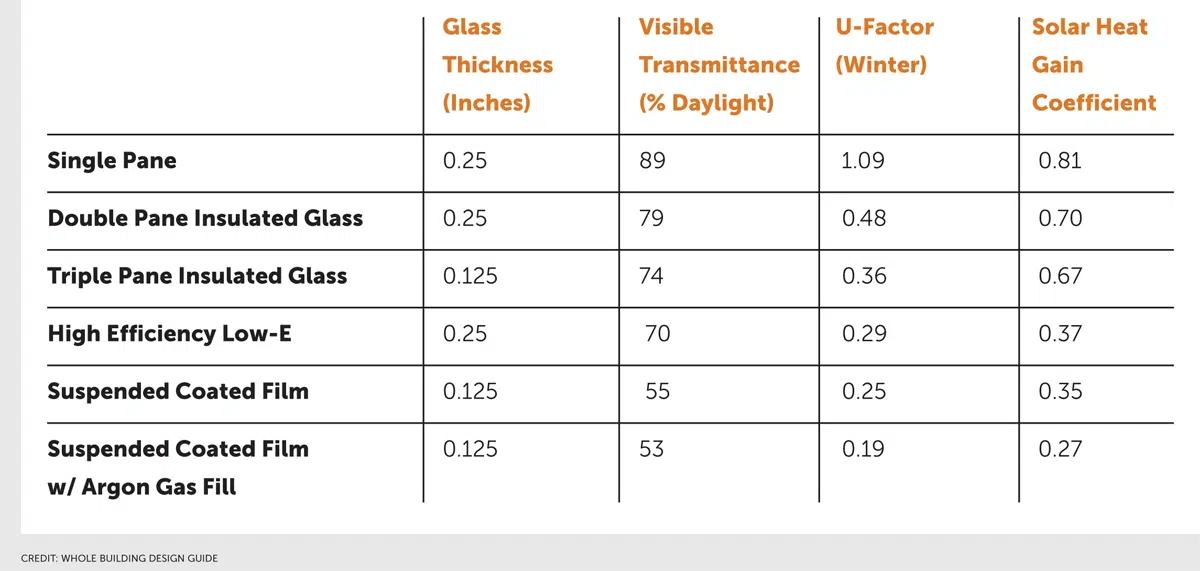 New Window Perk: Smaller HVAC Equipment
High-performance windows can reduce utility bills, and they also reduce peak heating and cooling loads. The peak load for a building is the maximum requirement for heating or cooling at a given time.
This load is important because it determines the size of the furnace, heat pump, air conditioner and/or ventilating fans that must be installed. Reducing the peak load may allow homeowners to install a smaller HVAC system, which costs less up front—and less to operate.
Properly sized HVAC systems offer a number of advantages to homeowners. First, by running more constantly, smaller equipment provides the best air quality and comfort. Second, HVAC systems that are more closely matched to peak cooling loads achieve better dehumidification, which prevents mold.
Several calculating procedures can be found to help with proper sizing of HVAC equipment. That's really the HVAC installer's job, but if you want to do your own calculations, there are simple pieces of software out there, including one called the HVAC-Calc Residential 4.0, which costs about $49. You enter some information about your home (or proposed new home), and it helps you figure out the optimal size and type of equipment you need for the best performance and energy efficiency.
Replace, Restore or Enhance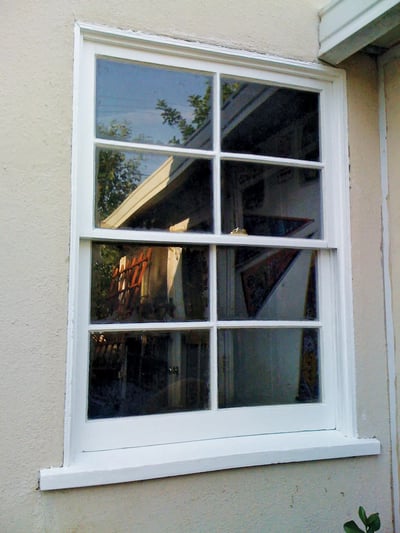 Replacing old single-pane windows can greatly increase the energy efficiency of your home. But in some cases, replacing windows is not possible, either because of the expense or because you want to retain the historical integrity of your house. In this case, you have two options:
Wood Window Restoration. Typically, damage occurs to wood windows when paint isn't maintained and water enters the wood, and compromised weatherstripping can cause drafts. Careful restoration can bring your vintage wood windows back. Depending on the state of neglect, steps may include: 1) stripping and sanding, 2) repairing any rot, 3) reglazing (setting the glass), 4) replacing damaged sash cords, 5) painting and caulking, and 6) weatherstripping. Once repaired, the most important thing you can do is maintain your wood windows by keeping them painted.
Low-E Storm Windows. You can enhance your existing windows' performance by adding low-E storm windows on either the interior or exterior. If your windows are standard sizes, you can find matching storms at your local Big Box store. A study conducted by the Pacific Northwest National Laboratory shows that low-E storm windows can result in whole-house energy savings of 10 percent. And because they cost significantly less than replacement windows, you'll see the payback in five to seven years.
Insulated, Smart Garage Doors
In most modern homes, garage doors are the single largest opening; in homes with an attached garage and/or a heated garage space, this large opening is a significant source of energy loss, translating into higher utility bills and a larger carbon footprint.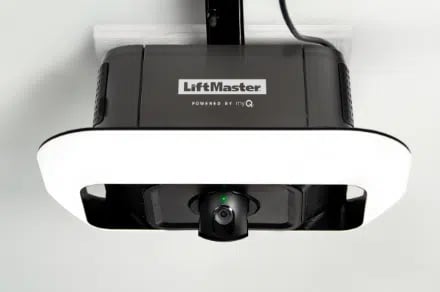 New openers include cameras and battery backups.
Eco-friendly or green garage doors differ from traditional garage doors in that they generally contain enough insulation to provide an R-value of 12 or greater and contain recycled and/or recyclable materials to minimize their impact on the planet.
Another way to optimize energy efficiency (and reduce energy loss) from a conditioned garage is to install a smart garage door opener. New products such as LiftMaster's Secure View Ultra-Quiet Belt Drive Smart Opener roll many features into a garage door system. The opener includes many other upgrades, such as a camera, LED lighting and an optional battery backup.
By using the company's MyQ smartphone app, you can remotely operate the door to allow for package deliveries. The battery backup means your garage door will still operate in a power outage. Insulated garage doors also open up new possibilities for using garages as workout rooms, studios, and extra living space.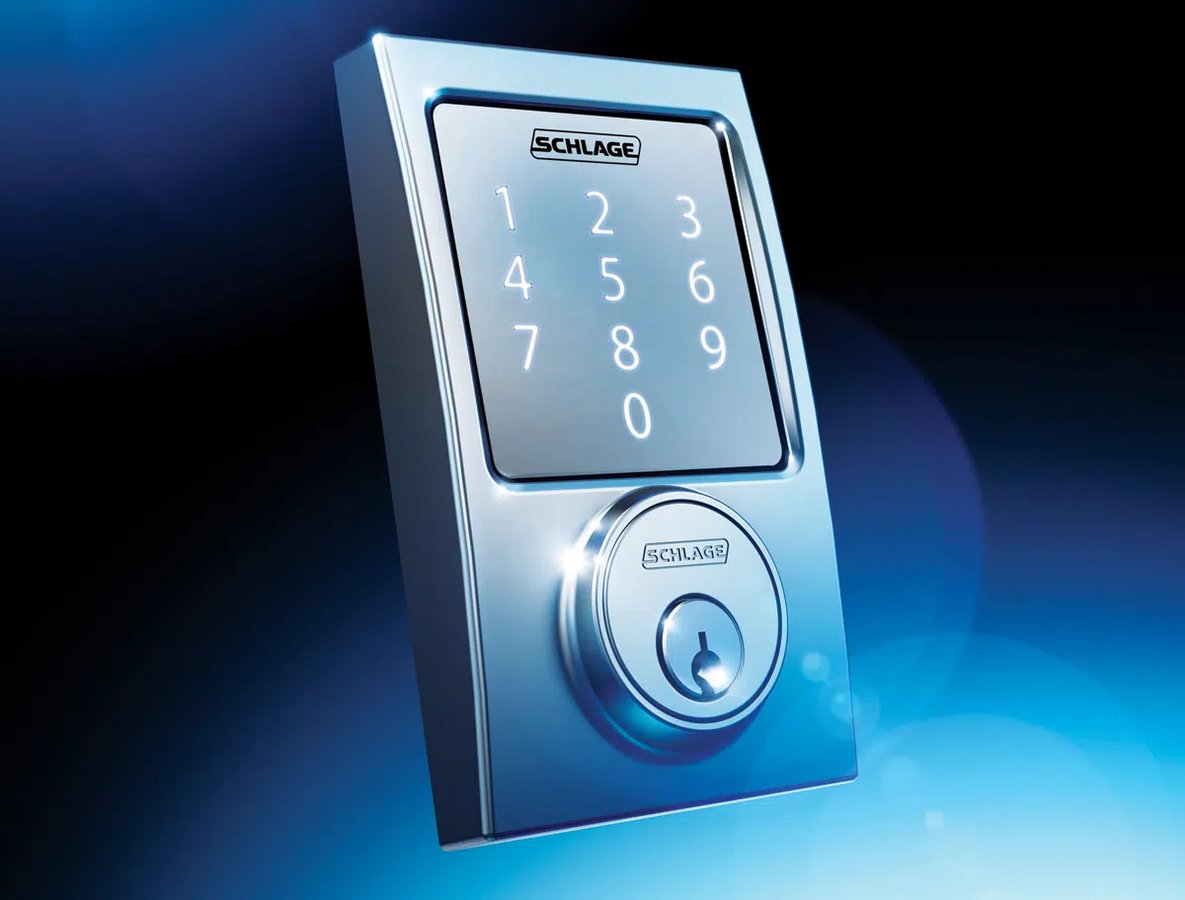 With keyless entry, built-in alarms and durable design, this multi-function lock offers control via simple access codes, so homeowners never have to worry about losing, hiding, carrying or forgetting their house keys again. The touchscreen deadbolt connects with Nexia Home Intelligence, enabling homeowners to manage their home security from anywhere. At ANSI Grade 1, the touchscreen deadbolt boasts the highest level of security and durability for residential door locks. www.schlage.com
Exterior Doors: The Sum of Their Parts
For best performance, a door should fit precisely in its opening, which is carefully gasketed and engineered for modern locks and handles.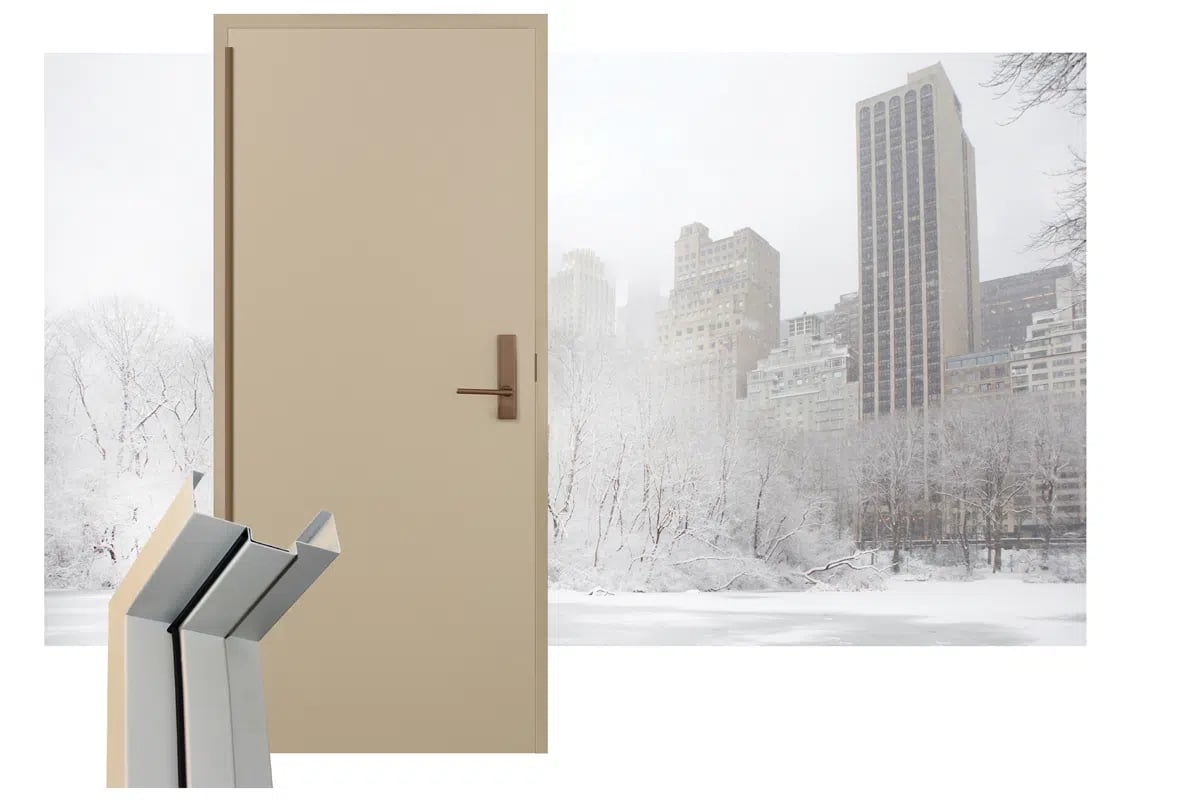 The Mercury Door from Assa Abloy is made from sustainably sourced materials, and engineered to fit precisely in its opening. www.assaabloy.com
The elements around a good exterior door opening have been designed and tested together—as one door opening solution. This not only helps prevent cold (or warm) drafts, it ensures that the door can be fitted with Wi-Fi locks and security features.
New electronic locks and Wi-Fi security systems depend on a precision fit to work properly. When combined with well engineered doors, they can result in cost savings. Why? Because doors that close tightly, or alert users if left ajar, or allow for remote monitoring can be managed by homeowners to minimize energy loss, the same way commercial properties do.
But you're also looking for a product that offers a clear description of how it was made. What is the supply chain? Is it made with wood from carefully managed forests? Look for documents such as Environmental Product Declarations, Health Product Declarations, and Declare labels to help you research and make the best decisions about products.
Window Basics: FAQs
What is air infiltration?
Air infiltration is the amount of air that passes between a window sash and frame, measured in cubic feet per minute per square foot of frame area.
What is argon gas?
A colorless, odorless, inert gas that fills the otherwise empty space within an insulating glass unit.
What is insulating glass (IG)?
Glass units constructed of two or more glass panes separated by a hermetically sealed space.
What is low-emissivity coating (low-E)?
Low-E finishes reduce energy transfer through insulating glass units, and thereby achieve one of the highest levels of energy performance possible for glass.
What is a solar heat gain coefficient (SHGC)?
SHGC measures the fraction of solar energy admitted, and indicates how well the product blocks heat caused by sunlight.
What is U-Value?
U-Value refers to the escape of BTUs per square foot per hour, per degree Fahrenheit.
What is warm-edge technology?
The use of low-conductance spacers to reduce heat transfer near the edge of insulated glazing.
Glossary of Terms
Visible Transmittance: The percentage of light transmitted through the window.
U-Factor: The rate of heat loss. (The lower the number, the higher the heat loss resistance.)
Solar Heat Gain Coefficient (SHGC): The amount of solar energy transmitted, measured on a scale of 0 to 1. (The lower the number, the less solar heat transmitted.)
---
Publisher's Note: This content is made possible by our Today's Homeowner Campaign Sponsors: Whirlpool, Vivint, myQ, Sonos and Jinko Solar . These companies take sustainability seriously, in both their products and their operations. Learn more about building and buying homes that are more affordable and less resource intensive.
Nov 4, 2022 8:45:00 AM · 9 min read
---

Veteran journalist Matt Power has reported on innovation and sustainability in housing for nearly three decades. An award-winning writer, editor, and filmmaker, he has a long history of asking hard questions and adding depth and context as he unfolds complex issues.