Download The Homeowner's Handbook of Green Building and Remodeling
The 2023 Homeowner's Handbook of Green Building & Remodeling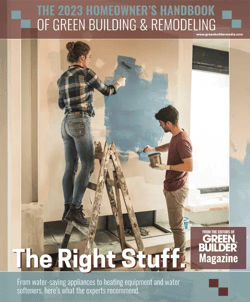 When it comes to green building and green remodeling, there definitely is the "right stuff" to do. Green Builder magazine editors sifted through the core aspects of a house and organized a guide that will help you get the most enjoyment out of your home--all while living lighter on the planet and saving money, including info on:
Which renovations make sense now?
Highlighted products chosen by Green Builder editors help you avoid greenwashing.
The important (and cool) role of "castoffs" in any green home.
10 ways to squeeze every kilowatt out of your kitchen's efficiency.
Solutions for short-lived appliances.
Which home energy hacks actually work.
And so many more answers to your burning questions about eco-friendly homes!
Download your copy by filling out the form on this page.
---
The Homeowner's Handbook is brought to you by the generosity of the following sponsors: