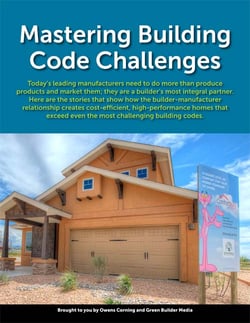 Mastering Building Code Challenges
Learn the four keys to building high-performance homes in this brand-new eBook.
Download this complimentary eBook and learn how the builder-manufacturer relationship can work seamlessly to create cost-efficient, high-performance homes that exceed even the most challenging building codes.
Read these in-depth case studies and learn the four essentials a manufacturer must provide to industry-leading builders so they can to build quick-selling, low-maintenance, high-performance homes--and rake in solid profits in the process.
Fill out the form on this page to download the free eBook today!