Proper Insulation Installation: Major Impact on Home Performance

Matt Power, Editor-In-Chief
6 min read
Insulating your roof, walls and foundation will also insulate your wallet from the high energy cost of heating and cooling your home. This one-time investment will save you money for decades.
The advantages of a well-insulated home are threefold:
Energy savings
Greater comfort
More soundproofing.
To take advantage of those characteristics, you have several types of insulation to choose from. The material you use should take into account the weather patterns where you live, the level of performance you want, and how accessible your structure is. With a new home, the sky's the limit--any insulation can be specified. In an old house, however, where you have to "drill and fill," your options may be more limited.
Building scientists (a new breed of experts) now have a deep understanding of how insulation works. They've learned that factors such as air infiltration, dampness and age can dramatically affect performance.
But they also recognize that insulation is part of an energy-saving system, not a standalone solution. Good results can be achieved with any insulating material, if it's combined with the right housewraps, tapes and construction details. Here's an overview of the latest advances in insulation technology.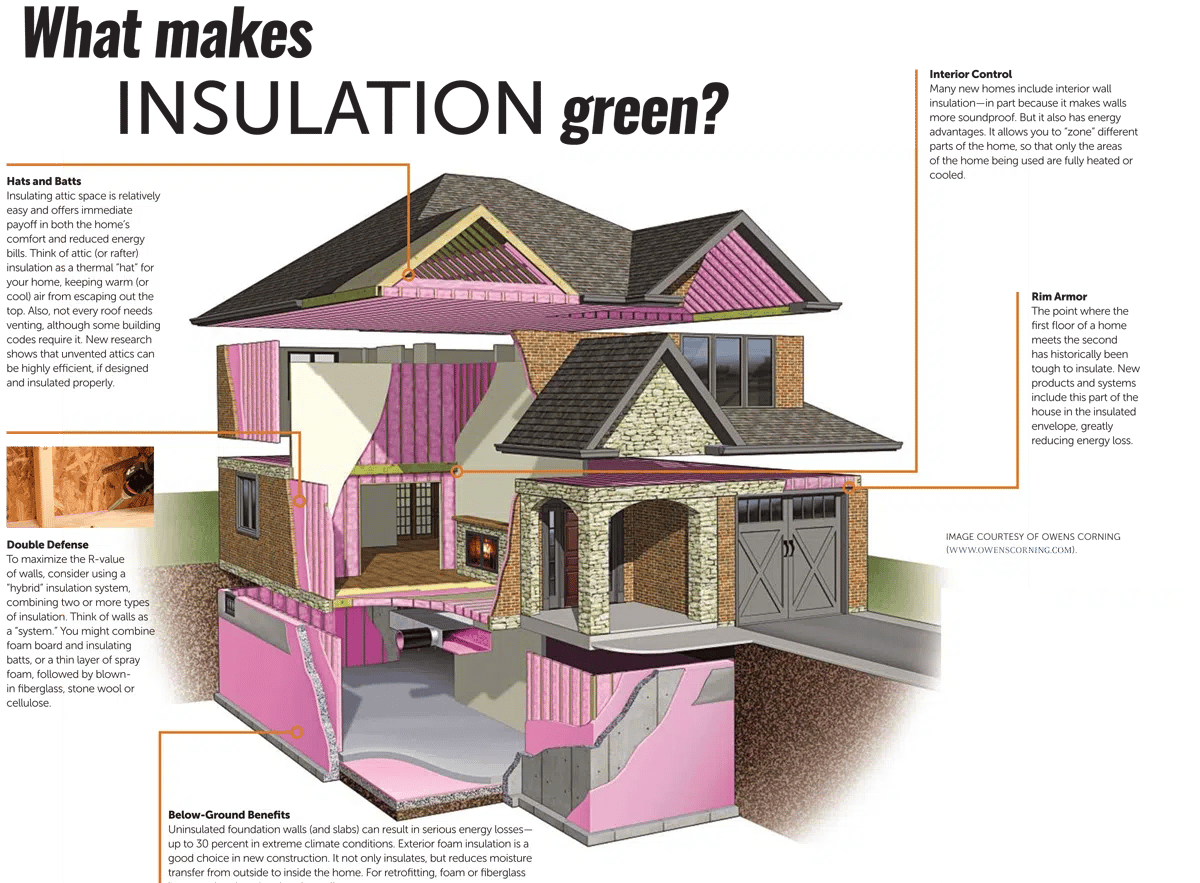 Click to view a larger image
Fiberglass: Installer Friendly
Fiberglass insulation in batt form is probably the most familiar insulating product. Changes in recent years have affected the composition of chemical binders that hold the product together, along with the size of the glass fibers. Many brands have removed or reduced toxins such as formaldehyde from their products. Some of the largest manufacturers of fiberglass products, such as Owens-Corning, have introduced products that are more comfortable to handle, and added to the percentage of recycled content in all product lines (up to 40 percent).

Spray Foam: Multiple Choice(s)
Insulating walls and ceilings with spray foam is relatively expensive, typically more than twice the cost of fiberglass batts, and most often it's a job best handled by pros. Creating spray foam is chemically intensive, but the energy performance of foam is hard to beat.
Some brands offer insulating value of more than R-6 per inch. One technique to consider with spray foam is combining closed cell and open cell foam in the same cavity, a system especially suited for the roof cavities in unvented attics.
Another efficient and money-saving option is to apply a shallow layer of closed cell foam to seal off air leaks, then fill the remaining space with fiberglass, cellulose or stone wool.

Cellulose: Paper Trail
Cellulose has a good green story to tell, especially from the manufacturing side. It's made primarily with recycled paper, typically newspapers, and most brands are treated with boric acid as a fire retardant. Companies such as Greenfiber have fine-tuned these products in recent years.
Cellulose can be installed wet or dry. If installed wet, it should be allowed to dry properly before covering with drywall (typically less than 48 hours). The insulating value of cellulose is about the same as blown fiberglass (roughly R-3.7 per inch).

Mineral Wool (or Stone Wool): Sound-Deadening Fire Resistance
Although mineral wool looks like fiberglass, it's made from basalt rock and slag, not glass. The resulting product, either batts or loose fill, is non-flammable, requiring no chemical flame retardants. As a result, offgassing emissions tend to be low. Mineral wool includes high levels of post-industrial recycled content waste (up to 90 percent), reducing the environmental impact of its production. Rigid exterior insulation made from mineral wool is now available as well, an excellent choice for wildfire risk regions.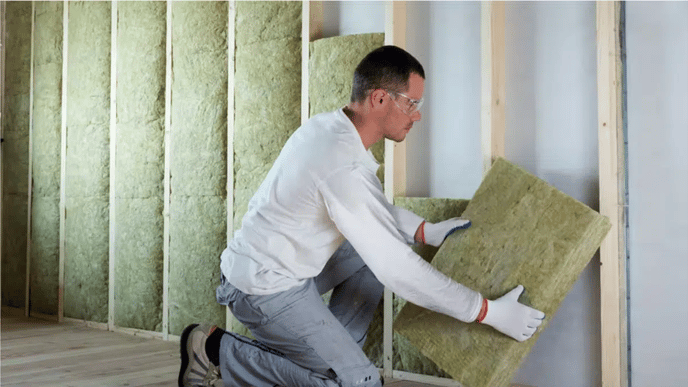 Rockwool Insulation

Rockwool batts

made from "stone wool" embody the durability of stone. They're non-combustible, withstanding temperatures above 1000°C, ideal for wildfire prone areas. Also, when used to fill interior wall cavities, they greatly reduce sound transfer and unwanted heat loss.
Rigid Foam: Armor Against Extreme Heat
You may have seen contractors in your area putting green or blue insulation right over the wood siding of an old house. Chances are, they're applying extruded expanded polystyrene (XEPS) or polyisocyanurate closed-cell foam. Both products are dense and durable. Some building experts suggest that foam used this way can act as a water-resistive barrier (WRB), negating the need for housewrap, but we recommend playing it safe, and using housewrap as well.
Rigid foam is also a good choice for insulating basement walls. Recent research has found that adding just an inch or two of rigid foam to a roof deck can make a tremendous difference in the amount of heat absorbed into the building. We are currently testing this principle on a remodeling project called ReVISION House Scottsdale, located in Arizona. Temperatures there often exceed 115 degrees Fahrenheit.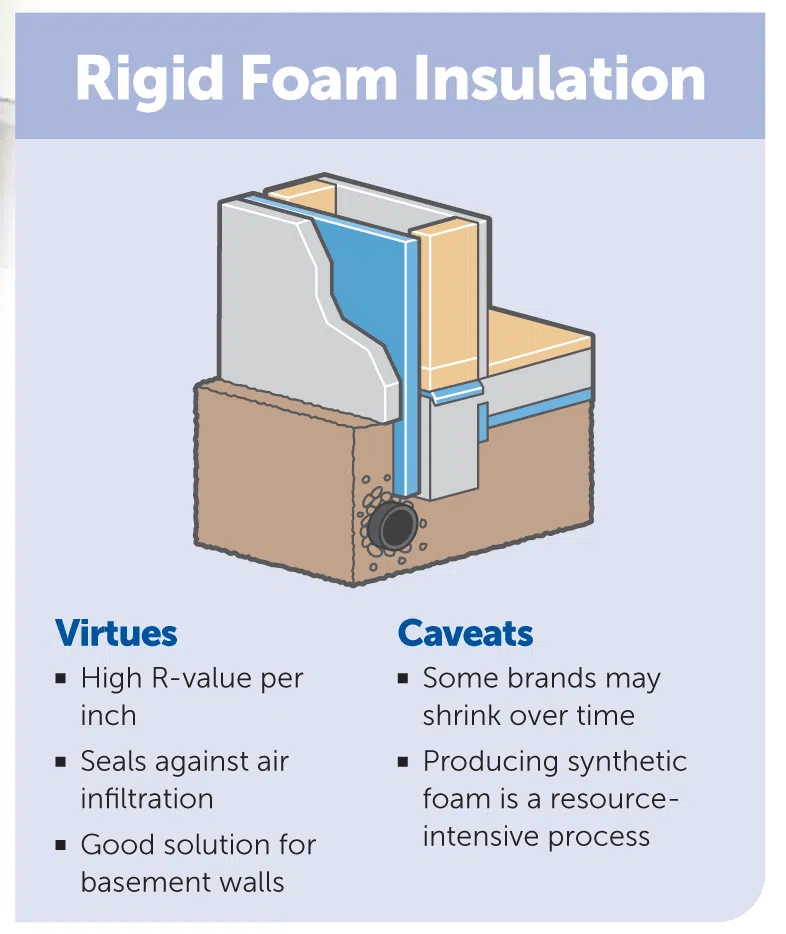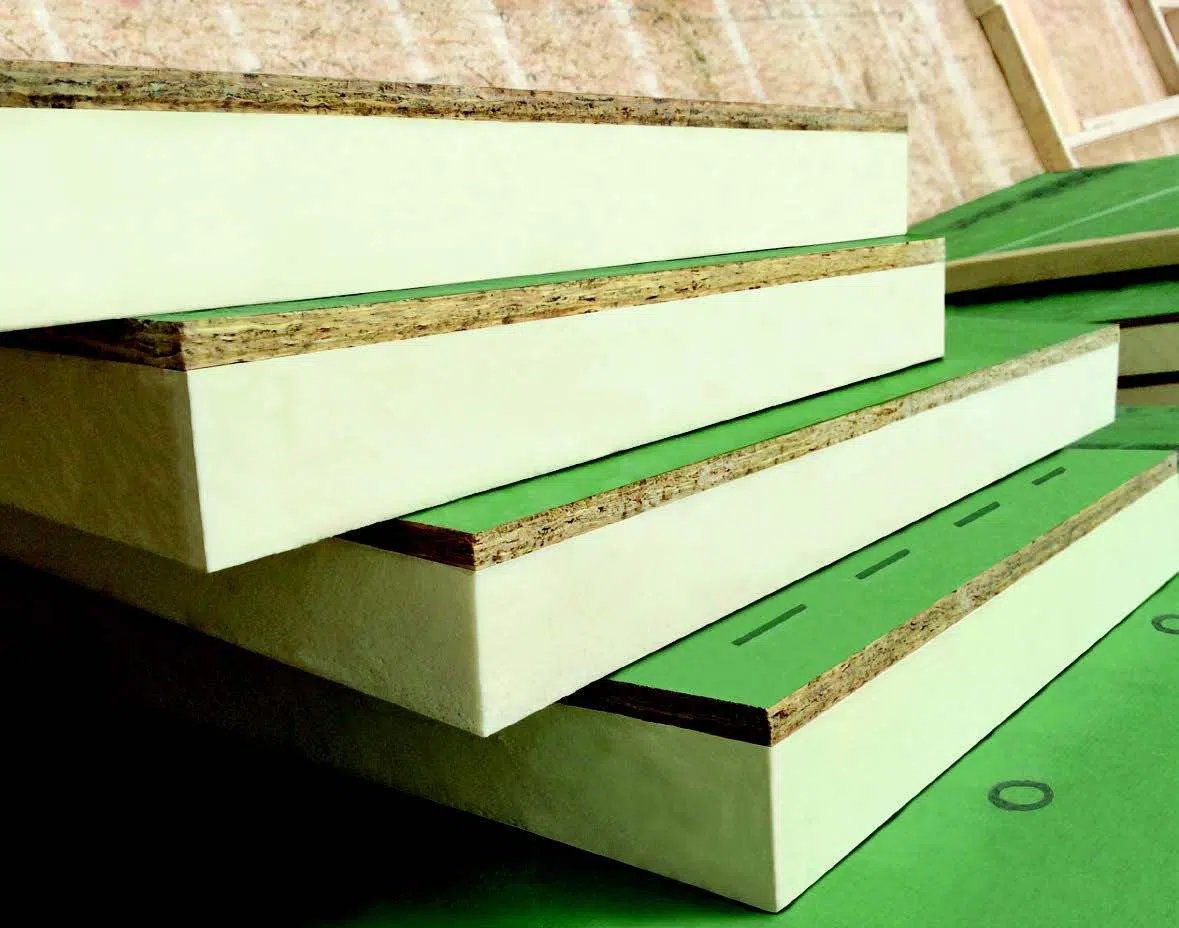 Huber Zip System R-Sheathing Although technically part of home's "shell," not just an insulation product,

Zip System's Insulated R-Sheathing

integrates exterior panels with up to R-12 insulting value into the construction process. The panels, sealed with special tape, offer a continuous air barrier, plenty of strength to meet building codes and reduce the prep work required before siding goes on.
Know the Lingo: Glossary of Terms
R-Value: A measure of how effectively a material resists heat flow. Thus, higher numbers are better. For a full list comparing various types of insulation, visit

www.coloradoenergy.org

.
Batt: A length of insulation that is pre-cut to fit certain wall cavity dimensions. Typically sold in a pre-cut roll.
Unfaced/Faced Insulation: Faced insulation (typically a fiberglass batt) includes a vapor retarder on the interior face that restricts movement of moist air into wall cavities. Unfaced is simply a batt without a vapor retarder.
Ridge Vent: An opening covered by a rainproof vent that follows the peak of the roof, typically required by code. Some insulating methods, however, negate the need for a ridge vent. Clear it with your local code official first.
Blow-In: Method of introducing loose fiberglass, cellulose or mineral wool to framing cavities or attic space, typically using a machine with an attached hose.
Blower Door: Equipment used to test the effectiveness of a home's insulation and air sealing systems.
Stud Cavity: The space between the vertical members of a conventionally framed wood or lightweight steel home. Common stud spacings include 16" and 24" on center (of stud).
Cladding Considerations
Extra-thick layers of exterior insulation can greatly improve the energy performance of homes, but installation requires some special techniques.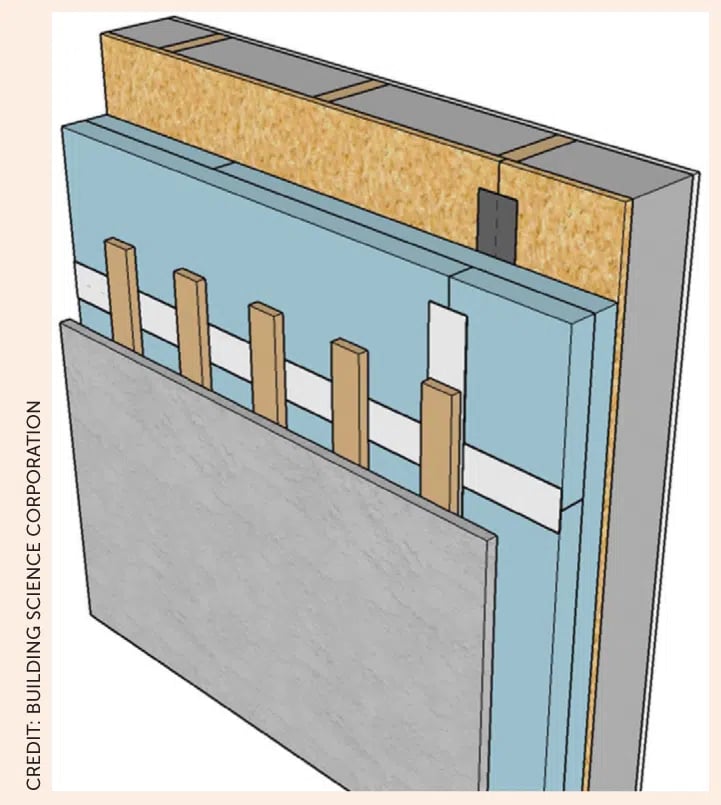 For thinner insulation, the cladding can often be attached directly through the rigid insulation, nailed or screwed into the structure. The practical limit of this approach is around 1-½" of rigid insulation, due to the limited fastener lengths for many pneumatic nail guns.
For thicker insulation, vertical wood furring strips can provide a cladding attachment location. This approach also provides a drainage and ventilation gap behind the cladding, which helps manage water. To adequately support the cladding, the furring strips should be attached back to the structure using #10 or larger wood screws that are sized to maintain a 1-¼" minimum embedment into the structural framing.
Some claddings, such as stucco and adhered stone veneer, may require additional support between the structural furring strips to facilitate the installation. Wood shingles require a continuous nail base, which is best provided by installing another layer of structural sheathing directly over the insulation in place of wood furring strips.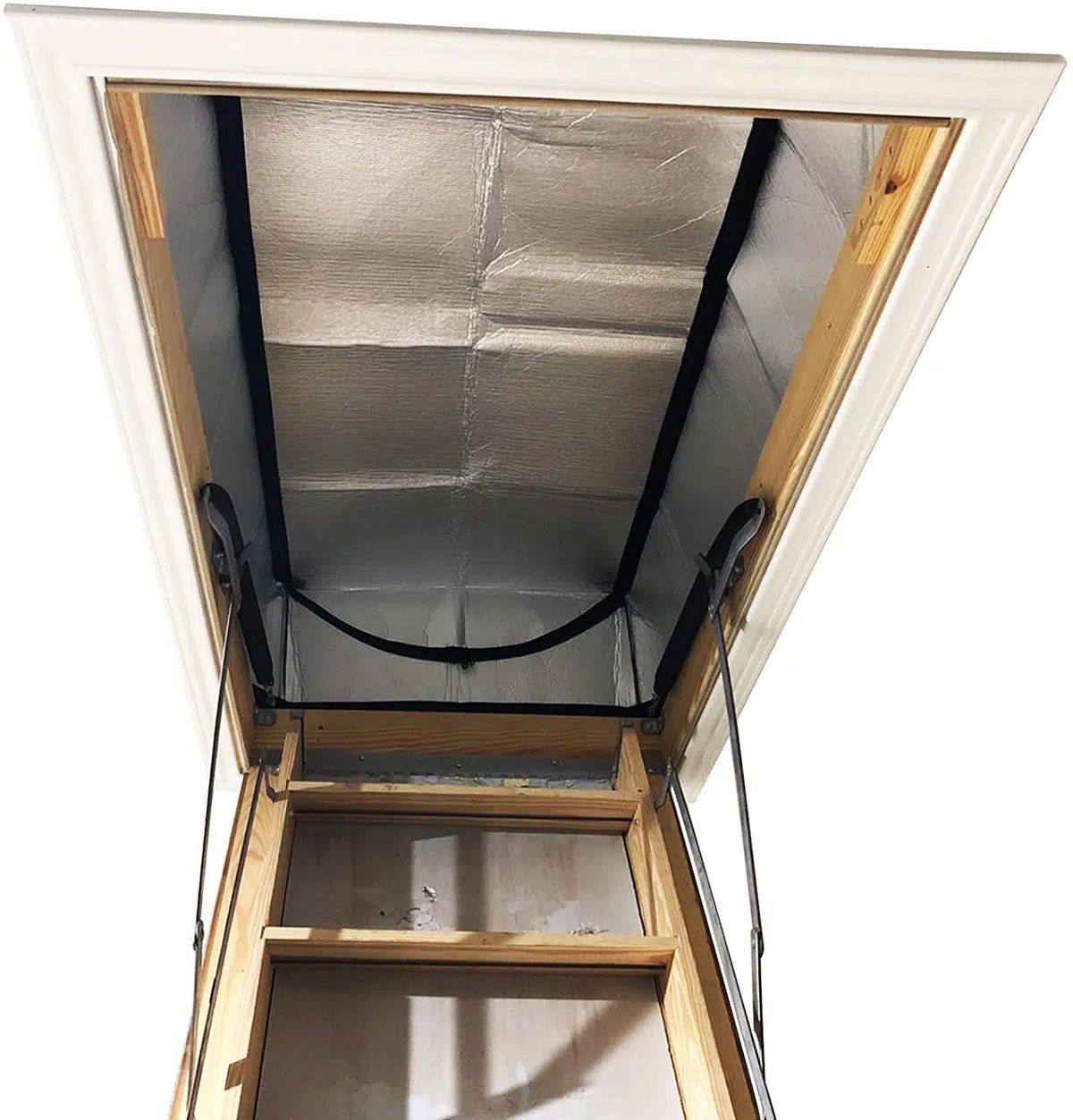 Attic Caps Reduce HVAC Leakage
One of the simplest, most affordable ways to ratchet down your heating or cooling bills is to zip up your attic access stairs. If you don't access the attic frequently, we recommend one of these low cost systems; Owens Corning makes a similar product.
If you're in and out of the attic on a regular basis, however, you may want to invest in a pricier, sturdy unit such as this one, used as insulated service doors for roof access. Bilco offers one that should hold up for years of regular use.
Available for under $40 on Amazon, the Attic Stairs Insulation Cover pictured above can reduce energy loss into your attic dramatically.
---
Publisher's Note: This content is made possible by our Today's Homeowner Campaign Sponsors. These companies take sustainability seriously, in both their products and their operations. Learn more about building and buying homes that are more affordable and less resource intensive.
Aug 16, 2023 9:33:49 AM · 6 min read
---

Veteran journalist Matt Power has reported on innovation and sustainability in housing for nearly three decades. An award-winning writer, editor, and filmmaker, he has a long history of asking hard questions and adding depth and context as he unfolds complex issues.