Introducing VISION House Sussex: Sustainable and Attainable

Sara Gutterman
4 min read
Green Builder Media has joined forces with building industry influencer Tim O'Brien to develop the VISION House Sussex to showcase cost-effective performance, health, comfort, intelligence, and resiliency.
With an 18-year history of producing the most cutting-edge demonstration projects in the market, Green Builder Media is proud to partner with nationally esteemed Tim O'Brien Homes to bring to life the VISION House Sussex, a small compound of five homes in the Village of Sussex, a mixed-use, master-planned development in the greater Milwaukee area with 300 home sites and 60 acres reserved for community amenities like walking trails and parkland.
Tim O'Brien Homes will utilize one of the homes in the compound as its showroom model and will collect performance data on the other four homes for testing, analysis, and case study purposes.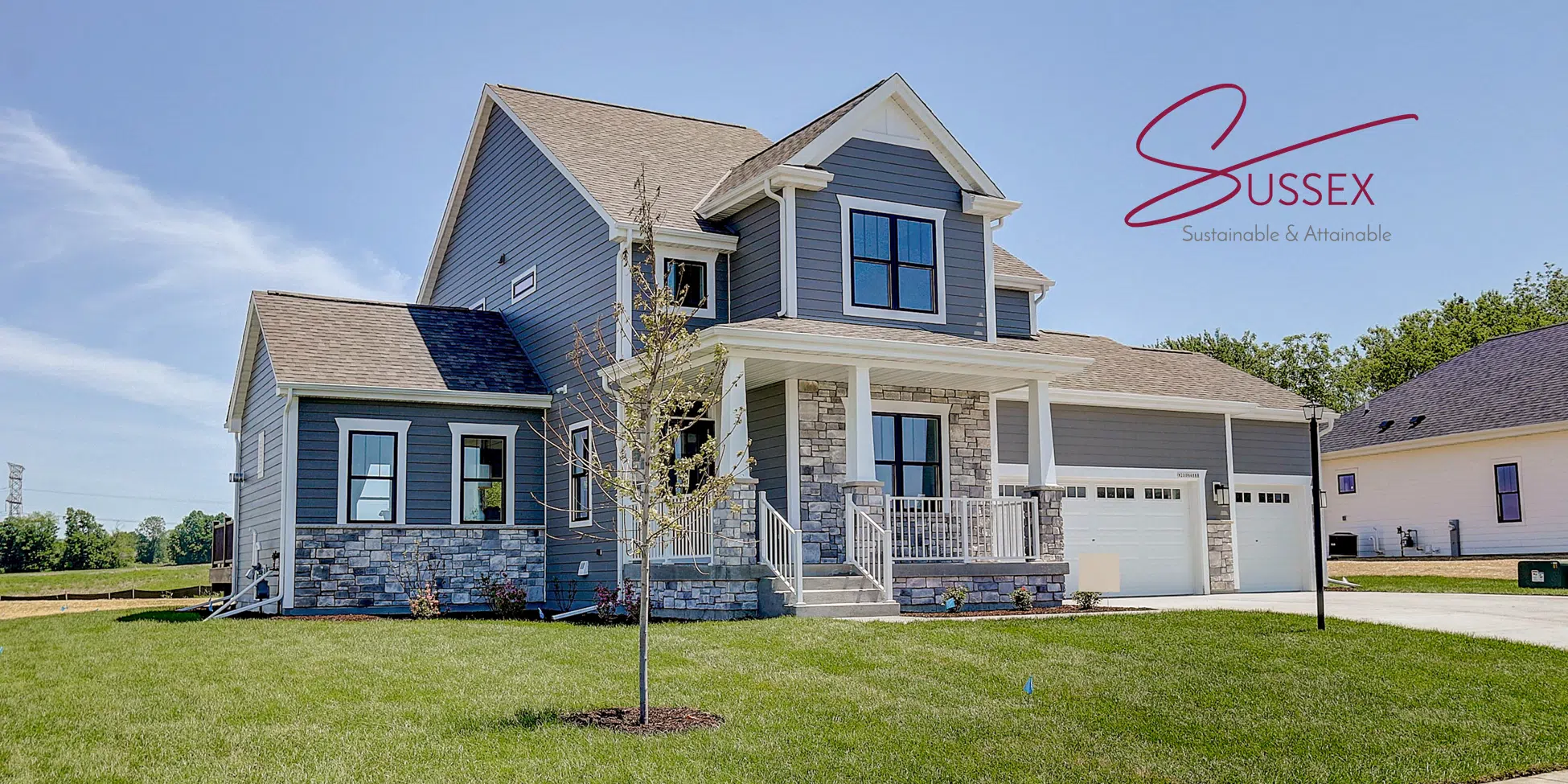 Long-time green builder Tim O'Brien, President of Tim O'Brien Homes and winner of Green Builder Media's prestigious 2022 Sustainability Superhero award, has been building to a higher standard since 2007, continuously improving sustainability and durability by focusing on best building science and design practices, renewable energy systems, and advanced technologies for optimal performance, health, and comfort.
Tim O'Brien Homes stands out in a market where most competitors build to the 2009 code. "Our company goes far above and beyond code by focusing on energy efficiency, indoor air quality and reducing utility costs," states O'Brien. "The VISION House Sussex model home will be certified Energy Star and EPA Indoor AirPLUS. The project will give us the opportunity to show the market what can be achieved at a reasonable price point."
Design Optimization
The VISION House Sussex compound has been designed for climate-resilience. "In the planning of this development, we factored in the best orientation of the homes for reducing unwanted heat gain and optimizing solar energy," says O'Brien. The model home will feature an integrated solar system with photovoltaics, inverters, and battery storage from JinkoSolar.
O'Brien's thoughtful design approach extends into the layout as well. "For every home we design, we ask ourselves the question, 'How is the buyer going to live in it?'"
He believes in offering "space in the right place" based on homeowners' needs and lifestyles, with standard features like washers and dryers placed near where clothes are kept, adequate closet space, walk-in pantries, good cabinet layouts, and de-stressing areas.
Storage solutions from Organized Living will ensure that every square foot in the home is utilized effectively.
To enhance sustainability, durability, and design aesthetics, the demo home will feature DalTile anti-slip floor tile, anti-microbial quartz countertops, and waterproof, stain-proof, dent-proof, scratch-resistant, fire-resistant porcelain tile for shower walls, along with Mohawk engineered wood flooring and carpet.
Even the garages get consideration, which will boast connected garage opening systems by LiftMaster with MyQ intelligence and Windsor garage doors made of 75% recycled sheet steel.
Performance-Forward
Given that the Milwaukee area experiences extreme temperatures in both the summer and winter, the homes in the VISION House Sussex complex will feature super-tight building envelopes for maximum comfort, including thermal barriers, Energy Star certified windows that insulate while reducing solar heat gain, and unique exterior wall construction with advanced framing, high-performance blown-in batt insulation between the studs, one inch of rigid foam insulation on all exterior walls, and a "thermal blanket" of Tyvek house wrap.
The performance of the houses designed and constructed by Tim O'Brien Homes is tangible for homebuyers. According to O'Brien, the homes can cost about 3% to 4% more than a comparable home built to code, but the annual savings for these homes can exceed $1,000 annually (which doesn't include enhanced comfort and increased resale value.)
Health Supreme
Because the building envelope of the VISION House Sussex model home is so tight, regulating indoor air quality (IAQ) is of paramount importance. The home will be equipped with an innovative heat pump HVAC system from Carrier, with an ERV (which continually replaces stale indoor air with fresh air from the outside and moderates the air temperature), MERV 11 air filters, and a proactive IAQ monitoring system.
Since radon is an issue in the Milwaukee area, every house built by Tim O'Brien Homes includes an Active Sub-soil Venting System.
Water Solutions
The demo home will address water quality and conservation with advanced products like a Rheem heat pump water heater and Kohler low flow plumbing fixtures, leak detection and water monitoring system, and water filtration system.
Beyond the Home
One of the standout elements of Tim O'Brien Homes is the company's steadfast commitment to its core values: delivering extraordinary experiences, fostering a team environment, embracing social responsibility, nurturing a learning organization, communicating with empathy and understanding, serving as solution experts, and having fun in the process.
"At Tim O'Brien Homes, we are deeply committed to building a sustainable future, which is why we're thrilled to have been chosen to work with Green Builder Media on the VISION House Sussex project. This forward-thinking endeavor encapsulates our shared dedication to creating homes that not only improve indoor air quality through EPA's Indoor airPLUS certification but also promote the use of local, eco-friendly materials for enhanced sustainability. By incorporating advanced technologies such as induction cooktops, hybrid heat pump water heaters, solar panels, and battery storage, we are taking significant steps toward a greener, more resilient tomorrow for all."
We're thrilled to have the opportunity to partner with Tim O'Brien Homes as we take an important step towards understanding how builders can offer sustainable homes at an attainable price point. We invite you to follow our progress— click here to sign up for email updates about the VISION House Sussex, and keep an eye open for ongoing editorial about the project as it evolves over time.
Apr 13, 2023 9:25:11 AM · 4 min read
---

As cofounder and CEO of Green Builder Media, Sara is a visionary thought leader and passionate advocate for sustainability. A former venture capitalist, she has participated in the life cycle (from funding to exit) of over 20 companies, with an emphasis on combining sustainability and profitability. She lives in Lake City, Colo., with her husband, where she is an avid long-distance runner, snowboarder, and Crossfit trainer. She is also on the Board of Directors at Dvele, runs the Rural Segment for Energize Colorado, and is a former County Commissioner.