Sustainability Superhero

Alan Naditz
6 min read
Here are Tim O'Brien's three keys to success: planning, open mindedness, and sharing with you know. He earned Green Builder's 2022 Sustainability Superhero award by following his own advice.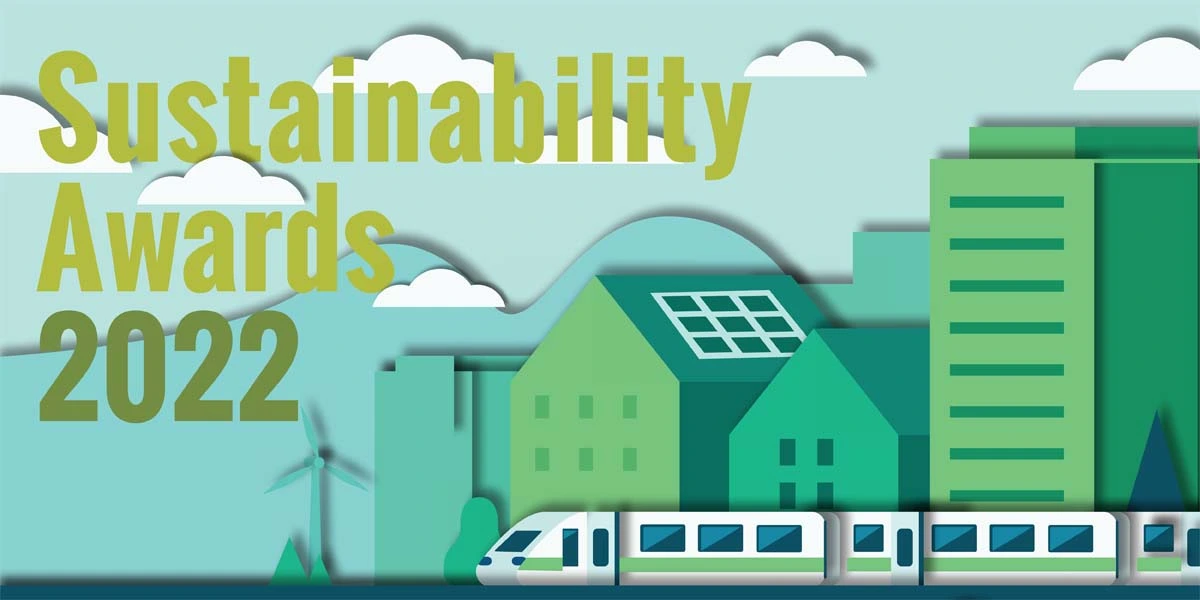 For Tim O'Brien, it all started with a little thing called building science, at a time when the phrase wasn't quite in vogue. This was in the mid-1990s, when there was also a new thing called LEED certification that some builders were starting to work toward. Both caught the civil engineer's ears, and soon he was taking an employer-sponsored course that delved into the latest performance-enhancing techniques for building homes.
Fast-forward into the early 2000s. O'Brien was working for a regional builder, and was involved with a home construction program through CertainTeed. The builder was also a devoted participant in the U.S. Environmental Protection Agency's ENERGY STAR program, with all of its homes undergoing that certification, O'Brien says.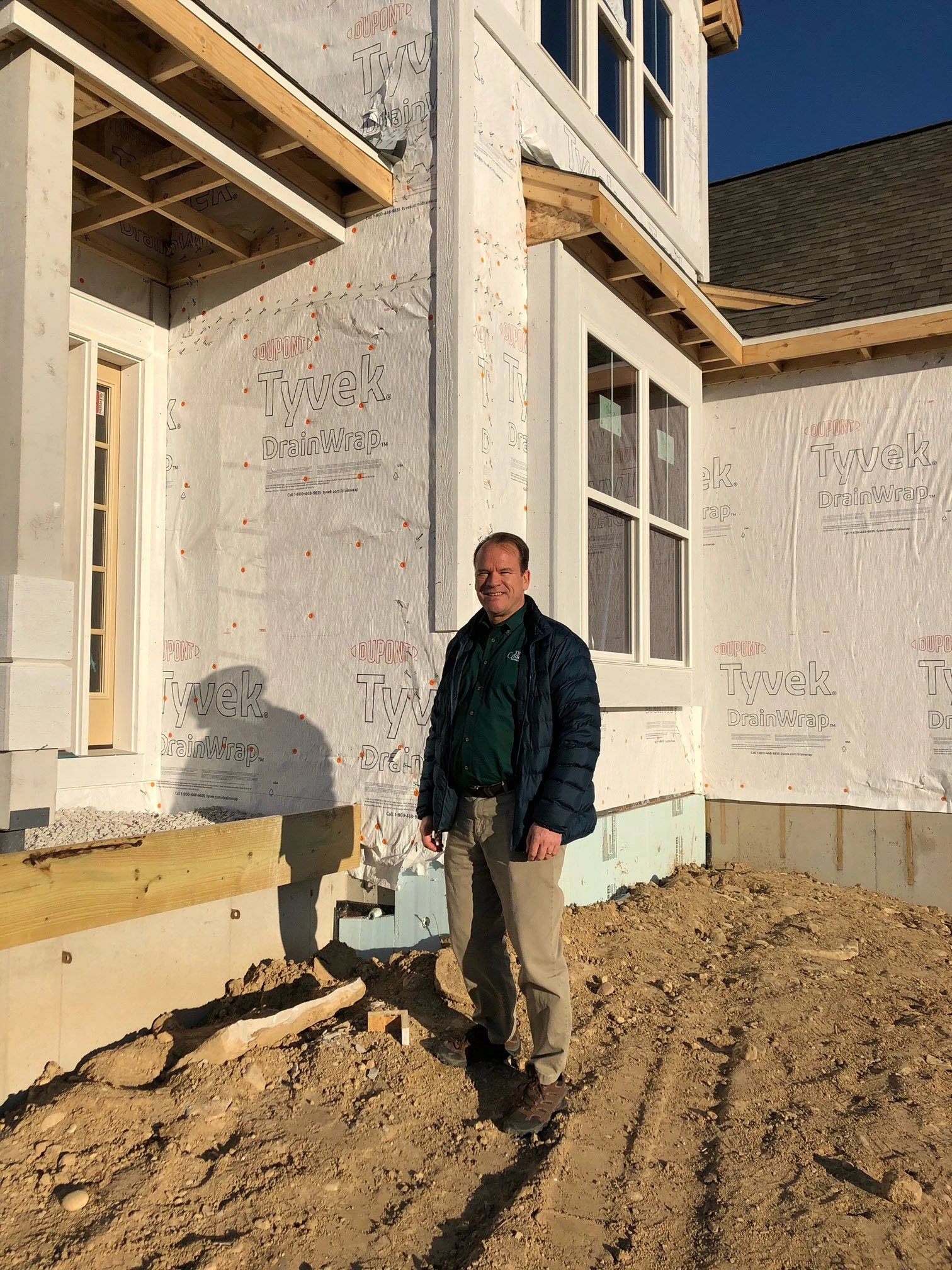 Tim O'Brien has made a living out of presenting the positives from sustainability-focused homes— from environmental benefits to cost efficiency. Credit: Courtesy Tim O'Brien Homes
These programs further enhanced O'Brien's knowledge of structural engineering and ways to improve a home's energy efficiency. "I just ate that stuff up," he says.
Then the recession hit. "For the builder I was working for at the time, it was all about cutting costs," O'Brien recalls. "He was no longer going to do the Energy Star program, and I felt that was a mistake, because it was really starting to gain traction."
So, in 2007, O'Brien—Green Builder's 2022 Sustainability Superhero—did what any construction specialist does during an economic downturn: He started his own company. He and a business partner, Mike Neumann—who would go on to launch SunVest Solar two years later—opened Tim O'Brien Homes (TOBH) in Milwaukee. It would expand into Madison, the state capital, in 2012.
The construction firm had a mantra: Every new home would have third-party LEED certification, as well as certification through one or more energy efficiency programs, including Energy Star, Wisconsin's Focus on Energy, and the city of Madison's Green Built Home Program. "Our focus was on energy certification, and then green-built home certification," O'Brien says. "That was going to be our marketing differentiation. We both believed in it; it was the right way to build a home."
No Niche Marketing
In the late 2000s, green building was a niche item among Madison area builders. Their projects topped out at 20 homes. O'Brien and Neumann believed the marketplace standard could be 100 to 150 homes. "We knew the home was not going to be the cheapest on the market, but it was going to provide the best value for our customers," O'Brien says. "Our customers needed to be able to understand that value."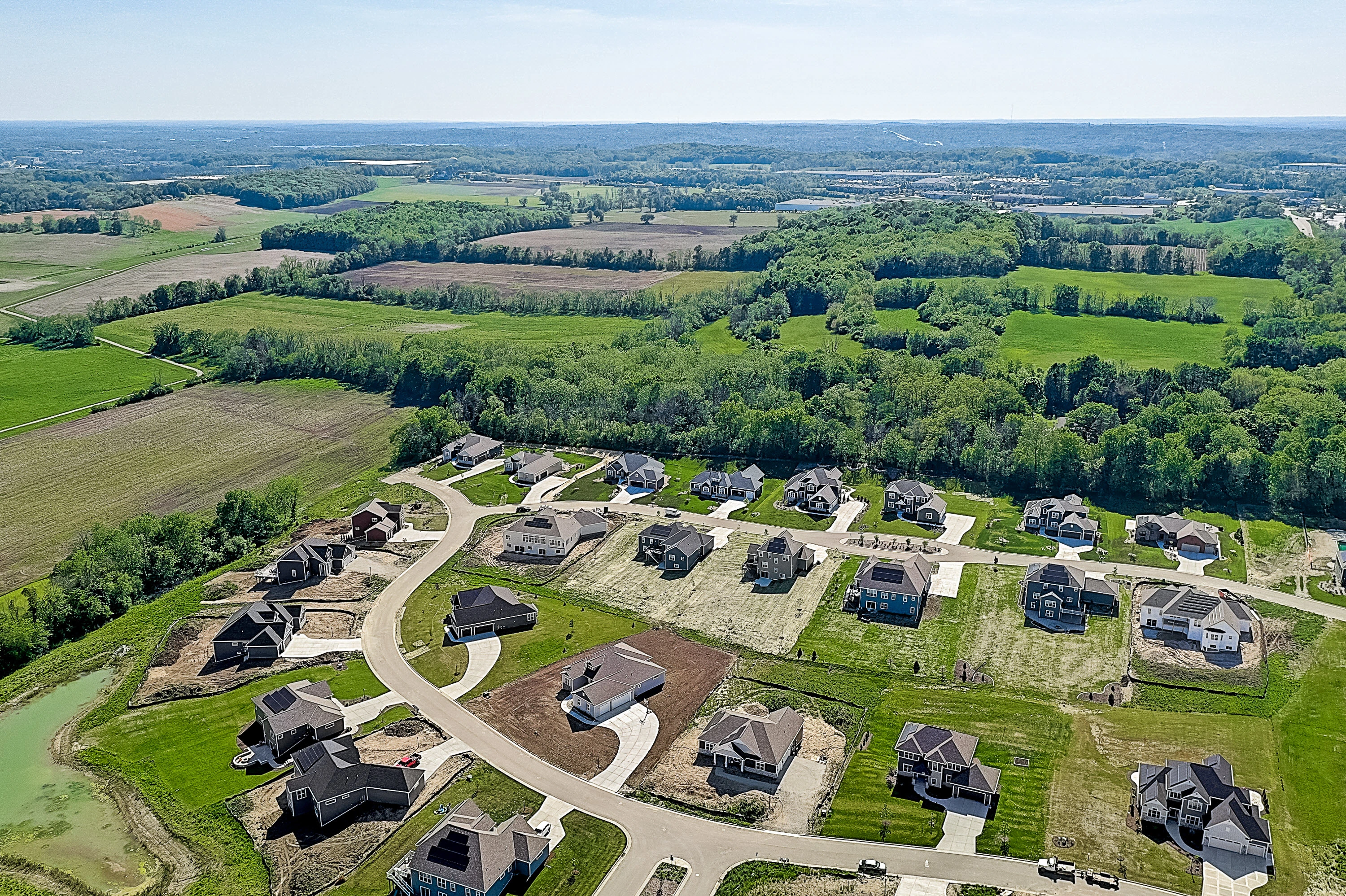 Red Fox Crossing, Wisconsin's first solar-powered net-zero neighborhood, is a sustainability crown jewel for Tim O'Brien Homes and partners Neumann Developments and SunVest Solar. Credit: Courtesy Tim O'Brien Homes
TOBH offered free energy efficiency upgrades—but "we could never get people to take them," O'Brien recalls. "So finally, I decided I was just going to bite the bullet and add this cost into our homes, and we're going to sell it to consumers as best we can. If I believe that this is the right combination of air sealant and insulation additions that we can use to place our home above the certification requirements, I'm also going to stress that it's going to provide a more energy-efficient and comfortable home."
All of the enhanced features would remain—there was to be no downgrading to close a sale. In the long run, the persistence paid off. "We started to hear about it on our year-end surveys: 'We can't believe how comfortable this home is and how low our energy bills are,'" O'Brien notes.
"People are now experiencing the benefits, things that they never would have if changes in terms had been made at the time of purchase."
The Grand Plan
By 2008, O'Brien had been heavily involved in the local home builders association for several years, when one of the other members approached the group with a proposal: He wanted to make "The Home of the Future," a structure that would define what the typical house would look like in 20 years.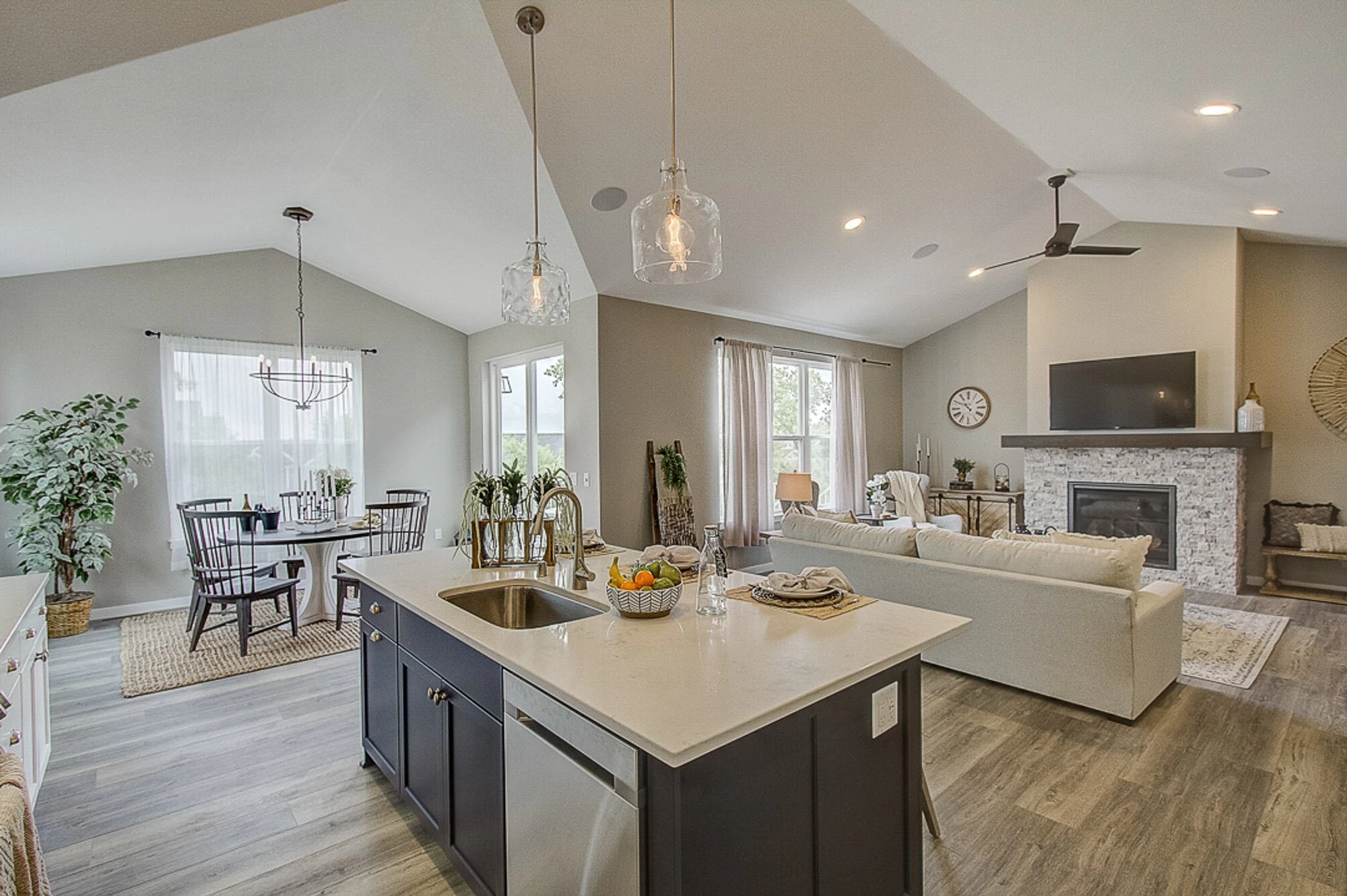 Special features such as upgraded countertops, insulation, and lighting are included as part of the purchase price—and most customers couldn't complain. Credit: Courtesy Tim O'Brien Homes
O'Brien and other association members contributed; the home featured structural insulated panels (SIPs), greywater recycling, recycled plastic shingle roofing, a photovoltaic array and a solar water heater, and even a permeable concrete driveway made with recycled content.
In 2009 came "The Energy Producing Home," which called for the conversion of a natural gas dwelling into one run entirely on solar. It was, effectively, an early foray into electrification, according to O'Brien.
The energy-producing home evolved into a grand plan: A completely net-zero neighborhood. That project, Red Fox Crossing in nearby New Berlin, opened in 2018 and featured 34 homes of 1,800 to 3,200 square feet that were each primarily powered by 6- to 8-kilowatt (kW) solar arrays.
They were ENERGY STAR, EPA WaterSense and EPA Indoor airPLUS certified. The grand opening model, Savannah, is one of Wisconsin's first three homes to be certified as a Zero Energy Ready Home (ZERH) by the U.S. Department of Energy (DOE). Red Fox Crossing is also the state's first net-zero community.
Training Ground for Trades
Red Fox Crossing served as a springboard for other TOBH net-zero communities around Madison. In turn, O'Brien's projects have provided training grounds for high school students considering careers in home construction.
Over the past 12 years, the company has worked with several high schools in and near Madison, offering apprenticeships through its School Building Trades program. There are currently four high schools participating; each one has 12 to 15 students enrolled annually.
Students work alongside a TOBH construction team and contracted trade partners to build a home from start to finish in a project neighborhood. They spend a minimum of three hours per day on site and are exposed to all facets of housing construction. Finished homes are later sold to community residents.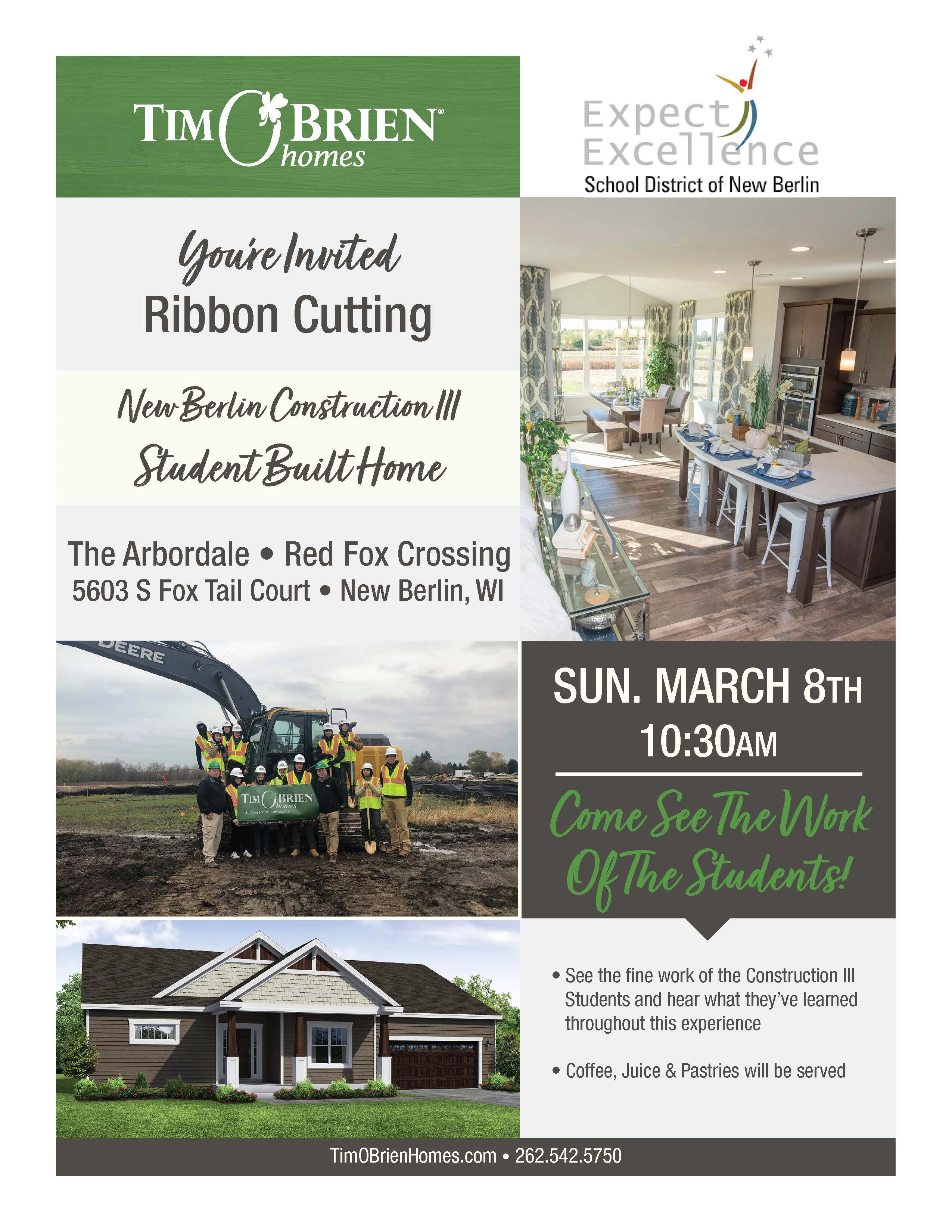 Each year, construction students from school districts in the Madison, Wisconsin area practice their trade on one of Tim O'Brien Homes' new dwellings, such as this one by the School District of New Berlin's crew in 2020. Credit: Courtesy School District of New Berlin
"Our trades typically end up hiring three to seven kids out of the program at some point, once they graduate high school," O'Brien says. "These folks have become plumbers, electricians, HVAC technicians, carpenters, siding experts—we even have one from about seven years ago who has since started his own carpentry company."
O'Brien is working with another builder to start a similar apprenticeship in a neighboring county. "There's a lot of demand for this program," O'Brien says. "For us, it meets one of our core values: to embrace social responsibility. This really gets into our community involvement, providing an outdoor classroom for kids to learn and focusing on educating people on our green message."
All ZERH on the horizon
The big goal now, according to O'Brien, is for every home built by the company from 2023 on to be ZERH. There's also the EPA's upcoming ZERH 2.0 program, in which TOBH will build an all-electric version of an older, not-quite-off-fossil fuels house located down the street. The two will be virtually identical in terms of appearance and size, and will be compared for differences in factors such as utility costs, indoor air quality, and overall air envelope over a one-year period.
"It's going to be a traditional Tim O'Brien home with a natural gas furnace, water heater, and stove against a home that is all electric," O'Brien says. "We're very excited to see the results."
TOBH's results speak for themselves. Fifteen years of success, more than 2,200 home certifications, and dozens of building awards. O'Brien says he couldn't have done it without the help of others in the industry. "There are so many people I want to thank, who are industry leaders in their own ways," he says. "Gene Myers (Thrive Home Builders), Sam Rashkin (architect and author), Suzanne Shelton (Shelton Group), Gord Cooke (Construction Instruction), Ron Jones (Green Builder Media), and of course Mike (Neumann) and so many others. They're all huge influencers that helped me get to where I am today."
Apr 14, 2022 3:33:35 PM · 6 min read
---

Alan Naditz is managing editor of Green Builder Magazine. He has covered numerous industries in his extensive career, including residential and commercial construction, small and corporate business, real estate and sustainability.