A New Standard for Net Zero Carbon Communities

Sara Gutterman
4 min read
Green Builder Media has joined forces with housing sector pioneer Thrive Home Builders to launch The Sonders Project, a 220-home community located in Fort Collins, Colorado that will push the limits of net zero carbon development.
With a 17-year history of producing the most cutting-edge demonstration projects in the market, Green Builder Media is proud to partner with nationally esteemed Thrive Home Builders to bring to life The Sonders Project, a 220-home age targeted (55+) sustainable community located in the progressive city of Fort Collins, Colorado.
The Sonders community will feature a blend of single-family homes, duplexes, and townhomes, all of which are intentionally small footprint, highlighting quality and sustainability rather than large-footprint living to meet the needs of today's home buyers.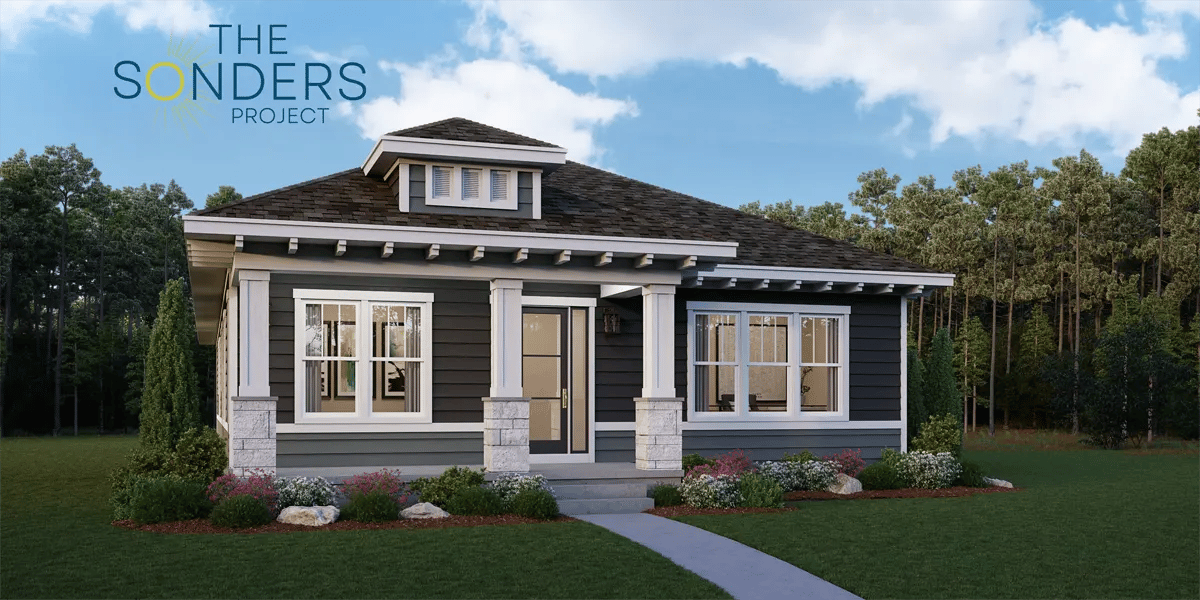 A Decarbonized Community
Community development is changing quickly in the U.S. as enabling technologies, renewable energy solutions, and high-performance products empower building professionals to design and construct homes that are electric, healthy, resilient, connected, and solar powered.
Sophisticated demand-side energy management solutions and smart home technologies can now optimize resource use and improve indoor air quality without homeowner interaction. Intelligent solar, battery storage, and energy management systems can interconnect homes within a community so that they can harvest and share energy before drawing from the grid to shave demand and reduce monthly bills. And a new generation of sustainable building products are making net zero energy, water, and carbon readily attainable.
The Thrive-built homes in the Sonders development will embrace these leading-edge systems and technologies to reduce resource use and carbon emissions. The homes, designed for efficiency, comfort, and health, will be DOE Zero Energy Ready, EPA Indoor Air Plus, and LEED v4 certified.
The Sonders Project homes will feature super-efficient building envelopes, with high-performance windows, Owens Corning insulation, and DuPont weatherization systems. They will also be all-electric, utilizing Mitsubishi air-source heat pumps for heating and cooling, hybrid heat pump water heaters, Whirlpool induction cooktops, battery storage backup, and Schneider Electric energy management systems that will monitor and optimize energy usage.
Sunnova will install solar on every Thrive-built home to cover a portion of the power needs. To ensure that their homes are powered entirely by clean energy, homebuyers can take advantage of Fort Collins' option to purchase 100% renewable energy.
Water, an increasingly precious resource in the Western U.S., will be conserved with Uponor advanced plumbing manifold systems, low-flow fixtures, and Phyn leak detection and water monitoring devices.
To address indoor air quality, the homes will feature non-toxic flooring, countertops, cabinets and other materials, as well as active radon detection systems, AprilAire whole-home filtration and humidification technology, and Panasonic ventilation solutions.
All products used in the homes have been selected based on sustainability and carbon reduction qualities (while Environmental Product Declarations and sustainability certifications have been requested for all products, they are not yet available for certain categories.)
Thrive Carbon-Wise
Through The Sonders Project, Thrive is launching Thrive Carbon-Wise, a new building approach to reach net zero carbon. The program includes both operational carbon, such as the energy used to heat and cool a home, as well as the embodied carbon from the manufacturing of the home's components. Carbon offsets will be purchased to help make the community carbon neutral.
Thrive is pushing the limits when it comes to decarbonizing the built environment. The progressive building company estimates that the 220 homes in The Sonders Project will reduce carbon emissions by 1,023 tons when compared to a similar community built to the 2021 IECC—equivalent to decreasing the distance driven by an average gasoline-powered vehicle by 2.5 million miles, or eliminating the need for 1,211 acres of U.S. forest to absorb carbon emissions.
Today's Active Adults
It's said that 55 is the new 35. According to COGNITION Smart Data, today's active adults are dynamic, affluent, and educated. The lines between aging and retirement are blurred for this group. Many active adults are taking on new jobs, going back to school, starting a second or third career, remarrying, pursuing new hobbies, and tackling the health issues of aging with gusto.
They are engaged in living and learning and are increasingly technologically savvy. Individuals in this audience segment consider themselves to be independent, and they're looking for communities with amenities like walking trails, community gardens, and social spaces.
A recent COGNITION survey indicates that:
85% of active adults own their home

Over 50% are interested in purchasing an all-electric home, primarily to reduce their environmental footprint

68% are willing to invest in heat pump technology, smart thermostats, and solar systems

70% consider healthy home extremely or very important

64% take Environmental, Social and Governance (ESG) factors into consideration when purchasing products
The Sonders Project meets the needs of today's active adults. In addition to offering homes that are super-efficient with respect to both size and performance, the community will offer features like shared electric vehicles, bike lanes, walking trails, community gathering areas, neighborhood parks, and mixed-use open spaces.
The homes will also incorporate wider hallways, single-story layouts, and accessory dwelling units that can house family members or caregivers to satisfy aging in place needs.
We're thrilled to have the opportunity to partner with Thrive as we take an important step towards decarbonizing the built environment. We invite you to follow our progress—click here to sign up for email updates about The Sonders Project, and keep an eye open for ongoing editorial about the community as it evolves over time.
Jul 21, 2022 11:48:09 AM · 4 min read
---

As cofounder and CEO of Green Builder Media, Sara is a visionary thought leader and passionate advocate for sustainability. A former venture capitalist, she has participated in the life cycle (from funding to exit) of over 20 companies, with an emphasis on combining sustainability and profitability. She lives in Lake City, Colo., with her husband, where she is an avid long-distance runner, snowboarder, and Crossfit trainer. She is also on the Board of Directors at Dvele, runs the Rural Segment for Energize Colorado, and is a former County Commissioner.