Decarbonizing at the Community Level

Erin Arrington
7 min read
An upcoming development in Fort Collins, Colorado, reimagines sustainable living— neighborhood by neighborhood.
The road to greener living is marked with guideposts on how individuals can lower their carbon footprint through lifestyle changes, as well as calls for nationwide and global regulations that aim to curb the world's trajectory toward an unlivable planet. What's often overlooked, however, is an approach that tackles decarbonization on a community level.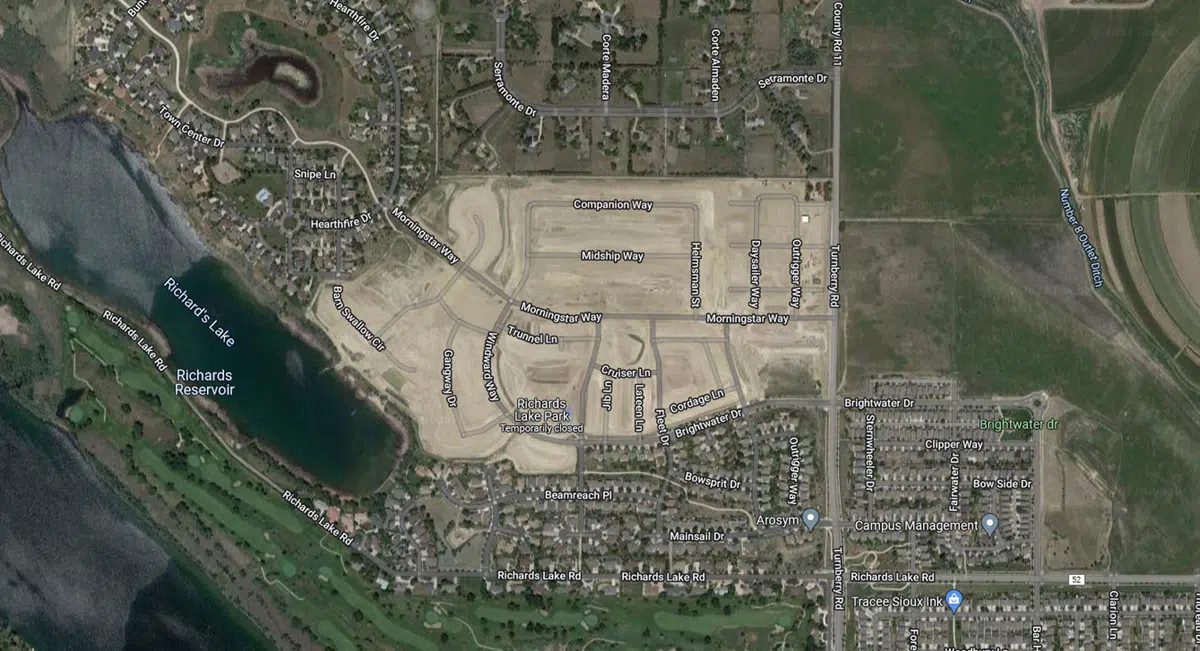 When completed by mid-2025, The Sonders Project will feature up to 400 solar energy-driven single-family, courtyard, town homes, condominiums and custom homes that emphasize environmentally friendly living – from top-notch indoor air quality technology, to water-wise irrigation techniques. Credit: Google Maps
The Sonders Project, an upcoming development in Fort Collins, Colorado, has its sights on becoming a template for how neighborhoods can reimagine and redefine their relationship with the resources they utilize.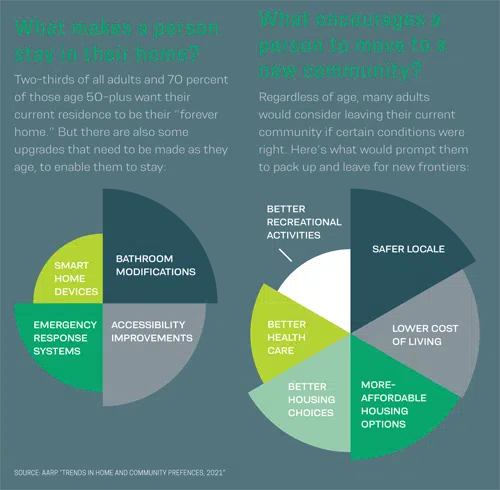 Located northeast of the city's center, the project is slated for ground breaking at the end of this summer. This age-targeted community, primarily (but not exclusively) for residents 55-plus, will be thoughtfully designed for healthy living–from the wholesome materials used for the homes, to the overall walkability of the community.
One of the primary builders of the development is Denver-based Thrive Home Builders. According to Gene Myers, Thrive's founder and chief sustainability officer, Coloradans have been shell-shocked by recent climate events such as this winter's Marshall Fire, which destroyed more than 1,000 structures and spread to more than 6,000 acres. Now, residents are prioritizing sustainability more than ever.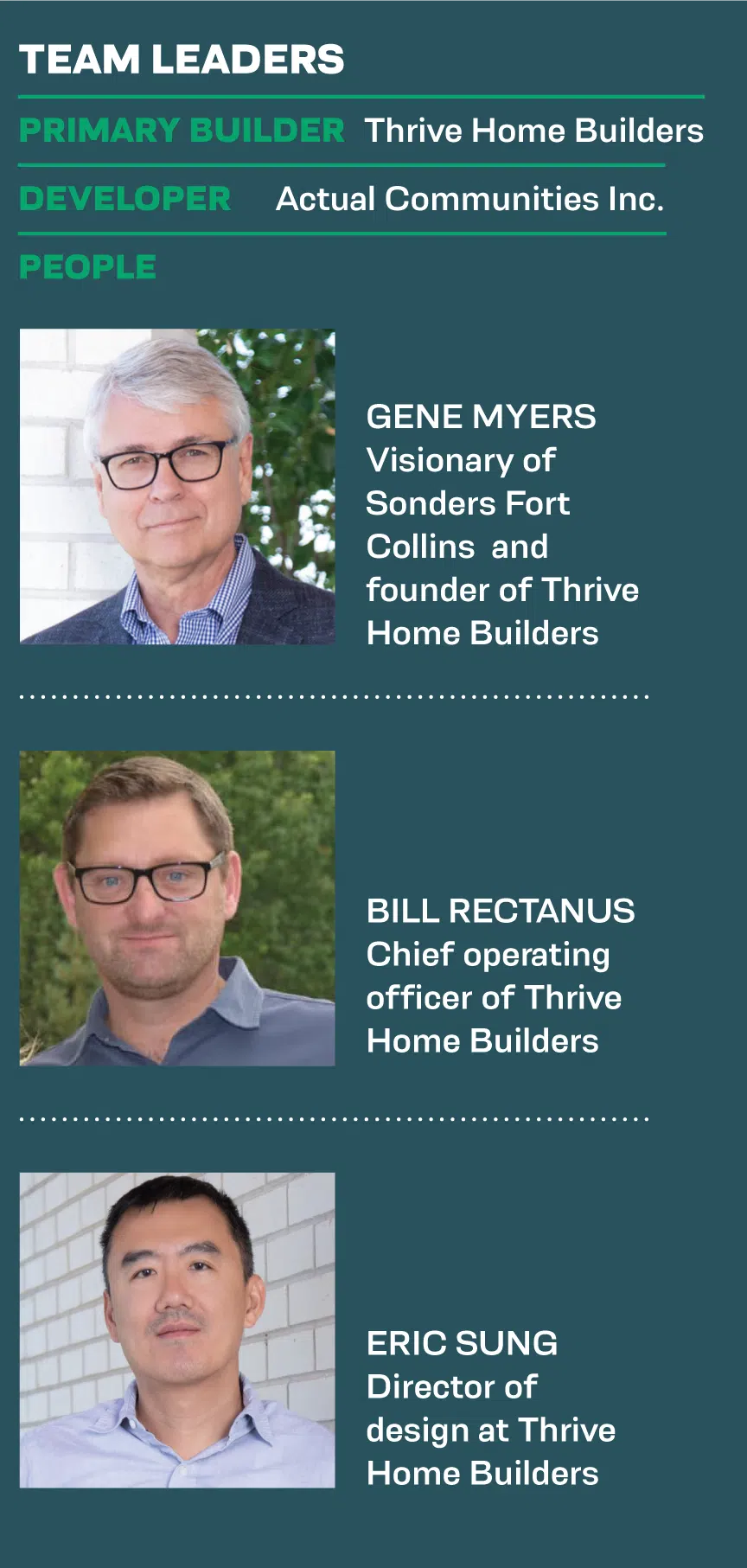 "That's a climate disaster, and I think it's really shaken our customers to the core," Myers says. "So we want to have an answer for that–that we can give our customers the peace of mind knowing they've done all they can for the health of their families and for the health of the planet."
The community will include roughly 400 homes–220 of those built by Thrive Home Builders–as well as walking trails that weave throughout the community, a number of parks, and the Sonders Learning Center, a multi-building enrichment center that will promote continued pro-environmental learning with workshops, presentations and classes.
One priority of the development is to promote indoor/outdoor living for its residents. Most of the homes will face toward greenbelts throughout The Sonders Project, and the homes built by Thrive will include generous-sized porches. With the ample amount of intentionally placed green spaces throughout the community, the project will balance its priorities of creating nature-filled outdoor spaces and building higher-density, carbon-reducing neighborhoods.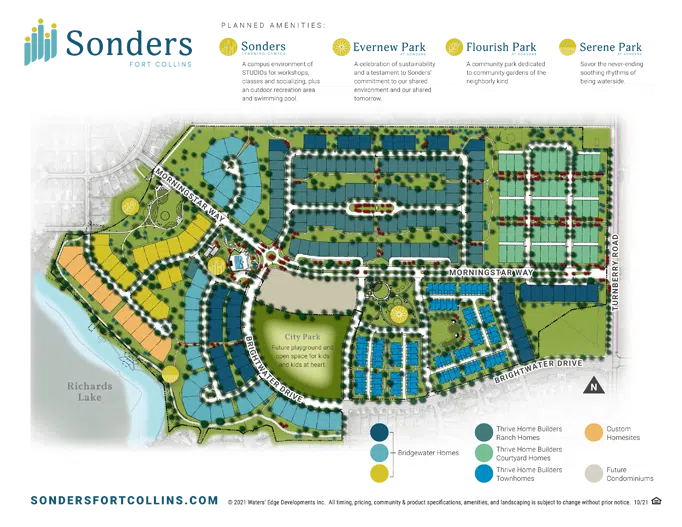 The many walking trails throughout The Sonders Project, as well as its proximity to amenities, will promote use of transportation other than gas-powered vehicles. Credit: Waters' Edge Developments
There will be three house styles available from Thrive–two ranch-style detached homes and one townhome. One of the detached home styles will feature an optional studio suite above the garage that could be ideal for caretakers or family members.
The development will also include two VISION House projects – part of Green Builder Media's demonstration project series, specifically designed to educate homebuilders and consumers on how to design and build more sustainably.
A Citywide Movement Towards Cleaner Energy
The Sonders Project reflects the City of Fort Collins' efforts to reduce water and energy consumption across the board.
According to Fort Collins Utilities Interim Water Conservation Manager Abbye Neel, the city's efforts have reduced water use from 248 gallons per capita per day in the 1980s to 139 gallons per capita per day in 2021.
The 2010 Water Conservation Plan set a goal of 140 gallons per capita per day by the year 2020. The 2015 Water Efficiency Plan set a goal of 130 gallons per capita per day by 2030.
Neel described in an email that another large step taken by the city has been to incorporate conservation measures into its requirements for new developments like The Sonders Project. More recently, the updates to Utilities' Water Supply Requirements, adopted Jan. 1, 2022, "could be the largest driver toward promoting efficiency in new builds," Neel notes.
Changes more closely tie the water supply requirement fees to a development's actual water use, she adds. For example, a higher water use development pays more, while a lower water use development pays less.
Thrive's homes at The Sonders Project will include water-saving equipment such as water leak detectors by Phyn and tankless water heaters with recirculating pumps. The community at large will also keep water usage low by maintaining lawns and parks with WaterWise open space irrigation systems.
FCU Energy Service Manager John Phelan says the goal is to run on 100 percent renewable electricity by 2030, as well as to pursue "a continuous and intensifying effort to transition from natural gas and petroleum [to] electrification of building heating and electric vehicles."
Likewise, future residents of The Sonders Project will have the option to choose homes that are all-electric, with a solar-powered backup battery that can jump in if any power outages were to occur. And regardless of the home chosen, residents will have the opportunity to purchase 100 percent renewable energy from the city. Solar will also be a main source of power for the community centers throughout the development, according to Phelan.
Building Homes That Stay Healthier Longer
In addition to providing residents with clean energy options, Thrive prioritizes design and insulation strategies to create ultra-efficient homes that require less energy to maintain in general.

One of Thrive Home Builders' priorities is to ensure superior indoor air quality through proper ventilation and interior design, as well as encouraging good maintenance habits. Credit: HomeSpot HQ/Flickr
Thrive is bringing to the project its commitment to healthy indoor air quality, with three focus areas: radon ventilation, mold management, and limiting formaldehyde and other toxic chemicals used in building materials. Each home will be outfitted with a balanced ventilation system, which includes a paired Panasonic WhisperGreen exhaust fan with a Panasonic WhisperFresh supply fan. The homes will be equipped with building materials, including paints, insulation, and wood products, that keep levels of harsh chemicals low.
The company also recognizes that a major obstacle for home health is proper maintenance of the home's systems. To combat this, Thrive Home Builders will gift each home buyer with Dwell Home Maintenance. This is a customized home maintenance management plan that includes an app that reminds homeowners when, for example, certain air filters need to be replaced and exactly which kind should be purchased.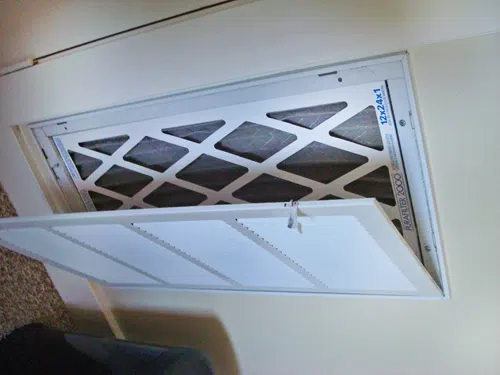 Thrive Home Builders' upcoming Sonders Project combines the latest technology and sustainable, locally sourced products to deliver a green lifestyle for persons of all ages. Credit: Waters' Edge Developments
"I'd like to be known as the builder that actually cares after we get the money from people," Myers says. "We actually care that the home is actually meeting the needs of the people that buy from us and keeping them healthier."
All homes built by Thrive at The Sonders Project will be U.S. Department of Energy Zero Energy Ready, LEED v4 certified, and part of the EPA's Indoor airPLUS program. In 2020, the builder achieved the nation's lowest average Home Energy Rating System (HERS) Index score (26.9), and received the RESNET President's Award for best home efficiency across North America.
Myers says Thrive Home Builders is looking toward the future as well. The company's next big goal is to build only carbon zero homes throughout and beyond Fort Collins in the near future. "I hope a thousand builders beat us to it," Myers says. "It's what the climate needs."
Better Performance From Start to Finish
Thrive Home Builders is partnering with manufacturers who have demonstrated a commitment to efficiency and sustainability.
Choosing clean sources of energy goes hand in hand with building structures that require less energy to function in general. For The Sonders Project in Fort Collins, Colorado, Thrive Home Builders will feature materials and appliances that are at the forefront of efficiency and health. Here are a few of those products.
Whirlpool's FreeFlex 3rd Rack dishwasher
This dishwasher is ENERGY STAR Certified and exceeds government standards for energy efficiency, supporting sustainability and saving money on utility bills.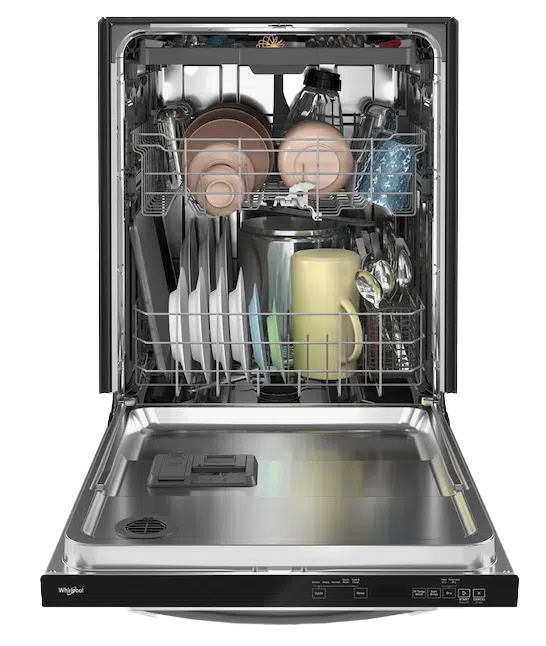 Owens Corning insulation
The insulation used for this project is formaldehyde-free, GREENGUARD Gold Certified, and made from 55 percent certified recycled content. The manufacturing process is driven by 100 percent wind-powered electricity. It's waste-diverting in its manufacturing, and healthier for homeowners.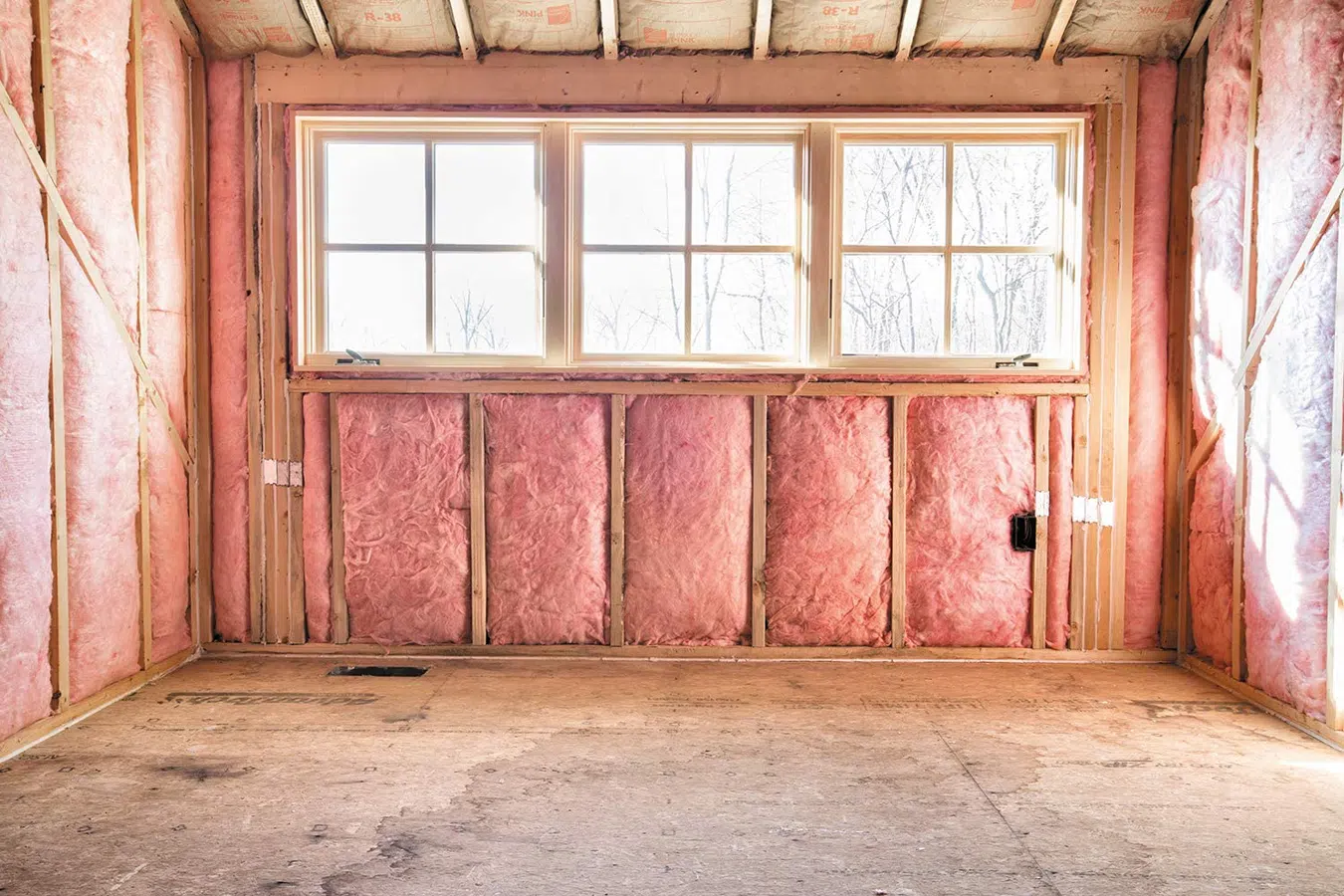 Schneider Electric's Wiser Energy Monitor
The Wiser Energy system provides homeowners with real time energy usage information and even allows users to set energy consumption goals for the household.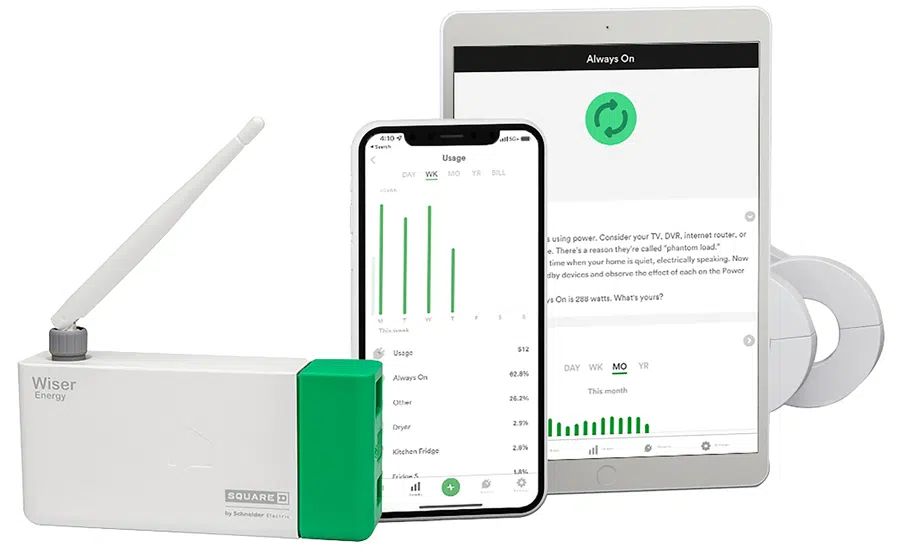 Conservation Continues
The City of Fort Collins has a longstanding commitment to resource conservation efforts.
For decades, the City of Fort Collins has looked beyond individual responsibility and taken ownership of its citywide contributions to climate change and waste generation. Fort Collins has stayed ahead of its explosive growth (which has quadrupled since the mid-1980s) and prioritized responsible water management by setting ambitious goals for its per-capita water usage and conversion to cleaner energy sources. In roughly the same time period, its average per capita, per day water usage has decreased from 248 gallons to 139 gallons.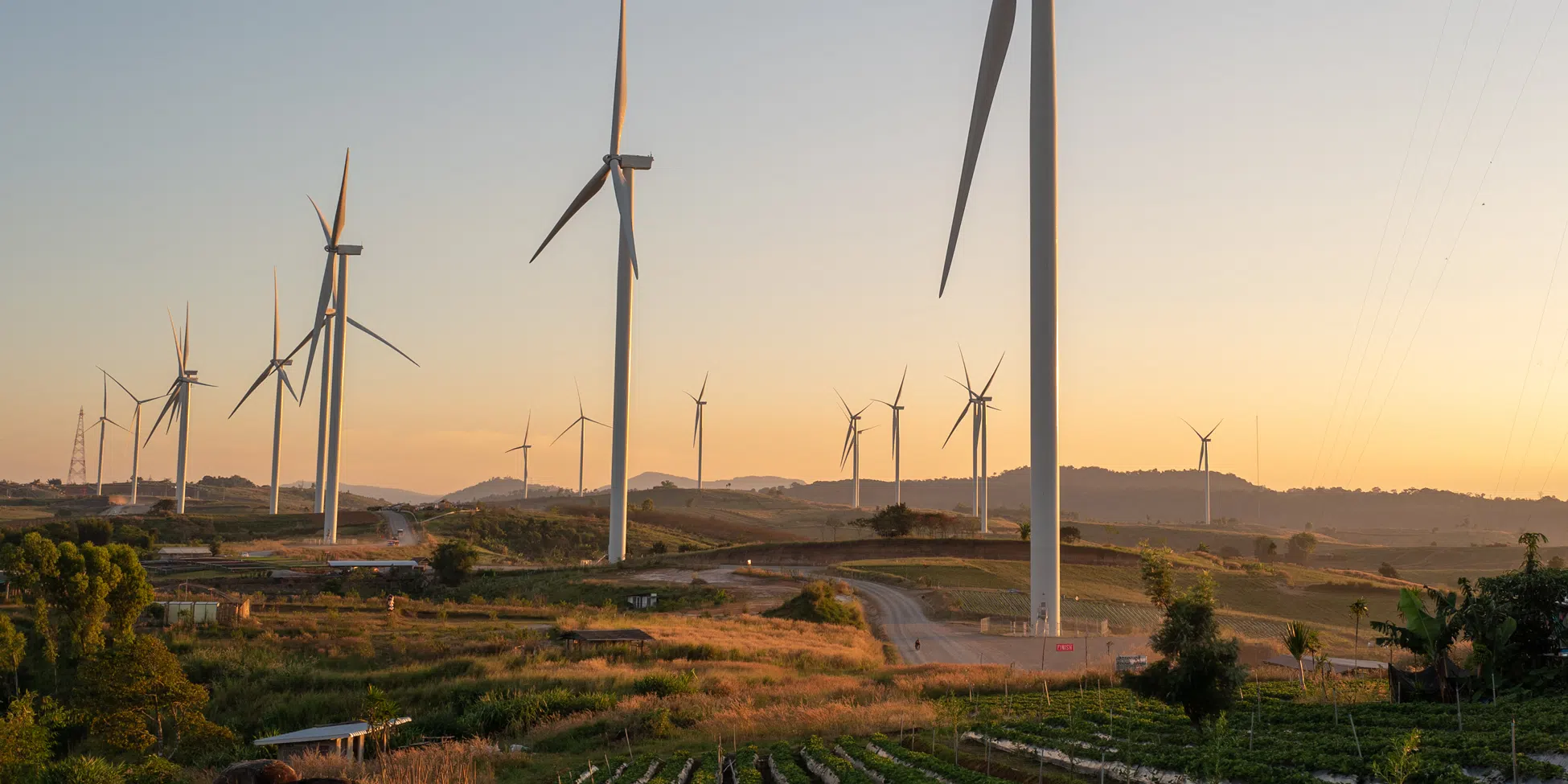 Platte River Power Authority's Roundhouse wind project, launched in 2020, is the electricity provider's largest noncarbon resource. It produces energy for more than 100,000 homes annually. Credit: Shutterstock
"Water conservation continues to be another tool in the toolkit to promote responsible water management while helping lower costs for ratepayers and avoiding the need to acquire additional costly supplies," says Abbye Neel, Fort Collins Utilities' interim water conservation manager. "To that aim, staff hopes to find new innovative ways to continue to promote water efficiency, whether that be through creating residential landscape and irrigation requirements, expanding programs and services, or finding new ways to better integrate equity, diversity and inclusion into our policies, programs and services."
Platte River Power Authority (PRPA), the city's wholesale energy provider, also has a 100 percent non-carbon-generating electricity target for 2030. The city's Black Hollow solar project, expected to come online by 2024, will push PRPA's non-carbon electricity use to more than 60 percent. A handful of other photovoltaic and wind projects, along with the retirement of the city's coal production facilities, will help PRPA reach its target goal several years later.
According to Neel, the city recognizes that real change happens on a community level. "It has developed guidelines, such as conservation plan requirements for new builds, and the 2016 Community Recycling Ordinance, that reflect this," she notes. "Developments such as [The Sonders Project] that go above and beyond the call to action in responsible energy and water use, provide a template for what Fort Collins' neighborhoods can look like moving forward."
Jul 20, 2022 10:57:10 AM · 7 min read
---

Erin Arrington is a freelance writer and editor who covers sustainability initiatives throughout and beyond Alaska.