Introducing Carbon Neutral Homes

Sara Gutterman
3 min read
Green Builder Media is proud to partner with housing sector pioneer Thrive Home Builders to unveil net zero carbon homes.
With an 18-year history of producing the most cutting-edge demonstration projects in the market, Green Builder Media has joined forces with award-winning builder Thrive Home Builders to design and build net zero carbon production homes in Sonders, a 400-home sustainable community located in the progressive city of Fort Collins, Colo.
The Sonders community is a blend of single-family homes, duplexes, and townhomes, all of which are intentionally small footprint, highlighting quality and sustainability rather than large-footprint living to meet the needs of today's home buyers.
Carbon Calculations
The VISION House Sonders demonstration homes utilize Thrive's Carbon-Wise® building approach, which calculates a home's embodied and operational carbon using more than 19,000 criteria and determines the total amount of emissions that need to be offset in order to make the home net zero carbon.
After careful assessment, Thrive determined that 103,000 kg of carbon needed to be offset for the VISION House Sonders Retreat Model. To offset that amount, Thrive invested in four distinct decarbonization projects, including Charm Industrial, which collects agricultural residue after crops have been harvested, converts the biomass into a stable liquid, and then pumps the carbon-rich liquid deep underground where it solidifies in place for permanent storage.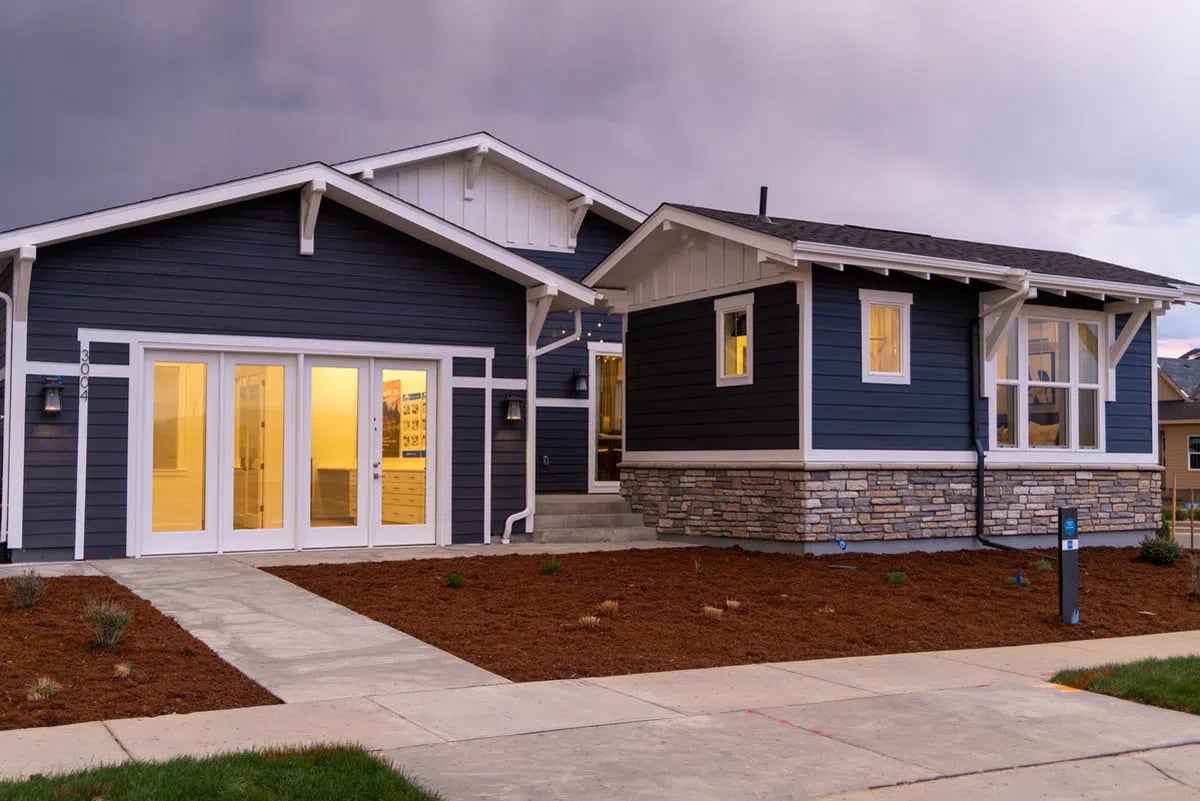 The VISION House Sonders Retreat Model boasts an accessory living area connected by a patio that's perfect for guests, adult children or caretakers. With a bathroom, small kitchen and mini split heat pump from Mitsubishi, it has all the privacy and comfort they need.
Purchasing the offsets for one VISION House Sonders Retreat Model home is the equivalent to:
Taking 559 cars off the road for a year.
Planting 1,699 new trees.
Operating 13 homes for a year.
Flying from LA to New York 368 times.
Thrive estimates that the 220 homes in the Sonders neighborhood will reduce carbon emissions by 1,023 tons when compared to a similar community built to the 2021 IECC (equivalent to driving a standard gas-powered vehicle 2.5 million miles.)
A Decarbonized Community
Sophisticated demand-side energy management solutions and smart home technologies enable Thrive's homes in the Sonders community to optimize resource use and improve indoor air quality without homeowner interaction. The homes, designed for efficiency, comfort, and health, are DOE Zero Energy Ready, EPA Indoor Air Plus, and LEED v4 certified.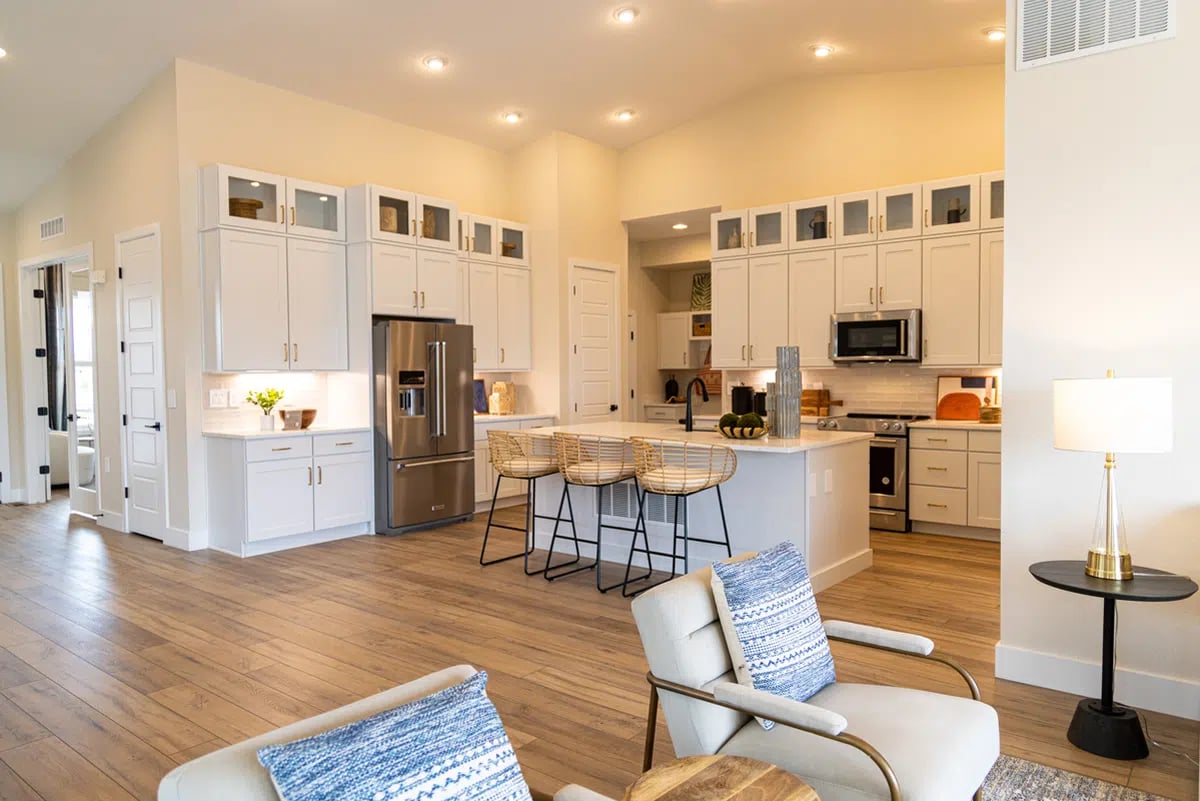 The beautiful and functional kitchens feature highly efficient Whirlpool brand appliances including a french door refrigerators, induction cooktops, dishwashers, double-wall ovens, microwaves, and vent hoods.
The homes feature super-efficient building envelopes with high performance windows, Owens Corning insulation, DuPont weatherization systems, and durable LP SmartSide siding, as well as Mitsubishi Electric Trane air-source heat pump air heating and cooling systems, hybrid heat pump water heaters, Whirlpool appliances (including induction cooktops), and Schneider Electric home energy management systems to minimize energy demand.
Sunnova has installed solar on the VISION House Sonders projects to cover a portion of the power needs (to ensure that their homes are powered entirely by clean energy, homebuyers can take advantage of Fort Collins' option to purchase 100% renewable energy.)
Water, an increasingly precious resource in the Western U.S., will be conserved with Uponor advanced plumbing manifold systems, low-flow fixtures, and Phyn leak detection and water monitoring devices.
To address indoor air quality, the homes boast non-toxic flooring, countertops, cabinets and other materials, as well as active radon detection systems, AprilAire whole-home filtration and humidification technology, and Panasonic ventilation solutions.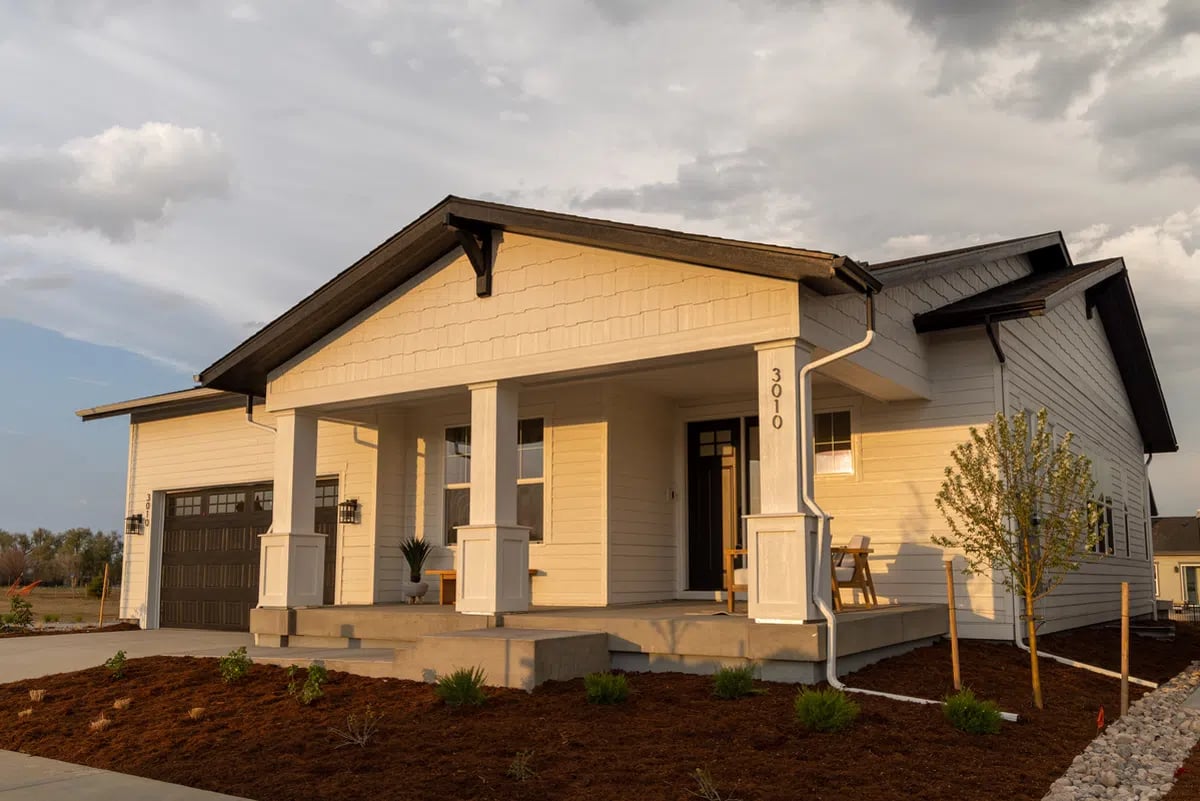 The VISION House Sonders Harbor Model glistens in the sun while also offsetting over 100,000 kg of CO2.
All of the products in the homes have been selected based on sustainability and carbon reduction qualities.
At the community level, Sonders offers residents amenities like shared electric vehicles, bike lanes, walking trails, community gathering areas, neighborhood parks, and mixed-use open spaces.
It has been an honor to have the opportunity to work with Gene Myers, Stephen Myers, Bill Rectanus, and the entire Thrive team as we explore the frontiers of net zero carbon building. We look forward to continuing our work with Thrive and other vanguard partners to decarbonize the built environment.
May 25, 2023 10:13:03 AM · 3 min read
---

As cofounder and CEO of Green Builder Media, Sara is a visionary thought leader and passionate advocate for sustainability. A former venture capitalist, she has participated in the life cycle (from funding to exit) of over 20 companies, with an emphasis on combining sustainability and profitability. She lives in Lake City, Colo., with her husband, where she is an avid long-distance runner, snowboarder, and Crossfit trainer. She is also on the Board of Directors at Dvele, runs the Rural Segment for Energize Colorado, and is a former County Commissioner.