A Greener Way of Life

Erin Arrington
8 min read
Sonders Fort Collins, a master-planned community on the cutting edge of wellness and sustainability, has recently opened to residents. Here's what they're getting for their money.
Nearly 20 years ago, when Actual Communities Inc. began to plan what would eventually become Sonders Fort Collins, it did so with the aim of building a sustainability focused master planned community in a city with values that mirrored its own.
"We try to build communities, not just do land development," says Bill Swalling, Actual Communities Inc.'s principal and founder.
Along the way, Actual Communities expanded its vision of how the community would serve its residents. In addition to utilizing community-wide and home-level sustainability strategies, Sonders would be a place where homeowners could age in place, and a community that promoted connection and wellness. In late 2022, construction across the community ramped up, and the first residents of Sonders moved into the 225-acre, 330-home development.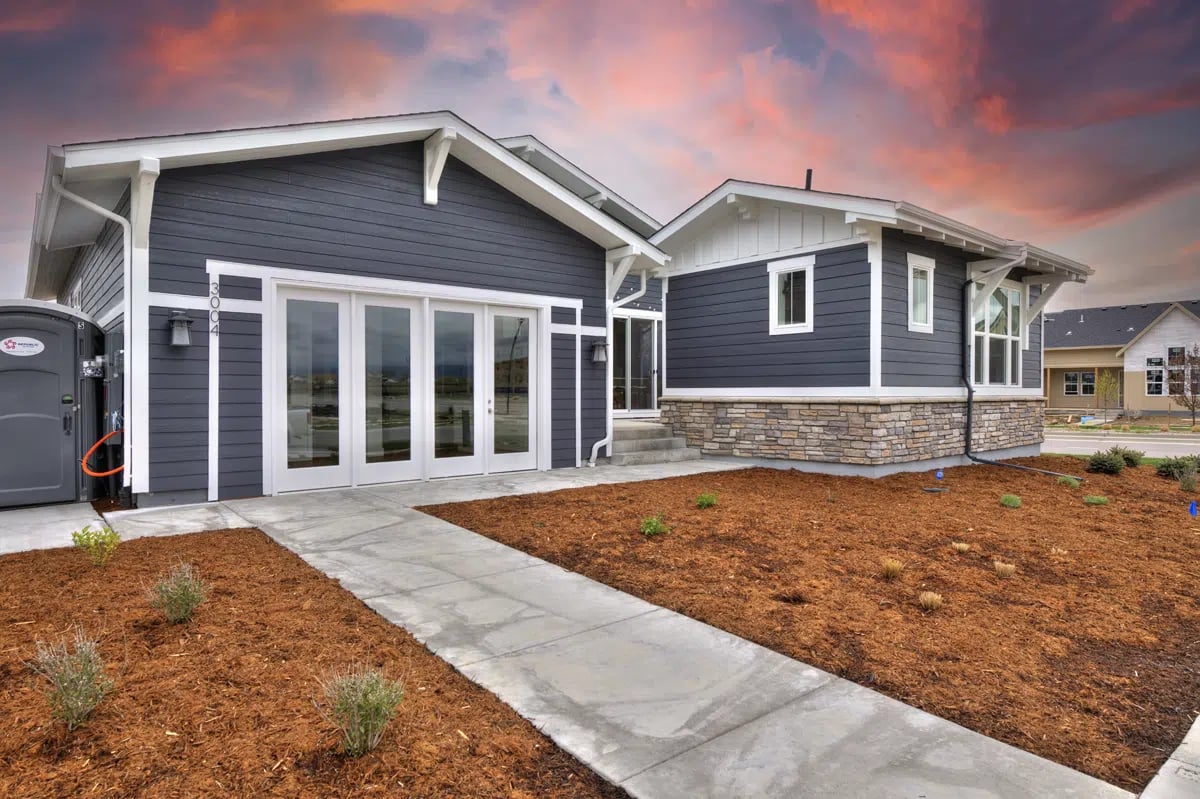 The Retreat Patio model is part of Thrive Home Builders'
Concord Patio
homes collection, one of three featured at Sonders Fort Collins
.
Courtesy Thrive Home Builders
Minimal Resource Consumption Community-Wide
Sonders was designed to be a place that provides proximity to nature at all times, as well as natural opportunities to connect with neighbors and other community members.
All of the homes front or back to green belts, and the community includes an extensive trail system that weaves throughout Sonders. There are three distinct parks, each with different amenities that range from a community garden to solar flowers that produce energy for the community, to electric vehicle charging stations.
The community also implemented resource management measures that help curtail the development's water and electricity consumption. Sonders Fort Collins functions as a pseudo-microgrid, with a heavy emphasis on energy generation and storage within the community.
The homes are outfitted with solar systems which produce an estimated 60-80 percent of their energy use. For any electricity not produced onsite, residents of Sonders have the opportunity to purchase 100 percent renewable energy from the local utility company.
For maintenance of the significant portion of Sonders dedicated to green space, the developers collaborated with Hines Inc., an irrigation design company that specializes in maximizing water efficiency. The irrigation system reduces the need for human intervention and maintenance by making soil amendments specific to plant types.
The irrigation system works in tandem with xeriscaping, a method that can virtually eliminate the need to irrigate by exclusively using plants native to the region. The irrigation system also extends to residents' yards, combating the tendency of homeowners to overwater their lawns.
"That top 4-6 inches of soil—it's like a natural water tank we're building in the soil by maintaining healthy, living soils," says Nate Hines, president of Hines Inc. "Part of the way we facilitate that is through the irrigation system. We're able to deliver amendments to the soil and organic nutrition through the irrigation system, so we don't have people running around pumping chemical fertilizers into the soil."
Healthy and Efficient Homes
Among the collaborators involved in the Sonders project is Thrive Home Builders, a Denver-based company that builds energy-efficient and healthy homes throughout Colorado.
The 220 homes at Sonders built by Thrive are LEED® Certified, EPA Indoor airPLUS Qualified, solar powered, and Zero Energy Ready. Among these houses are two carbon-neutral model homes that demonstrate the highest standards of healthy and sustainable home building. The design of Thrive's homes complements the energy-saving measures implemented across Sonders as a whole.
In addition to the solar power systems, homeowners have the option to have a battery storage system installed, which allows them to charge the battery with solar energy during off-peak hours and utilizing it during peak hours. If a solar power system is overproducing at any given time—and not charging a home's battery storage system—the extra energy will go back onto the grid through net metering and be shared with the closest adjacent home.
But just as important as Thrive's energy generating and energy storage systems are the techniques used to make their homes a "tight envelope," says Bill Rectanus, Thrive's chief operating officer. "I think the biggest and most cost-effective area is the building envelope…well insulated, good windows and doors; and making sure that house conserves as much energy through retaining the heating and cool air we put into that home."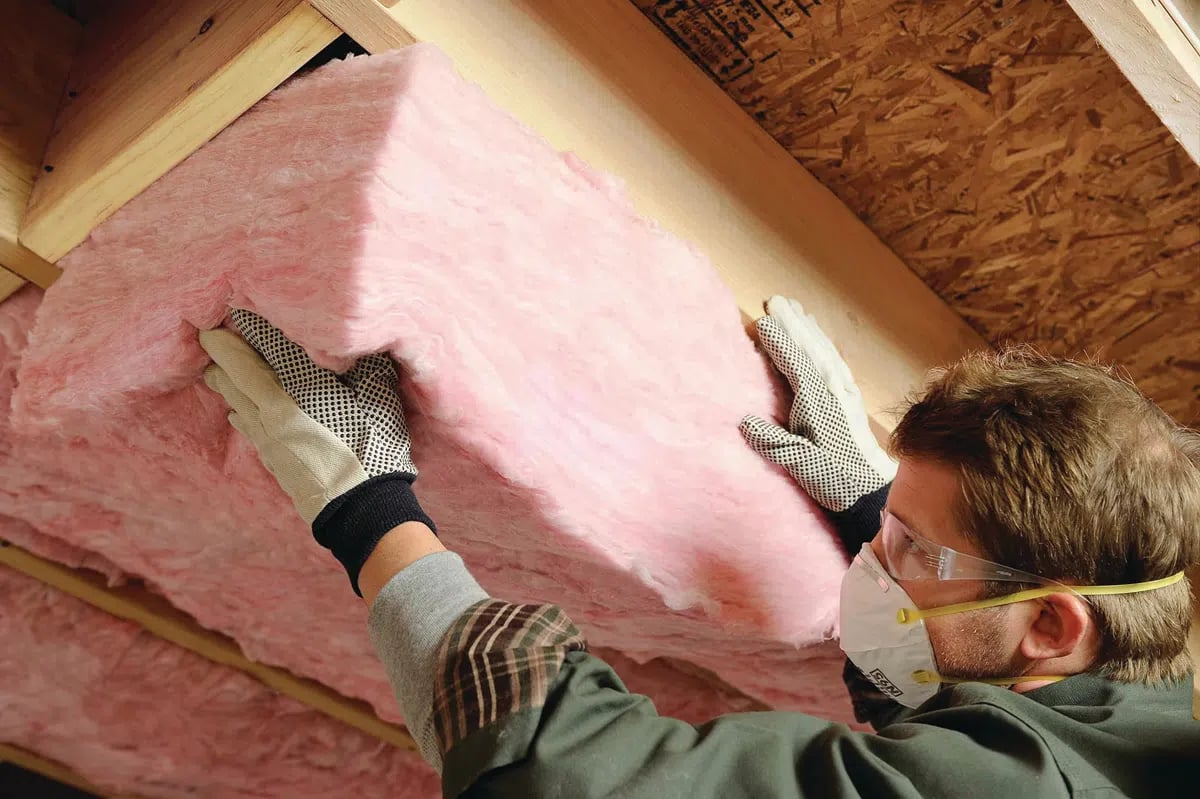 Sonders Project homes utilizes Owens Corning insulation for high-performance results in walls and attics, meaning lower energy costs. Courtesy of Owens Corning
Thrive Home Builders also prioritizes the air quality of its homes. To that end, Thrive homes have specifically chosen building materials, including paint, carpet, and wood products, which are low in formaldehyde and other harsh chemicals. Each Thrive home is also outfitted with an active radon ventilation system to combat the higher-than-typical levels of radon that naturally occur in Colorado's soil.
An Innovative Partnership
Sonders is an age-targeted community, and the homes were designed to meet the unique needs of that demographic. The Sonders project is partnering with Colorado State University, which includes working with CSU's Institute for the Built Environment (IBE).
According to CSU's website, IBE researched evidence-based best practices for specific design and construction features that "would contribute to healthy, sustainable, age- and disability-friendly homes" as part of its Lifelong Homes Initiative. The guidelines were incorporated into the homes built by Thrive through subtle universal design choices that increase accessibility.
These features include 36-inch-wide passage doors; 48-inch-wide hallways with optional nighttime navigational lights; power outlets set 24 inches above the floor; finish materials in wet spaces that prevent slippage without sacrificing aesthetics; and more.
CSU at large will also play an ongoing role in the community's campus-style Learning Center, which features Art, Body and Idea studios, as well as a variety of other amenities for residents. By making the Learning Center a centerpiece of the community, Sonders prioritizes not only the ability to age in one's own home, but to have ongoing access to community and learning opportunities.
CSU students have also been given the opportunity to learn from Thrive's green building practices. Recently, 20 students with the CSU U.S. Green Building Council (USGBC), a national organization that advocates for sustainable and green building practices, toured the Sonders community at the Retreat Model during its construction. Members of the USGBC student club met with leaders from Thrive to learn directly from a home builder producing high performance homes.
"This educational session was designed to expose student members to a wide range of green building options to have a hands-on learning experience, visit a construction project that is actively incorporating green building and sustainable practices, and to develop relationships for future internship and employment opportunities," says Shadia Lemus, director of marketing and communications for Thrive Home Builders.
Thrive's senior quality assurance manager has also been working with Dr. Svetlana Olbina, associate professor in CSU's Department of Construction Management, to develop field experience for her senior sustainability course.
As part of the course, Olbina's students were led on a detailed site tour through one of the model homes and took part in a training which focused on technical aspects of building physics and construction logistics to help further the students' understanding of the practical applications of what they are learning in their in-class coursework.
Connecting to the Home-Buying Customer
Sales at Thrive's three home collections—the Parkview Townhome Collection, Harmony Courtyard Collection and Concord Patio Collection—have gained momentum. While the Sonders community is age-targeted, Thrive says they've seen many audience demographics interested in the community who are drawn to the resort-style amenities and proximity to Old Town Fort Collins.
"One of our most recent sales was to a former Thrive homeowner, who was moving from the Denver metro area to Northern Colorado," says Lemus. "This homeowner believes in the Thrive brand and quality of home so much, they wanted their low-maintenance, single-level forever home to be a Thrive home."
Overall, Thrive's homebuyers include a primary audience of those typically interested in age-targeted homes, followed by a secondary audience of Gen X and millennial individuals whose values align with those of Sonders.
All of the homes at the entrance of the Sonders community have been purchased. Several homes that have been purchased are under construction, and more homeowners are expected to move in through the summer months.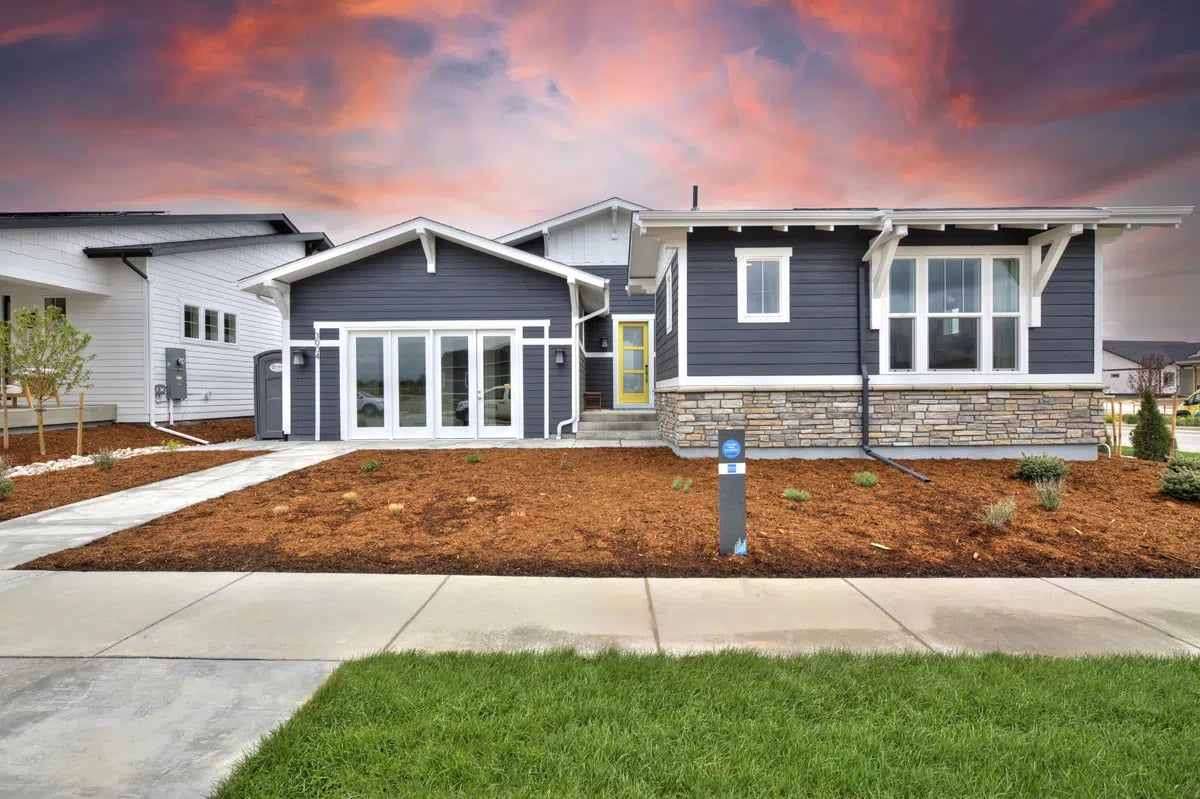 Individuals who purchase the Retreat Patio model can choose to make the garage bay into a detached, self-contained dwelling on the property
.
Courtesy Thrive Home Builders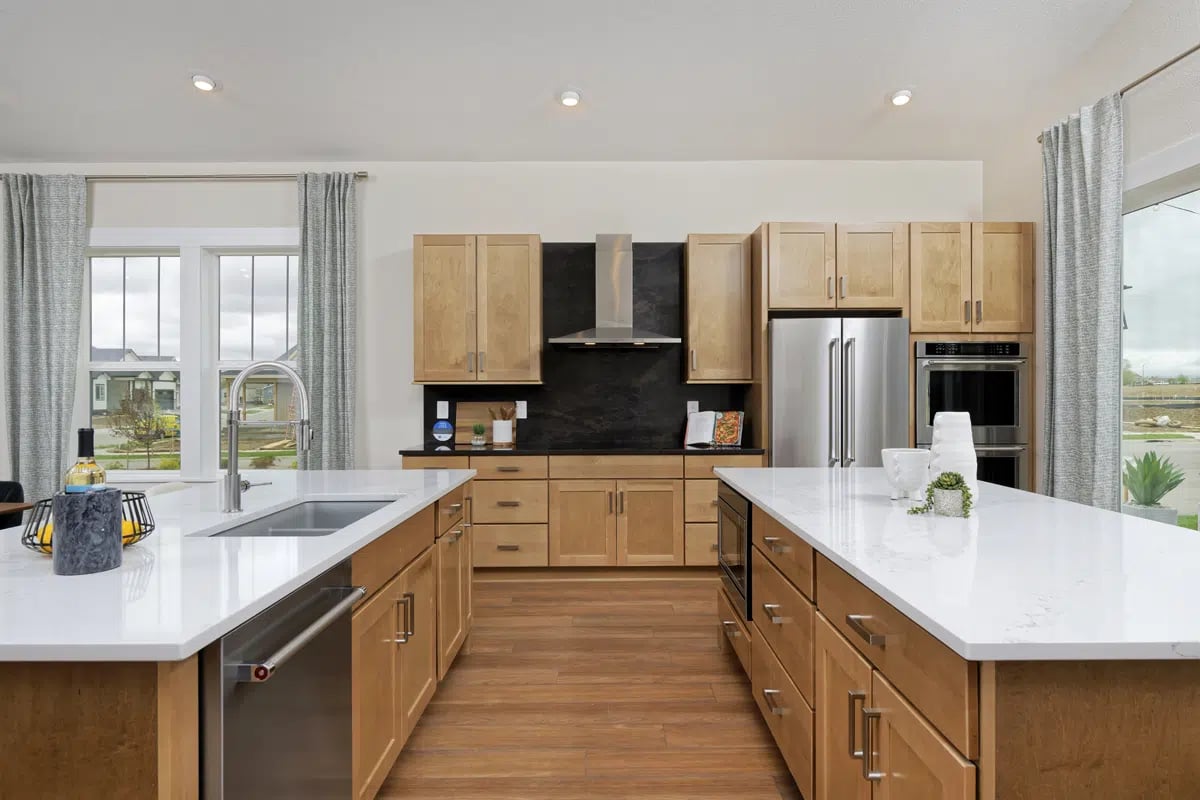 The homes at Sonders by Thrive include subtle but significant accessibility features, such as extra clearance in front of appliances
.
Courtesy Thrive Home Builders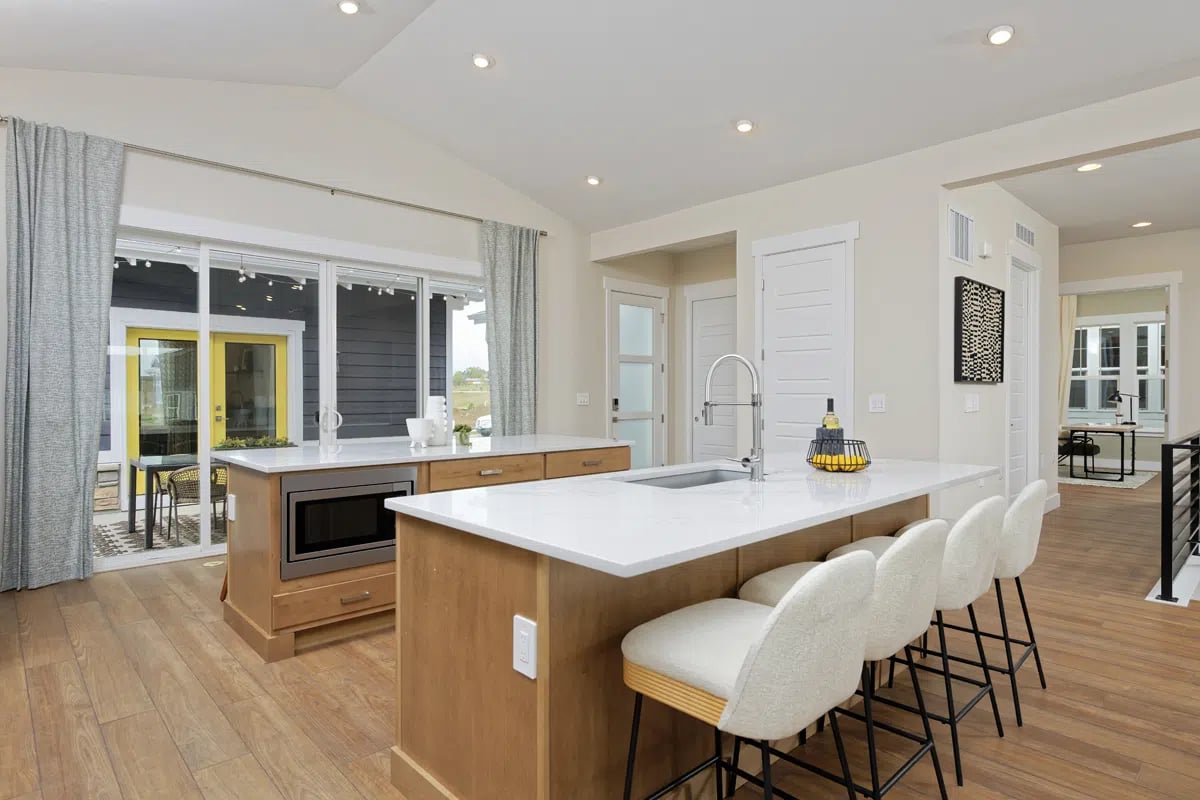 Thrive Home Builders incorporated a number of best practices established by the Institute for the Built Environment, including setting outlets two feet above the ground
.
Courtesy Thrive Home Builders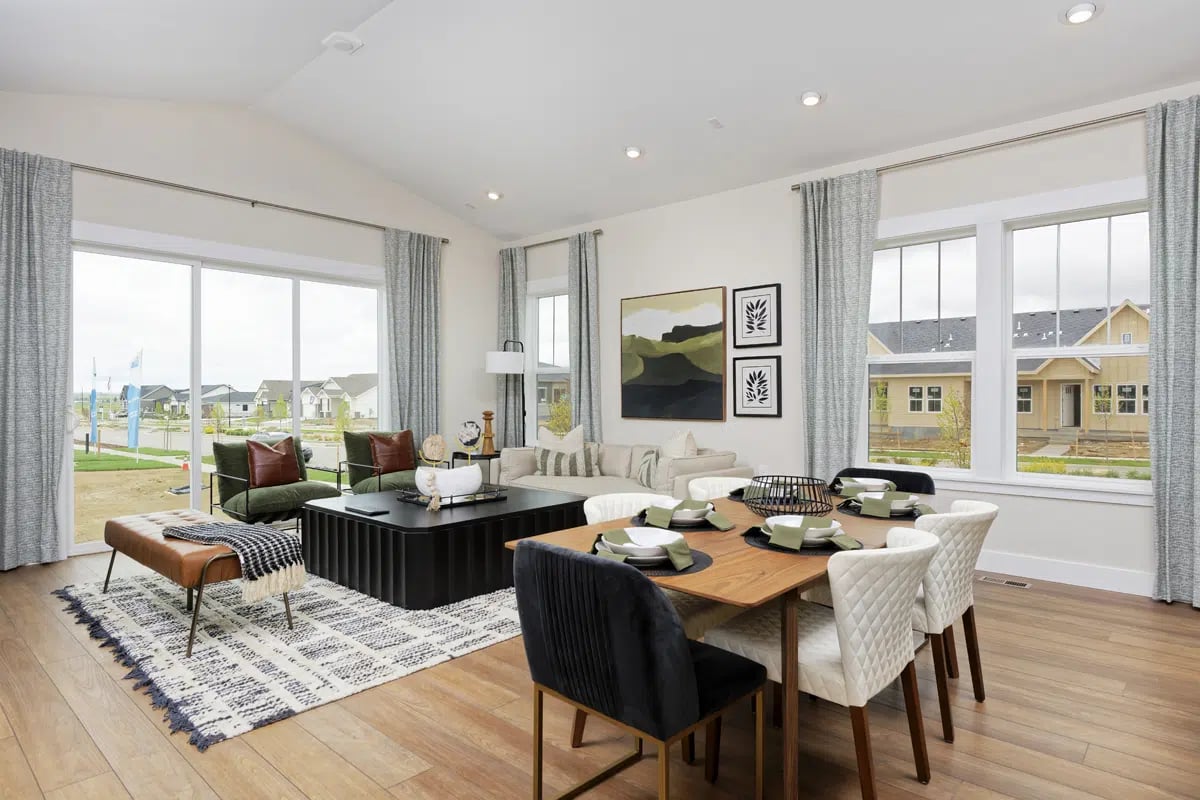 Spacious dual-pane windows help bring ample natural light into the homes while maintaining energy efficiency
.
Courtesy Thrive Home Builders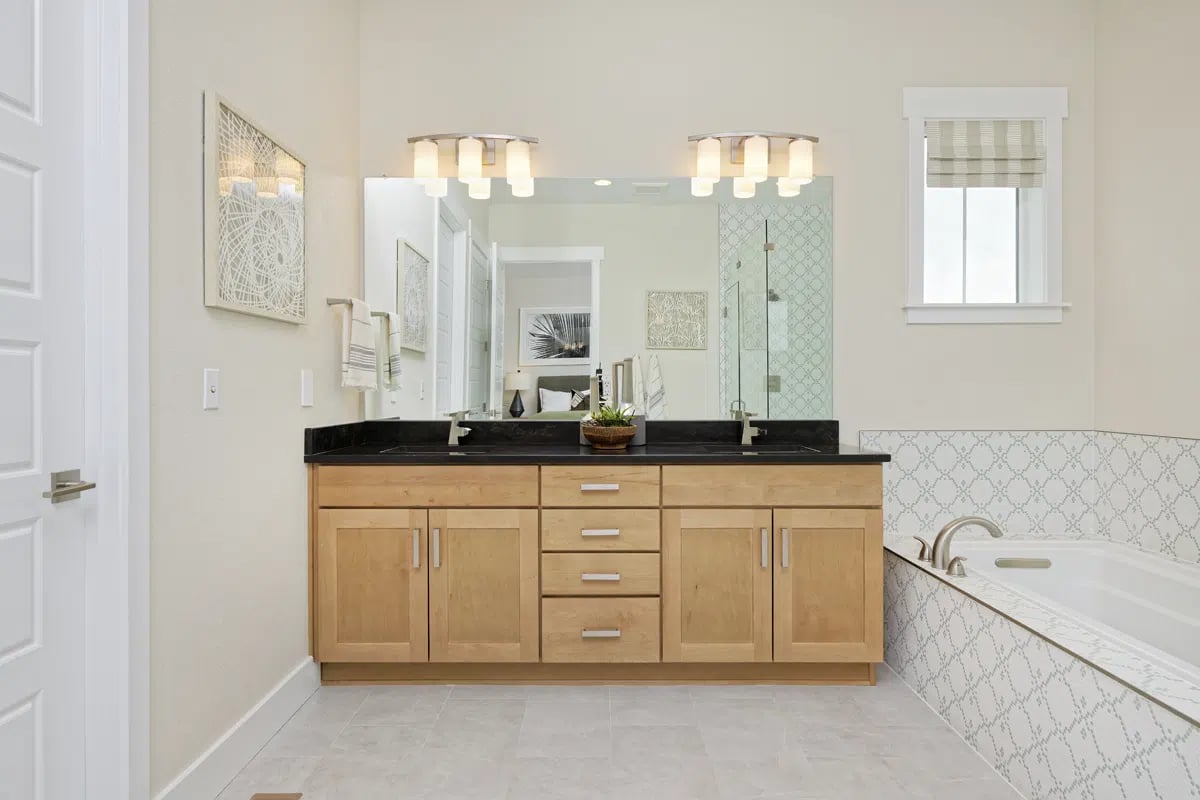 All homes include
standard in-wall blocking at showers, bathtubs and toilets for potential future grab bars
.
Courtesy Thrive Home Builders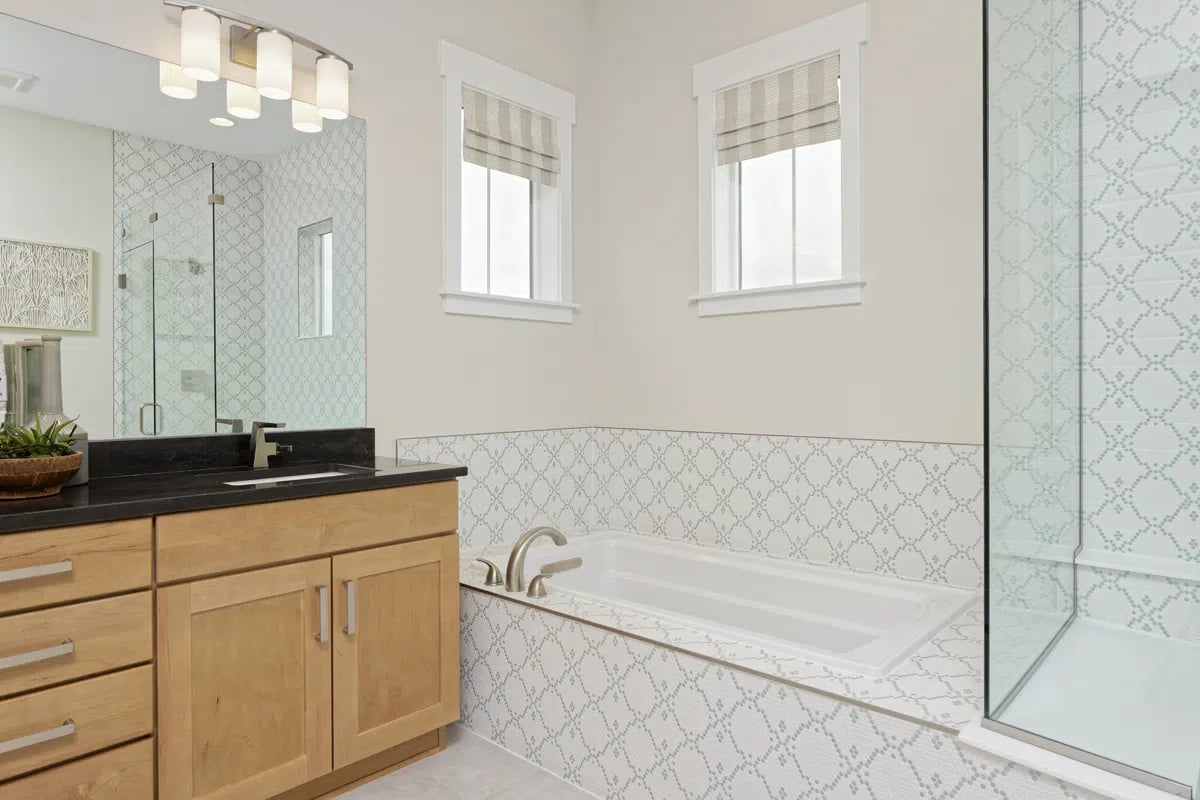 The primary bathrooms in Thrive's homes offer seamless zero-step showers with integrated benches and shampoo shelves. The finish materials for wet spaces were specifically selected to avoid slippage without sacrificing aesthetics.
Courtesy Thrive Home Builders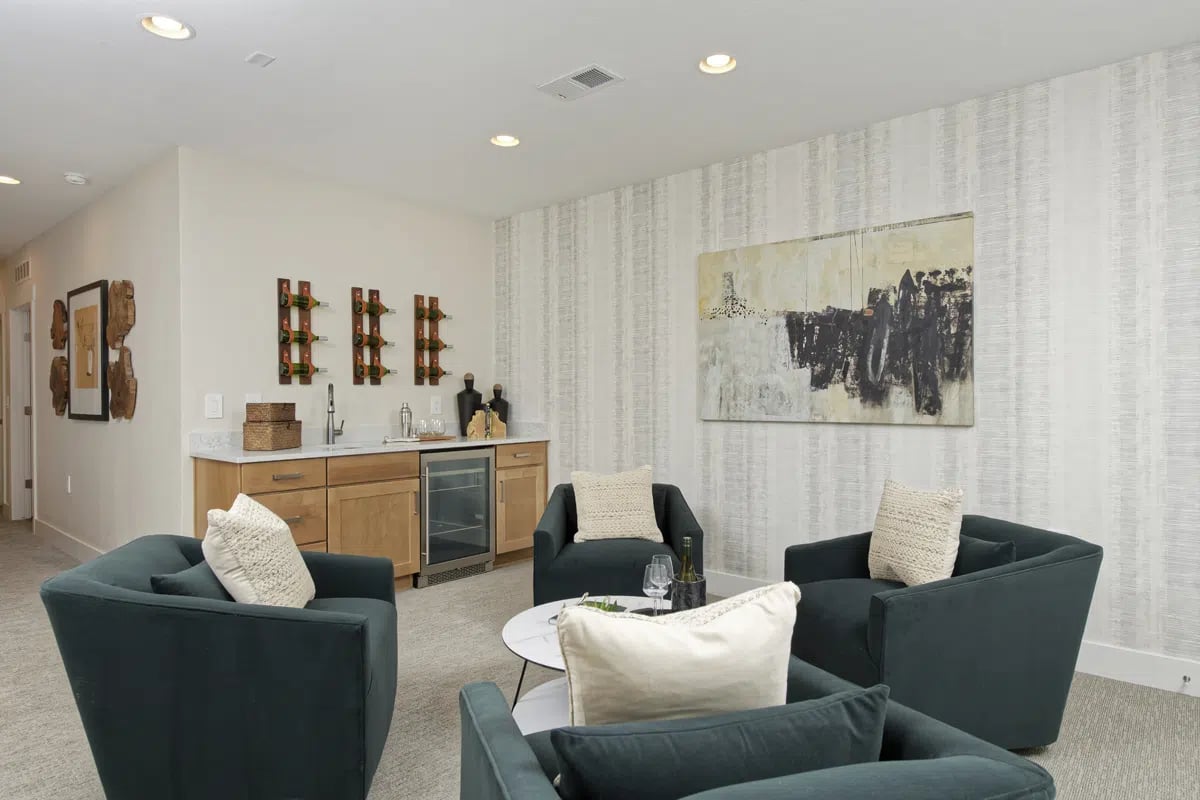 Homes from the
Concord Patio
collection can be customized to fit a variety of lifestyle needs.
Each patio home comes standard with a three-car garage, with the option to transform the third bay into an extra bedroom or study.
Courtesy Thrive Home Builders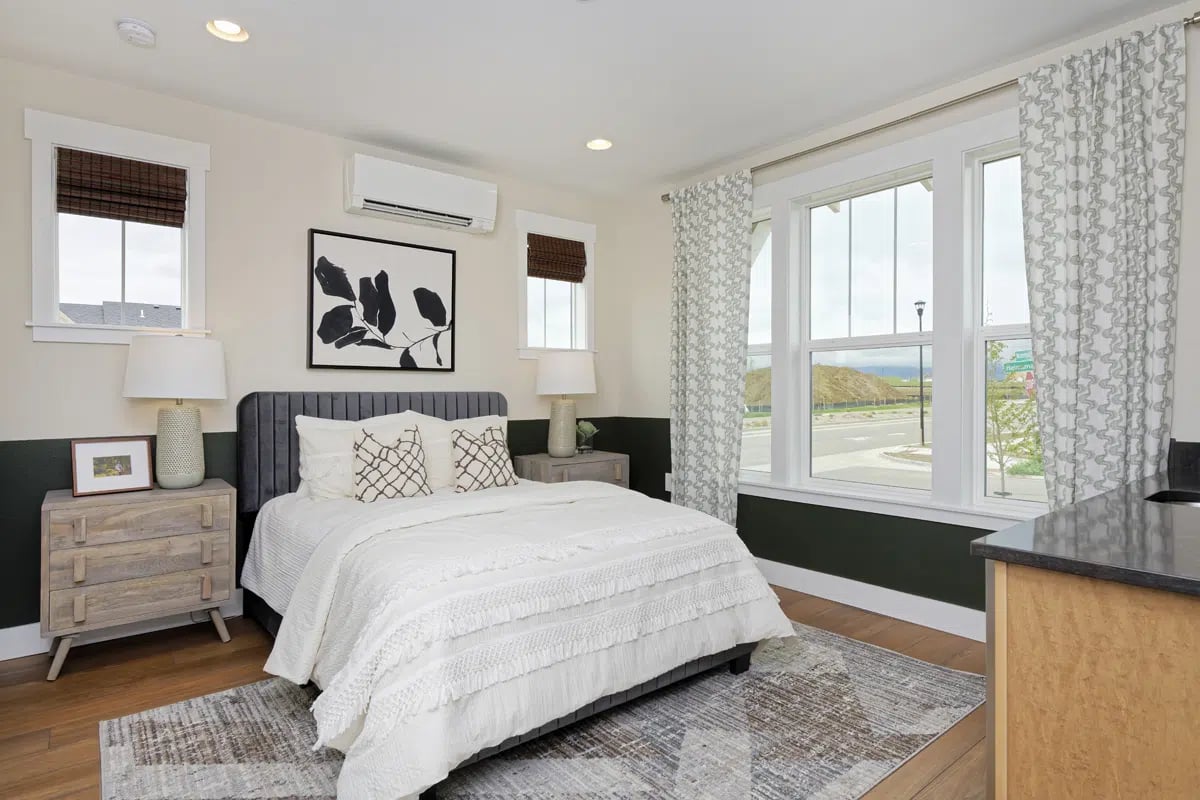 Every house in the Sonders community has the option to incorporate
Thrive Carbon-Wise
, Thrive Home Builders' carbon reduction effort which includes using clean energy to build and power the homes.
Courtesy Thrive Home Builders
A City That Fits
The developers of Sonders were drawn to Fort Collins's carbon neutrality goals and reputation as a city for retirees.
According to Dan Nickless, principal at Actual Communities Inc., Fort Collins, Colorado, is not an easy place to entitle land. The city is essentially landlocked, and it has high standards for developers who want to build within city limits.
For example, while many places have a one-year warranty where developers do improvements on their projects for the city, Fort Collins has a two-year minimum. The municipality also has stricter product requirements, such as wider street sections and a minimum of four product types within a community.
In addition to its more-stringent building requirements, Fort Collins has signaled its commitment to sustainability through its Climate Action Plan, the main goal of which is to be 20 percent below its 2005 levels of greenhouse gas emissions by 2020, 80 percent by 2030, and carbon neutral by 2050.
But for Nickless and Bill Swalling, who is also principal at Actual Communities, Fort Collins' high bar for developers is seen as less of an obstacle and more as a sign that the city's priorities align with their own and, particularly, with the vision of the Sonders project.
"For us, we saw it as an opportunity where we would have limited competition and the ability to demonstrate the value that we think we're creating within the community," Nickless says. "And that goes a long way with a city council or a planning staff or planning commission in having some congruent thought processes. We'd want to do the same kind of community they do."
According to Swalling, Actual Communities also considered Fort Collins' reputation as being a great place to retire when deciding where the Sonders project would be located.
"A friend of mine introduced us to Fort Collins, and it looked to me at that time that Fort Collins was going to be kind of an up-and-coming community," Swalling says. "It had been rated as one of the best small cities to live in the U.S. for a number of years. And if you looked at all the acknowledgements they had received over the last while, it looked like an area that would be receptive for our high quality, high amenity projects."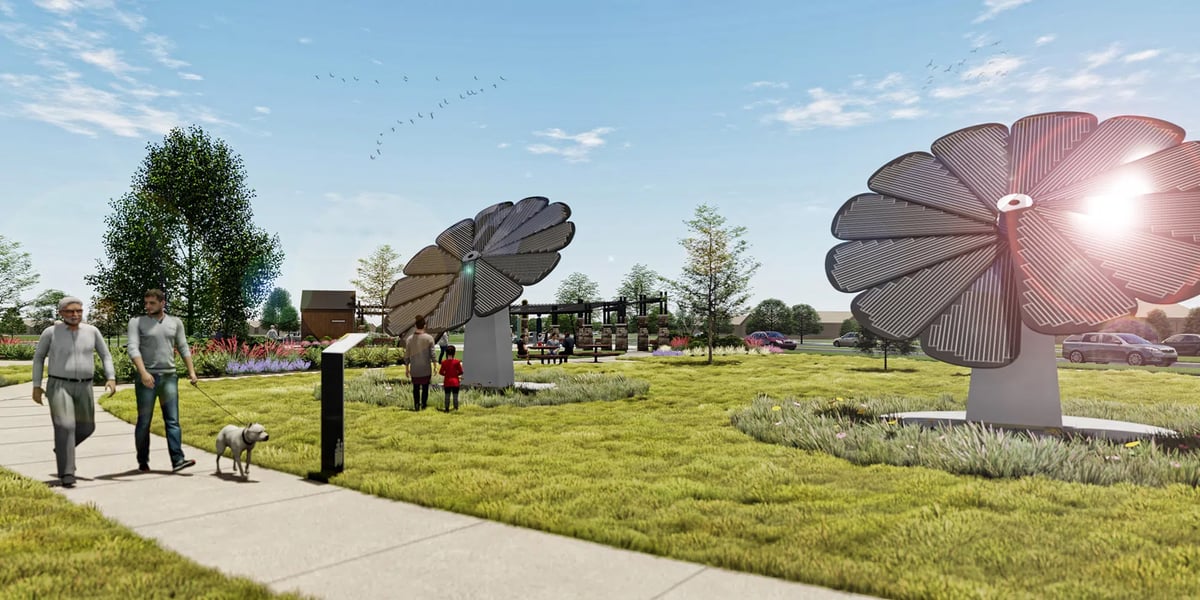 The developer's vision of Sonders aligns with the priorities of the City of Fort Collins, including in their commitment to resource conservation.
Courtesy Thrive Home Builders
Jul 14, 2023 5:07:46 PM · 8 min read
---

Erin Arrington is a freelance writer and editor who covers sustainability initiatives throughout and beyond Alaska.