I have recently relocated from the rugged shores of the San Juan Islands in Washington to the craggy peaks of the San Juan Mountains in my beloved home state of Colorado—from the temperate softness of the cedars and hemlock to the majestic vigor of the spruce, firs, and pines.
I developed my love for forests long ago, when youthful compulsion drove me to alight the branches of any tree strong enough to bear my weight. Countless hours were spent fashioning tree houses that served as hideout, fort, or lair, depending on my whim. That love evolved as I engaged in the many joys and activities that the mountains offer, and ultimately helped define my career path.
As I return to the place of my youth, it feels that, in some ways, I truly know the place for the very first time. Yet, there are changes too, undeniable and heartbreaking. Forests that I remember as lush, thriving playgrounds are now silent mausoleums, ominously awaiting the inevitable: wildfire.
Unusually hot, dry summers and mild winters in the American West have enabled the bark beetle to proliferate and ravish forests from Mexico to British Columbia, resulting in a forest blight of colossal proportions—ten times larger than anything previously experienced in North America. Affecting all 19 Western states and Canada, the beetle infestation has decimated nearly 100 million acres of timber (nearly half of that in the U.S.) at an average 80% kill rate.
Scientists affirm that climate change has contributed to the size and severity of the beetle outbreak, and that this forest denudation will significantly reduce the planet's ability to remove greenhouse gasses from the atmosphere. In fact, a study conducted by the Canadian Forest Service concluded that the pine beetle outbreak will release 270 megatons of carbon dioxide from Canadian forests alone.
Apparently, we have reached a tipping point where our Western forests are releasing so many greenhouse gasses through forest fires and tree deaths that they have become a net carbon emitter, rather than carbon sink.
Furthermore, according to a study conducted for the Environmental Protection Agency by the Harvard School of Engineering and Applied Science, mismanagement of beetle-infested forests are resulting in a significant increase in wildfires (it is expected that Montana will experience a 200% increase in area burned by wildfire, and an 80% increase in air pollution resulting from those fires.)
In some areas, the damage is so extensive that the only solution remaining is to have faith that the ecosystem itself will come up with a quickly available bio-solution. However, since hope is not viable strategy to preserve our precious forests, governments across the west are developing wildfire mitigation plans. For example, under the assumption that dead pine stands represent a menacing fire hazard, the British Columbian government is harvesting wide swaths of affected forests that interface with urban development.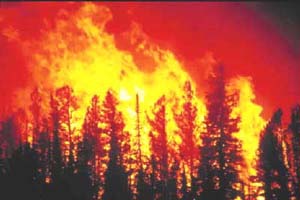 Photo courtesy of science.howstuffworks.com
As drought extends its relentless stranglehold on the West, mega-fires—faster, hotter, and more explosive than ever—continue to annihilate forests that have few natural defenses remaining to fend off fire's threat. Nationwide, 2014 has brought more than 32,000 wildfires, charring over 1.6 million acres. Fire suppression costs have increased fourfold since 1985, from approximately $440 million to nearly $1.8 billion in 2013.
In California, 216 fires raged just last week, and firefighting, one relegated to a defined season, has become a year round and full time occupation. It is projected that the cost to fight California's increasingly frequent and pervasive fires could reach a record $1 billion.
Sadly, Western forests are on the front lines of climate change. According to a Playing with Fire: How Climate Change and Development Patterns are Contributing to the Soaring Costs of Western Fires, a recent report issued by authors Rachel Cleetus and Kranti Mulik on behalf of the Union of Concerned Scientists, "The threat of wildfires is projected to worsen over time as rising temperatures—rising more rapidly in the American West than the global average—continue to lead to more frequent, large, and severe wildfires and longer fire seasons… Even as climate change is raising current and future wildfire risks, the trend towards building more homes in wildfire-prone areas is compounding the problem and leading to higher costs. The federal government (particularly the Forest Service)—and ultimately the American tax payer—bears large costs to manage fires, and those costs have been steadily rising… Bringing the upward-spiraling costs under control depends on coordinated actions by federal, state, and local agencies and policy makers, as well as homeowners and private insurance companies."
Those of us that live in the looming shadow of wildfire are bracing for dangerous and destructive times ahead. The financial and environmental impacts of wildfire are potentially massive, posing a serious threat to property, infrastructure, watersheds, human health and safety, wildlife, habitats, and local economies.
However, despite the pending danger, we're not losing confidence that solutions are within our reach. Organizations like the National Fire Protection Association (NFPA) distribute information about increasing the resiliency of communities at risk and limiting the impact of wildfires on people and ecosystems. The Home Fire Sprinkler Coalition (HFSC) provides essential information about home fire protection systems, particularly relevant since 8 out of 10 fire related deaths occur at home. And innovative manufactures like Uponor are offering flexible, durable, and effective fire sprinkler systems that seamlessly combine with a home's cold-water plumbing system to ensure ample water supply in case of fire.
Given the urgency of the situation, it's all hands on deck throughout the West to increase public awareness, enhance fire related codes and policies, develop effective risk mitigation strategies, and create comprehensive Community Wildfire Protection Plans. Land owners, communities, and businesses that are already located in wildfire-prone areas will need to invest in fireproofing measures. Municipalities will need to plan on assuming firefighting costs and making better—and sometimes difficult—planning and zoning decisions in high risk areas.
If we fail to take appropriate action and create effective plans to mitigate further destruction, it's possible that we might not have the luxury in the future to see the forest for the trees.
In the coming months, watch for editorial from Green Builder Media about disaster mitigation and resilient buildings. We plan to offer ideas for risk mitigation from wildfire, extreme weather, super storms, rising sea levels and other climate change related events.
Have suggestions about topics, solutions, companies, or products we should cover? Write to me at sara.gutterman@greenbuildermedia.com or follow me on Twitter or Facebook.
For more information about green building and sustainable living, visit Green Builder Media at www.greenbuildermedia.com, like us on Facebook, and follow us on Twitter for regular updates and breaking news.