VISION House Sussex: From the Ground Up

Marc Huminilowycz, Guest Columnist
7 min read
There are many facets to constructing a new, sustainable home. Tim O'Brien is working his way toward completing all of them.
When it comes to building a new home, there's a lot more than meets the eye. From the ground up, the construction process is all about the details. This principle applies to every Tim O'Brien home, and especially VISION House Sussex, where each stage is carefully executed by trusted tradespeople and inspected every step of the way.Excavation for the VISION House Sussex model home began last winter, with careful consideration of frost in the footings and the foundation before pouring the foundation walls.
"Because freezing and thawing of the soil shifts the ground, we have two seasons here in Wisconsin: winter and road construction," jokes Tim O'Brien Homes owner Tim O'Brien. "New homes built in Wisconsin have basements not because we're packrats, but because we must provide a solid base below the frost line."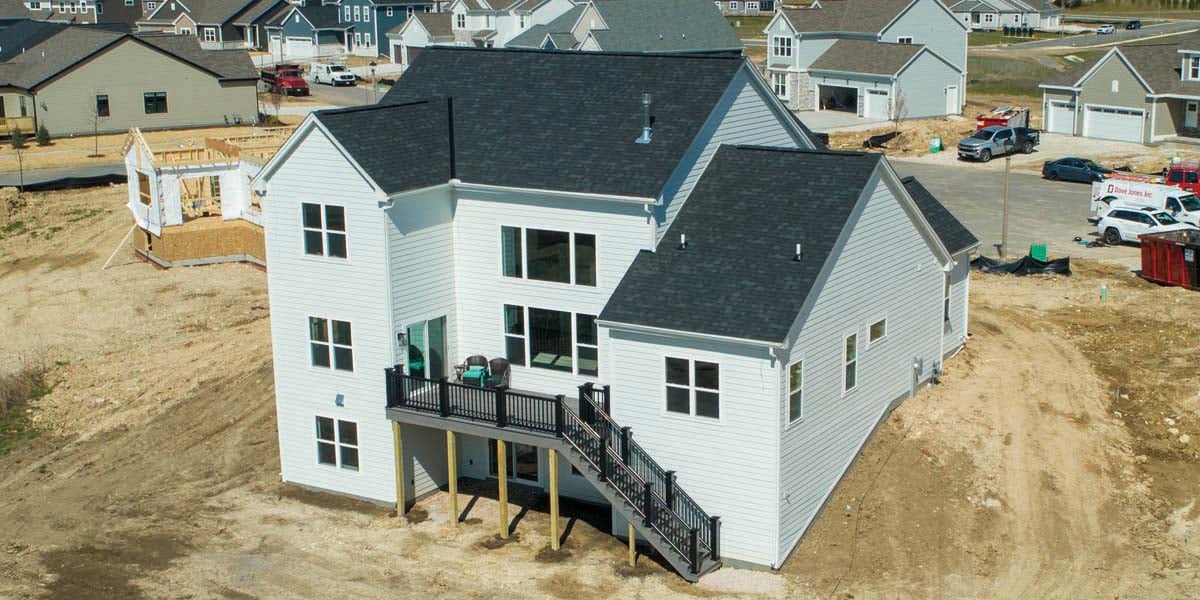 With VISION House Sussex, the construction process is all about the details, from excavation efforts to a pre-possession walkthrough. Courtesy Tim O'Brien Homes
According to O'Brien, the frost line where VISION House Sussex is located is about four to six feet deep. "At this depth, the soil and groundwater no longer freeze in the winter," he explains. A GPS system was used to dig the hole, set up to follow a detailed plan including elevations.
The next day, a foundation crew prepared the hole for footings: 8-inch-thick concrete slabs sitting below the foundation walls that distribute the immense weight of the home to keep it from sinking and prevent water from seeping into the foundation walls.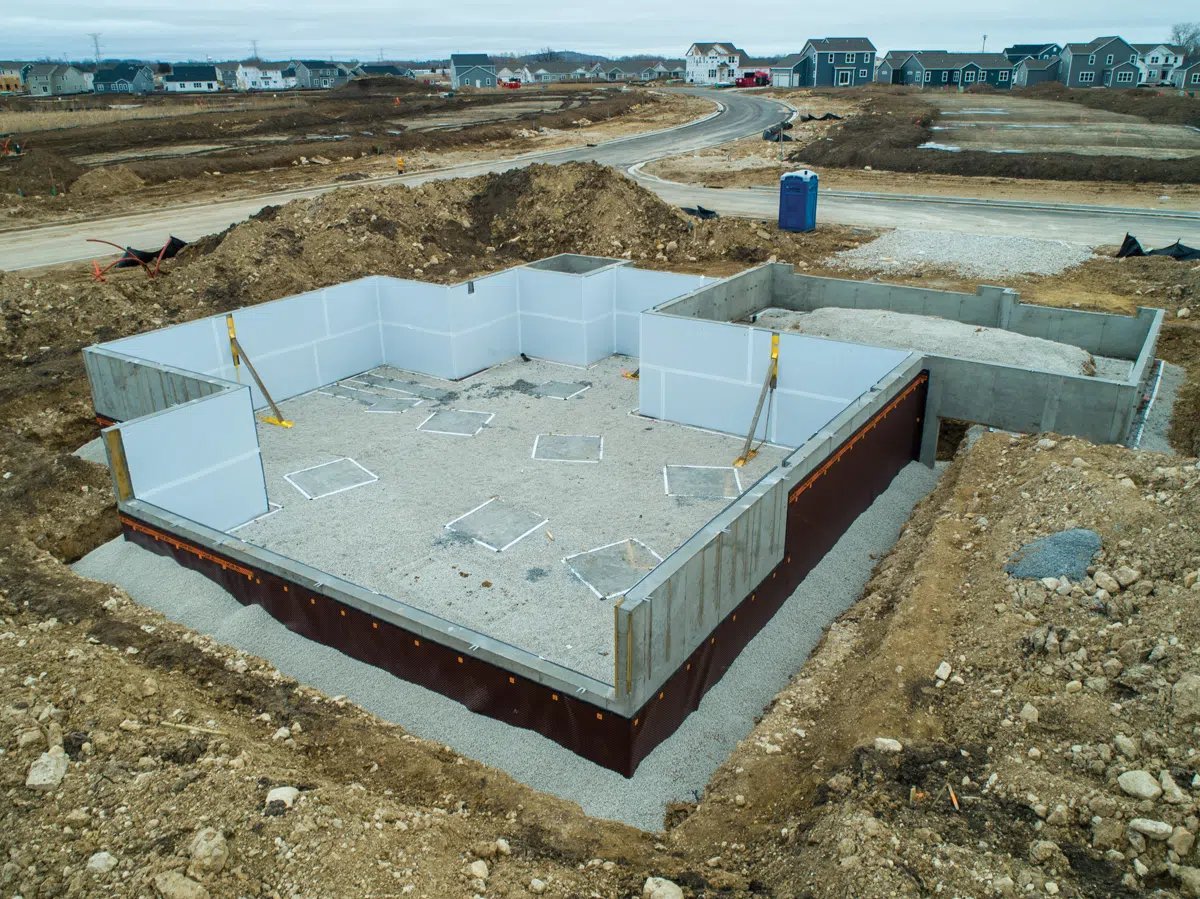 Eight-inch-thick concrete slabs distribute the weight of the home and prevent water seepage. Courtesy Tim O'Brien Homes
Next, builders installed Form-a-Drain rectangular tubing, a 3-in-1 product that acts as a form for the footings, a drainage system and a vessel to remove sub-soil gas (specifically radon). The work was thoroughly examined by a building inspector.
This was the first of 10 inspections conducted at various stages in the construction process. Pouring concrete into the forms came next, followed a few days later by the application of the Delta-MS waterproofing membrane, which ensures a dry, comfortable and healthy basement.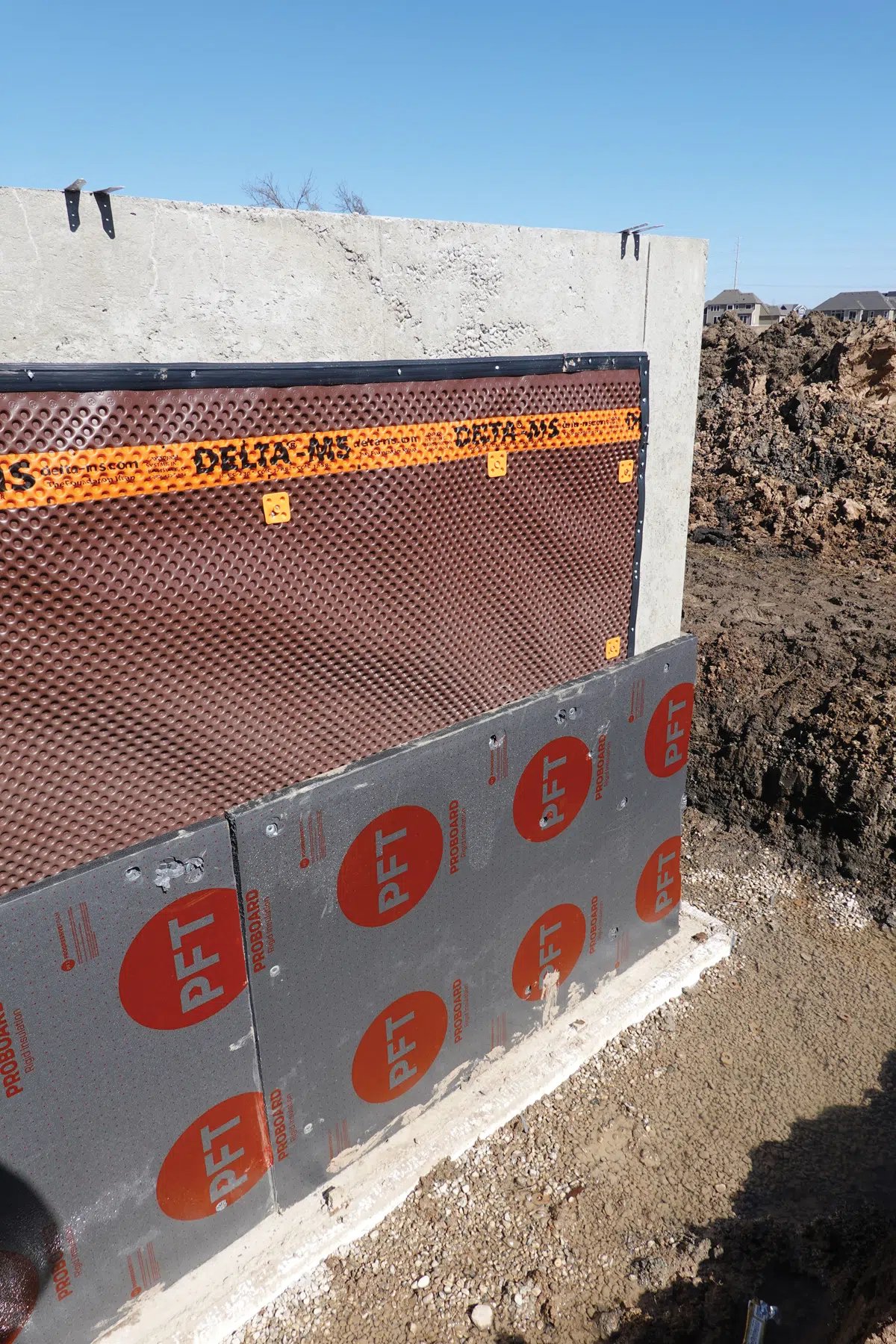 The Delta-MS waterproofing system provides a 10-year dry basement wall guarantee. Courtesy Tim O'Brien Homes
Good Bones: Framing
Once the footing concrete was cured (10 days after pouring), the home was connected to municipal water and sewer mains, the foundation walls were back-filled, and everything was inspected.
At the same time, the lumber arrived onsite and the framers began their work. First to be installed was the sill plate and sill sealer, the bottommost components of framing. Tim O'Brien Homes uses 2-by-6 rot-resistant Southern yellow pine, pressure-treated to withstand water and prevent moisture from traveling from the foundation wall to the wood.
"Since this section is vulnerable to heat loss, we spray-foam the basement box sills, which are the top of the foundation walls where the floor joists rest," says O'Brien. "This increases energy efficiency and shields the home from the outdoors."
Next came the floor joists on the first floor. "For hundreds of years, solid wood was used to support the central, suspended weight of buildings," says O'Brien. "About 50 years ago, 'I-joists' took over the role. They are used in most home construction today."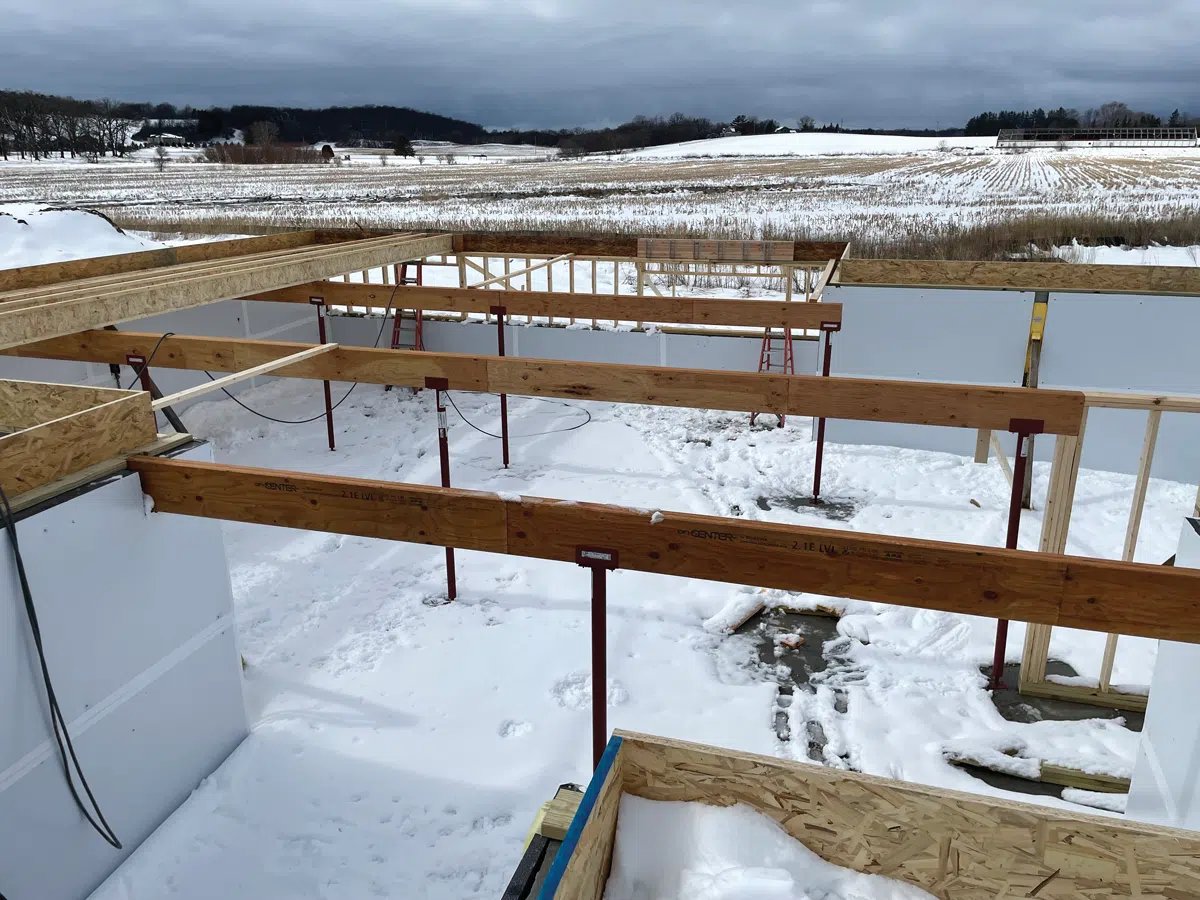 I-joists carry the immense weight of the home down onto Oregon-made laminate veneer lumber (LBL) beams. Courtesy Tim O'Brien Homes
Stronger, stiffer and longer than conventional lumber, I-joists and reduce floor squeaks and the amount of material required to build a home and improve the efficiency of installation. They carry the weight of the home down onto laminate veneer lumber (LVL) beams. And, unlike the Canadian lumber that makes up most of the project's framing, these "spray-tanned bodybuilder versions of lumber" are manufactured in Oregon, O'Brien says.
Building onto the floor joists, framers next assembled the first floor walls. Once complete, they installed a high-performance wall system unique to Tim O'Brien Homes.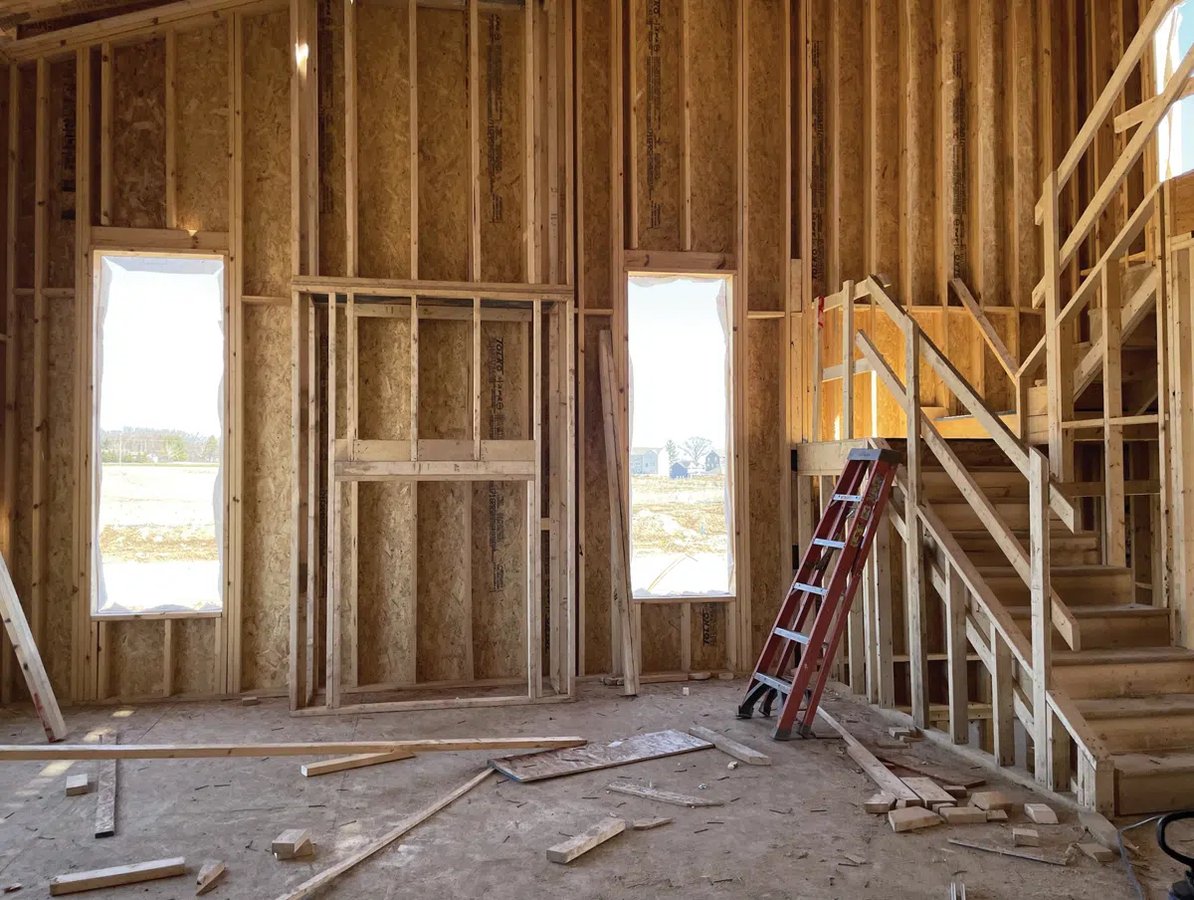 Exterior wall treatment allows for 2-by-4 vs. 2-by-6 wall studs to save costs and increase floor space. Courtesy of Tim O'Brien Homes
"We are one of few builders on the market to double-sheath our exterior walls, meaning two layers of 7/16-inch sheathing instead of one," explains O'Brien. "Over this, we apply one-inch rigid foam insulation. This prevents 'thermal bridging' where framing studs act as superhighways for the transfer of heat and cold. The exterior foam acts as a warm coat that significantly minimizes this effect."
Completing the wall system is a unique framing stud treatment. According to O'Brien, many builders frame 2-by-6 walls and pack them with standard batt insulation. In Tim O'Brien Homes, rigid foam on the outside combined with blown-in batt insulation in the wall cavities allows for a well-insulated 2-by-4 wall.
"Without sacrificing structural integrity, the reduction in lumber size saves on costs and increases floor space," he says. "Using this wall system, we differentiate ourselves from other builders not because it's trendy, but because it's value-driven."
After installing prefabricated roof trusses and creating the attic space, the framing crew created energy-efficient raised heel trusses. "A good chunk of heat loss in the home occurs in the attic," O'Brien explains. "Conventional trusses have sharp angles at their ends, which cause attic insulation to compress. Raising the heels of the truss allows for deeper insulation at the perimeter of the attic, which minimizes cold spots and moisture accumulation and increasing air flow, reducing the likelihood of ice dams."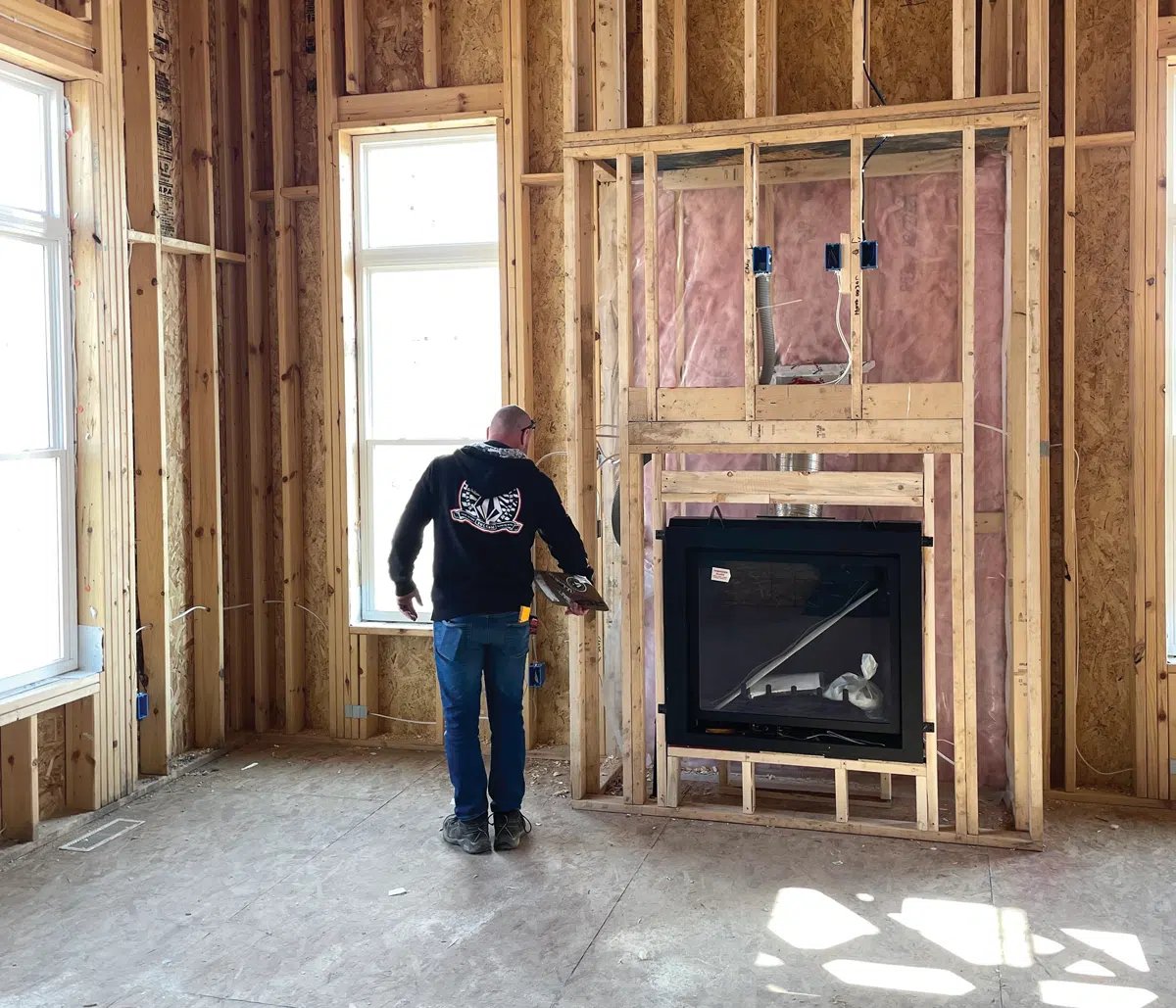 A municipal building inspector checks mechanical rough-ins, plumbing and electrical systems. Courtesy Tim O'Brien Homes
It's a Wrap!
Following the completion of mechanical cut-ins, the roof of the home was immediately protected from the elements with a roofing underlayment and Owens Corning 30-year shingles. Certified Tyvek installers carefully shielded the exterior walls from the elements with a Tyvek weather-resistant barrier. This prevents water from seeping into the home, stops air from moving into the exterior wall and quickly removes water vapor, should it enter the wall system.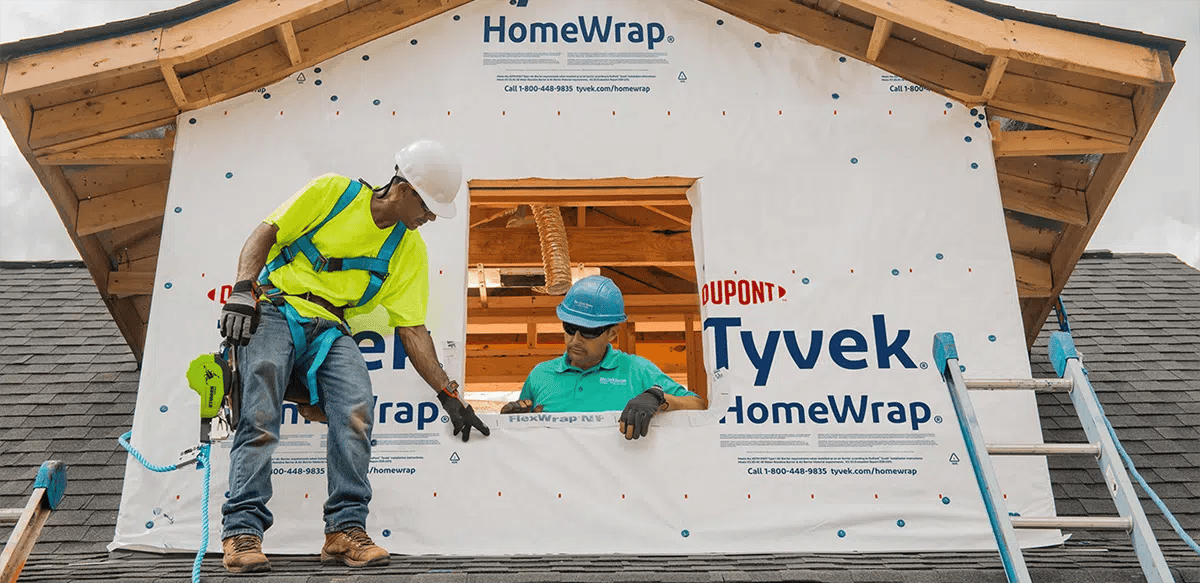 Certified Tyvek installers protect the home from the elements with a water-resistant barrier. Courtesy Tim O'Brien Homes
The final phase of closing in the home involved the installation of high-performance ENERGY STAR windows by Tim O'Brien Homes certified installers.
The interior of the home was a hub of construction activity, with heating, ventilation and air conditioning (HVAC) systems roughed in, and plumbing and electrical trades installing the home's wiring, plumbing and drain systems. Once complete, the municipal building inspector returned to thoroughly inspect the home for compliance with the building code.
VISION House Sussex was now ready for insulation. Before this the model, like every Tim O'Brien home, underwent an additional step in the building process—a pre-drywall orientation with the homeowner. "During this walk-through meeting at the homesite, we introduced the homeowner to the value-driven features of their high-performance home before the walls were covered with drywall, as well as discussing our warranty and delivery processes," says O'Brien.
A number of enhanced steps were taken to create a high-performance building envelope. Large seams in exterior walls were caulked; a vapor barrier was installed; dense spray foam was applied to basement box sills; a thick blanket of insulation was blown into the attic; and every square inch of exterior wall cavities was insulated using Tim O'Brien Homes' advanced "blow-in blanket system." Before drywall, all insulation and the vapor barrier were inspected by O'Brien's third-party energy rater and the building inspector.
The Finishing Touches
The next weeks in the building process involved numerous trades putting the finishing touches on VISION House Sussex: drywall, lighting and plumbing fixtures, cabinetry and countertops, doors and trim, flooring and tile, painting and the installation of the exterior finish component of the project: James Hardie's HardiePlank lap siding, a product composed of cement reinforced with sand and cellulose fibers from trees that will protect the home from wind, rain and snow and Wisconsin's northern weather extremes.
Perhaps the most-critical element in an airtight high-performance home involved the installation of the mechanical systems. These included: Carrier Dual Fuel Performance Multi-Zone Heat Pump and Gas Furnace; RHEEM ProTerra Hybrid Water Heater; RenewAire energy recovery ventilator (ERV); an active sub-soil venting system for radon mitigation; Aeroseal duct air-sealing technology; and JinkoSolar panels and solar storage.
Building a home is a complicated process, and many things can go wrong along the way. "You've got about 40 to 50 different entities—such as suppliers, companies, installers and laborers—including 200 people working on the house," says O'Brien. "That's why we utilize a 'punch list' to ensure adherence to quality standards and scope of work."
As an example in the finishing stage, builders do a walk-around "punch" and a "manager quality walk" for a different set of eyes once the flooring and carpeting are in (to schedule last-minute paint touch-ups and cleaning), before the customer comes in for a walk-through seven days before possession.
When complete, VISION House Sussex will show builders and consumers in the Greater Milwaukee area how to improve a home's energy efficiency, durability, health, and comfort—at an attainable price.
For other builders wishing to aspire to high-performance housing, O'Brien offers the following tips: "Work with the same trusted tradespeople that you've established a long relationship with—especially mechanical contractors," he says. "They will call each other, work together and respect one another. We've had strong relationships with the same HVAC technicians, framers, plumbers, roofers, insulators and electricians for the past 16 years. And, employ a good energy consultant. With all this in place on a project, it's amazing how much gets done without you!"
Water Works
As one of its many sustainability features, VISION House Sussex will be fitted with a Phyn Plus smart water assistant. According to the company's website, the average home in America leaks 10,000 gallons of water per year.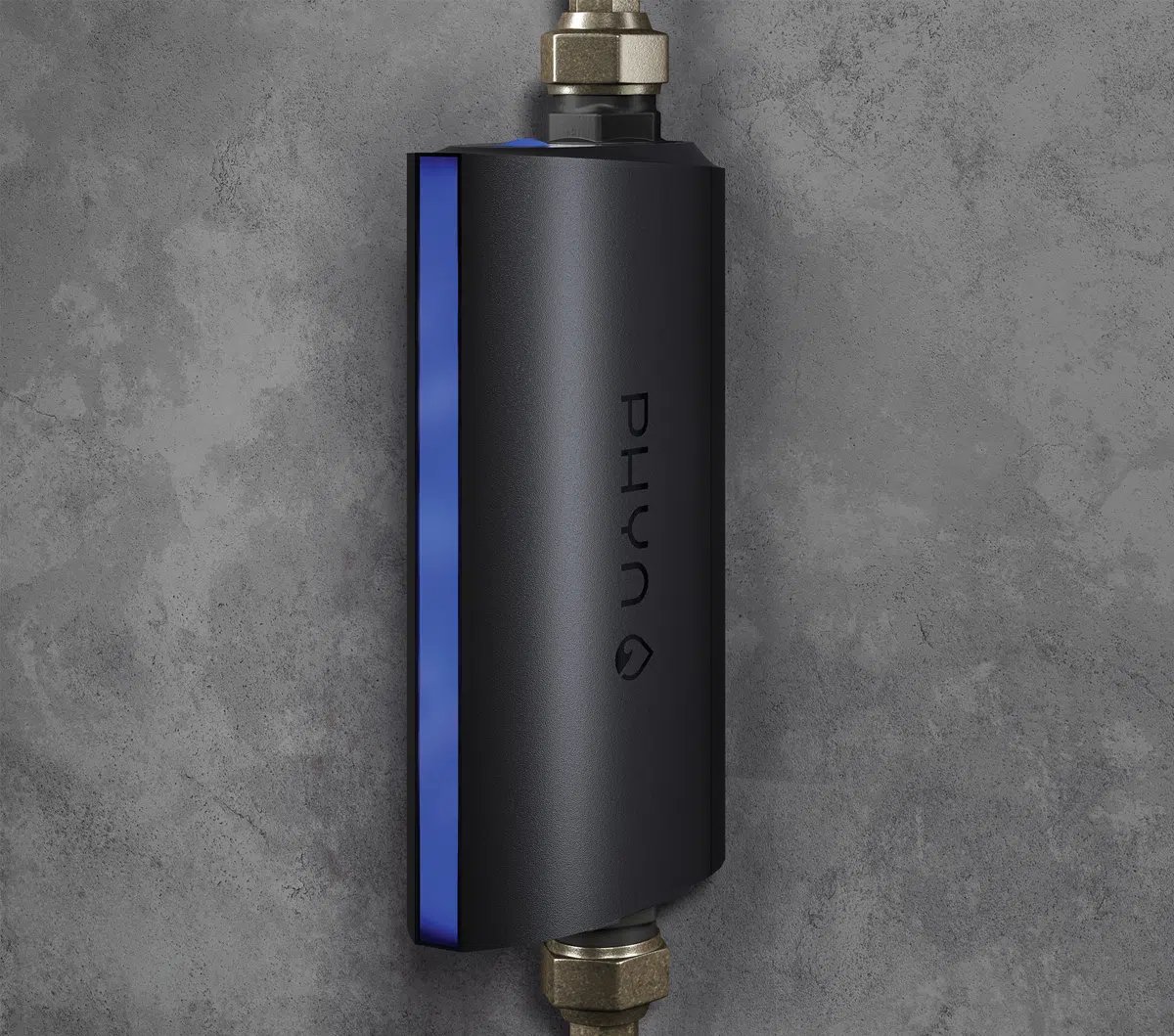 Phyn Plus protects a house from leaks, conserves water and saves homeowners money by accurately detecting leaks across multiple flow sources in the home. The device measures microscopic water changes 240 times per second to recognize the unique "voice" of every water fixture. When a faucet runs, Phyn the device knows it's a faucet. If the faucet leaks, an alert is issued.
Phyn Plus shows homeowners how they are using and wasting water and provides them with tools to address these issues. It alerts homeowners to all types of leaks—from pinholes in pipes to frozen bursts—and stops them before they become expensive problems.
Oct 30, 2023 8:00:00 AM · 7 min read
---

Award-winning content writer and editor specializing in residential building and energy-efficient homes.