Resilient House: Ready for the Next One

Alan Naditz
4 min read
The road to Puerto Rico's hurricane recovery has led to Mi Casa Resistente, a catastrophe-ready tiny home with a big mission.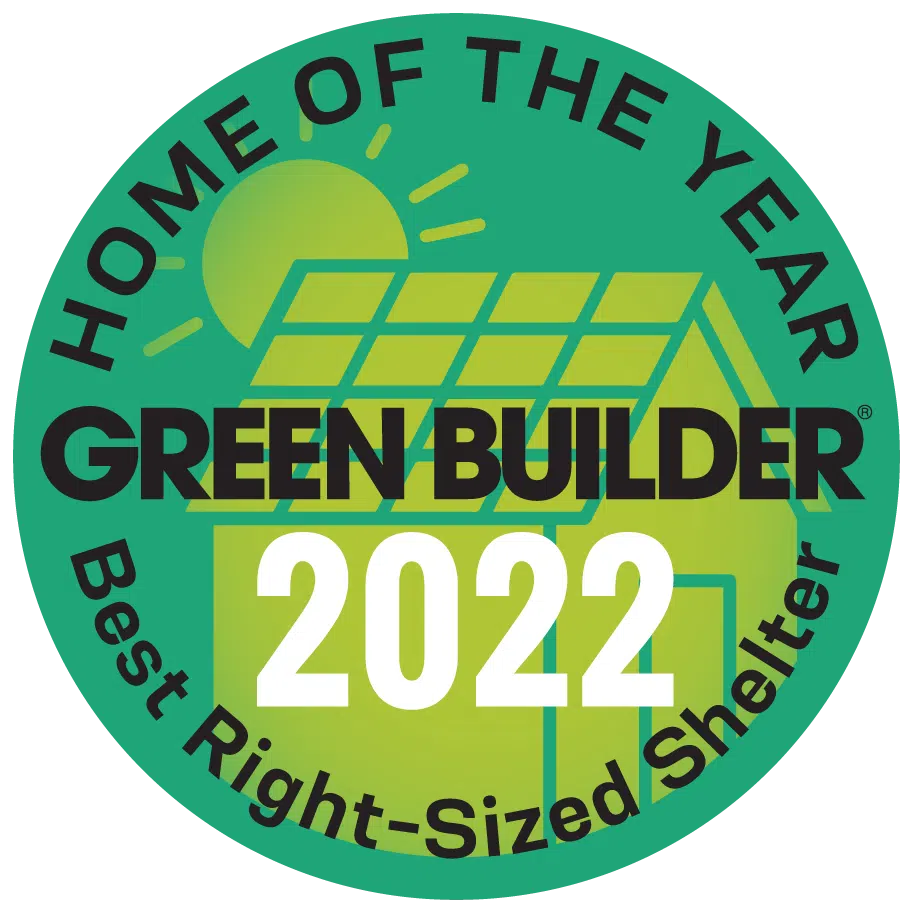 When Hurricane Maria hit Puerto Rico in September 2017, things were a mess. Identified by the United States National Hurricane Center as the deadliest Atlantic hurricane to strike the Caribbean in almost 20 years, Maria resulted in nearly 3,000 deaths and $100 billion in damage, obliterated the nation's power grid and communications network, destroyed or damaged more than 65,000 homes, and left 10,000 people homeless—half of whom still were as of 2020.
Project Stats
Name: Mi Casa Resistente (My Resilient House), San Juan, Puerto Rico
Builder: Peter David Torres, Professional Home Builders
Architect/Designer: Fernando Abruña, architect, Abruña & Musgrave, Architects,
Photographer: Fernando Abruña
Into this scenario stepped San Juan-based Abruña & Musgrave, Architects, which responded to a call for a Puerto Rico architectural design competition to help provide an affordable, sustainable, and resilient home to Hurricane Maria victims. The result was Mi Casa Resistente (My Resilient House), a prototype, highly sustainable tiny home (and Green Builder's 2022 Green Home of the Year in the Best Right-Sized Shelter category).
This is a 528-square-foot two-bedroom (expandable to three) resilient dwelling on a 1,715-square-foot lot in Puerto Rico's Caño Martín Piña area. "Passive green, energy conservation, and resiliency strategies are incorporated throughout the design," notes Fernando Abruña, the project's architect and co-owner of Abruña & Musgrave, Architects, with project designer Margaret Musgrave.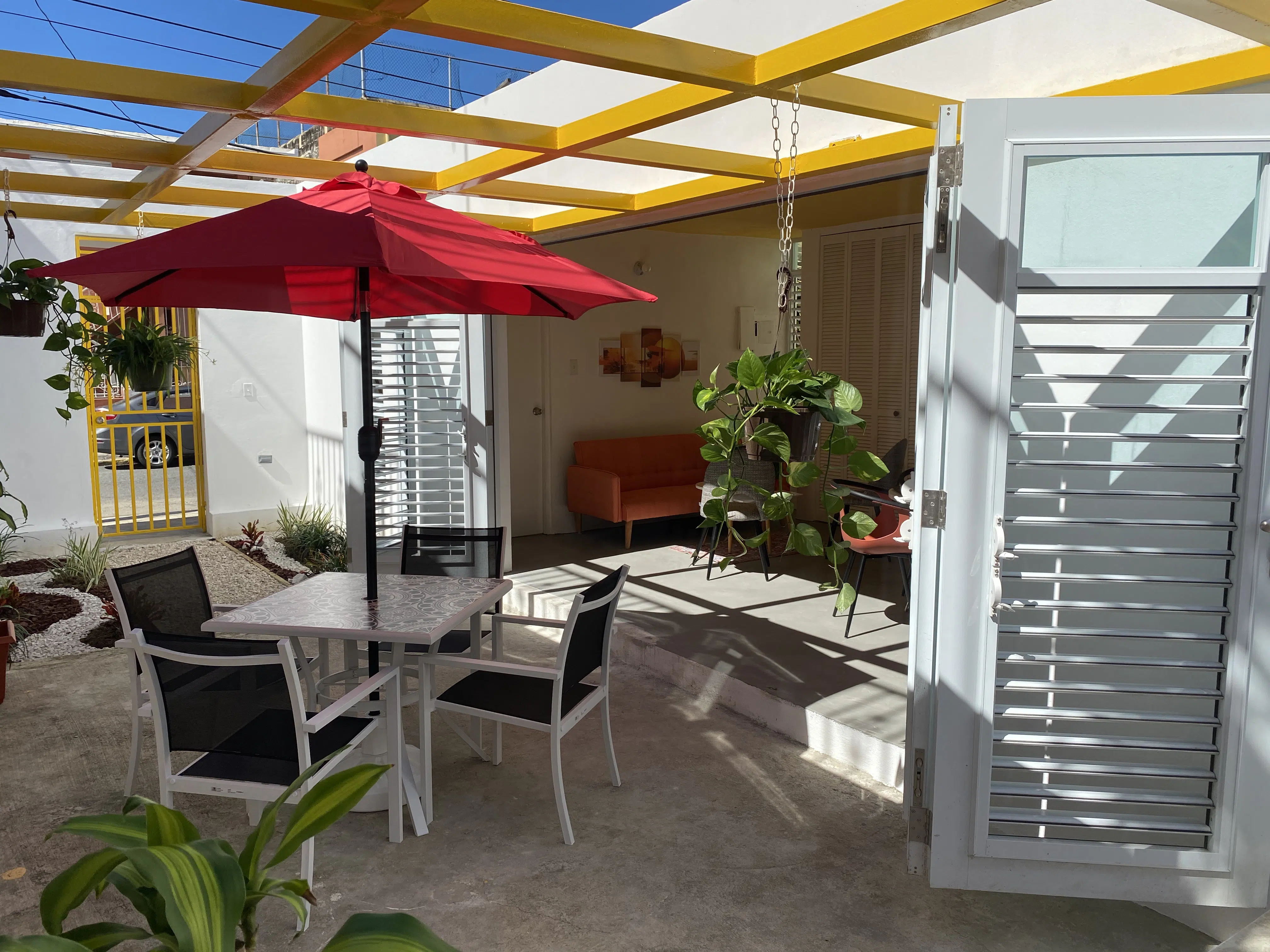 From the Judges:

"An excellent example that sustainability and resourcefulness comes from designing and building for the climate with simple concepts."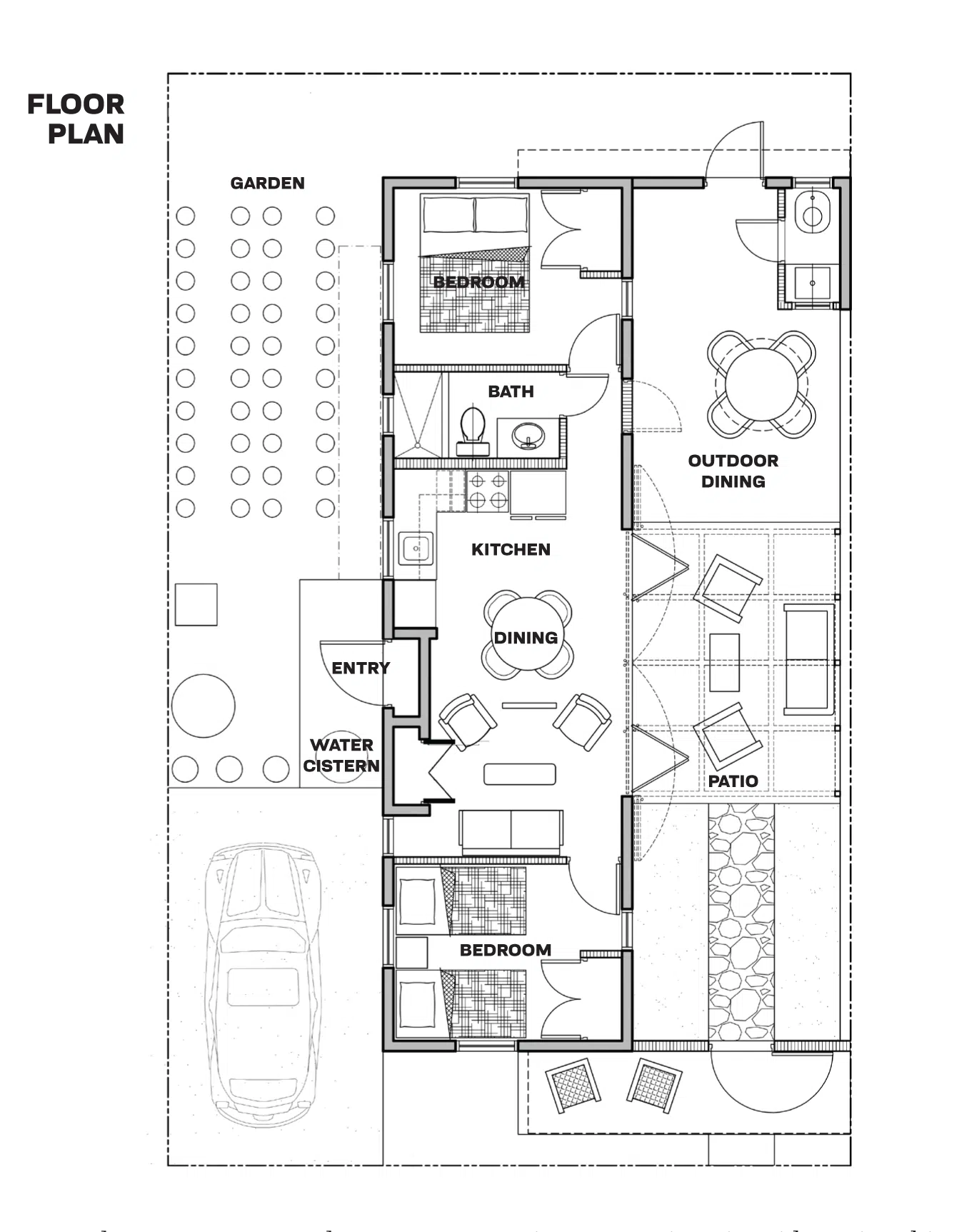 A 64-square-foot balcony and a graveled parking area are provided. A 42-foot-by-12-foot volume with a front facade that extends to the side adds privacy to an interior side patio. This simple volume is peppered with operable jalousie windows and low-e glass transoms (the solar heat gain coefficient [SHGC] is an impressive 0.40) for daylighting and natural ventilation.
Walls are built with 6-inch concrete masonry units (CMUs) and reinforced concrete columns. R-20 structural insulated concrete roof panels mitigate solar heat influx and reduce CO2 emissions through less use of cement. Four jalousie doors that connect the interior spaces with the 372-square-foot side garden/patio and its pergola shape the emblematic space that enhances the tropical climate and informal lifestyle, Abruña notes.

A "Just In Case" Clause
After what happened to Puerto Rico during and after Hurricane Maria, Abruña & Musgrave, Architects set up Mi Casa Resistente with numerous backup elements in case such an event occurs again.
The home's centerpiece is a portable solar power plant capable of storing 1.5 kilowatts (kW) per day. The product enables an ENERGY STAR 1 kilowatt hour (kWh) per day refrigerator to operate continuously in case of utility failures during catastrophic events. An additional 500 watts allow for a microwave oven, a fan, and two LED lamps. LEDs and anti-bug lights are used throughout the house.
This dwelling unit has an inline water heater and is ready for a future 2 kW photovoltaic system and a solar water heater. A roof mounted 500-gallon, utility fed, potable water cistern acts as a reserve in case of system failures.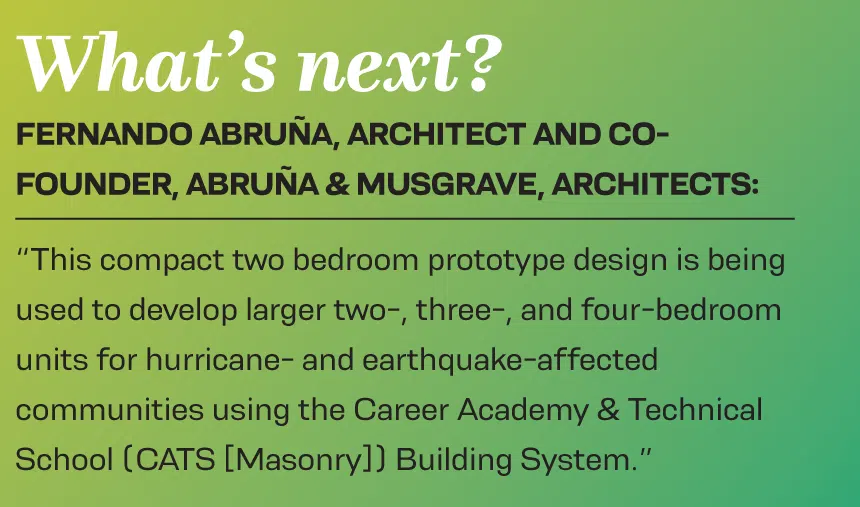 A 200-gallon rainwater cistern on the left side of the house operates by gravity, making it usable even during power failures. WaterSense fixtures are located in the bathroom and a composting toilet in the powder room within the interior side patio. An underground greywater system is also provided at the back patio.
The prototype construction was sponsored by CMP Community Land Trust, the Engineers and Surveyors Association and the Architects and Landscape Architects Association. Two units were built with the beneficiary's participation; a third one will begin soon. All architectural/engineering services were pro-bono. Total cost for the fully furnished and equipped prototype was $95,000. GB
Key Components
Alternative Building Systems: M-Due (M2) structural insulated concrete panels (SIPs) at roof
Appliances: Jangada gas stove; recycling bins by Curver and Sterilite
Building Envelope: M-Due (M2) SIPs at roof; 6-inch cavity concrete blocks at walls
Cabinets, Shelves, Millwork: Locally sourced from community cabinet maker; bathroom vanity by Garrido Bros. & Co.
Caulks and Sealants: DAP Products
Countertops: Formica plastic laminate
Doors and Hardware: Air Master aluminum operable Jalousie doors with integrated vandal-resistant bars and low e-glass transoms; Toledo interior hardware
Electrical: Schneider Electric Square D main distribution panel; HYDROMAXX Flex electric conduits; Hampton Bay ceiling fans and lights
Exterior Finishes: Ecológica Carmelo Special Cement Plaster Mix
Flooring: Behr gray floor paint
Furniture: Capri department stores, Puerto Rico
Insulation: 4-inch expanded polystyrene
Landscaping: Donation by Abruña & Musgrave, Architects
Lighting: EcoSmart LED interior bulbs, Feit Electric exterior bug lights, Dark Sky-rated Home Decorators Collection exterior light fixtures
Paints and Stains: Behr
Plumbing/Plumbing Fixtures: Mediterraneo shower console; Elkay kitchen sink; Glacier Bay 1.28 gallons per flush (GPF) toilet, Nature's Head composting toilet
Renewable Energy Systems (solar, wind, etc.): KiloVault RES-Q portable power system.
Roof: BULL-BOND PRO-ONE cool roof coating
Ventilation: Air Master natural ventilation with operable aluminum jalousie doors and windows
Water Heating: Stiebel Eltron inline electric water heater
Water Management (indoor/outdoor): Columnar 200 gallon polypropylene rainwater harvesting, gravity-fed cistern; 500-gallon rooftop-mounted polypropylene utility-fed cistern
Windows, Skylights, Patio Doors: Air Master aluminum operable jalousie doors with integrated vandal-resistant bars and low e-glass transoms; low-e glass transoms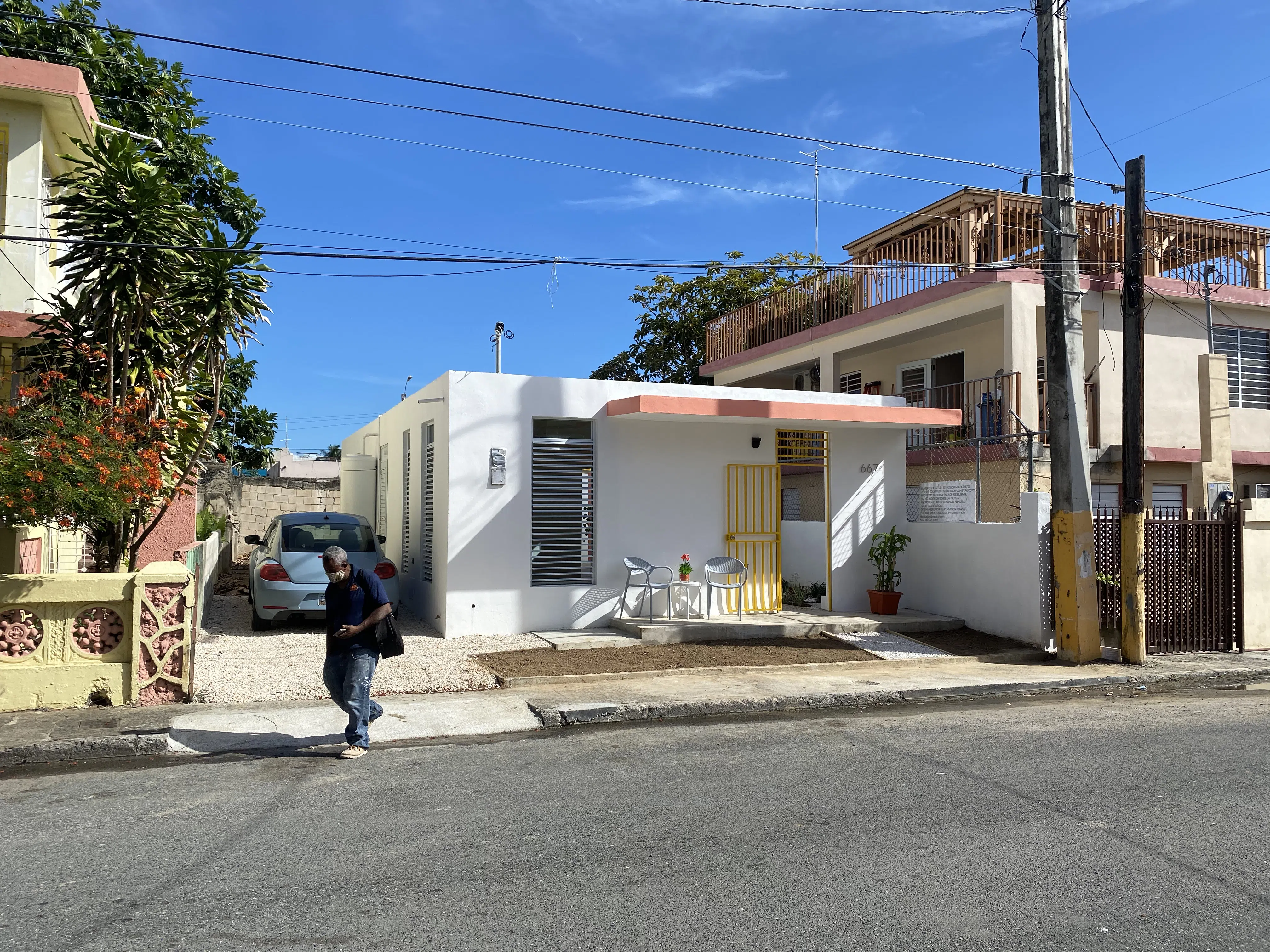 Mi Casa Resistente blends in with other homes in its neighborhood but offers a package of standout sustainable features, including solar power, low-e windows, and an underground greywater system. Credit: Fernando Abruña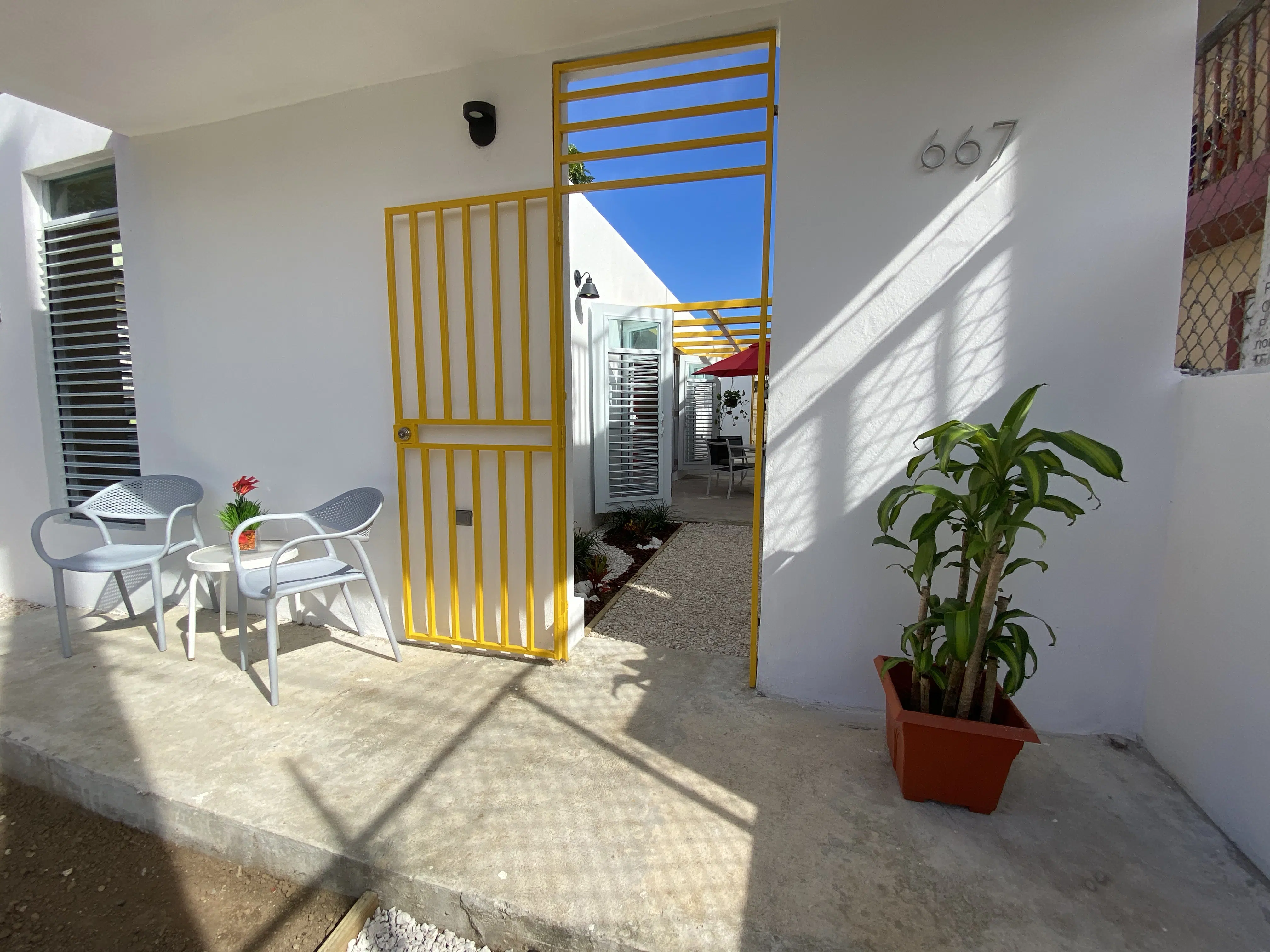 The home's positioning and use of natural shade help keep the house comfortable even on hot sunny days. Credit: Fernando Abruña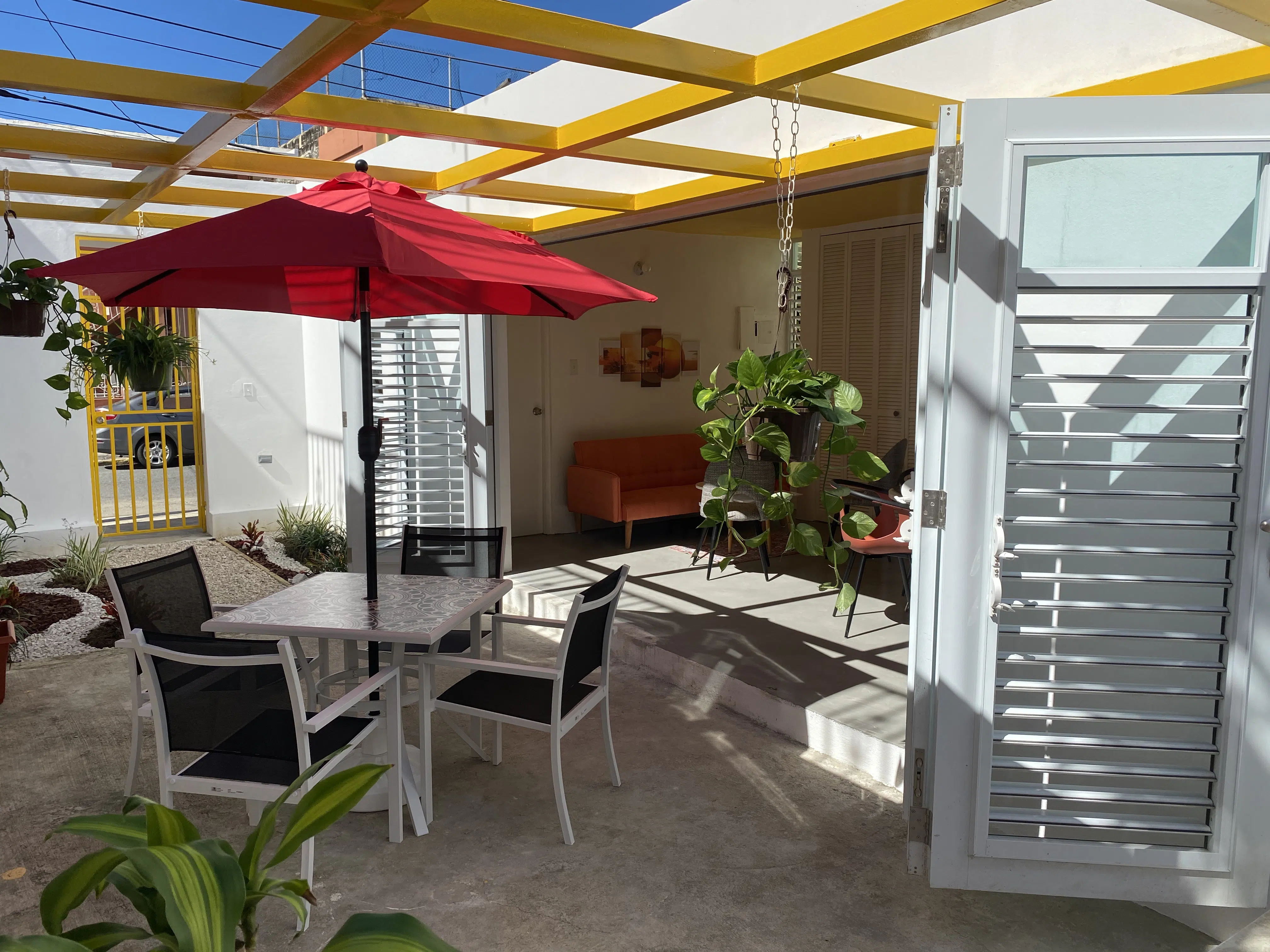 The pergola side patio and the 12-foot-wide integrated living/dining/kitchen area appears much larger when four jalousie doors are fully open. Credit: Fernando Abruña
Jun 21, 2022 2:08:39 PM · 4 min read
---

Alan Naditz is managing editor of Green Builder Magazine. He has covered numerous industries in his extensive career, including residential and commercial construction, small and corporate business, real estate and sustainability.