Beauty with a Net-Zero Energy Conscience

Alan Naditz
4 min read
More than just a stellar design feat, this modern masterpiece proves that net-zero performance and comfort can coexist.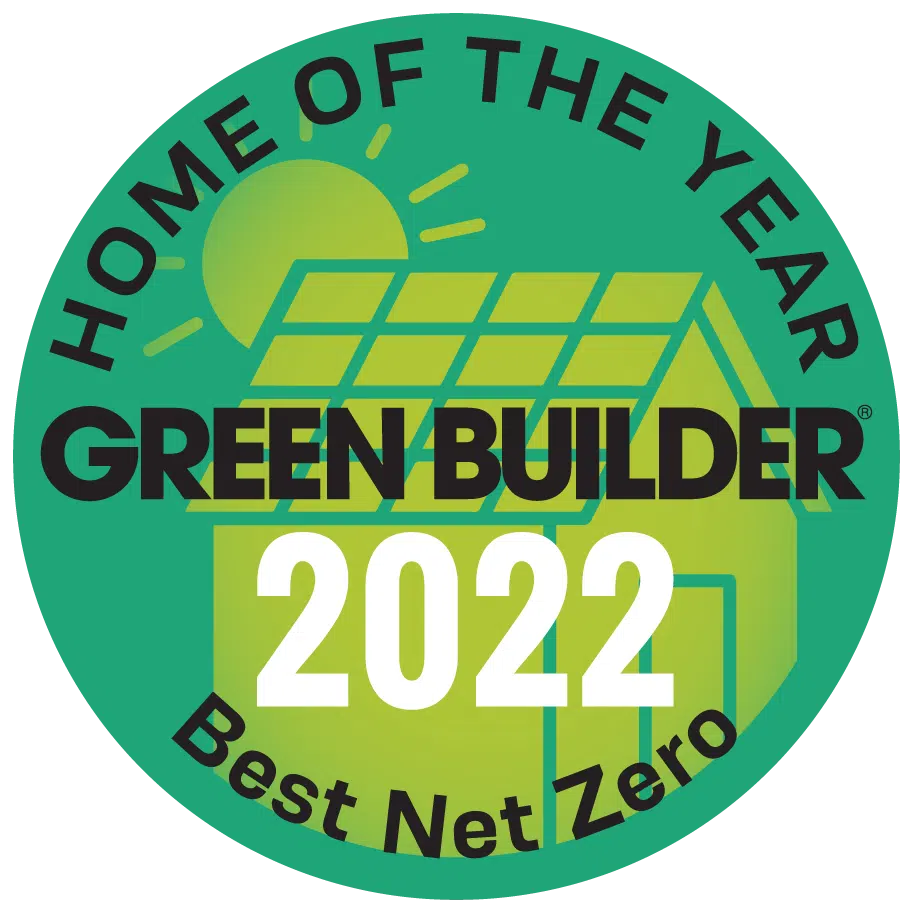 In the rolling hills surrounding Austin, Texas, perched on the edge of a cliff, the Skyview Independent project provides panoramic views of beautiful Texas Hill Country. Green Builder's 2022 Green Home of the Year winner in the Best Net Zero category perfectly melds clean, modern lines with natural materials and low-impact design details, all aimed at super efficiency.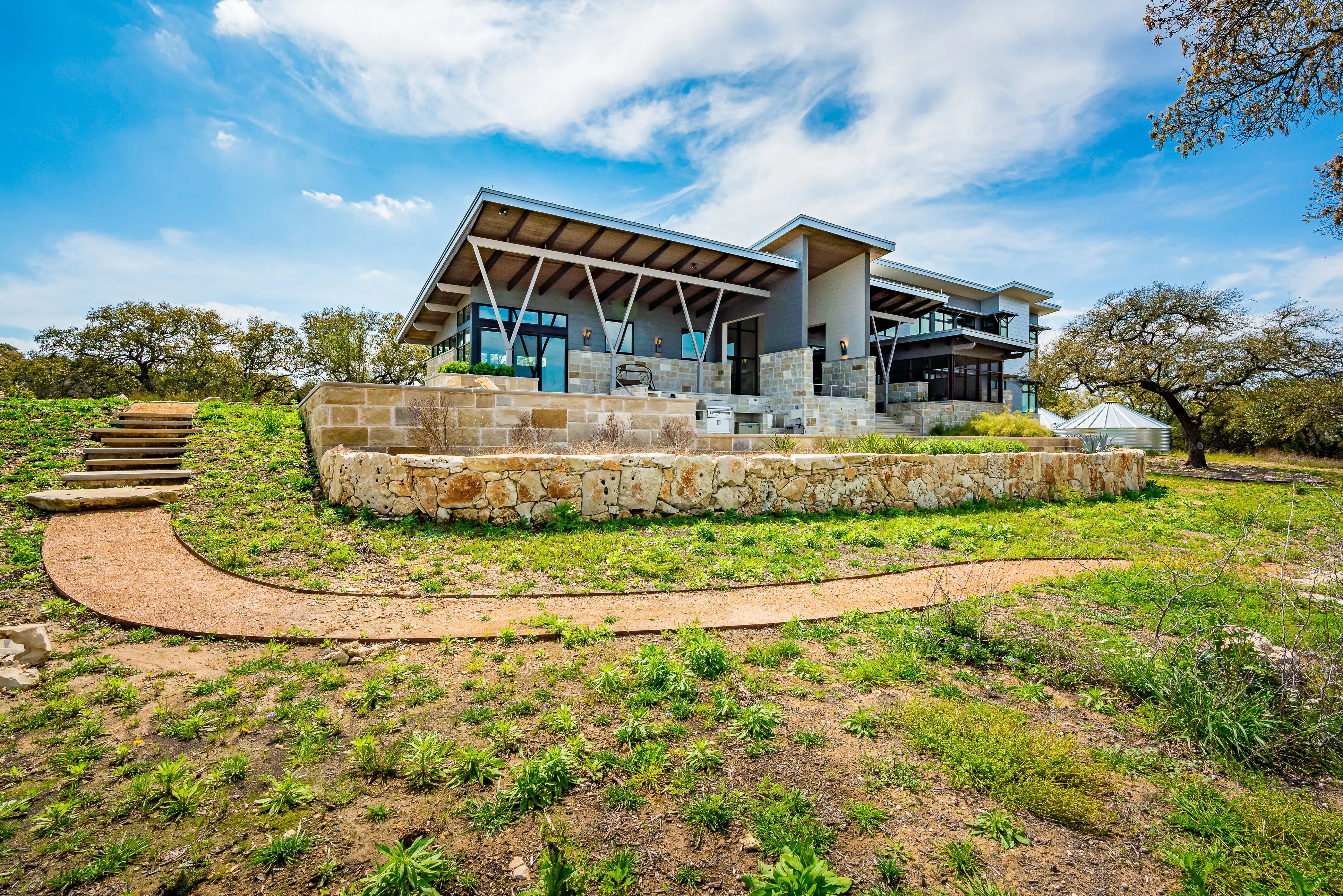 From the Judges: "Incorporating passive design techniques and state of the art technology, this home utilizes the natural environment to enhance the efficiency and conservation brought about through building science."
Project Stats
Name: Skyview Independent, Driftwood, Texas
Builder: David Dalgleish, Dalgleish Construction, www.dalgleish.net
Architect/Designer: Alan Barley, Barley/Pfeiffer Architecture, www.barleypfeiffer.com
Landscape Architect: Steven K. Domigan, www.stevedomigan.com
Interior Designer: Jan Niels, IDG Interiors, www.idginteriors.com
Photographer: Mark Adams, Mark Adams Media
"Our client was looking to build a wonderful family retreat on ranch land outside of Austin," says Peter Pfeiffer, president of Barley/Pfeiffer Architecture. "We showed him how to make the retreat very energy conserving by design, and water independent via smart water management coupled with extensive rainwater collection."
Challenged by the remote location in the unforgiving Texas heat, passive design strategies and climate responsive design concepts were implemented. Building orientation, use of prevailing breezes, extended roof overhangs, a floating radiant barrier roof system, and strategic window placement were important factors in the design of this energy-efficient home.
Using available natural resources, the high-performance structure is designed to be comfortable without air conditioning, and its self-sufficiency is assured through a roof-mounted solar array that produces, on average,
100 percent of the electricity needed to run the home. All water needs, outdoor and domestic, are provided through a 50,000-gallon rainwater collection, storage, and filtration system.
When possible, locally sourced materials were used, including a limestone veneer from a nearby quarry for the exterior of the structure.
Healthy living is assured through superior indoor air quality strategies, including a high-performance air filtration system, and low toxicity materials and finishes. Skyview has a tightly enveloped structure when needed, but with the flexibility to open functioning windows to harness prevailing breezes when weather permits.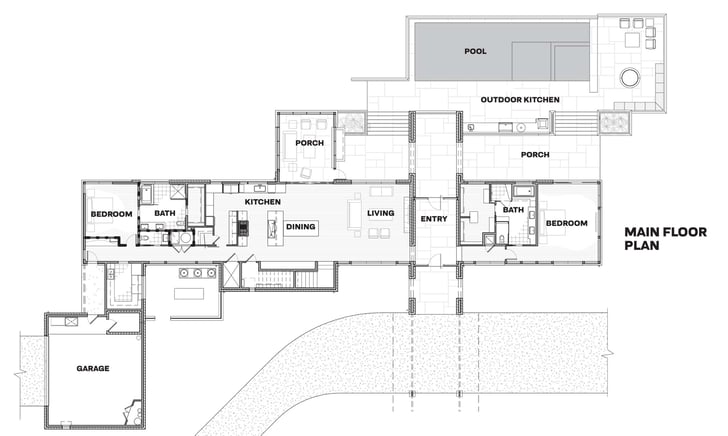 Abundantly daylit communal spaces indoors, as well as an inviting patio with a fire pit and pool, provide breathtaking scenery to encourage family and friends to gather and connect.

Additionally, the owners function as conservators for roughly 200 acres of an undeveloped habitat for native landscape and indigenous wildlife. In the small, developed area near the house, only low-maintenance native landscaping species were planted, such as the drought-resistant Texas Mountain Laurel, which is beneficial to regional birds, butterflies and bees.
"It helped to have a very open-minded and enlightened client," Pfeiffer says. "They wanted a luxurious home and retreat—but wanted it to tread very lightly on the land."
Key Components
Appliances: Thermador
Building Envelope: Icynene spray foam insulation and Tyvek Commercial Wrap D
Cabinets, Shelves, Millwork: Robern Uplift Series medical cabinet
Electrical: Kohler backup generator
Exterior Finishes: Sherwin-Williams
Fixtures: The Galley kitchen sink
Garage Door: Traditional steel overhead door
HVAC/Ducts: American Standard element central vac
Insulation: Icynene spray foam insulation and Tyvek Commercial Wrap D
Plumbing/Plumbing Fixtures: Metlund D'Mand hot water circulation pump
Windows, Skylights, Patio Doors: Taylor MDF-SUPA interior doors; Cavity Slider pocket door hardware; Marvin clad doors and patio slider; Steelcraft PV storm resistance door; Western Window Systems Series 900 hinged doors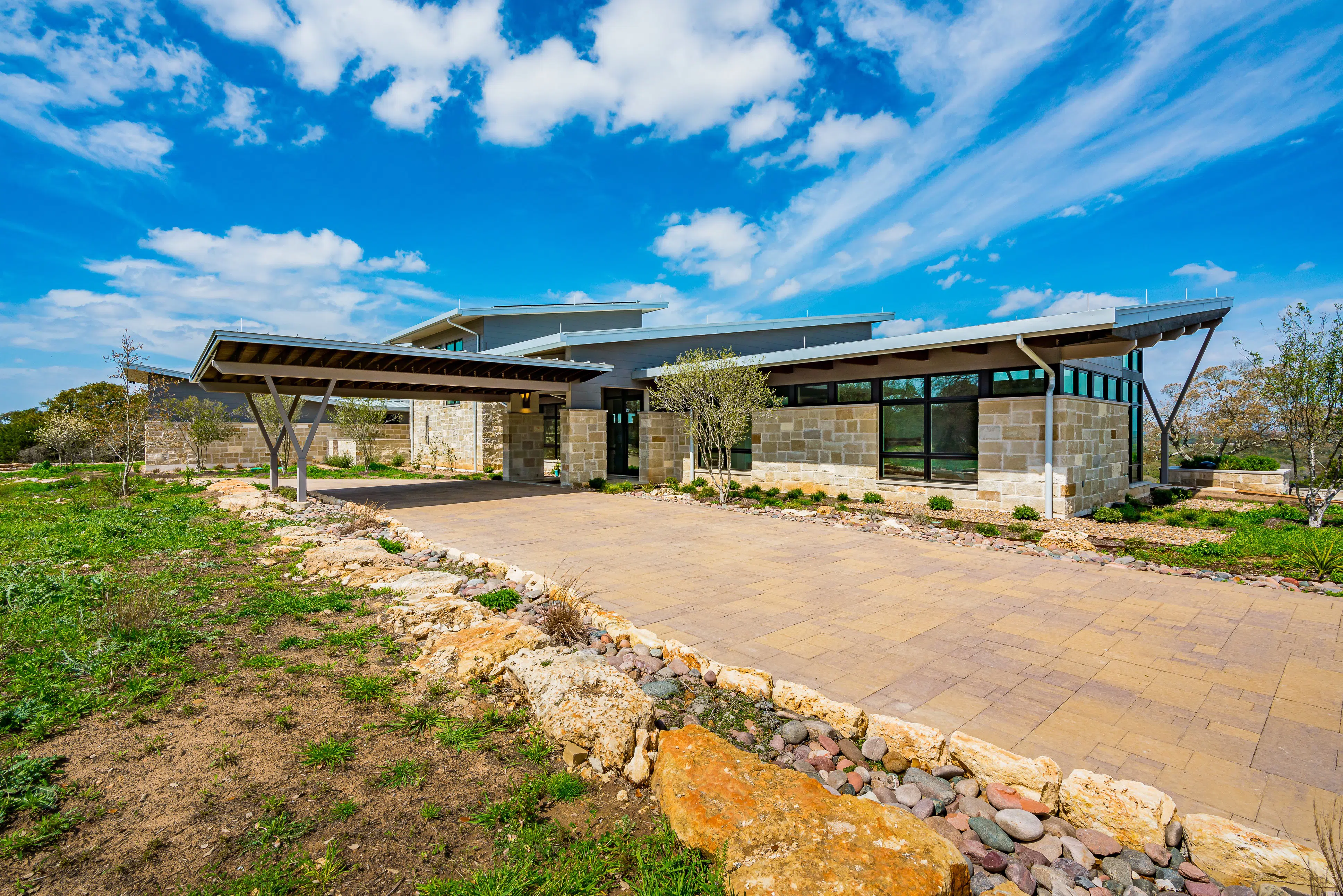 Low maintenance native and drought resistant plants beautify the landscape and have minimal impact on the local environment, a region beneficial to birds, butterflies, and bees. Credit: Mark Adams/Mark Adams Media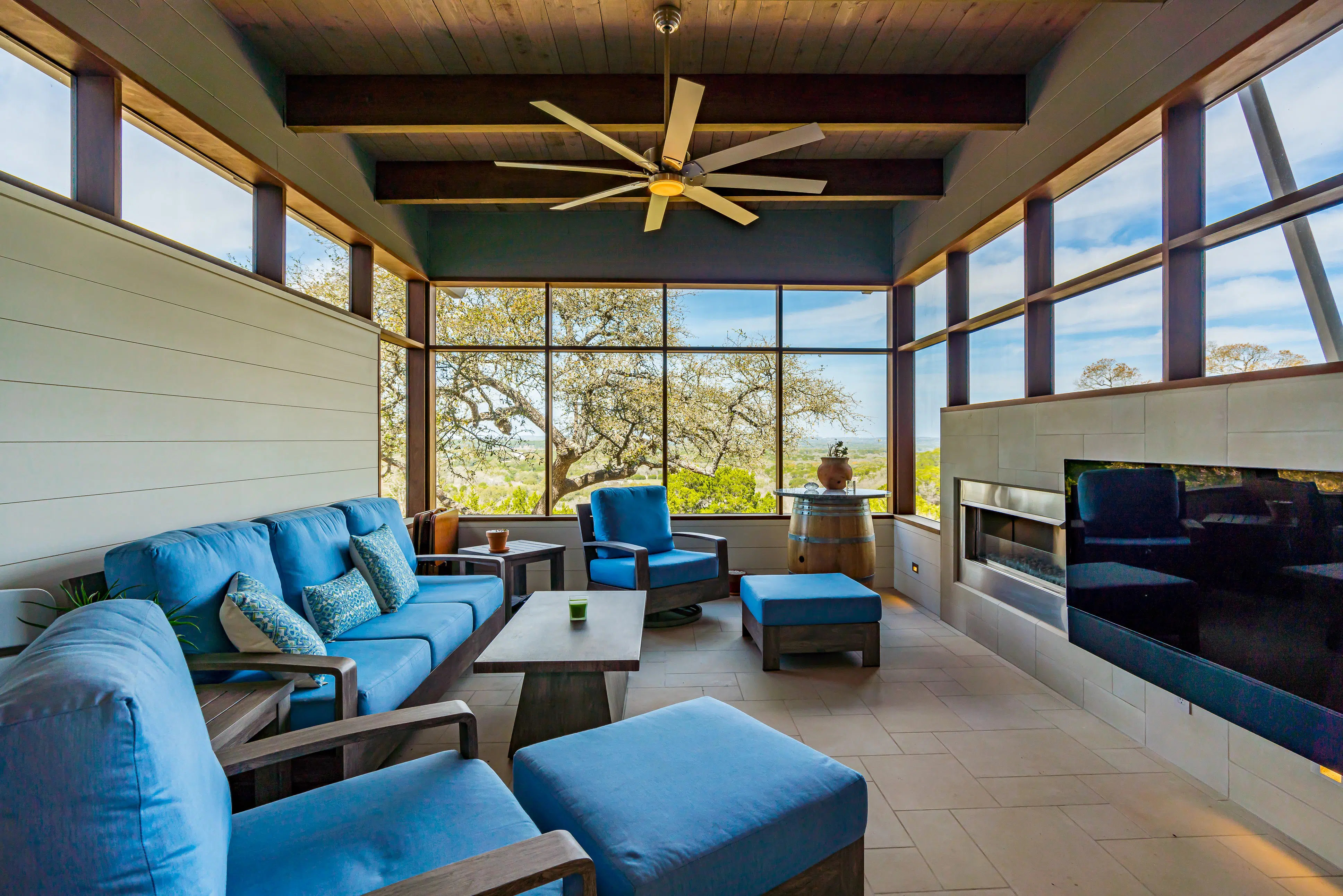 Abundantly daylit communal spaces indoors encourage family and friends to gather and connect. Credit: Mark Adams/Mark Adams Media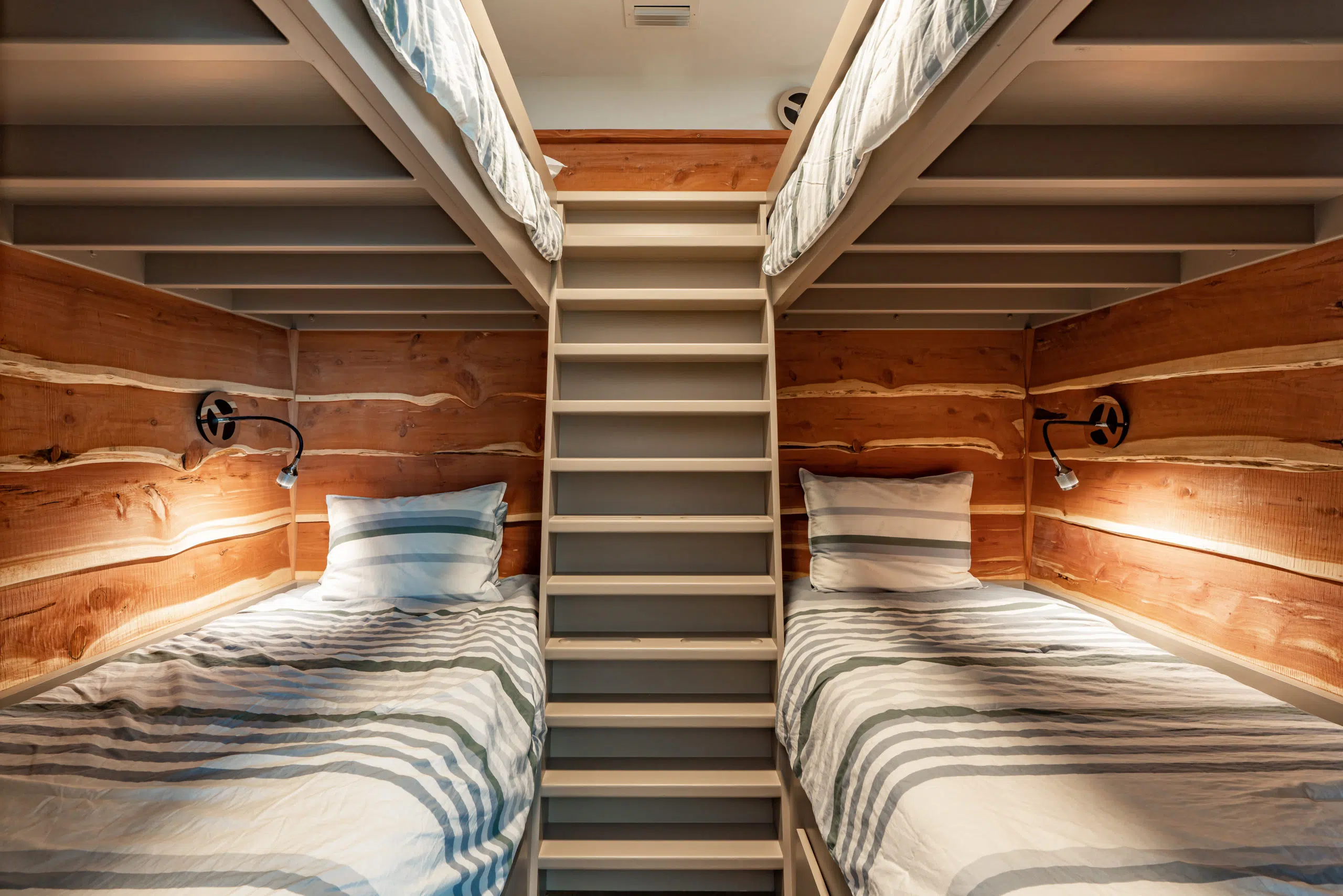 Beds are in easy-to-heat and low energy consuming confined quarters downstairs. Credit: Mark Adams/Mark Adams Media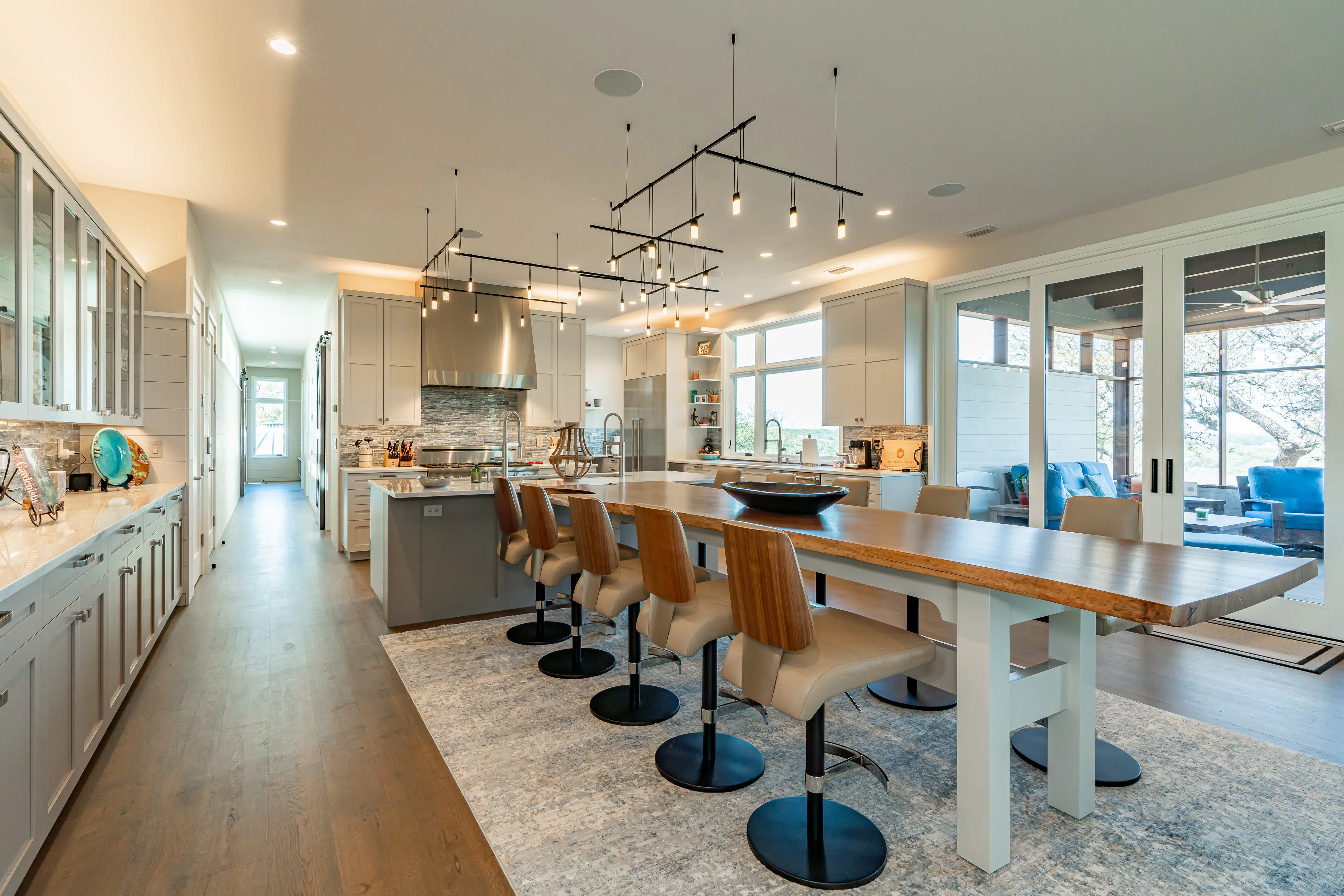 Dining and kitchen areas include numerous sustainable elements, such as solar-powered LED lighting, low U-Factor windows, and naturally sourced wood for cabinets. Credit: Mark Adams/Mark Adams Media
What is 'Green by Design'?
A key part of the success of the Skyview Independent project came from "Green by Design," something environmentally concerned architects subscribe to very much—but rarely hear or see addressed in the media.
According to Peter Pfeiffer, president of Barley/Pfeiffer Architecture, the premise is that before one resorts to buying energy-saving "gizmos" (such as tankless water heaters, energy-efficient appliances, and light bulbs, or solar panels) for their new home or remodel, there are much more effective steps to take. They include advising the client to make informed choices through the process of comprehensive "Project Programming." Pfeiffer notes that this is critical, because often, "clients have no idea of the negative consequences of their desires."
For example, a dark-colored (black) exterior color scheme may be all the rage these days, but choosing it, it will also greatly add to the air conditioning load, discomfort, and electricity consumption of the home, according to Pfeiffer. "Programming also makes the client really consider if they indeed need all the spaces and features they list on their wish-list—because building bigger makes for more consumption during construction, and for the rest of the life of the home," he notes. "It's professional guidance counseling for the single-biggest investment in most people's lives. [And] it has to be done before the process of drawing up the plans."
The next step is organizing the spaces in the preliminary floorplan design to respond to the home's setting and its micro­climate (such as solar orientation, prevailing breezes, or ambient noise). "We call this the 'climate-responsive organizational diagram,'" Pfeiffer notes. "These early design decisions can affect far greater energy savings than any of the 'gizmos' mentioned earlier. And, unlike the gizmos, once these design features are baked into the design, they last the lifetime of the home, and do not require constant upkeep and maintenance."
May 23, 2022 12:08:07 PM · 4 min read
---

Alan Naditz is managing editor of Green Builder Magazine. He has covered numerous industries in his extensive career, including residential and commercial construction, small and corporate business, real estate and sustainability.