New Ideas for Community-Wide Energy Management

Erin Arrington
6 min read
Sonders Fort Collins achieves a radical level of neighborhood-wide sustainability through a multi-layered energy management approach.
Sonders Fort Collins, a new age-targeted community in Colorado, addresses the need for community-wide, responsible energy management with comprehensive, multi-layered solutions. The development utilizes strategies that address how energy is used in individual homes and entire neighborhoods, including production, demand-side energy management, and electricity-saving in-home appliances.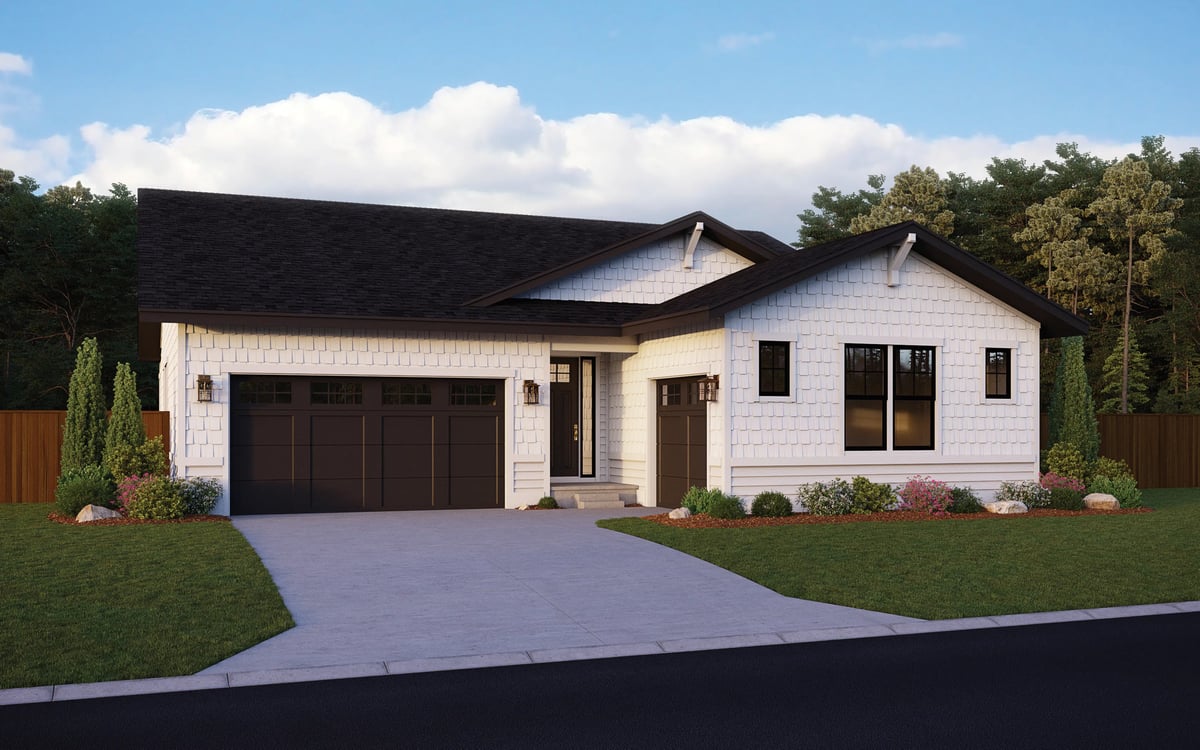 The homes at Sonders built by Thrive Home Builders will utilize a variety of energy-conserving strategies. Courtesy of Thrive Home Builders
About half of the homes at Sonders will be built by Denver-based Thrive Home Builders. Thrive has made a name for itself constructing ultra-efficient homes throughout Colorado—the company currently builds the state's largest number of Leadership in Energy and Environmental Design (LEED)-certified homes under the U.S. Green Building Council (USGBC) LEED for Homes certification program.
In 2020, Thrive achieved the nation's lowest average Home Energy Rating System (HERS) Index score in the country. And recently, it was recognized by the Residential Home Services Network (RESNET) for having the lowest HERS score for a U.S. home builder. Now, Thrive Home Builders is working with the developers of Sonders Fort Collins to create a community that sets a new standard in energy conservation.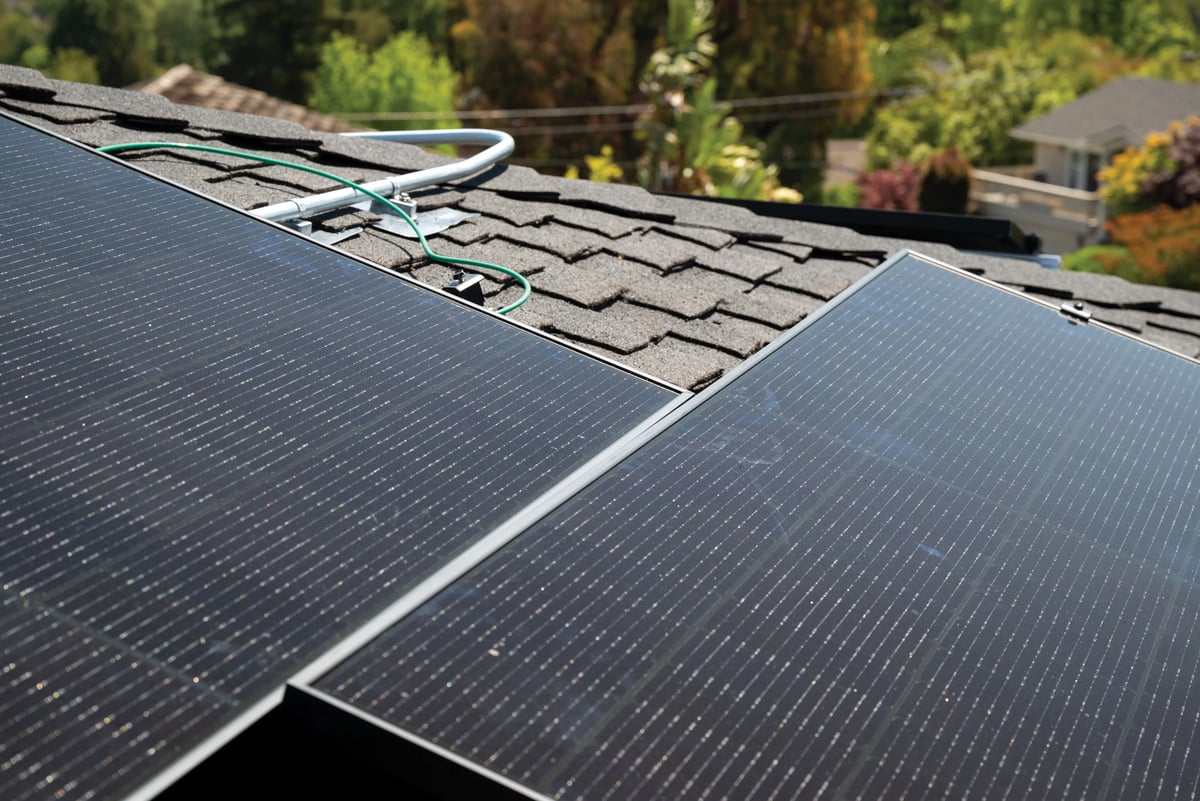 When completed by mid-2025, The Sonders Project will feature up to 400 solar energy-driven single-family, courtyard, town homes, condominiums and custom homes that emphasize environmentally friendly living – from top-notch indoor air quality technology, to water-wise irrigation techniques. Courtesy of Sunnova Energy
Energy Generation Outside the Home
Although the community will be connected to the city's power grid, Sonders Fort Collins will function as a pseudo-microgrid, with a heavy emphasis on energy generation and storage within the community. The 220 homes built by Thrive will be outfitted with a Sunnova solar power system.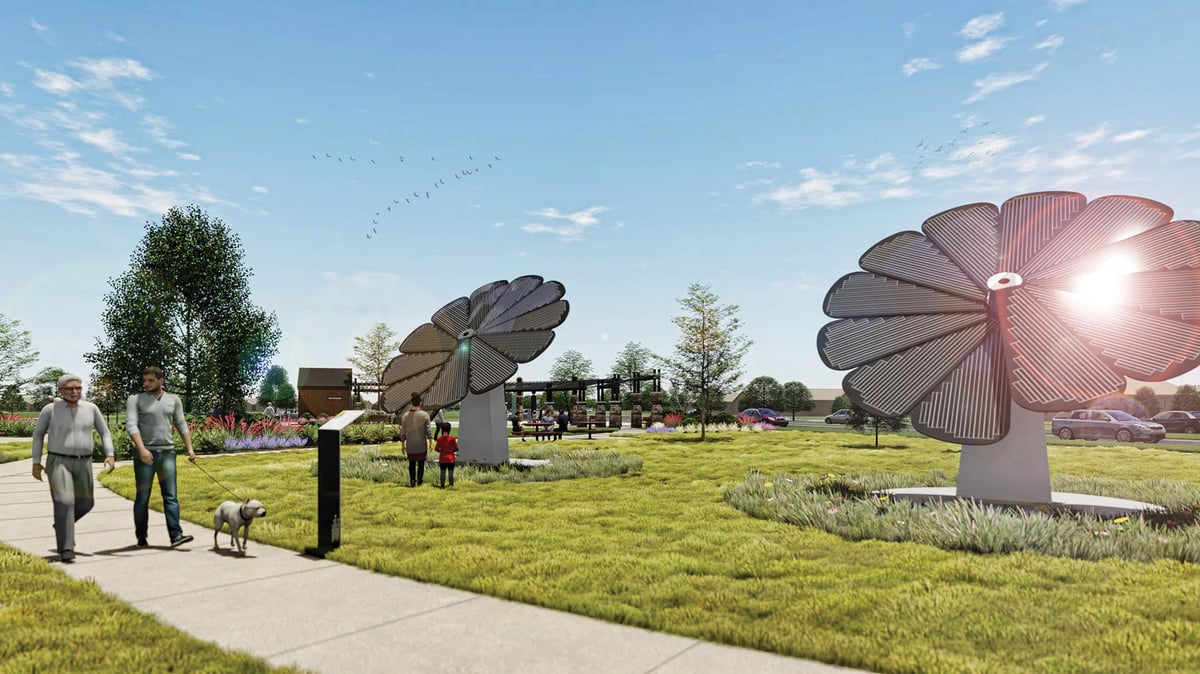 Sonders Fort Collins will function as a pseudo-microgrid, with a heavy emphasis on energy generation and storage within the community. Courtesy of Thrive Home Builders
Bill Rectanus, Thrive's chief operating officer, estimates that the units will produce 60 percent to 80 percent of a home's energy use. For any electricity not produced on-site, residents have the opportunity to purchase 100 percent renewable energy from the local utility company.
Homeowners will also have the option to have a battery storage system installed. The solar-powered batteries will allow Sonders residents to offset energy demand during off-peak hours and utilize it during peak hours. And since Fort Collins Power and Light employs time of use rates, limiting grid use during peak hours will also translate to lower energy costs for residents. If a solar power system is overproducing at any given time—and not charging a can drain the battery too rapidly."
Instead, these backup panels will generally focus on keeping refrigerators, lights, internet connection, and other lower loads in the case of an outage, Rectanus notes.
"What we're working with Mitsubishi on is a way to have resiliency on those typical loads…but also to include the heat pump," Rectanus says. Unlike older models, Mitsubishi's heating and cooling system has the ability to operate at 25 percent or 75 percent capacity. Thrive and Mitsubishi are developing a unit where, if the power goes out, the backup panel could signal the heating and cooling system to operate at a lower capacity, minimizing the draw on the battery and lengthening the time a home can stay at a comfortable temperature.
Rectanus says the aim for this system, which could set a new standard in resiliency for all-electric homes, is to "protect the home from damaged frozen pipes, protect the occupants from extreme cold, and be able to heat the home to 55 degrees for an extended period of time."
According to Shawn LeMons, performance construction manager at Mitsubishi Electric, the company is "really focused on trying to raise the tide for all boats…we're really trying to shift the market away from the status quo to help find the better new norm."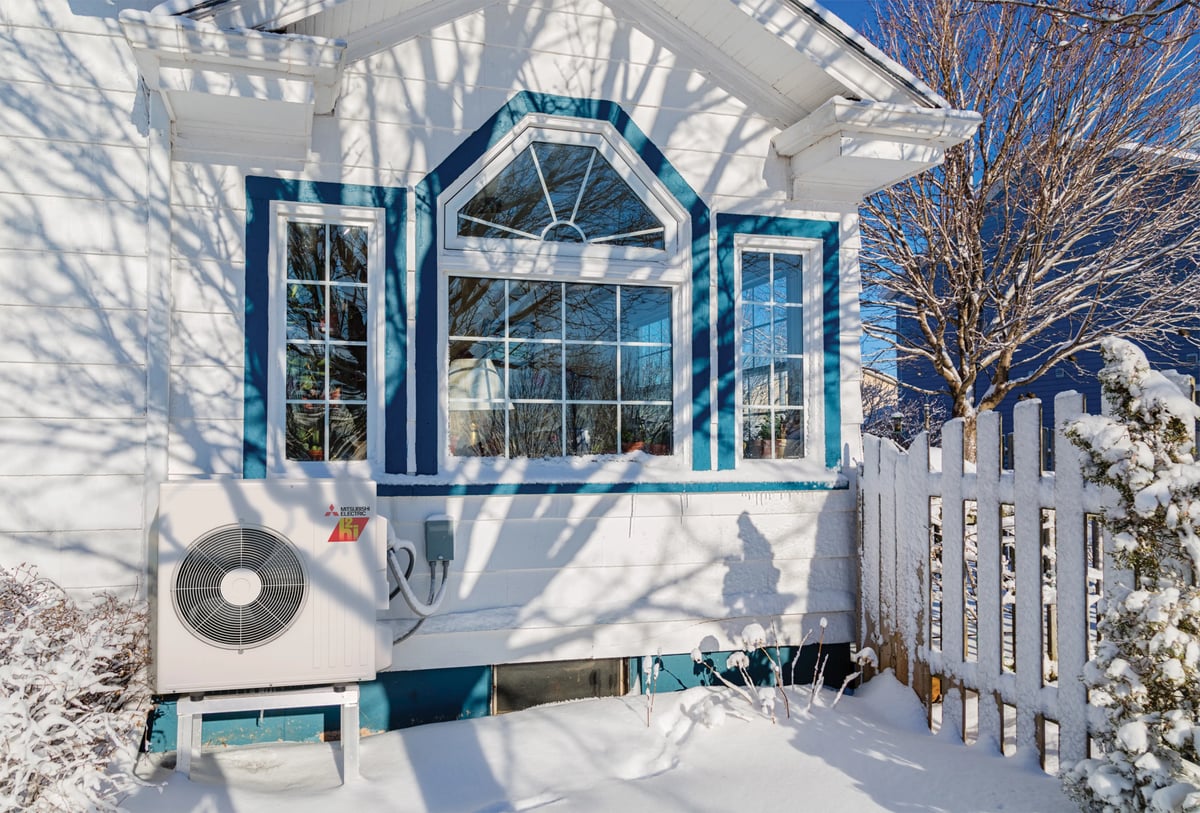 Mitsubishi Electric's newest variable capacity heat pumps are more resilient and efficient in cold temperatures.
Energy Conservation Inside the Home
While Thrive Home Builders focuses on creating innovative systems for energy generation, it is also prioritizing energy retention in the home. "Obviously, conservation is the first and primary step in demand side management to make sure we're using the least amount of energy as possible in the beginning," Rectanus says.
Rectanus notes that conservation starts by building houses that act as a "good envelope," which consists of "a well-insulated and airtight wall assembly. We want that assembly to conserve as much of the energy used to heat and cool the home as possible." One way Thrive will accomplish this is by using DuPont's Great Stuff Pro window and door insulating spray foam, which was recognized by the 2019 R&D 100 Awards for its reusability and precision, and for being less wasteful than competitors.
Every home will meet the requirements of a U.S. Department of Energy (DOE) Zero Energy Ready Home (ZERH), which are at least 40 percent to 50 percent more efficient than typical new homes. They will also be LEED certified and ENERGY STAR certified.
In planning, the builders also focused on selecting mechanical equipment and appliances for overall efficiency. According to the U.S. General Services Administration, a plug load—the energy used by products that are powered by means of an ordinary AC plug—as a share of overall building energy use, is higher in energy-efficient buildings. In minimally code-compliant office buildings, plug loads may account for up to 25 percent of total energy consumption.
But in high-efficiency buildings, plug loads may account for more than 50 percent of the total energy consumption. To reduce the plug loads when possible, Thrive is working with manufacturers across the homebuilding industry that have shared goals for sustainability in the home.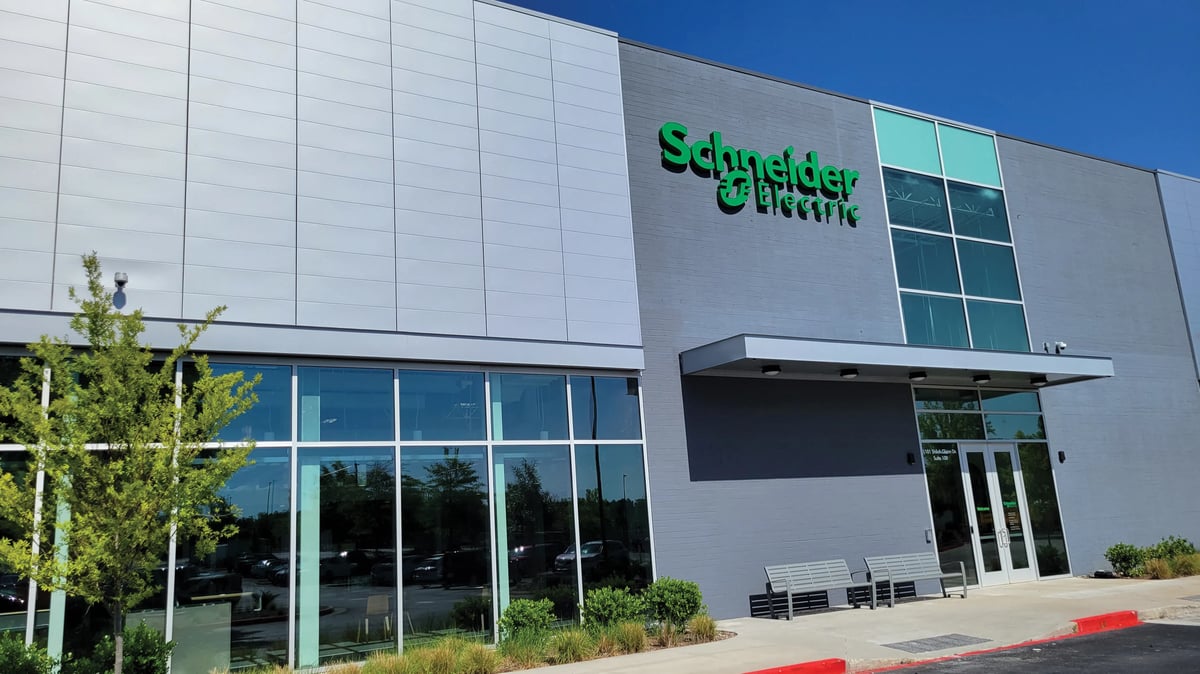 Schneider Electric is contributing to Sonders Fort Collins with its Wiser Energy home energy monitors, which provide homeowners with detailed, real-time energy usage.
To ensure the home is run efficiently in practice, not just in design, Thrive Home Builders partnered with Schneider Electric to include its Wiser Energy home energy monitors. The Wiser Energy system installs in a home's electrical panel and gives homeowners access to detailed, real-time energy usage. It provides information on each individual device throughout the home and gives homeowners the tools to spot inefficiencies in their energy use.
Sonders homeowners will also have the ability to track their solar power generation, providing a full-picture view of their energy usage and habits. Over time, the aim is for homeowners to have a firm understanding of how energy is used in their homes and learn how to reduce excess energy consumption.
A More-Versatile Air Source Heat Pump
Mitsubishi Electric leads in high efficiency, variable capacity heat pumps that work hard in all climates.
For those looking to build all-electric, highly efficient homes, air source heat pumps have long been considered the best HVAC option. In general, air source heat pumps reduce a household's electricity use for heating by up to 50 percent. However, because of previous limitations in how these heat pumps fare in colder weather, they're not always the first choice for new homes.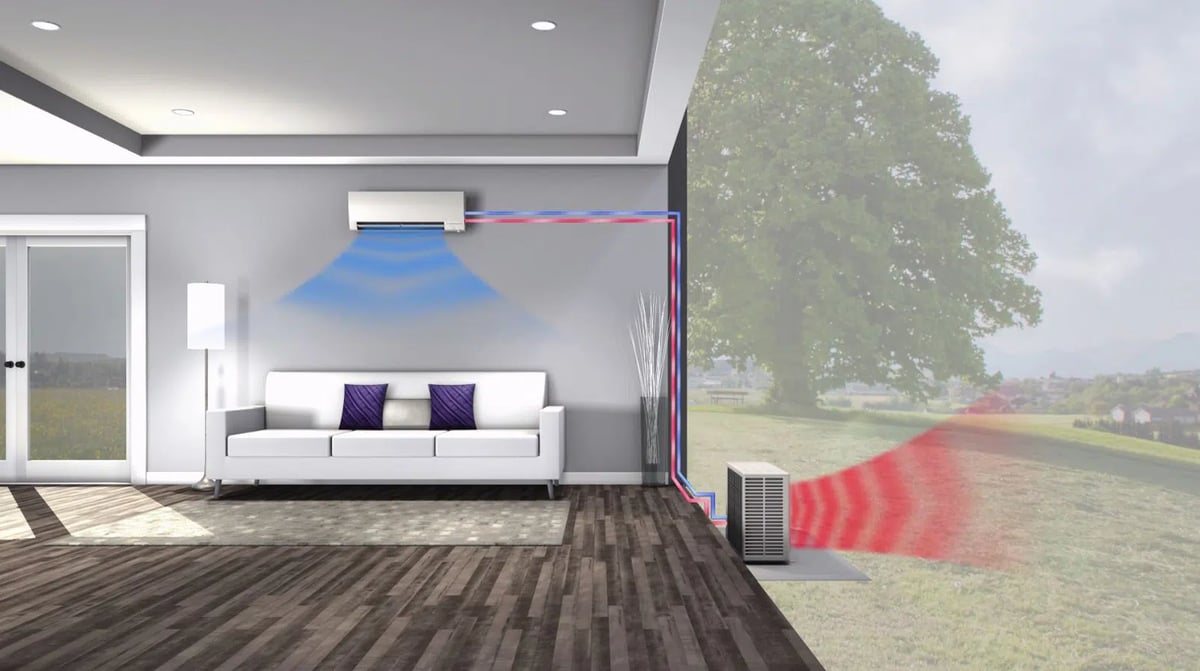 Air course heat pumps can cut home heating costs by 50 percent, but they're not the No. 1 choice for new dwellings. Courtesy Mitsubishi Electric
Now, after recent developments by Mitsubishi Electric and other manufacturers, air source heat pumps may become the most efficient and cost-effective option—no matter the weather.
According to Shawn LeMons, performance construction manager at Mitsubishi Electric, variable capacity heat pumps act like pulleys. For every unit of energy a homeowner pays for, they can get two or three units of energy out of the system.
LeMons says that more builders are incorporating these variable capacity heat pumps into new builds. However, many builders and HVAC professionals are still coming to understand just how effective and versatile newer heat pumps are compared to their single-speed or two-speed predecessors.
"There are new developments all over the country that are moving forward just as Thrive Home Builders is with Sonders," LeMons says. "Maybe not to the same level as Thrive...But there are builders, whether they're working on custom homes, semi-custom homes or small communities around the country, that are applying these higher efficiency, variable capacity heat pumps."
The variable capacity heat pumps are one component of the energy generation and retention systems Thrive Home Builders will be installing in the homes at Sonders Fort Collins. Combined with Sunnova solar panels and battery storage units, the teams at Mitsubishi Electric and Thrive hope to make it so that homeowners can use their HVAC units even during a grid outage event.
"Our goal as a company really is to achieve higher efficiency in both existing and new homes," LeMons says. "Working with a company like Thrive Home Builders, we're able to move beyond the status quo."
Sep 20, 2022 12:05:01 PM · 6 min read
---

Erin Arrington is a freelance writer and editor who covers sustainability initiatives throughout and beyond Alaska.