Homebuyers Are Ready for Sophisticated Smart Energy Management

Cati O'Keefe
4 min read
Solar + Storage mandates and climate extremes drive adoption of smart electric panels and other energy-efficiency technologies.
Green Builder Media's Summer 2023 survey of building pros and consumers unearths new data on utility and home readiness as the United States transitions to all-electric living, particularly in places like California, which recently mandated solar + storage in every new home built.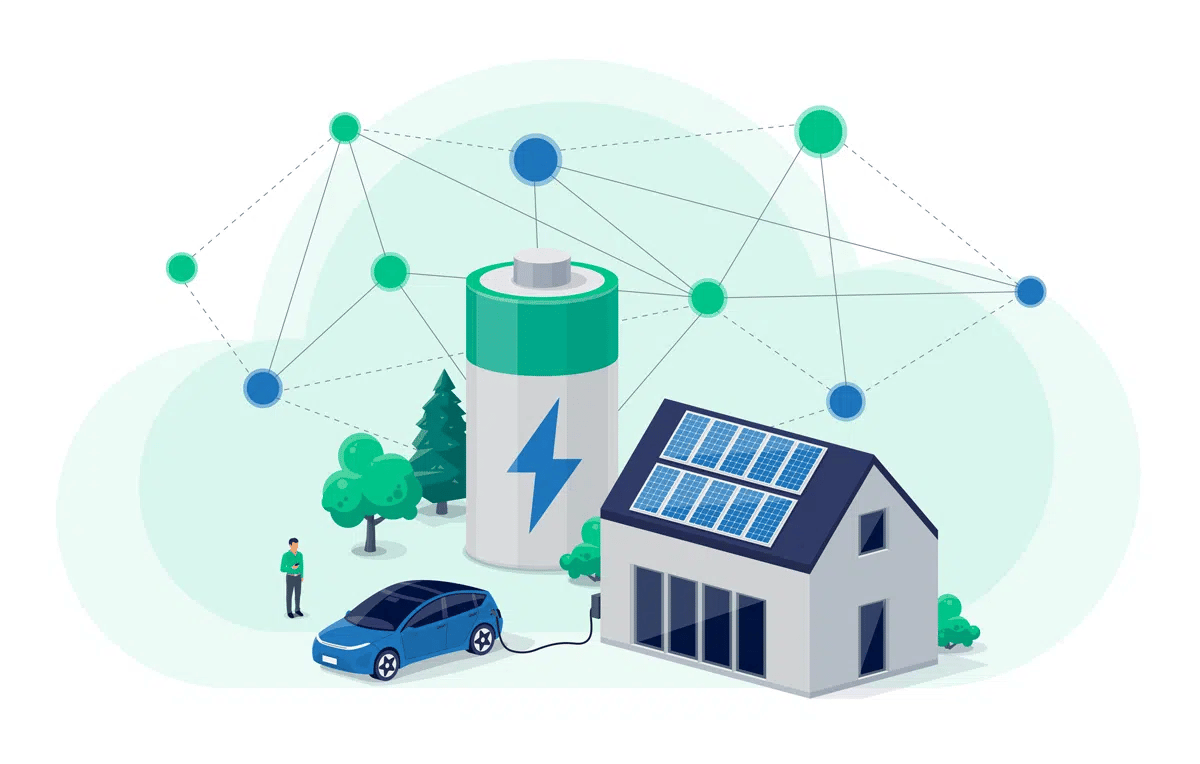 In addition, many areas of the country are feeling an energy pinch due to climate extremes. Consider the 10+ days of above 110℉ weather Phoenix recently experienced, not to mention the continual threat (and reality) of rolling blackouts in many states as heat waves intensify and increase in number.
It is easy to understand the "push-pull" reality of solar generation and storage: The "push" comes from utilities, which need to shift electric demand and add generation resources to serve their markets. The "pull" comes from builders and consumers who want to take advantage of energy-efficiency incentives, build/live in all-electric homes, and stay out of the clutches of energy rationing.
Utilities, builders, and savvy homeowners are beginning to understand that smart electric panels are critical to the adoption of solar + storage options. These panels allow homeowners to run their homes more efficiently by prioritizing electrical systems in the house to make sure the most important systems (like the HVAC) are always operational, while also participating in demand-side energy management opportunities via a convenient app.
Green Builder Media's survey reveals a nascent smart technology market around solar + storage: While nearly eight of ten builders (78%) say they don't use smart electric panels in their projects, many of the reasons they cite for not specifying the panels are temporary states of being, such as "lack of familiarity with smart electrical panel benefits" (38%) and "price" (29%).
Mandates requiring the use of smart panels as well as consumer demand will drive builders to learn more about smart panels–and consider selling them as an upgrade or even a value add in higher price point homes. In addition, as the Inflation Reduction Act and other federal, state, and utility programs fund renewables and energy efficiency technologies, more people will adopt the technology, which will in turn start to bring panel prices down.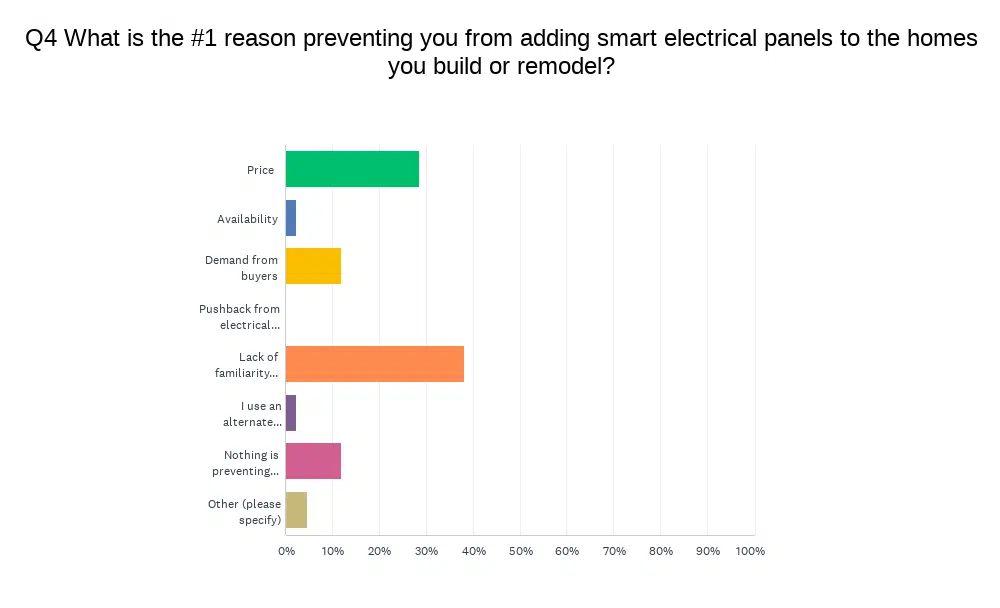 While 12% of survey respondents already use smart panels, there is potential growth among builders who are not yet familiar with the features of smart panels or who are not currently building where there are solar + storage mandates.
When asked what smart panel features builders find most beneficial, more than one-third of respondents (34%) cited the California solar + storage mandates. Nearly a quarter (24.4%) of respondents found the "solar, storage, and EV-ready" attractive.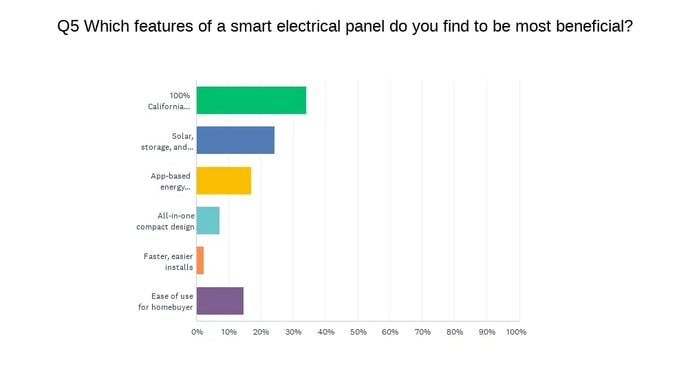 Builders cite California's Title 24 mandate for solar + storage as the top reason why they think a smart electrical panel is beneficial.
Demand-side energy management is a relatively simple concept, but apparently it is not well understood by many in the building industry. While just over 2% of respondents already employ demand-side energy management systems in their homes, almost half of surveyed builders are either not interested in DSEM (10%) or don't know what it is (36%).
This doesn't jibe with consumer interest in DSEM: A recent COGNITION Smart Data survey revealed the percentage of millennial respondents who would pay for DSEM in their homes:
4% said they would pay more than $10,000.

18% would pay between $5,001-$10,000.

37% would pay between $1,001-$5,000.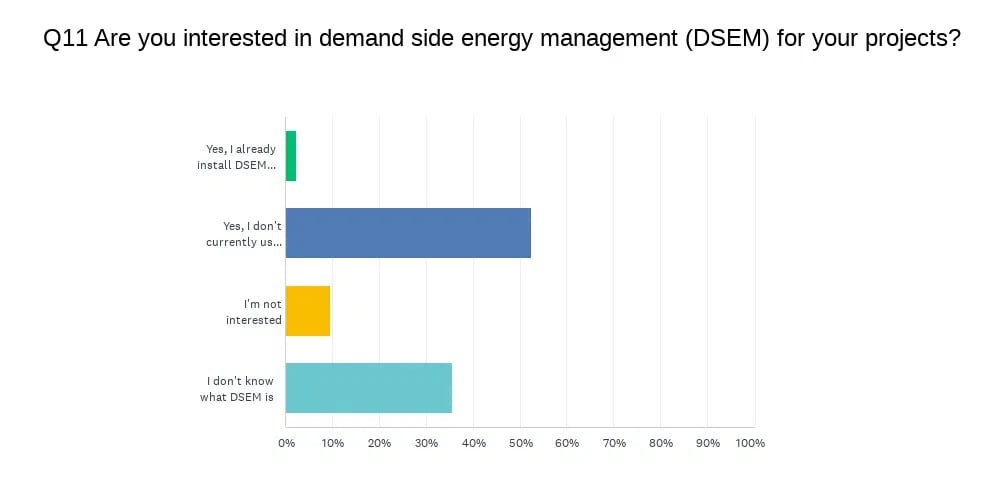 Only about 2% of respondents already install demand-side energy management systems, while half (52%) don't install but are interested in learning more. There is a critical need for education, so builders can stay ahead of codes, offer buyers control over their utility bills, and help stabilize the power grid.
One of the reasons builders may be behind the learning curve on demand-side energy management and smart electrical panels is because consumers rank them slightly lower than other energy-related options. For example, when asked what homebuyers ask them to include in their homes, builders ranked energy-efficient upgrades as the top request followed by:
Smart thermostats
Battery storage
Solar PV
Smart energy systems
But the spread between top and bottom requested characteristics is only 17 percentage points: 95% of builders report that energy-efficient upgrades are requested "regularly" or "sometimes," while 78% report that smart energy systems are asked for "regularly" or "sometimes." While it's not surprising that energy-efficient upgrades are frequently discussed by buyers, it is clear other energy-efficiency and all-electric house options are still popular homebuyer asks.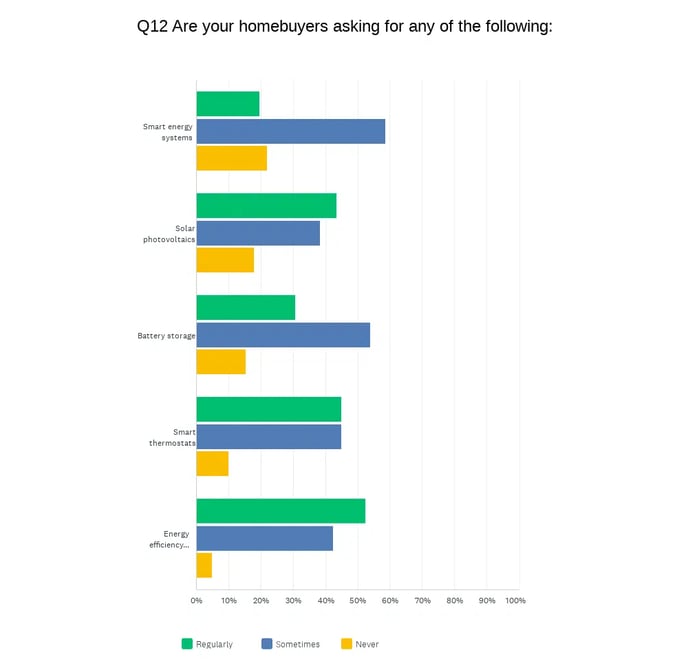 While builders report that "smart energy systems" has the highest percentage of homebuyers "never" asking for them, when you combine the "regularly" and "sometimes" requestors, smart energy systems rank nearly as high as solar PV.
When gauging what homebuyers are passionate about, an interesting collection of characteristics emerges: If you combine the scores for "extremely important" and "very important" by topic (see the chart below), homebuyers picked water conservation, healthy home, and solar + storage as the top three important characteristics of a home.
Most likely these are the top picks because these concepts are fairly clear to consumers who understand the importance of good indoor air quality; clean, abundant water; and solar + storage for consistent heating/cooling and lighting during power outages.
Healthy home interest is no doubt tied to the preponderance of information in the mainstream media about indoor air pollutants and allergens as well as the negative impact of toxic finishes, like paints, fumes from indoor gas cooking and off-gassing building materials and furniture.
More builder education on how solar + storage is made possible by technologies like smart electric panels will help move the needle on adoption across the building industry, bringing more control to both consumers and utility companies–and a reduction in the carbon footprint of our nation's housing.
Special Sponsored Deal for California Green Builder Readers
California builders are in the solar + storage crosshairs with Title 24 mandates. For a limited time, Schneider Electric, manufacturer of the Square D Energy Center, is offering VIP pricing on the energy centers for California builders. Click here to learn more about it–and to get your discount.
Jul 25, 2023 8:34:10 AM · 4 min read
---

Cati O'Keefe is the editorial director of Green Builder Media. She has 25 years of experience reporting and writing on all aspects of residential housing, building and energy codes, green building, and sustainability.