Green Furniture for the Future

Matthew Harris, Guest Columnist
4 min read
When it comes to building or remodeling a sustainable home, consumers must overcome many challenges. Product selections in particular are tricky as many products are not sustainable or have dubious sustainability claims.
In addition, when people build or remodel a home, their attention gets dragged in many directions. Often, they focus on energy generation, air quality, and the general efficiencies of a home. These are important, of course, but after creating a healthy, energy-efficient space, homeowners often truck in unhealthy, unsustainable products into the homes, particularly furniture.
Why Eco-Friendly Furniture?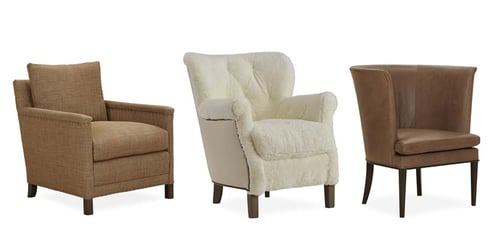 Many people don't realize that most traditional furniture is made with a high percentage of petroleum-based materials, which raises concerns with regards to human health and the environment. Many of these products release hazardous air pollutants (HAPs) and volatile organic compounds (VOCs) throughout their lifetime. Prolonged exposure to HAPs and VOCs can cause cancer, heart disease, asthma, and other illnesses.
Fortunately, these failures in furniture haven't gone unnoticed at companies like LEE Industries. Since the company's inception in 1969, founders Bill and Dottie Coley have committed to manufacture earth-friendly products that are all made in America. The Coleys weren't satisfied with the quality of furniture available at the time and decided that they could make better products themselves. In creating LEE Industries, they brought their goal of making high quality and environmentally friendly products to life.
How Sustainable is Green Furniture?
Now, more than 50 years later, LEE is a leader in the sustainable furniture industry. "LEE is always trying to push the envelope. The company is always trying to look for new components and new ways to make our products more earth-friendly," says Bondi Coley, LEE's vice president of marketing.
With LEE's NaturalLEE line of materials standard on all products, consumers can choose from the best ecologically friendly and healthy products available.
Why LEE?
LEE Industries offers custom made furniture in a plethora of fashions and materials to suit any taste. These ornate pieces of furniture are more healthy than traditional furniture, due to the incorporation of more natural materials rather than harsh chemicals, reducing HAPs and VOCs.
LEE's products will both liven up your space and help to keep you and the environment healthy. Not to mention that this furniture is meant to last a lifetime making it far more economically feasible than having to continuously buy new furniture. LEE's commitment to generating jobs and supporting communities makes LEE a clear ethical and environmental leader in the furniture industry.
"LEE is doing the right thing not only for the environment but also for our community and for our customers," says Coley.
LEE has made it a top priority to constantly improve sustainability whenever possible, from the sourcing of its materials to reducing water use in its production facilities. LEE Industries maintains the Forest Stewardship Council (FSC) and the Sustainable Forestry Initiative (SFI) certifications.
The NaturalLEE cushions are made using a soy-based BioH polyol that replaces 15 percent of the petroleum-based chemicals used in traditional furniture. The features in the NaturalLEE products save 64 gallons of crude oil per day and help to increase indoor air quality (IAQ) by reducing HAPs and VOCs.
LEE also requires material vendors to sign a Code of Conduct a letter saying that they are using materials sourced in a responsible and sustainable way. One of LEE's leather vendors "dye their leather with olive leaves instead of harsh chemicals," says Coley, making it a truly sustainable product.
The company uses water-based finishes and a barrier fabric for smolder-promoting properties instead of harsh chemicals, which both help to increase IAQ. With such high standards, it is impressive that 90 percent of the materials LEE uses are sourced within 25 miles of its production facilities. This reduces carbon emissions from transportation and supports the local economy.
Impacts Far Beyond Furniture
LEE Industries doesn't just focus efforts on sustainability, it also pursues social equity by providing hundreds of local jobs, supporting local vendors and farmers, and promoting local community events.
LEE focuses on the product and the people. The company wants to provide meaningful careers to community members and support vendors and suppliers that hold the same environmental and socially equitable ideals as LEE.
Another outstanding quality of LEE is its continuous dedication to the environment through annual tree donations with American Forests. LEE has already donated 142,515 trees across the United States.
LEE also focuses on the longevity of its products. LEE hopes their customers pass down their furniture for generations, keeping waste out of landfills and allowing customers to get a lifetime of use out of their products.
"LEE is pushing for change across the furniture industry as one of the founders of the Sustainable Furnishings Council and the only furniture manufacturer that has obtained the gold status from the council," says Coley.
Green Builder and LEE
Green Builder Media is proud to partner with LEE Industries for its Mariposa Meadows project. Mariposa is showcasing sustainable living possibilities with a wide array of products. "Lee Industries has been a stalwart of the sustainable furniture category for decades, and we're thrilled to have the opportunity to work with such a pioneering company. Lee's products are high quality, sustainable, and gorgeous—they'll fit in perfectly at Mariposa Meadows," says Sara Gutterman Co-Founder/CEO of Green Builder Media.
When you are trying to make your home more sustainable and healthier, furniture is not something to overlook. With LEE's wide range of materials and custom-made products, finding furniture that suits your home and lifestyle is guaranteed.
---
Matthew Harris is in the Environment and Sustainability Undergraduate program and is pursuing his Masters in Environmental Management at Western Colorado University in Gunnison, Colorado.
Jan 20, 2021 8:30:00 AM · 4 min read
---

Matthew Harris is in the Environment and Sustainability Undergraduate program and is pursuing his Masters in Environmental Management at Western Colorado University in Gunnison, Colo.