Yours for Free! The Healthy Home Handbook
The Healthy Home Handbook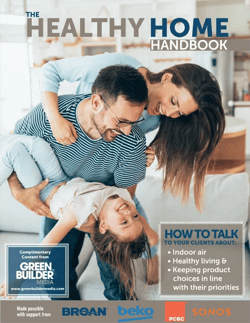 Do you know how to talk to your clients about indoor air and healthy living? Do your homes solve problems related to those topics? If not, this quick-read primer is just right for you.
In this special report, Green Builder editors look at how homeowners (and renters) think about healthy homes, including the answers to questions like:
Which terms do they use?
Do they understand the products and solutions available?
Where's the white space in this category?
How should building pros talk about these topics?
Get the stats, trends, and innovative product ideas on this timely topic: Download your copy of the Healthy Home Handbook today by filling out the form on this page.
---
The Healthy Home Handbook is brought to you by the generosity of the following sponsors: