YOU CAN PUT the best made, highest rated window in a new home, and still feel a cold draft next to the frame. But it that happens, chances are it's your fault, not the window maker's. You didn't follow the exacting, precise instructions they provide, free of charge.
It used to be that window installation tips were often simplistic—or considered the builder's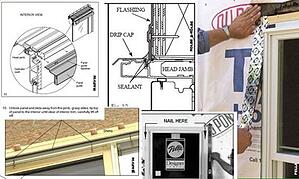 responsibility. But companies such as Pella, Kolbe & Kolbe and Marvin have poured a lot of research, experience and money into educating the end users of their products. The Internet, of course, has made that process much easier. But the building science of installation has improved alongside new flashing systems, expanding foam sealants and clad and composite window frames.
If you're still hanging windows the way you always have, you may want to take a few minutes and bring yourself up to speed. Take a look at the following sites, and you're likely to learn something that will save you labor, prevent a callback, or improve energy efficiency. They also include tips to increase the product's durability.
Sample Instruction: "Wood/Plastic Composite shims work very well, they are easier to use and will not absorb water, unlike some wood shims."
Sample Instruction: "If a flexible adhesive membrane is not used to pan the sill, be sure to properly seal the bottom corners of the rough opening."
Sample Instruction: "Primed wood and metal must remain dry and finishing should be completed immediately."