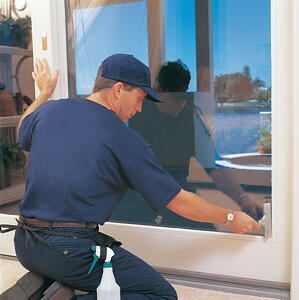 If installing new, energy efficient windows in your home isn't an option, here are some ways to make your current windows more energy efficient.
Cold Weather Tips
Low-Tech. Fixing a heavy-duty, clear plastic sheet on a frame or taping a clear plastic film to the inside of your window frames will reduce drafts.
Film It. For just a little more money, you can apply window films that will significantly improve your window's ability to keep out the cold.
Soft Cover. Consider installing tight-fitting, insulating shades on windows after weatherizing for extra sealing. Somfy also sells cool, solar-powered, motorized versions of insulating shades and blinds that use the sun to power their daily routine.
Open and Close. Make effective use of curtains and shades by closing them at night to protect against drafts, and opening them during the day to let in warm sunlight.
Add Storms. Installing exterior/interior storm windows can reduce heat loss by approximately 10-20% depending on the type of window.
Maintain. Replace old window caulking in any storm windows you have currently installed. One easy apply option is window caulking cord, which comes in rolls.
Warm Weather Tips
Try using white window shades, drapes, or blinds, which will reflect heat away from the house.
Close curtains on south and west-facing windows during the day to block excess heat from entering the house.
Create shade by installing awnings on south and west-facing windows.
Reduce solar heat gain by applying a reflective film on south-facing windows.
Long Term Saving Tip
While the a.m. tips will help make your current windows work more efficiently, for long term savings, consider replacing your windows with high-performance ones. It might mean spending more money initially, but your investment will pay off in the long run.
To learn more about how to make your home energy efficient, contact a certified RESNET Home Energy Auditor.
---
This content was originally published by the Residential Energy Services Network (RESNET) here. This content has been republished with the permission of RESNET. RESNET is the independent, national nonprofit organization that homeowners trust to improve home energy efficiency and realize substantial savings on their utility bills. RESNET's industry-leading standards are recognized by the U.S. Department of Energy and the U.S. Environmental Protection Agency, among others.
---