Watch: Policy Alignment for a Decarbonized Built Environment

Samantha Carlin
2 min read
At Green Builder Media's Sustainability Symposium 2023, Panama Bartholomy spoke about the systemic challenges involved with achieving widespread building decarbonization.
At this year's Sustainability Symposium 2023: The Great Conversion hosted by Green Builder Media, Panama Bartholomy, Director of the Building Decarbonization Coalition, discussed decarbonization of the building built environment in his session "The Great Decarbonization: Buildings Reborn."
Decarbonization of the built environment is both urgently needed and incredibly complex. The United States has seen an increasing level of government adoption, financial programs and consumer awareness, but the pace of change remains stagnant. Bartholomy notes, "the good news is that the supply chain is ready and willing to make this great conversion, but what we are missing is policy alignment that will bring about the market change to support this conversion."
He specifically focused on how we consume gas. Bartholomy noted a problematic paradox - "even though buildings only represent about a quarter of the gas use in the country, it's 90 percent of the revenue for gas utilities." Therefore, he explained, the building sector is critical to reducing–and ultimately eliminating–gas use.
However, we're moving in the wrong direction. According to Bartholomy, "one new customer is added to the gas network every minute of every day in the United States. So, if you are trying to end the use of fossil fuels in the next 25 years, but you're putting infrastructure in the ground and requiring the financing of that infrastructure for the next 60-80 years, we're knowingly putting what are going to be future stranded assets in the ground and tying us to pay for an infrastructure that we're planning on not even using in the next 25 years."
He noted that there are policies in place that encourage the installment of gas infrastructure, which contradict policies around clean air and climate change. Additionally, union power in state legislatures makes it difficult to accept decarbonization measures for fear over job losses. A just transition is needed to unwind this wicked problem and successfully align policies around building decarbonization.
Bartholomy insists that creating a decarbonized future based on our current market model won't allow us to meet our climate, social equity, and financial goals. We need a better path–one that can scale and includes both policy reform and market development.
In his session, Bartholomy explored the challenges and opportunities associated with decarbonization, the high and low roads to building decarbonization, and how we can move rapidly from planning to implementing decarbonization at scale. If you missed it, you can watch the session here to learn more about what it takes to move away from gas dependence in the building sector.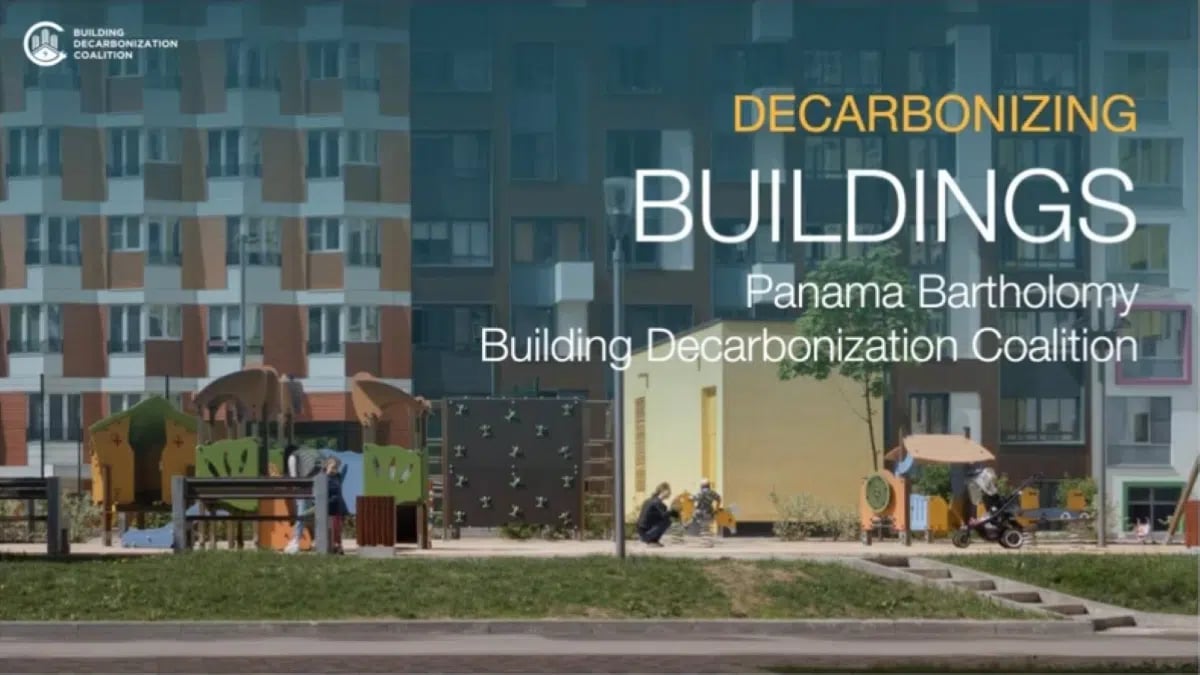 Jul 17, 2023 9:41:45 AM · 2 min read
---

Samantha is able to express her passion for the environment -- both natural and built -- as the special projects manager at Green Builder Media. Prior to joining the Green Builder Media team, she worked as an order management specialist at C.A. Fortune, a consumer brands agency. She is a recent graduate of the Master in Environmental Management program at Western Colorado University with an emphasis on sustainable and resilient communities. Originally from the suburbs of Chicago, she is currently thriving in Gunnison, CO where she enjoys the surrounding geology, mountain biking, and skiing.