Decarbonization & Electrification Through the IRA

Samantha Carlin
2 min read
Hear Senator Martin Heinrich talk about the work he and his colleagues on the Electrification Caucus have done to create policy to open up the market to electrification.
At Green Builder Media's Sustainability Symposium 2023: The Great Conversion, Senator Martin Heinrich (D-NM) spoke about the transition to full-scale electrification. Heinrich, a member of the Senate Energy and Natural Resources Committee and the founder and Co-Chair of the Bicameral Electrification Caucus, is an effective advocate for the transition to electrification in the United States.
In his session, The Great Energization: Transition to Electrification, he shared his work, vision, and passion for promoting policies supporting the clean energy economy and building the workforce of tomorrow.
It's fairly common knowledge at this point that the building industry is one of the most consumptive segments of our economy, accounting for massive amounts of resource use and carbon emissions. Heinrich is passionate about breaking free from fossil fuels and transitioning to renewable energy, powering the electrification of everything.
Heinrich and his colleagues in the Electrification Caucus are crafting and enacting policies that support electrification while simultaneously working to ensure that sufficient public funding and private investment is flowing to research and development of electrification technologies.
According to Heinrich, "We are now in a place where electric technologies—from electric vehicles and heat pumps to induction stovetops and home batteries—have leapfrogged their fossil burning competitors in efficiency and performance."
"Pairing the electrification of our buildings, transportation, and industrial processes with the massive buildout of decarbonized power generation, highly efficient architecture, and quality construction techniques is how we will reduce pollution and prevent the worst impacts of a warming planet," he asserted.
He noted that the Inflation Reduction Act not only offers rebates for electrifying buildings, it's also investing capital to supercharge domestic manufacturing bases for clean and electric technologies. "That includes everything from batteries and electric vehicles to solar panels and heat pumps," Heinrich added.
Heinrich is excited to see the progress and the pace of innovation in new technologies toward electrification. The success of the transition to sustainability relies on setting up the workforce, including plumbers, electricians, carpenters, wind technicians, and solar installers, for success.
Heinrich feels that this transition to sustainability presents a unique opportunity for young people to pursue meaningful, well-paying careers and become the heroes in the story of protecting our planet.
Watch his full session to learn more about the nitty-gritty of the Inflation Reduction Act and the steps that need to be taken to catapult us into an electrified future.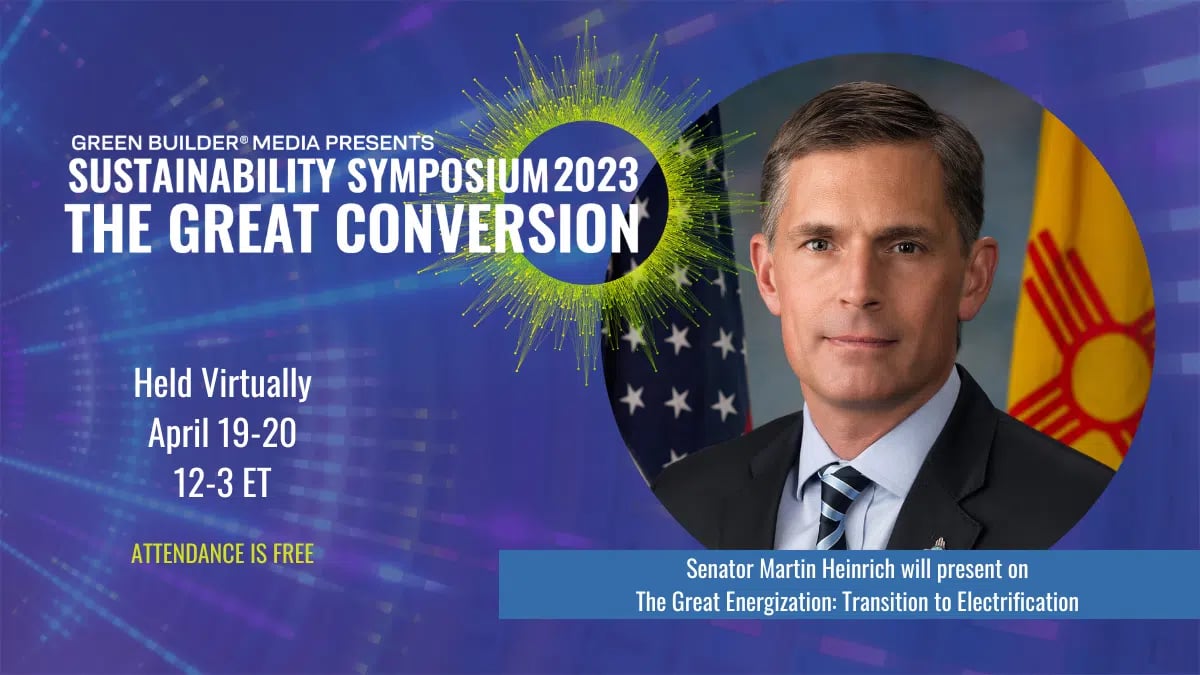 Jul 19, 2023 8:10:27 AM · 2 min read
---

Samantha is able to express her passion for the environment -- both natural and built -- as the special projects manager at Green Builder Media. Prior to joining the Green Builder Media team, she worked as an order management specialist at C.A. Fortune, a consumer brands agency. She is a recent graduate of the Master in Environmental Management program at Western Colorado University with an emphasis on sustainable and resilient communities. Originally from the suburbs of Chicago, she is currently thriving in Gunnison, CO where she enjoys the surrounding geology, mountain biking, and skiing.