Walls Tell a Story of Health and Energy Efficiency

Samantha Carlin
2 min read
Take a look inside the walls at Green Builder Media's VISION House Transcend – a hyper-efficient, factory-built, modular home from Dvele.
A lot of thought goes into planning a modular home to ensure things are working as efficiently and seamlessly as possible. In this video, Yannick Halsberghe, director of design for production and assembly at Dvele, takes us through the first VISION House Transcend model and gives us a behind-the-scenes look at the different systems that keep this home healthy, energy-efficient, and water-conscious.
While we can still see inside the walls, Halsberghe highlights the systems in the home that are usually hidden and, if working properly, out of mind for most homeowners. However, this is where the uniqueness of VISION House Transcend shines through.
Halsberghe takes us throughout the house, pointing out the mechanical features of the demonstration home. This includes Uponor's AquaSAFE fire sprinkler system and radiant heating and cooling, and Broan's ERV and humidifier. These products were specifically chosen to keep inhabitants healthy and the air free from chemicals and VOCs.
"The nice thing about this house is that it's an experimental house – we're replacing a couple of things in this house. For example, our heating and cooling system will be a radiant system" explains Halsberghe.
Lower supply water temperatures in heating and higher supply water temperatures for cooling optimize the efficiency of heat-pump technology. And, because radiant systems don't use fans or blowers, it cuts down on dust and allergens circulating throughout the home.
Similarly, Boan's AI series ERV brings fresh, filtered air into the house while removing stale, polluted air. The system will also utilize Broan-NuTone's Overture system to sense and monitor the home's air quality and communicate with the ERV and vent fan to adjust based on current conditions.
The unique part about factory-built homes is the precision and efficiency of the building process. Halsberghe points out that the piping and ducting in the walls are first modeled in 3D so that the machines know where to punch out holes in the steel walls. "This is all done prior to production to make production as smooth as possible and to ensure we never run into any production issues," Halsberghe notes.
To learn more about the fabrication process of VISION House Transcend, visit the project microsite and check out www.dvele.com.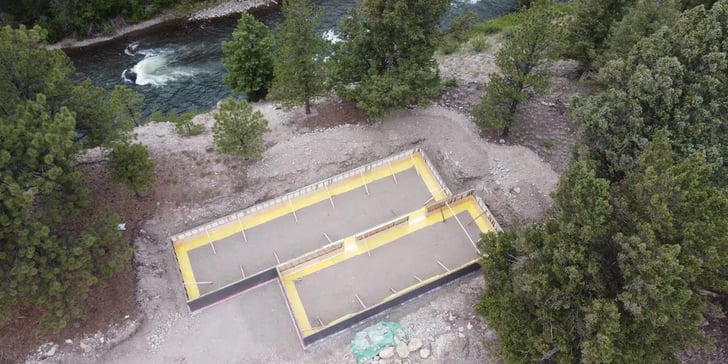 Jul 21, 2023 8:52:11 AM · 2 min read
---

Samantha is able to express her passion for the environment -- both natural and built -- as the special projects manager at Green Builder Media. Prior to joining the Green Builder Media team, she worked as an order management specialist at C.A. Fortune, a consumer brands agency. She is a recent graduate of the Master in Environmental Management program at Western Colorado University with an emphasis on sustainable and resilient communities. Originally from the suburbs of Chicago, she is currently thriving in Gunnison, CO where she enjoys the surrounding geology, mountain biking, and skiing.