VISION House Seattle Cascades: Triple Play

Cati O'Keefe
5 min read
Energy, air quality and connectivity are key areas residential homebuilders need to address. The VISION House Seattle Cascades project embodies all of them.
Green Builder Media's VISION House Seattle Cascades aims to be a replicable pattern for high-performance housing, and by replicable, that means for all housing types—from affordable to custom off the grid. When the VISION House team members, including homeowner C.R. Herro, envisioned this project, they turned to Green Builder Media's COGNITION Smart Data to double-check the planned characteristics and features of the house against emerging housing trends.
COGNITION, a technology platform that uses artificial intelligence to mine web and social media content for market intelligence and insights, highlighted the following crucial housing trends, which dovetailed perfectly with Herro's plans for his home. Here are his thoughts on how these trends can be accommodated in today's homes.
Net Zero Energy
Because the VISION House is off the grid, conserving energy was a big piece of the building puzzle.
A unique feature to the house is part design, part product selection, part yesteryear. "The fireplace at the center of the house is designed to function as thermal mass, which eliminates the need for air conditioning and provides for a very low BTU demand throughout the year," Herro explains. "We will incorporate outside ventilation into a 'charging process' to store hot and cold air during the right time of the daily temperature cycle."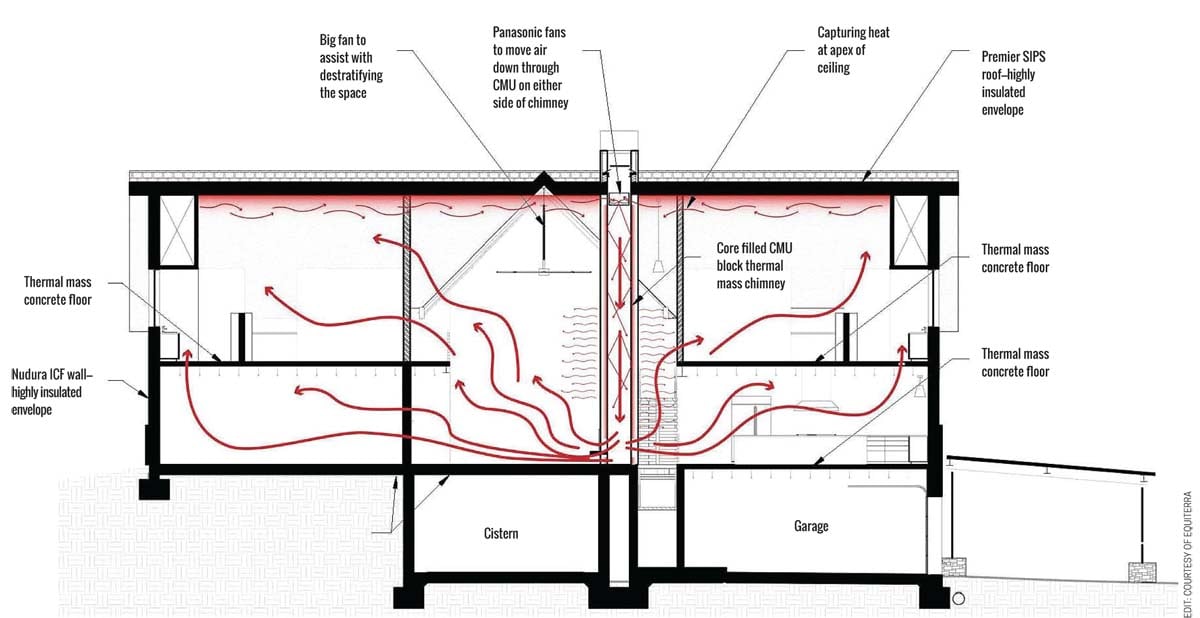 It works like this: The innovative Panasonic Cosmos Healthy Home System, the thermal mass of the fireplace wall, and the U.S. Environmental Protection Agency (EPA)-certified combustion chamber in the fireplace work synergistically to use waste fuel (wood) and store its heat in the winter (and retain cool air in the summer), which reduces the need for a mechanical HVAC solution.
"We did in-depth modeling on this design, and it demonstrates the load of the house to be one-fifth of a conventional home's energy load," Herro says. "The high-performance envelope is like a cooler, separating the interior from the variation swings of the climate outside. Inside, we are taking advantage of diurnal swings to store the right temperature air in a thermal mass 'battery'—a battery that is also aesthetic, structural, and provides steady comfort."
Herro is particularly proud of this feature of the house because it harkens to yesteryear, a time when people heated, cooled and humidified their homes using conceits such as home siting, window placement or by hanging wet sheets in doorways. "This isolated fireplace wall design sitting inside a super-insulated building envelope is an example of getting dollars of benefit for pennies of material," he says. "It's a significant financial benefit and brings back the lost building practices of 80 years ago. For a well-designed net-zero house, you don't just make energy, you need to drastically reduce the need for energy."
Heating Things Up
VISION House features special amenities that help manage heat and provide an Earth-friendly look to the inside and outside of the home.
The fireplace is wrapped in Cultured Stone's Country Ledgestone, a manufactured stone veneer product that the VISION House team considers a perfect visual fit. "For aesthetic reasons, we are using Cultured Stone on both the interior and exterior," Herro says. "We want that connectivity to nature by pulling the outside back in." The house features the product in Gunnison, a charcoal and gunmetal color punctuated by highlights of powdery light gray.
Meanwhile, SCHOTT ROBAX heat-resistant, transparent glass-ceramic panels in the fireplace provide full protection, visual appeal and heat. The glass enables a closeup view and feel of the fire with no danger from flying sparks. "Temperature-tolerant SCHOTT glass is key to the VISION House's ability to harvest heat in the winter," says Herro. "With this product, you get the benefits of aesthetics and an energy-efficient combustion chamber, so there is no negative indoor air quality."
Indoor Air Quality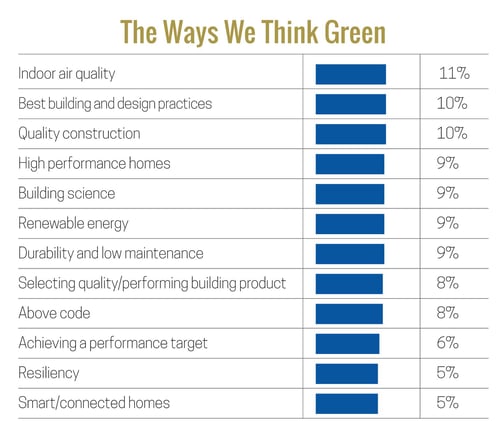 Health and wellness continues to drive demand for more sustainable homes, moving beyond early adopter and first mover audience segments to the mainstream. COGNITION Smart Data is tracking the adoption of indoor air quality products among consumers. Homebuyers not only care about the health of their indoor environments, but they are willing to spend money on products that provide healthy air.
The Panasonic Cosmos Healthy Home System was selected for the VISION House project, not just for its role in the net zero energy story, but also because of its ability to automatically keep fresh air circulating through the house. "You need to ensure a house is homogenous in temperature so there is comfort and fresh, clean air that enhances the life of the people in the home," says Herro. "This is why Panasonic was a critical partnership for me in this project. The company has a tremendous amount of expertise in home ventilation and air control, and its products allow you to control air in a smarter way."
The Cosmos Healthy Home System is able to take seasonality into account with its ventilation scheme. "Because we are not using air conditioning in the summer, we want to bring air in at night when it is coolest, and then seal the house and not bring in air during the daytime to have comfortable temperatures all day long," Herro explains. "Smart controls that know the difference between January and July is one of the critical functions. We can bring in the daily American Society of Heating, Refrigerating and Air-Conditioning Engineers (ASHRAE) standard for fresh air during the night in the summertime and during the day in the winter time and not ventilate at all in the opposite temperatures during those seasons."
Connected Living
To tie systems of the house together, the VISION House team selected Control4's EA-5 Controller and tied other systems' controls into the interphase, such as the Schneider Electric Wiser Energy system and Cosmos. "From a 30,000-foot view, one of the things we had to consider is the remote nature of the site," Herro says. "The potential to control and monitor product remotely means that we need everything from heating, cooling, security, lighting and ventilation to talk to each other."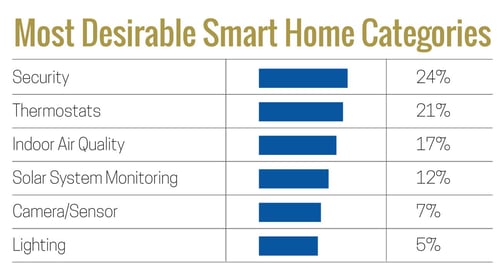 Herro notes that if the Control4 EA-5 wasn't included in this house, the team would have had to invent a control system by hand timing and switching. "It would have made every experience in the home complicated," Herro says. The Control4 EA-5 is an off-the-shelf solution to advance energy-efficient controls. "It uses clouded algorithms and is much more surgical at harmonizing controls to provide continuous comfort, good indoor air quality, and smart energy management."
"It doesn't take an electrical engineer to operate this house," Herro continues. "This can happen because Control4 makes the interface and achieves the types of synergies that fulfill a high level of systems-based energy and health requirements."
Herro believes that for any system like this to be useful to a homeowner, they have to coordinate under one roof. "You have to have one system and not have 20 separate controls of 20 separate things," he says. "By creating this seamless integration, Control4 is creating a template that can be used anywhere in the country using optimization algorithms without input by the homeowner."
Jan 21, 2020 2:52:54 PM · 5 min read
---

Cati O'Keefe is the editorial director of Green Builder Media. She has 25 years of experience reporting and writing on all aspects of residential housing, building and energy codes, green building, and sustainability.