A Protective, Sustainable Option for Exterior Siding

Samantha Carlin
3 min read
Sponsored Content
Why has building pro CR Herro chosen aluminum siding for his dream Home?
Owner of the VISION House Seattle Cascades, CR Herro, EVP Operations at Bettr Homes, is an industry leader in innovation and sustainability, which both play a major role when he selects products, as do durability, lifecycle, efficiency, environmental impact, and aesthetics.
"The Vision House Seattle Cascades was designed around setting the standard for performance without compromising design," Herro says.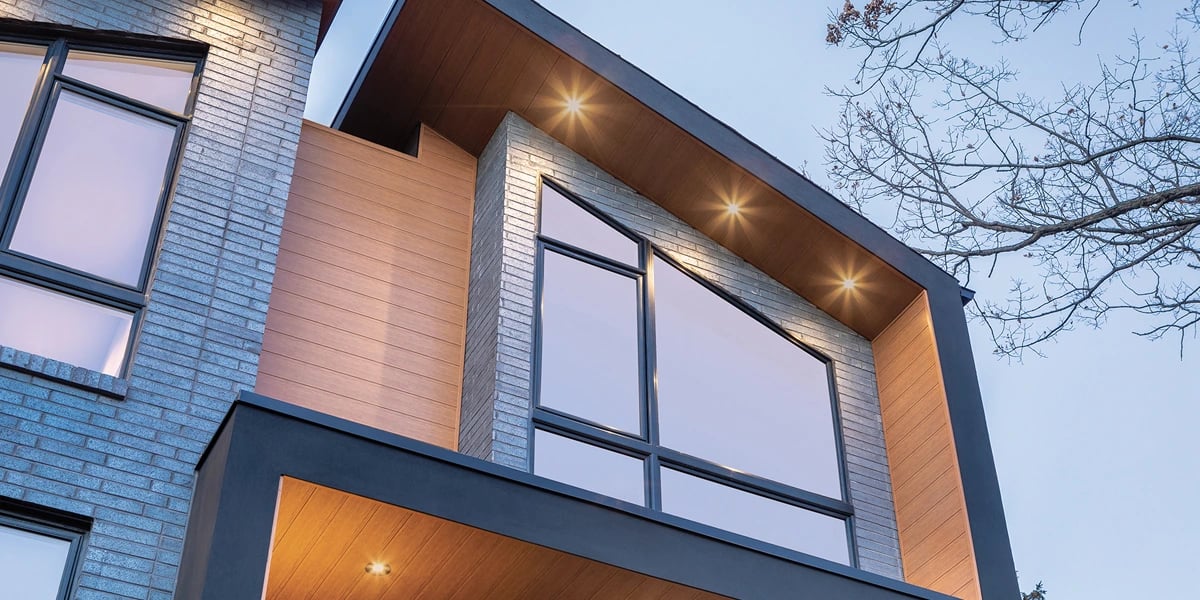 Making Progress
The ICFs are up at VISION House Seattle Cascades; now it's time for the siding. Herro picked Royal Building Products' exterior Cedar Renditions aluminum siding to be the first line of defense against the elements.
Royal Building Products is a one-stop shop for exterior and interior home remodeling, building, and construction products. Kris Swint, Director of Marketing Communications at Royal Building Products, describes how "Cedar Renditions aluminum siding was the top choice for the VISION House project because of the way that it can stand up to the weather in the Pacific Northwest, in addition to its modern look."
End-of-Life Reuse
Wanting to set an example for other home builders with respect to building science best practices, Herro is committed to analyzing the lifecycle of each product he selects for his home and understanding products' environmental impact, especially after use.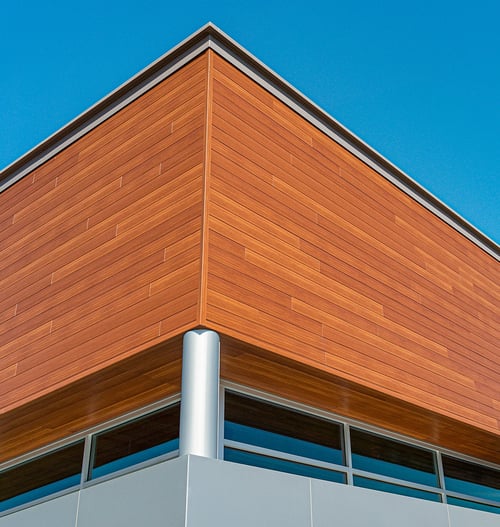 CR Herro specified Cedar Renditions for its beauty, but also for its durability and fully recyclable aluminum makeup. Courtesy Royal Building Products
Herro was drawn to Cedar Renditions for its durability and fully recyclable aluminum makeup. After the aluminum siding has served its purpose at Herro's house, it can be reclaimed and given a new life as a different product. In theory, this material should never end up in a landfill.
Due to the sustainability of the product's life cycle, "Cedar Renditions is 100% LEED compliant," Swint boasts. "We strive to push the limits of what exterior siding can be and continue to innovate to bring more products, styles, and designs with more sustainable solutions to market," she adds.
Reliable Siding Performance
Herro's new home, VISION House Seattle Cascades, is tucked into the base of Mount Rainier National Park. Due to the location's climate, exterior products, including siding, roofing, and manufactured stone, will need to effortlessly endure intense weather conditions, including high wind, prolonged rain, and hail storms.
As a home built to last generations, Herro needed his building wrapped in a durable and protective material. He specified aluminum siding for its strength and ability to fend off the weather and insects.
The Cedar Renditions aluminum siding is extremely easy to maintain due to its long-lasting attributes. Swint acknowledges how the choice of aluminum is "much more practical for the rainy Seattle weather because it's moisture-proof and has the ability to withstand up to 200 mph of wind."
Swint also mentions how "Cedar Renditions effectively insulates and maintains internal home temperatures." This unique quality of aluminum "allows for more efficient energy usage in the hottest and coldest times of the year," she continues to add.
Additionally, Minnesota Exteriors notes how aluminum siding won't rot, rust, warp, or crack, unlike other commonly used siding materials.
"Royal Building Products' Cedar Renditions aluminum siding provides superior durability, fire resistance, and acts to tie together the overall design of the home," Herro notes as he explains his reasoning behind his exterior product selection.
Unique Exterior Aesthetics
Did you think Herro's home would resemble a tin can? Think not! Royal has masterfully crafted their Cedar Renditions aluminum siding to look like natural wood, not metal. In doing so, Royal has combined the best of both worlds, bringing the contemporary and homey feel of wood to the aluminum siding.
"Cedar Renditions has the look of real woodgrain," Swint mentions. With eight unique color options ranging from "riverwood" to "spanish moss," Cedar Renditions brings the modern feel of solid wood to any exterior while maintaining the performance of aluminum.
The overlapping boards eliminate seams, creating a longer length and streamlined look. Specifically, Herro selected the color "grey oak" to make a natural and subtle statement so that the home would blend in with the surrounding forest.
All in all, "because of Cedar Renditions' specific benefits, the VISION House Seattle Cascades e will be both sustainable and beautiful," Swint proudly concludes.
Follow along as the VISION House Seattle Cascades is built and learn more about all the innovative technologies used in this ultra-high-performance house.
Dec 20, 2021 1:22:35 PM · 3 min read
---

Samantha is able to express her passion for the environment -- both natural and built -- as the special projects manager at Green Builder Media. Prior to joining the Green Builder Media team, she worked as an order management specialist at C.A. Fortune, a consumer brands agency. She is a recent graduate of the Master in Environmental Management program at Western Colorado University with an emphasis on sustainable and resilient communities. Originally from the suburbs of Chicago, she is currently thriving in Gunnison, CO where she enjoys the surrounding geology, mountain biking, and skiing.