Smart Lighting Solves Anguished Paint Decisions
New technology allows you to select from 16 million light colors, to fine tune your wall paint to suit your mood and the room's use. Why be boring?
Marriages have ended because of it. Tears have been shed. Doors slammed. Choosing the "perfect" paint color for each room in a home is an extremely personal decision. It's no surprise that so many new homes end up with the universal beige or off-white walls in an attempt to stay "neutral," both visually and psychologically.
Colors do have a profound effect on the human psyche. Research reported by Inc., for example, notes a broad gap between the genders on their preferred colors. "When it comes to different colors, most men were found to seek out products that contain bold colors and shades (colors with black added to them). Women, on the other hand, primarily sought out products containing softer hues and softer colors with a tint (white added to the original color)."
Interior designers tend to take more risk these days, however, introducing stronger colors such as lavender, or Benjamin Moore's Palladian Blue (shown). But this color blue, to use just one example, might be too "soft" to appeal to most men. They may retreat to their dark red "man cave" and avoid the bedroom until the lights go out.
Smart lighting, such as the "Hue" system from Phillips, however, can bridge this visual gap in an instant. By changing the colors and "warmth" of lighting in a room, Hue allows paint colors to transform into many different shades and tones, each of which has a different psychological impact.
Flexible Warmth and Mood
Traditionally, when you buy a lamp for a lighting fixture, you have to choose one color temperature, ranging from cool to warm, measured in Kelvin (K).
But with smart bulbs, you can select exactly what "warmth" of light you want and change it any time you want. Warmer colors will likely make paints appear somewhat darker and richer, cooler tones will brighten and lighten. These lights effectively broaden the palette of any paint color you choose.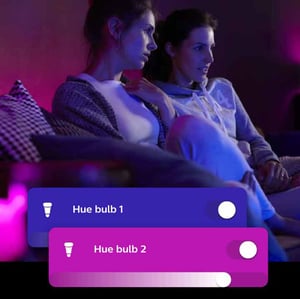 But with the best new technologies, such as the Phillips Hue kit we're giving away this month, you can take light colors to the next level, actually changing the color of the lamps to any of 16 million subtle and not-so-subtle hues. You can also use their smart Hue App to save and set different color combinations in any room, and control them all from a smartphone.
This is new lighting technology, but it's one that's likely to dramatically change how we choose and use interior paints to please every occupant of the home. Maybe by making the color and moods of every room more flexible, homeowners can learn to be happy in smaller, more energy efficient spaces. It might also save a marriage or two.