Scottsdale Project Improves IAQ with Living Well Collection

Matt Power, Editor-In-Chief
4 min read
Sponsored Content
Chosen for its high-performance specs, Sherwin-Williams SuperPaint with Sanitizing Technology contains an EPA registered microbicide that kills certain bacteria.
It's no accident that building scientist Steve Easley will be using Sherwin-Williams new Living Well™ collection on our ReVISION House Scottsdale project this summer. After several years of research, testing and certification, the paint company has introduced SuperPaint with Sanitizing Technology* and SuperPaint with Air Purifying Technology** (see sidebar for disclosures) to the brand.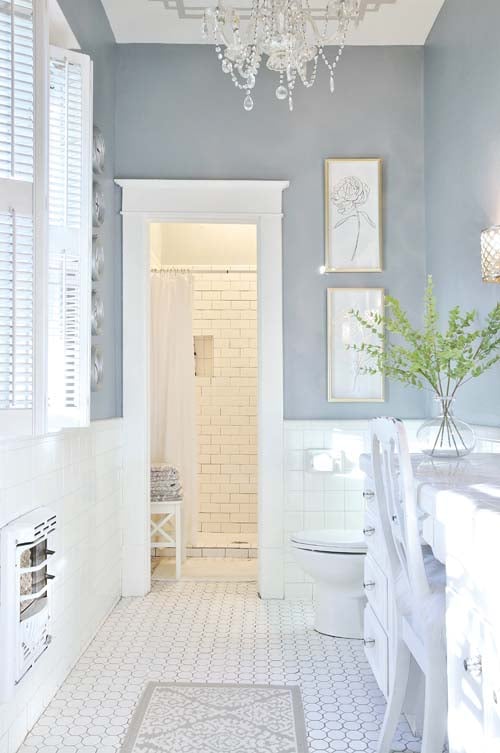 The bathroom features Let It Rain SW 9152 from the Unwind Living Well palette. Credit: Thistlewood Farms
If you're skeptical about paint that claims to help improve air quality, you may feel more comfortable knowing that Easley and the rest of the Scottsdale project team in Arizona have done their due diligence. They've reviewed the technical specs and certifying materials for the product, making certain that it performs as claimed.
Sherwin-Williams Director of Product Information and Technical Services Rick Watson notes that SuperPaint with Sanitizing Technology paint "will kill 99.9 percent of Staph, MRSA and E. coli on painted surfaces within two hours of exposure." In addition, he says, the sanitizing properties endure over time, and "will continue to kill 90 percent of bacteria for up to four years when the integrity of the surface is maintained."
But how does this life cycle work in the real world? Is four years fairly typical in terms of when people change colors or recoat?
"Based on our research, most people tend to repaint every three to five years," Sherwin-Williams Director of Color Marketing Sue Wadden says. "So that falls in just about the right range."
Wadden adds that while the air-purifying chemistry is a big part of the Living Well story for ReVISION House Scottsdale, the 11 curated color collections will be what turn heads when the project gets its final finish.
Keys to Durability
The paint's life cycle is not dependent on the new additives — simply enhanced by them.
"It's a product that's been around for 40 years," Watson notes. "Even before I got here. But like I always say, it's getting the substrate right that really impacts life cycle. Paint is a wear layer. The goal is to have the paint degrade over time, not the substrate. And the conditions inside the home matter, too. You still need to have good ventilation, to prevent mold and mildew."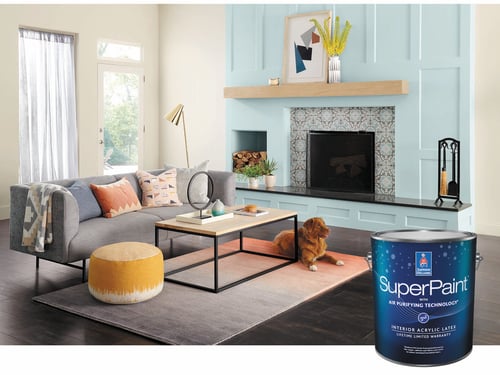 One of Sherwin-Williams' most popular interior brands can now be purchased with Sanitizing Technology or Air Purifying Technology. Credit: Courtesy of Sherwin Williams
In other words, you don't apply SuperPaint with Air Purifying Technology over the top of a moldy wall to "fix" a mold problem; you apply it over a clean, dry surface to offer pre-emptive resistance to biological growth, inhibiting mold spores on the paint film.
According to Watson, no special primers are required, but these should be specific to the substrate. "On block, for example, you would still use block filler and a masonry primer," Watson explains. "The idea is to create a continuous film (of SuperPaint with Sanitizing Technology) on the surface, to help with the kill claim."
Scottsdale: A Real-World Case Study
This extra layer of protection is one reason Steve Easley and his partner Susan Raterman, an indoor air specialist, felt Sherwin-Williams was a good fit for their "Forever House" renovation in Scottsdale. The products can be used in bathrooms, laundry rooms, HVAC closets and so on to provide a backup defense against health-threatening bacteria.
"And of course there's also the huge color possibilities of the Living Well collection of paints," notes Raterman. "I can't deny that I'm excited about all the color options with this line, with more than 500 to choose from."
Watson adds that it's not just walls that can benefit from the paint's special qualities. "I've always said that ceilings are the fifth wall," he notes. "That's a lot of surface area, uninterrupted by windows and doors. I know that in my own basement, I put on a coat of this air purifying paint. I've also got four Shelties (Shetland Sheepdogs). And despite the fact that the basement flooded, I can go downstairs and there are no malodors."
The Paper Trail
"We've gone through UL GREENGUARD Gold certification with both products, and SuperPaint Air Purifying is a zero-VOC (volatile organic compound) mix," Watson adds. "Of course, it's not just VOCs you look at in terms of impact on air quality. What you really want to look at is low overall emissions."
To that end, Sherwin-Williams pursues many tools with which to bring emissions to the bare minimum, without sacrificing paint quality. These include environmental product declarations (EPDs) and a "product lens" to look at every material in each product.
"The goal is always to take less sustainable materials out of our process," Watson says.
He adds that the Sherwin-Williams website includes loads of technical information, including a section clarifying how the new air purifying paint works.
---
Editor's note: Sherwin Williams asked that the following disclosures related to the bacteria killing claims above be included with this article:
**Reduces VOC levels from potential sources like carpet, cabinets and fabrics and works to reduce unwanted household odors. The length of time SuperPaint® with Air Purifying Technology Interior Acrylic Latex actively reduces odors and formaldehyde depends on the concentration, the frequency of exposure and the amount of painted surface area.
*EPA registered paint that kills 99.9 percent of Staph (Staphylococcus aureus), E. coli (Escherichia coli), MRSA (Methicillin-resistant Staphylococcus aureus), VRE (Vancomycin-resistant Enterococcus faecalis) and Enterobacter aerogenes on painted surfaces within two hours of exposure, and continues to kill 90 percent of bacteria for up to four years when the integrity of the surface is maintained.
---

Veteran journalist Matt Power has reported on innovation and sustainability in housing for nearly three decades. An award-winning writer, editor, and filmmaker, he has a long history of asking hard questions and adding depth and context as he unfolds complex issues.