Self-Powered Homes Central to Transcend Communities

Michele Lerner, Associate Editor
4 min read
Homes and communities designed for sustainability and longevity.
When Kurt Goodjohn, CEO of California-based prefab homebuilder Dvele, received a Thanksgiving day call from a resident of one of Dvele's homes in Malibu in Southern California, he thought it was just a friendly holiday greeting. Instead, it was a moment of jubilation that fulfilled the promise of building a "self-powered" home.

"The homeowner called me and said, 'I just want you to know that we're cooking our Thanksgiving dinner while the kids listen to music and the adults watch football on our big screen TV,' which may seem like an ordinary thing," says Goodjohn. "But here's the kicker: Every other house in the community had lost power except for his."
A "self-powered" home, a term Goodjohn coined in early 2017, refers to a house that starts with a conservation-first approach and is resilient, all-electric, and can be off-grid.
"A self-powered house goes beyond net zero to be net positive by creating more energy than it uses," says Goodjohn. "It includes energy storage so the house can be powered on its own."
The next step for Goodjohn and self-powered homes is to build communities with thousands of homes that all produce their own energy. In partnership with Green Builder Media, Dvele is building a demonstration house called Transcend in Lake City, Colorado near Telluride. The long-term goal is that the precision engineered modular houses will become part of Transcend communities throughout the country.
Designing a Conservation-First, Self-Powered Home
Transcend homes are designed to be 87% more energy efficient than the typical new home. "That means the houses fundamentally use less power from the start," Goodjohn says. "Brandon Weiss, our chief innovation officer, spent a decade researching how to design a more energy efficient modular home, so we use the best building science at our disposal."
In the Dvele factory, the modular home is covered in what Goodjohn describes as a "thin rubber membrane" that doesn't allow any air leakage into the residence. The airtight building envelope includes high performance insulation from Rockwool.
"Houses experience a lot of energy loss from windows and doors, so we installed European windows and doors from Arc Espacio that don't leak and are highly energy efficient," says Goodjohn. "Everything is installed in the factory, including the heating and air conditioning system."
The super airtight home provides the high level of energy conservation required for a self-powered home. The heating and air conditioning systems are separated from the ventilation system to better control the indoor air environment.
"The ventilation system runs 24/7 and works together with the indoor air quality monitoring system," says Goodjohn. "The Broan ERV system functions as a heat exchange, which also reduces the amount of energy needed to keep the home comfortable."
Layering in Energy Efficiency and Power
Beyond designing a highly efficient home, Dvele and Green Builder Media's next step was to choose all-electric energy efficient appliances and systems including Dacor induction cooktops, and heat pump air and water heating and cooling technology from Uponor.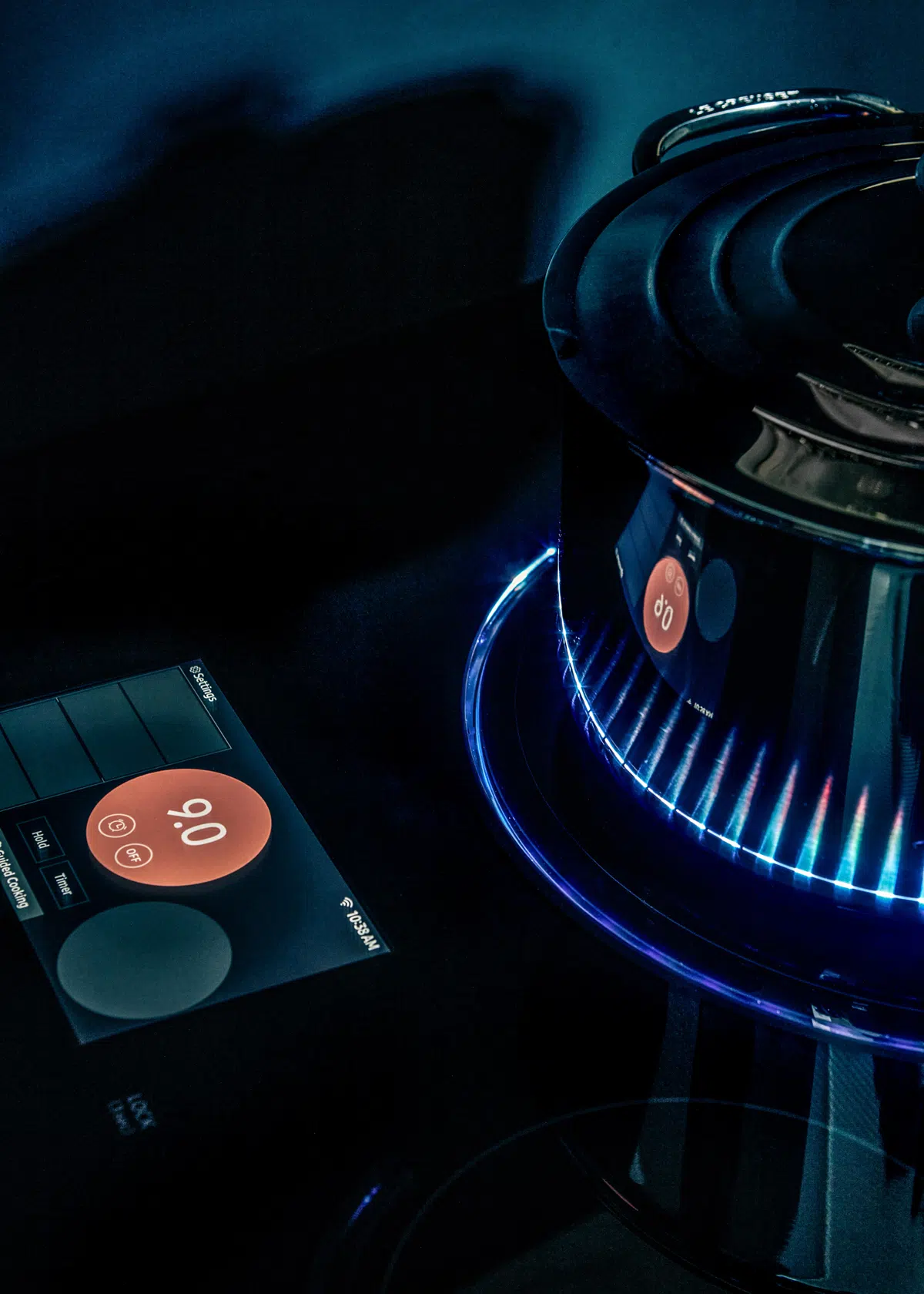 Dacor's

36" Induction Cooktop

was chosen for fast, energy efficient, and safe meal preparation. With FlexZone technology, this cooktop has nine flexible cooking modules that heat and cook at lightning speed and accommodate pots and pans of all shapes and sizes with a simple swipe of the finger. credit: Dacor
"Monitoring these systems is the next layer for a self-powered home," says Goodjohn. "The intelligent smart home technology will learn the behavior of occupants and maximize energy use based on that behavior, such as heating water at the optimal time. It will even be able to alert homeowners who are about to use their clothes dryer that it would be better to wait two hours when electricity use is below the peak."
Water management systems also learn water use habits of residents to drive water conservation practices and for leak detection. Water harvesting systems can be added to the Transcend homes, which all have low-flow Grohe fixtures.
Energy conservation measures combined with Schneider Electric's intelligent home energy monitoring system is then matched with additional supply through an integrated solar system with JinkoSolar photovoltaics and battery storage.
Once the building envelope, appliances and systems are as energy efficient as possible, solar power and storage take Transcend homes to the level of self-powered homes. Goodjohn hopes to increase the amount of energy that can be stored in each Transcend home.
Self-Powered Communities
While the Dvele platform provides a place to showcase the concept of Transcend and the power of prefab homes, Goodjohn is eager to scale Transcend into communities where people can live healthier lives.
"A community of Transcend communities can be a large part of the energy transition that this country needs to make," says Goodjohn. "We view the Transcend homes as mini energy factories."
The energy strategy for Transcend communities is to connect them to the grid to provide support for the massive need for electricity that comes with all-electric homes and vehicles.
"We want to fundamentally change the way the grid is utilized," says Goodjohn. "If each Transcend house has excess storage capacity that makes it easier to rely on hydropower, wind power and solar power that are not always consistently producing energy."
Transcend communities will include community solar arrays with storage for additional power and EV charging stations. Ideally, each Transcend community will provide enough power for the entire community between the power generated by community solar and individual homes, battery storage and energy management systems that reduce demand throughout the community's public spaces. Buildings will be sited for passive solar benefits and will include high performance geothermal systems along with heat pumps for heating and cooling.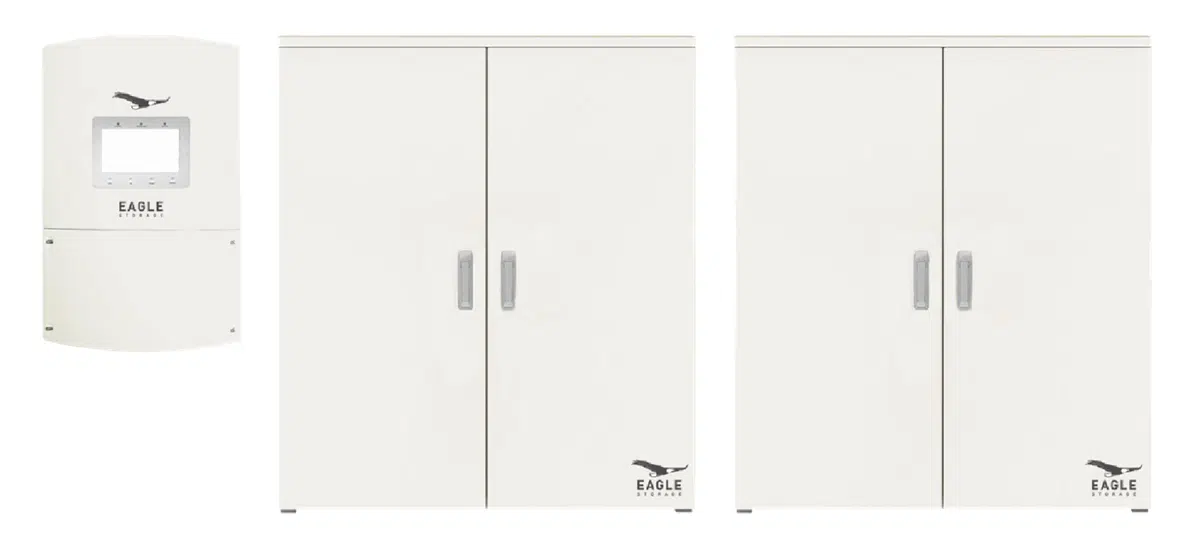 The homes will feature JinkSolar's top-of-the-line Eagle panels and Eagle RS storage systems with hopes of creating renewable energy powered microgrids for future Transcend communities.
Each community will be designed to reduce reliance on individually owned cars by making them walkable, including bike paths and shared use of other transportation options such as communal EVs, electric buses, electric scooters and electric bikes.
While Transcend homes are built for resilience with light gauge steel and special cladding and sheathing materials to withstand intense storms, fires, flooding and extreme temperatures, the Transcend communities will also be designed for longevity. Social, economic and environmental factors will be taken into account throughout the design process for each community to ensure that they become self-powered for generations to come.
Oct 28, 2022 2:08:52 PM · 4 min read
---

Michele Lerner is an award-winning freelance writer, editor, and author who writes about real estate, personal finance, and business.