Rethinking Water Use

Erin Arrington
7 min read
In the midst of a water crisis along the Front Range, a forward-thinking builder utilizes innovative conservation solutions.
Cities and towns along Colorado's Front Range, including Fort Collins, have been on the edge of a water crisis for years. These areas rely on the Colorado River as a primary water source, and in recent decades, the river's supply has been steadily decreasing as demand continues to increase.
The Colorado River's water supply has been dwindling for years, even as demand from surrounding communities increases.
Colorado is taking a multi-pronged approach to address this disparity, including building two new water storage reservoirs along the river and, in conjunction, enacting stringent conservation measures.
Fort Collins Utilities, one of the main water utilities in the Fort Collins area, has created a number of incentive-based conservation programs for its residents, including indoor water efficiency rebates and irrigation rebates. The utility has also encouraged residents to use the MyWater portal, which offers leak detection and water usage monitoring.
When it comes to new developments, the city has honed in on ensuring that the future of Fort Collins will have a high standard for water conservation. In addition to requiring all developers to submit comprehensive conservation plans, the area's water supply requirement fee skyrocketed (the fee increased from $42,500 per acre-foot in 2021 to $68,200 per acre-foot in 2022).
Although it can be a challenge for new builders, Fort Collins' prioritization of water conservation appears to be making a difference. According to Fort Collins Utilities, the Utilities' Water Conservation program is nearly 40 years old.
"Efforts have reduced water use from 248 gallons per capita per day in the 1980s to 139 gallons per capita per day in 2021," the utility notes. In contrast, the Environmental Protection Agency (EPA) says the average American household uses about 300 gallons of water per day.
The commitment to conservation is also attracting like-minded developers such as Colorado-based Actual Communities Inc. Its current project, Sonders Fort Collins, addresses energy and water conservation on a holistic, community-wide level. Although the project will technically be served by the ELCO Water District, the district adjacent to Fort Collins Utility, the developers say they were drawn to build in a community that is similarly forward-thinking in its approach to water usage.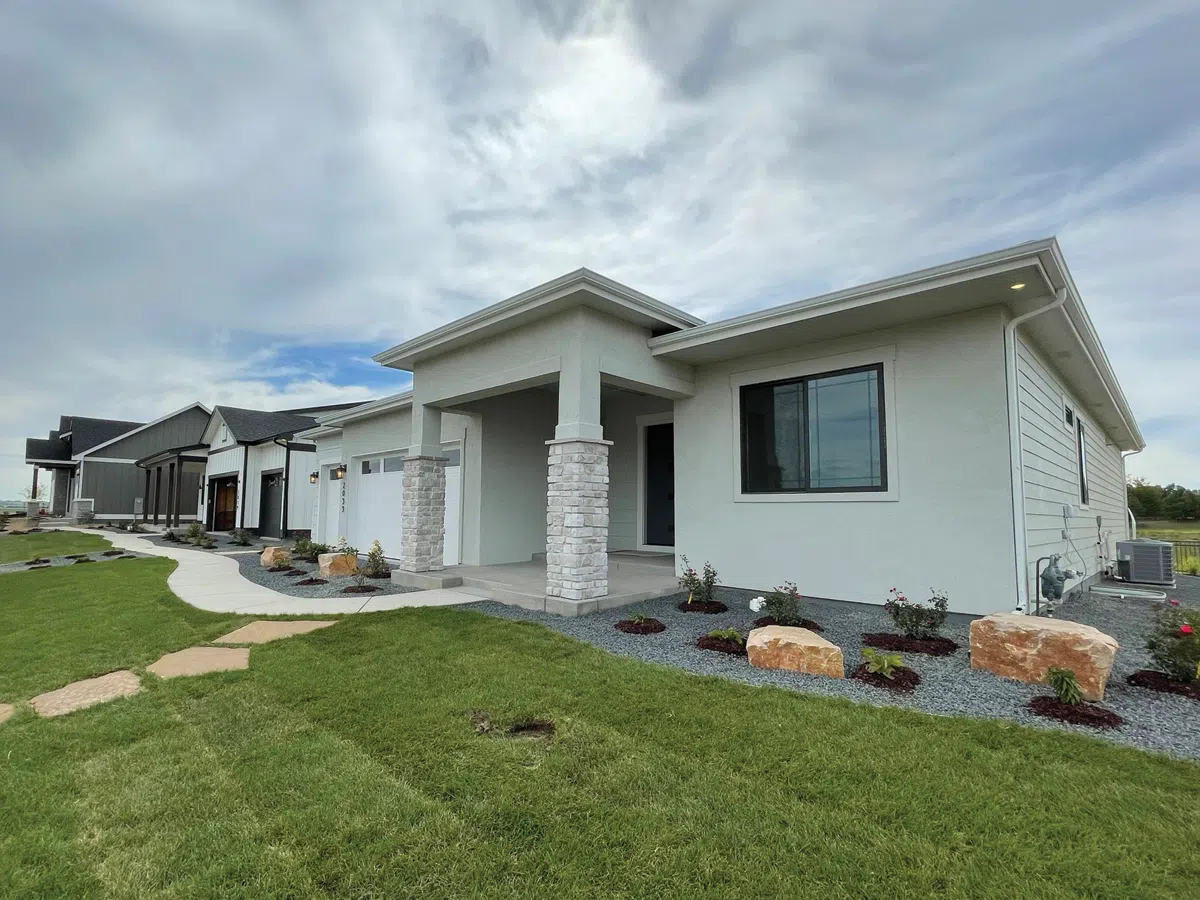 Homes at Sonders Fort Collins utilize native plants to help reduce water use. Courtesy Sonders Fort Collins
Water-Conscious Landscaping
Sonders Fort Collins is an age-targeted community that, in addition to a few hundred homes, will include a variety of amenities for its residents—including at least three parks, a community center campus (the Sonders Learning Center), and an extensive trail system.
In the planning stages of the project, developer Actual Communities Inc., strategized ways to reduce water consumption on a community-wide level. Bill Swalling, the company's principal and founder, says that Sonders utilizes xeriscaping—landscaping that requires little to no irrigation thanks to exclusively native plants.
"We're going to provide a lot of native grasses so that at some time in the future, you can turn off the water supply to those native grasses and native trees," Swalling says. "We've successfully done this in two other locations in Denver."
Because many homes at Sonders will likely be purchased by empty nesters, the builders decided to make individual lot sizes smaller in favor of dedicating more space to public parks and green belts. In general, homeowners tend to overwater their lawns. And, since the community is age-targeted, the developers wanted to make sure homeowners weren't burdened by the maintenance of large yards.
In turn, sacrificing individual homes' yard space for more community space reduces the amount of yard maintenance that falls to individual homeowners while creating more organic meeting spaces that foster community.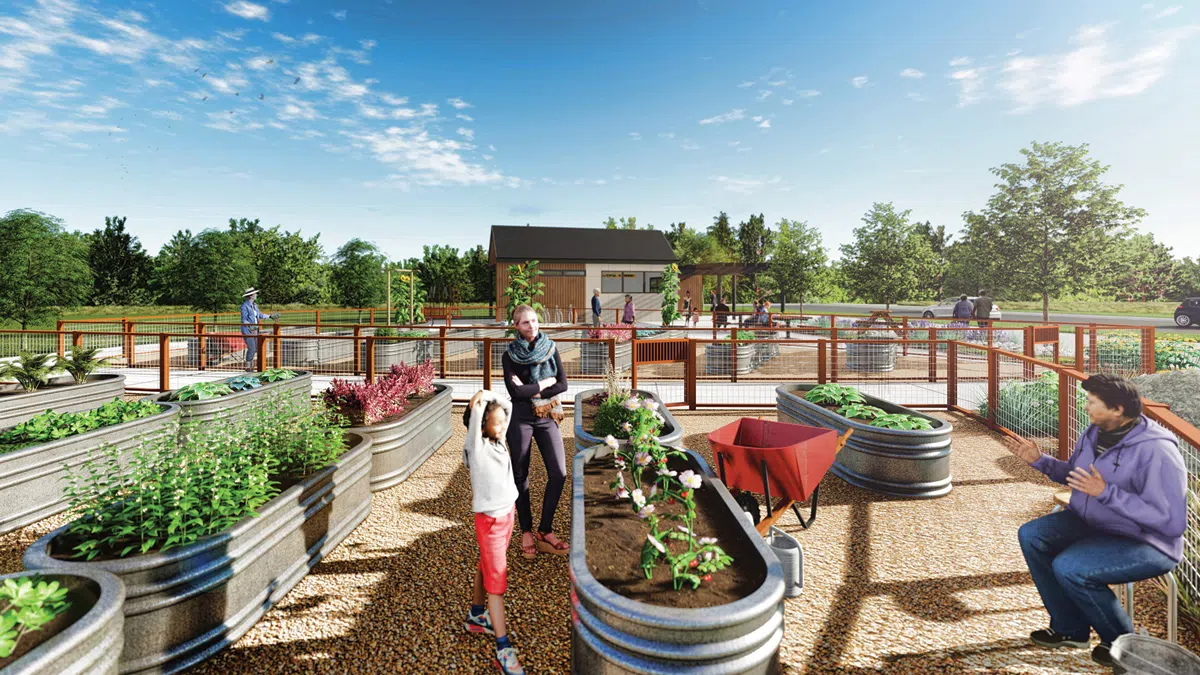 The Sonders community will have smaller individual lot sizes in favor of more gardens, including the Flourish Park community garden. Courtesy KGA Studio Architects
Innovative Irrigation
For more than eight years, Actual Communities has been working with Hines Inc., a Fort Collins-based irrigation design company, to create a system that will maximize the community's water efficiency. The holistic system they came up with minimizes the need for maintenance and human interventions largely through soil amendments specific to plant type.
"A huge driver of plant health and water conservation is soil quality," says Hines Inc. President Nate Hines. "You can think about soil kind of like you think about the human digestive system. When you have lots of good organic material—[where] you have worms [and] you have micro biotic bacteria that live in the soil—when all of those processes are happening, a plant more easily stores more air, water and nutrients. You have to irrigate less."
Focusing on soil quality will also help prevent heavy use of chemical fertilizers down the line. "A heavy dependence on chemical fertilizers kills all those nice good living things in the soil," Hines says. "And when you kill everything in the soil, the structure of the soil falls apart. It holds less water, and it's harder for plants to thrive. So then you start putting more chemicals on to push growth. It's a bit like getting addicted to steroids."
In the grassy areas around Sonders, the top foot of soil will include organic soil amendments and compost that function as water storage under the landscape. The irrigation system will also allow Hines Inc., which will continue to maintain the system after it's built, to pump soil amendments and nutrients through the irrigation system itself. This system reduces the need for any fertilizer by about 80 percent and essentially eliminates chemical fertilizer runoff into stormwater rivers and streams.
Using artificial intelligence, Hines Inc. will also be able to monitor the system for leaks or breaks in real-time. Compared to the average development of a similar size, Sonders will be able to maintain three times the amount of green space while reducing water use by about 60 percent, based on the company's predictive models. And, going forward, Hines Inc. plans to use the irrigation system designed for Sonders as a template for new developments around the country.
Conservation in the Home
In addition to Sonders' community-wide water conservation measures, the homes at Sonders will utilize a variety of water-saving techniques. About 220 of the homes will be built by Thrive Home Builders—all of whose homes are LEED and ENERGY STAR certified.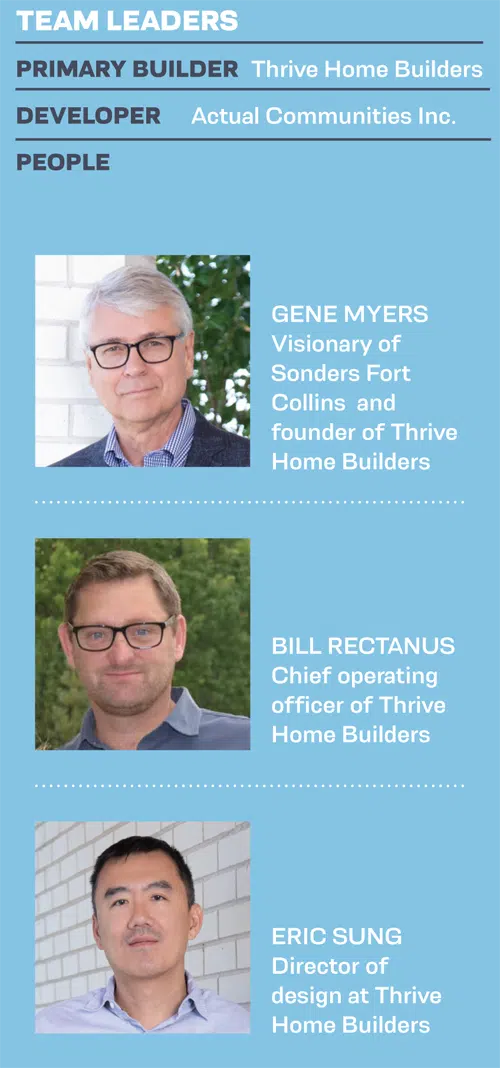 According to Bill Rectanus, Thrive's chief operating officer, all homes at Sonders will be outfitted with low-flow and EPA WaterSense-certified fixtures, including faucets, showers, and toilets. On average, WaterSense-labeled faucets are 30 percent more efficient than typical faucets, and WaterSense showerheads save about four gallons of water per shower.
Additionally, the model homes at Sonders, which include extra efficiency features, will run on hybrid heat pump water heaters and switch-driven recirculation pumps. This system, Rectanus said, minimizes water loss by eliminating the amount of time homeowners typically run water while waiting for it to get hot. And, using a switch rather than timers reduces energy consumption by not constantly running it in the background.
The homes built by Thrive will include products by Uponor and Phyn, two sustainability-driven companies that are partnering with Thrive in the Sonders project: The Phyn Plus smart water assistance and shutoff system allows homeowners to track their water usage in great detail and provides leak detection that immediately notifies users when something needs attention.
Additionally, Uponor's AquaPEX plumbing system includes less pipe and fewer connections, shortening wait times for hot water and reducing the amount of excess water run by homeowners.
Between their in-home interventions, innovative irrigation system, and environment-protection measures, Actual Communities and its partners hope to build a community that represents the future of homebuilding in water-strapped Colorado.
Smart Leak Detection
Phyn's smart water system helps homeowners keep leaks in line.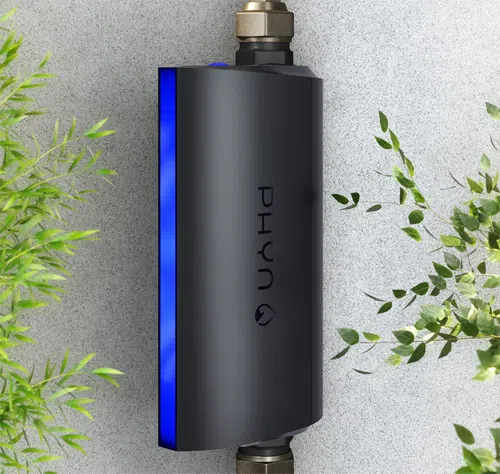 The EPA estimates that nationwide, household leaks waste approximately 1 trillion gallons of water annually. The Phyn Plus smart water assistant and shutoff system comes with an app that makes it easy for homeowners to stay on top of their entire water system.
One way the system does this is through advanced leak detection that's supported by HD pressure and ultrasonic flow sensing technologies. If an issue is detected, users receive notifications through the app, and users even have the ability to shut off their water system remotely.
The app also provides homeowners with data about how much water their family is using day-to-day, even down to individual fixtures. Users can analyze their own use over time, as well as compare their habits to that of the average household.
"Phyn's advanced AI learns each household's unique water usage patterns and provides tailored water conserving insights and near real-time leak detection, along with the tools to empower homeowners to incorporate sustainability into their everyday lives," says Phyn CEO Ryan Kim.
Metro Minded
When it comes to Sonders funding, Actual Communities happily went for a metro district.
In the planning stages of Sonders Fort Collins, Actual Communities Inc. had a long list of amenities it wanted to implement for residents and resource-saving systems that would benefit the city as a whole. However, the builders needed a funding solution.
Typically, the costs of community-wide amenities are built into the price of individual homes. In the case of Sonders, however, they didn't want Sonders' first round of homebuyers to have to foot the bill for systems that will benefit residents for decades to come. In turn, they pursued creating a metro district for Sonders Fort Collins.
According to the Colorado Association of Home Builders' website, "Metro districts are independent governmental entities formed to finance, design, acquire, install, construct, operate and/or maintain public improvements that are not otherwise being provided."
Actual Communities Inc. principal and founder Bill Swalling says the approval of a metro district is what allowed them to afford the community garden, comprehensive irrigation system, and extensive trail system. Funding from the metro district is spread over 40 years, ensuring that the shared community's numerous parks and services will be maintained long after the first families move in.

Homes at Sonders Fort Collins offer a variety of energy- and water-saving features, including a solar power system with a backup battery, energy-efficient appliances, and WaterSense-certified fixtures. Courtesy Sonders Fort Collins
Dec 28, 2022 10:51:44 AM · 7 min read
---

Erin Arrington is a freelance writer and editor who covers sustainability initiatives throughout and beyond Alaska.