Remodeling From the Inside Out
As construction continues on ReVISION House Scottsdale, the focus shifts to what's going on behind the walls and above the ceilings.
Rebuilding a home in the middle of the Great Resignation, a housing boom and the COVID-19 pandemic has certainly been challenging, even for seasoned professionals like us. The biggest challenge by far has been supply chain issues with getting building materials.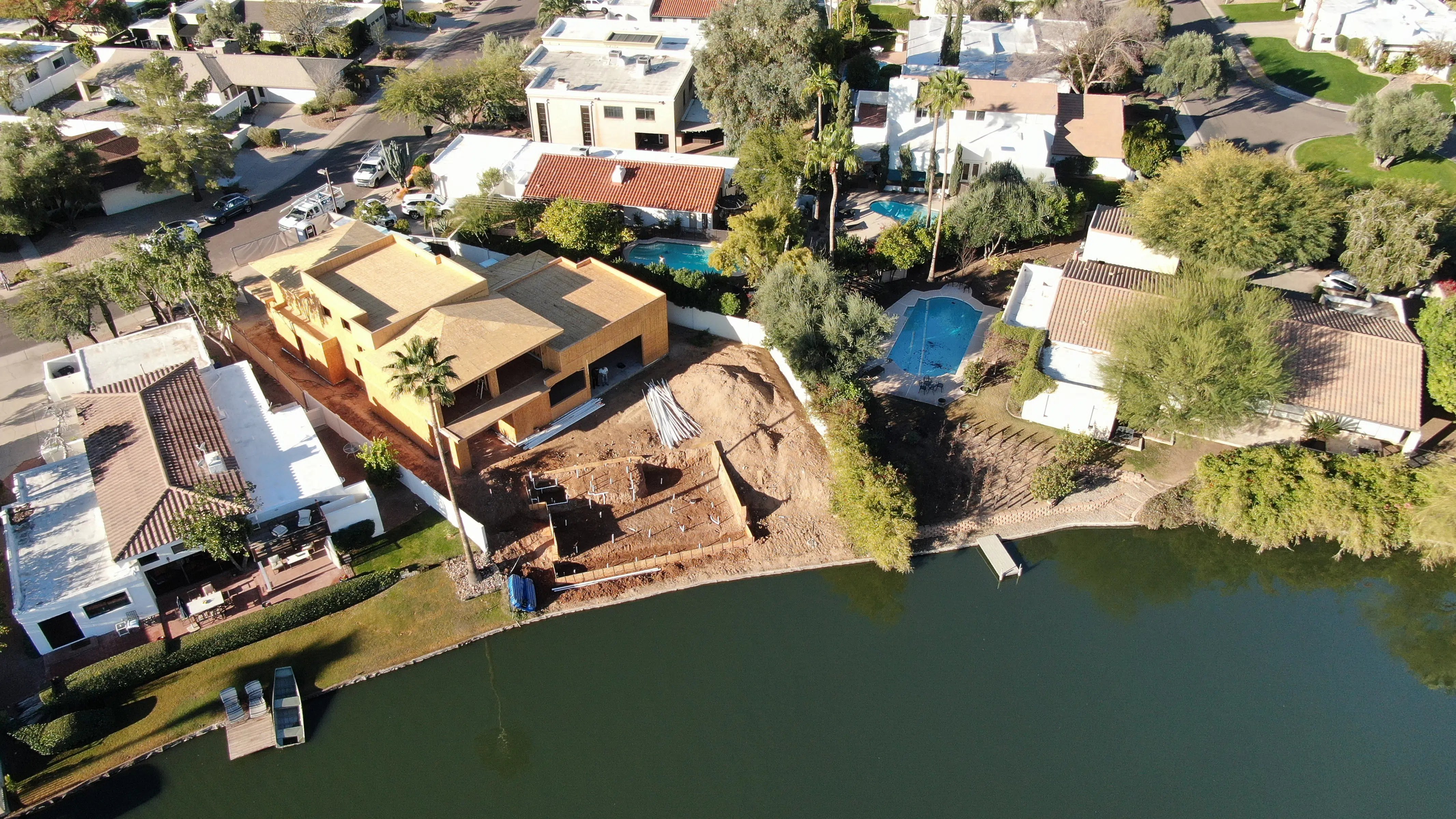 Material shortages and the pandemic have slowed construction of the ReVISION House Scottsdale over the past year. But as life starts to return to normal, hammers and shovels are back in play. Credit: Steve Easley
In addition, Phoenix has been the top city in the country for net migration for three years running. On average, 89,000 people per year—or 244 people per day—are moving to this area. This is not only pushing up home prices (35 percent in Scottsdale in 2021, according to Zillow), but also creating a huge labor shortage as most of the area's 1970s vintage homes are being torn down or totally gutted and remodeled. The City of Scottsdale alone issued 9,600 building permits for 2021.
And then there's the labor shortage. It's hard to find subcontractors that are willing to even consider, much less apply, best practice building techniques. Many times, we have heard "we don't do it that way" or "we only use materials that we are familiar with." With the building boom, the subs have no problem walking away from work that requires them to do anything different from what they are used to. Because of the unmet demand for housing, I don't see this issue going away anytime soon.
Fortunately, I was able to obtain subcontractors that were willing to do most of what I wanted, but it added quite a bit of time to the project. If you're building homes, be sure to factor in the additional time it takes to find cooperative subs.
We had planned on saving 95 percent of the first floor of the home, but after demolition we quickly learned that 85 percent was not salvageable. Over-notched beams, studs, floor joists, and missing connectors required us to rebuild nearly all of the walls and the second-floor framing.
My motto has always been "look for opportunities, not obstacles." This situation presented the opportunity to rebuild with 2-by-6 framing, allowing for more insulation. We considered structural insulated panels (SIPS) with exterior insulation, but that would have required re-engineering and restarting the permit process. We estimated that would delay the project another nine months.
Regardless of the obstacles, we are still committed to the same project goals: efficiency, resiliency and durability, and health and wellness.
Since the burning of fossil fuels like natural gas contributes a lot to climate change, we believe in electrification. Arizona Public Service has committed to having 45 percent of its electricity generated via renewable energy by 2030. By 2050, all of the utility's electricity is expected to be 100 percent carbon-free.
For our response, we are replacing all of our gas appliances: the furnace, water heater, stove with inverter-driven heat pumps and induction range, as well as a heat pump clothes dryer.
As we move toward the completion of the ReVISION House Scottsdale, here's the progress we've made on various aspects of the home. (Images courtesy of Broan-NuTone, DuPont and Steve Easley)
Design
The south and west sides of the home have large porches to shield the house from direct, hot summer sun. The house is designed to have lots of flow-through ventilation for natural, passive cooling that will reduce the need for air conditioning.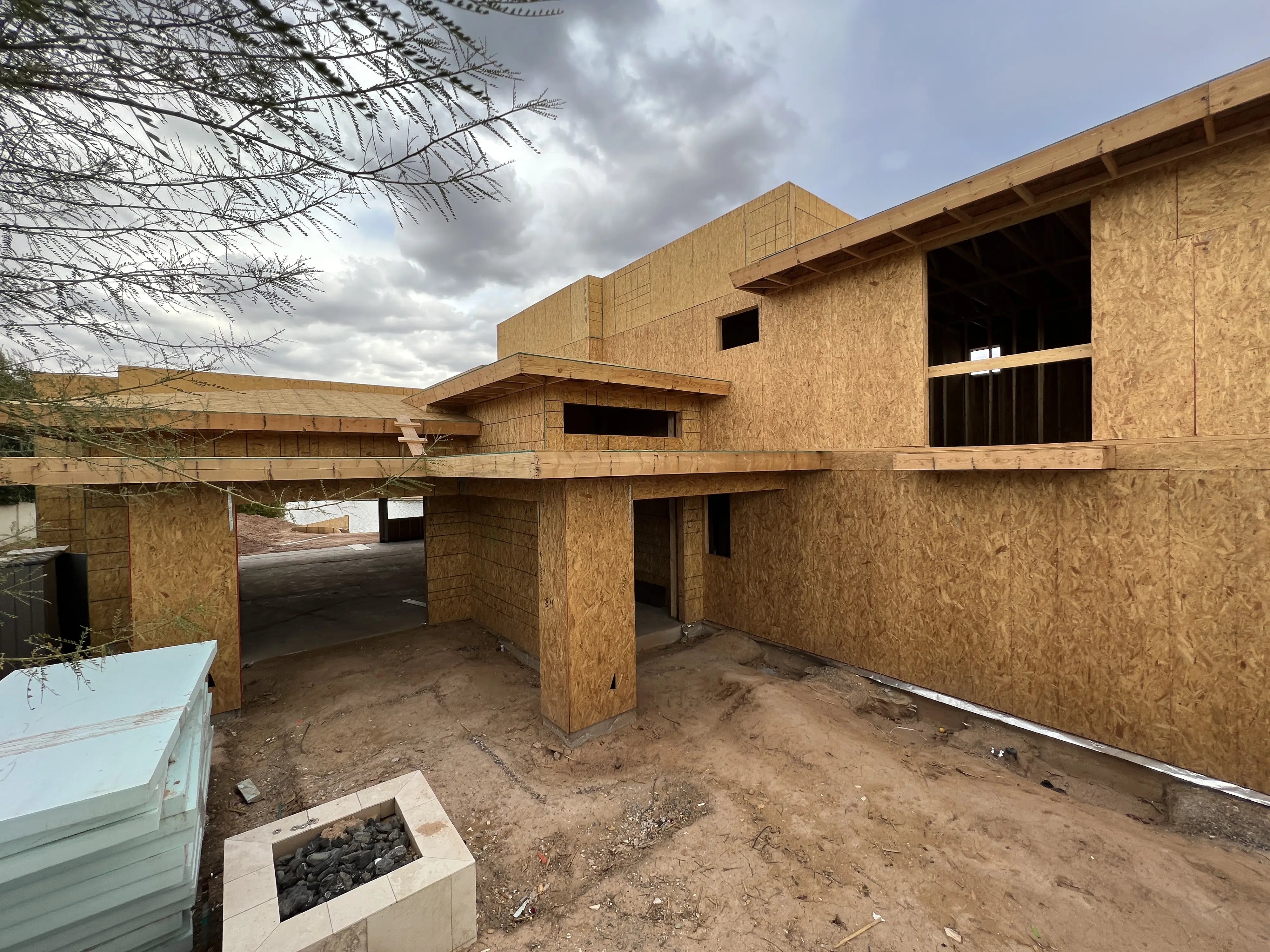 Roofing
We have designed and installed a unique roofing system for waterproofing the flat roof areas. There is a Barrett Black Pearl cold fluid waterproofing system over oriented strand board (OSB).
On top of that is Dupont Styrofoam Deckmate Plus R-20 XPS insulation board. About 1-3 inches of Henry Company Permax 3.0 closed cell spray foam will be placed over the Deckmate, sprayed to slope rainwater to scuppers. The product has no chlorofluorocarbons (CFCs), hydrofluorocarbons (HFCs) or hydrochlorofluorocarbons (HCFCs), and has a global warming potential (GWP) of a mere 1.4.
The final roof coating is Henry AcryShield A550 93 percent reflective, an acrylic elastomeric coating water final waterproofing. Open cell foam, R-20, will be applied under the OSB roof deck, for a total R-value of 54.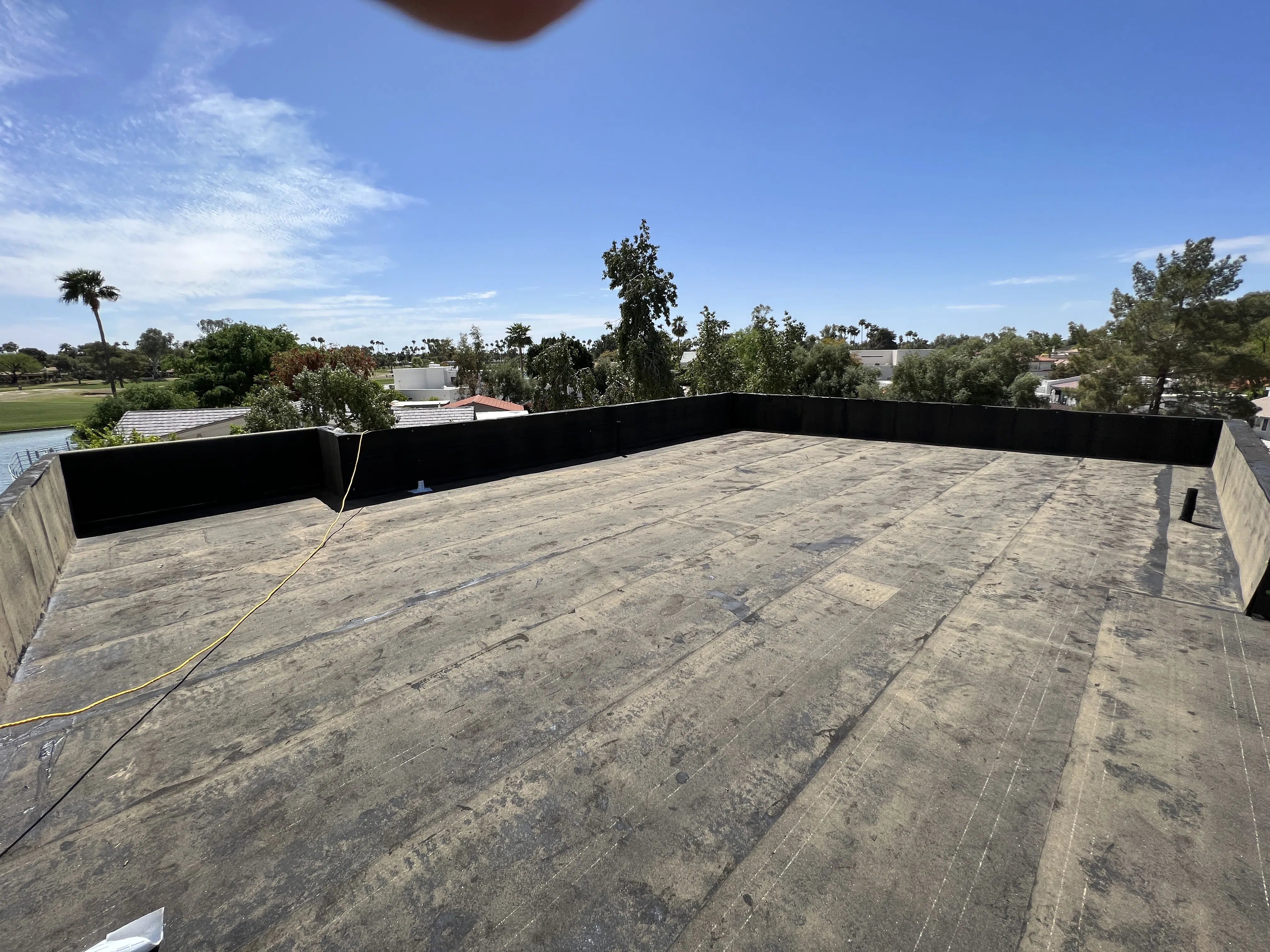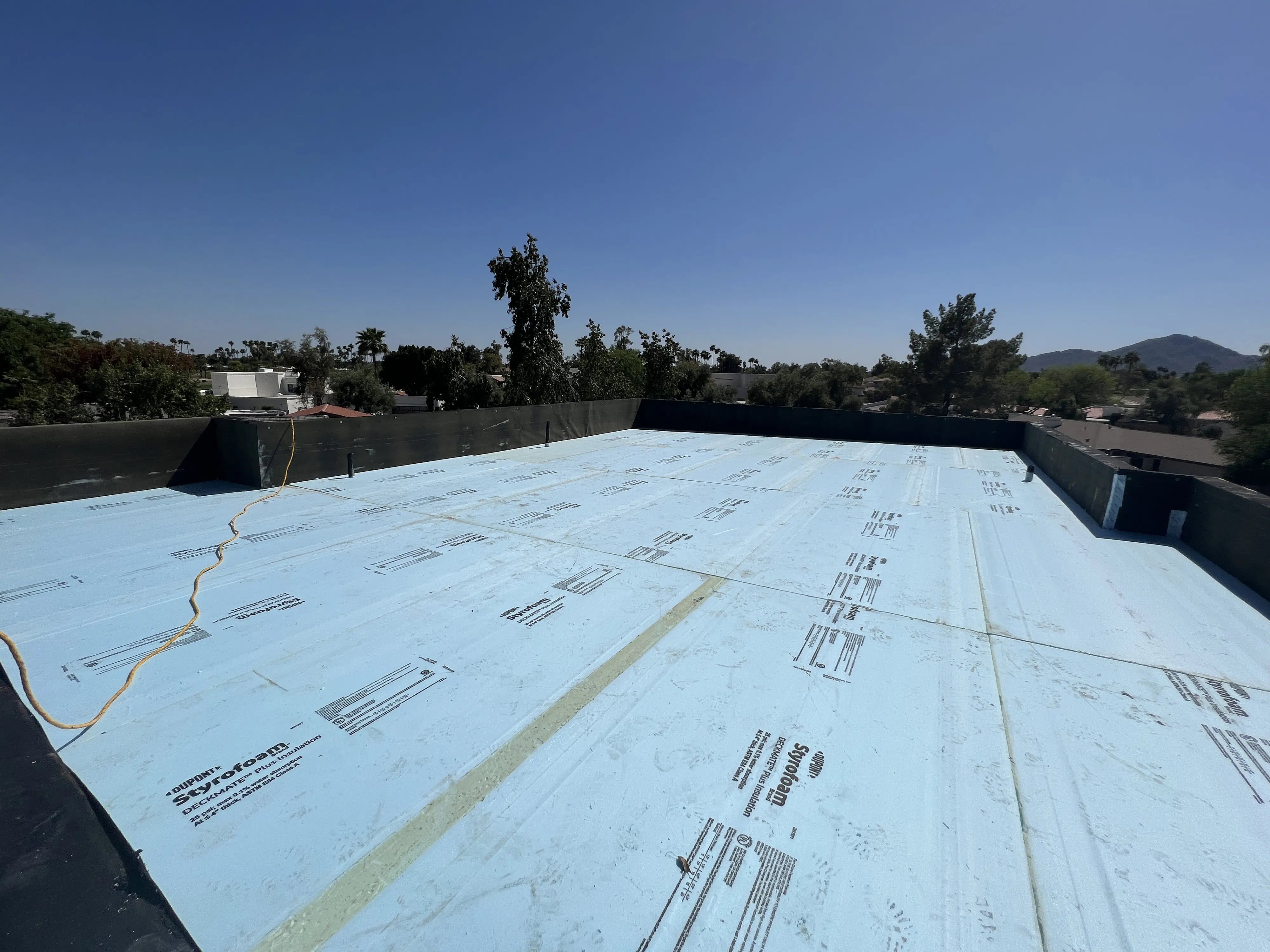 Walls
The Revision House Scottsdale uses an R-37 wall system. The exterior wall cladding is half-inch thick synthetic stucco reinforced with Keene Driwall LathNet quarter-inch metal rainscreen lath for drainage and drying. The LathNet and Thermax will be attached with TRUFAST Walls Grip-Deck TubeSeal self-sealing fasteners.
Behind the stucco and lath, we will install 1.5 inches of Dupont Thermax C.I. (continuous insulation) R-10. Then the house will be wrapped with DuPont Tyvek StuccoWrap weather barrier. Windows and penetrations will be flashed with DuPont FlexWrap and Flashing Tape.
Inside walls will feature half-inch OSB over 2-by-6 studs, with 2 inches of DuPont Froth-Pack Low GWP (R-12.2) closed-cell foam applied to the inside surface of the OSB. Available in kits, Froth-Pack is an economical alternative for small jobs, versus the ones for large trucks and high-pressure foam.
The remaining 3.5-inch cavity will be filled with of blown fiberglass covered with 5/8-inch drywall. This provides a low-cost extra thermal mass, so we can pre-cool the house to help flywheel through peak energy times.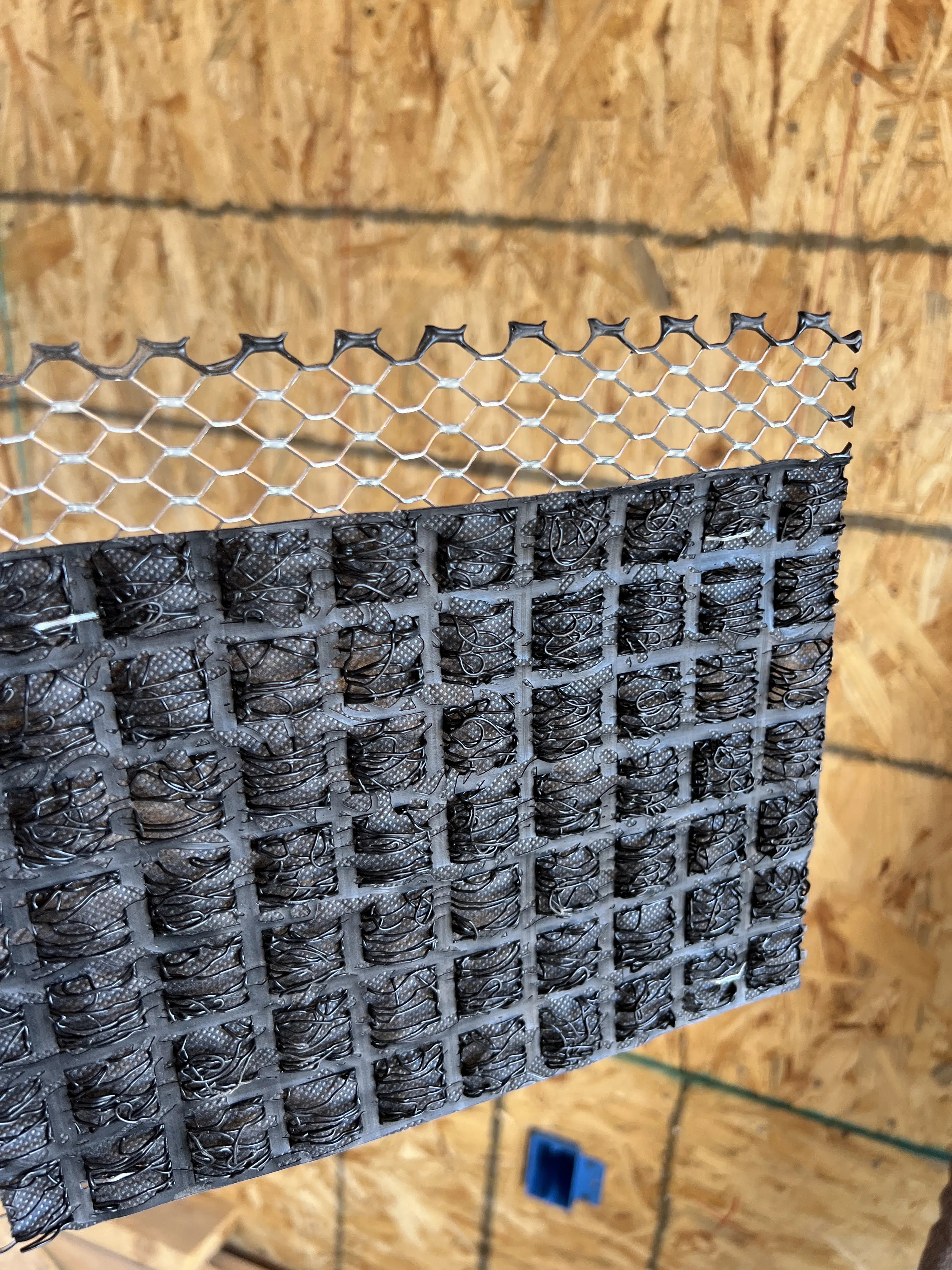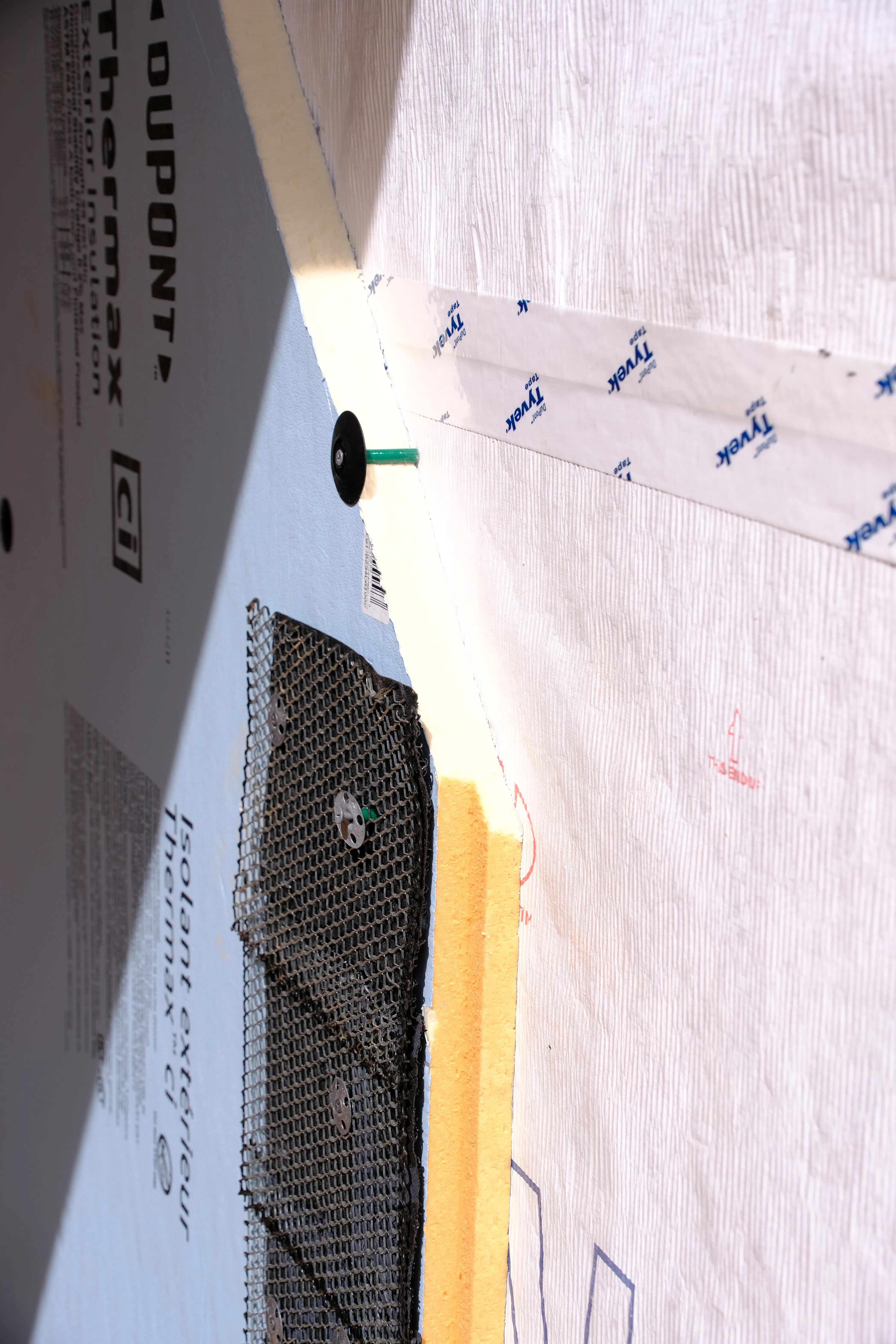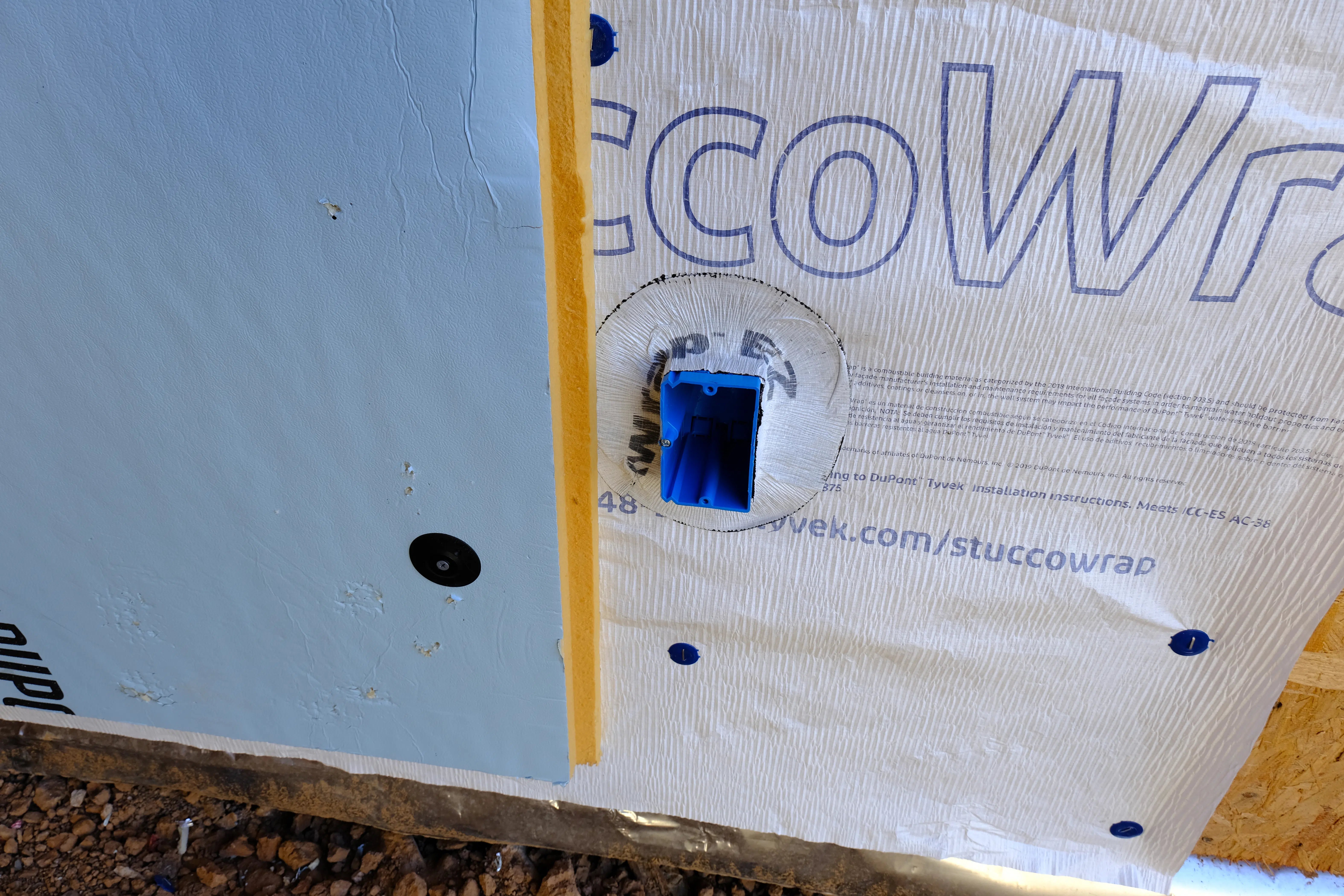 '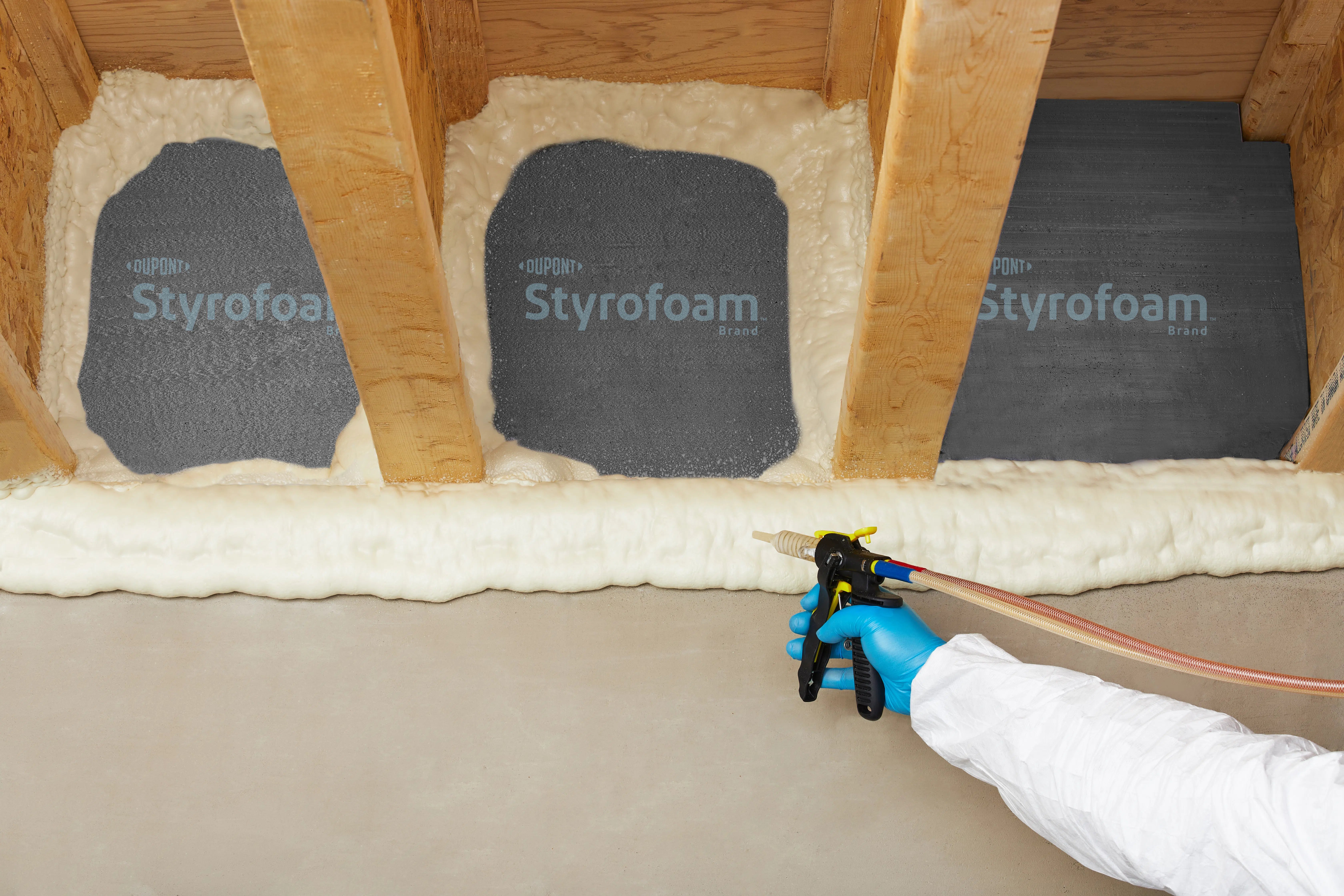 Heating and Air
The HVAC system will consist of seven Mitsubishi high-seasonal energy efficiency ratio (SEER) inverter-driven heat pump ceiling cassettes, and one multi-position inverter-driven heat pump.
This will allow for individual zoning and temperature control for all major rooms. These units have the ability to vary the speed of the compressor to the exact heating or cooling load, providing even, consistent temperatures for comfort and efficiency.
Broan AI Series auto-balancing energy recovery ventilators (ERVs) can take 110-degree outdoor air and pretreat incoming fresh air to 83 degrees. These ERVs can filter the air to MERV 13 rating, removing 85 percent of particles that are 1-3 microns in size. The ERVs' low wattage draw also enables them to simply recirculate and filter the air at very low cost. The guest room has its own HVAC zone and ERV, so it can provide a quarantine space from the other living spaces should a family member get sick.
We will also use a Broan-NuTone Overture indoor air quality controller. Overture monitors and measures indoor air quality and automatically turns on the ERV, range hoods or bath fans as needed to provide healthy air quality. It monitors VOCs, carbon dioxide (CO2), fine particulate matter (PM 2.5), humidity, and temperature. This prevents over ventilation, thus saving energy.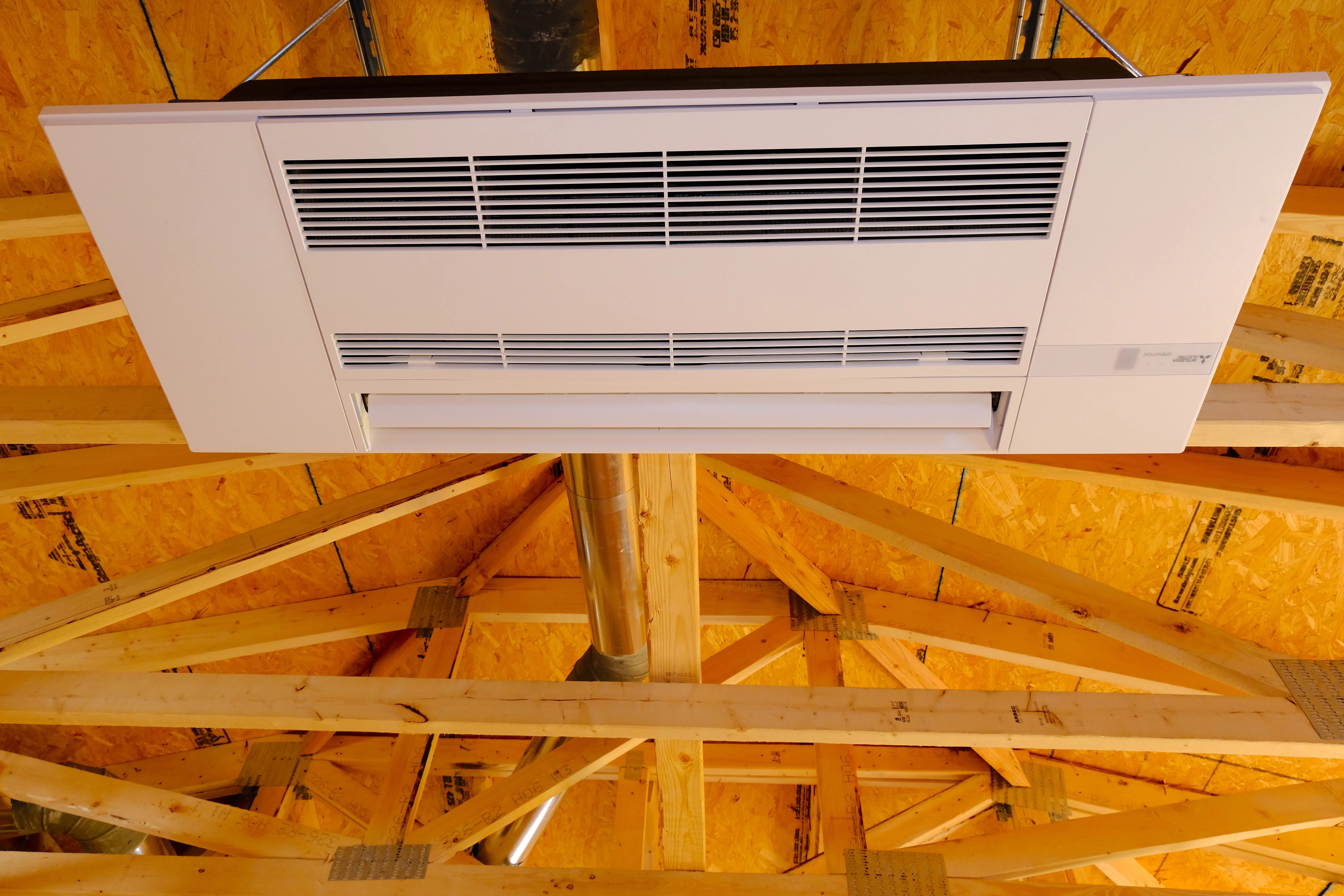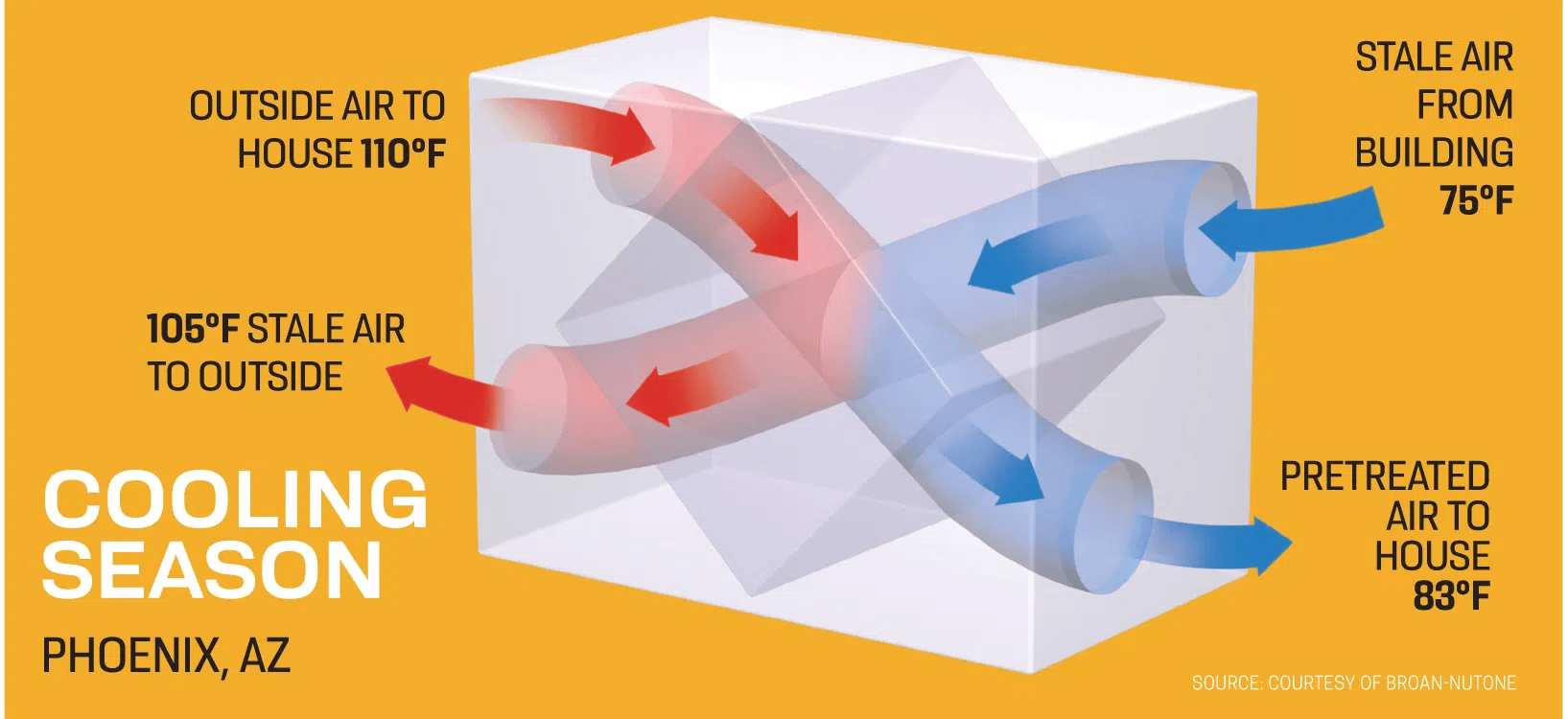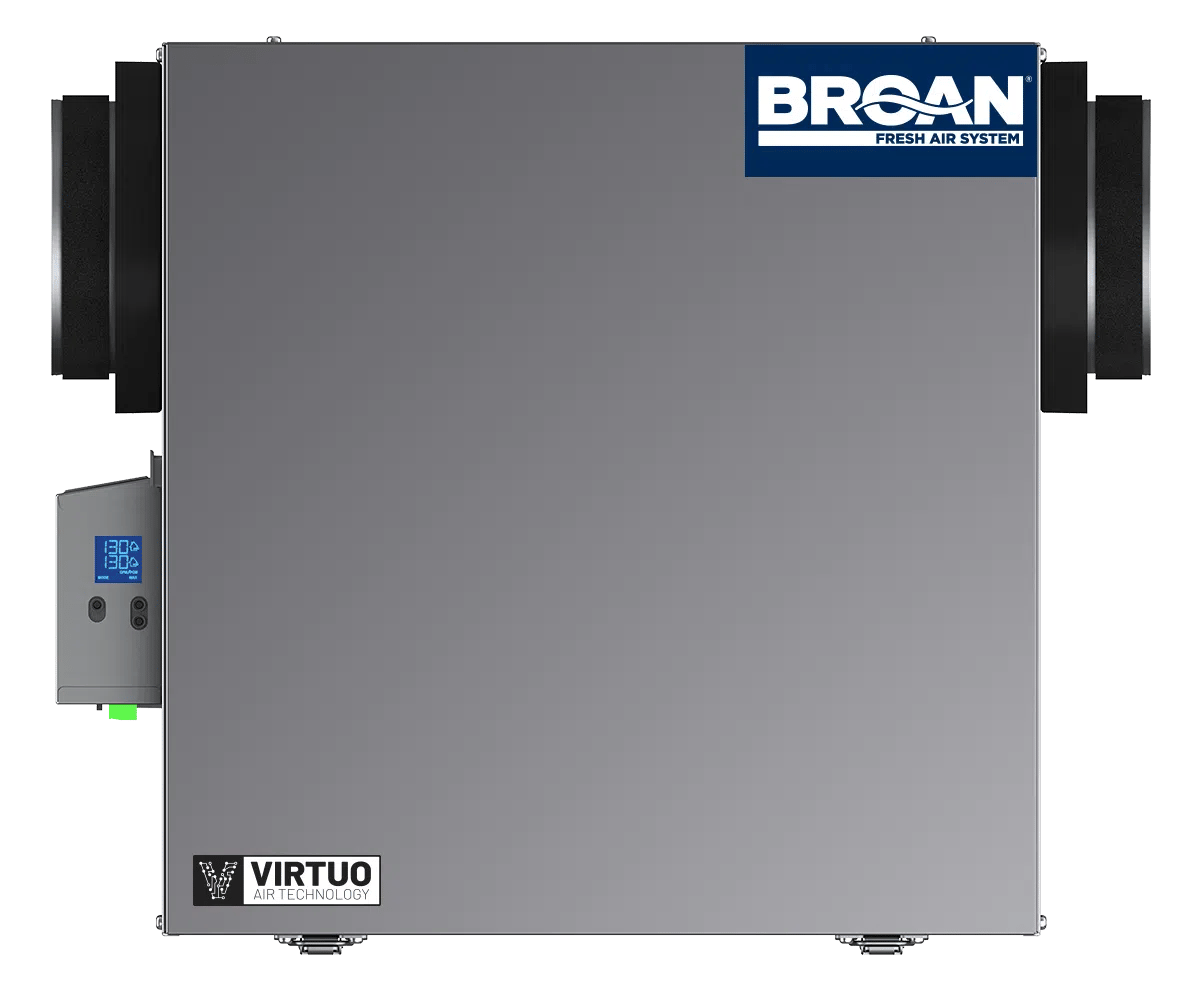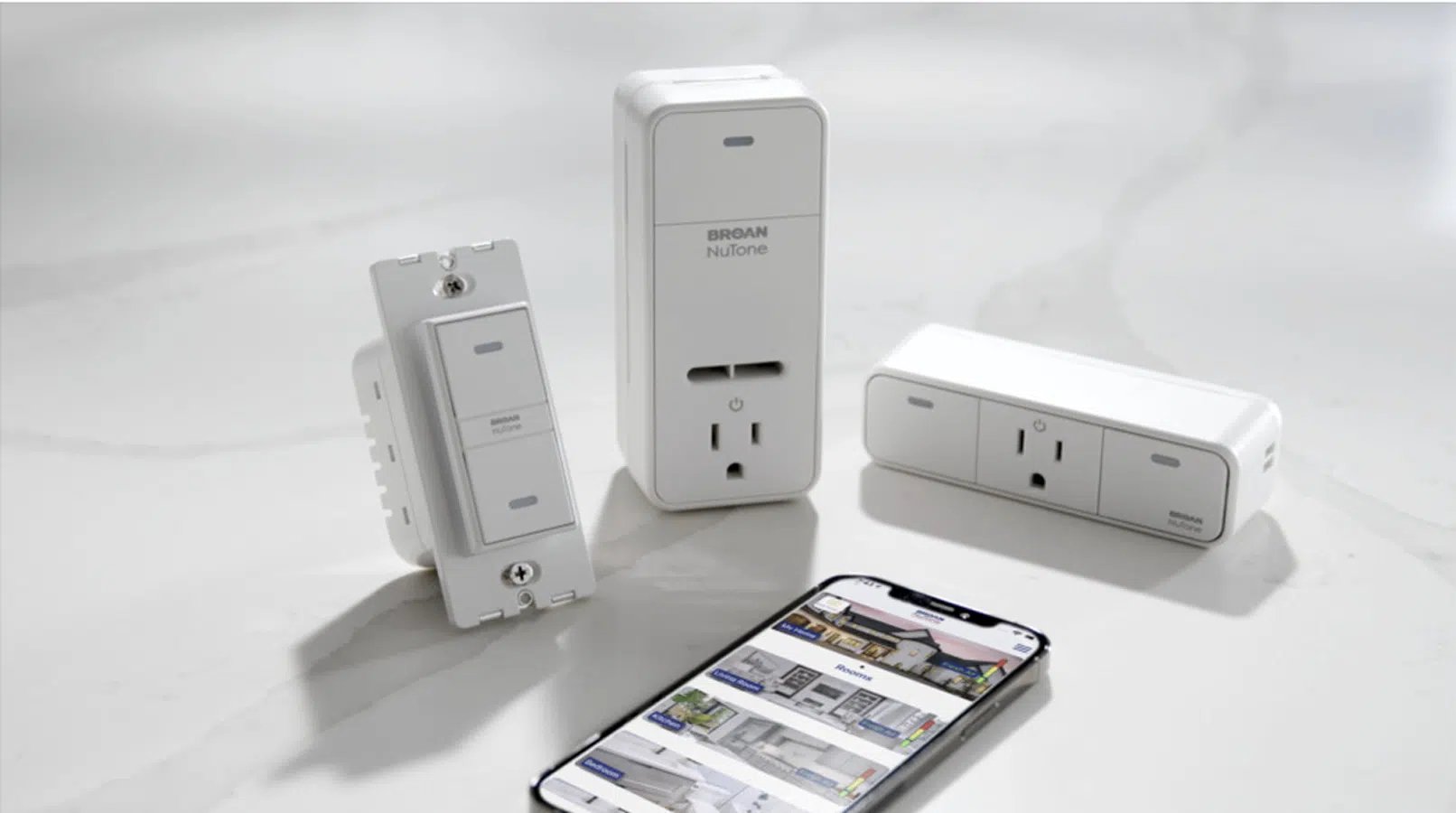 Internal Elements
ReVISION House Scottsdale will use the Schneider Electric Wiser Energy home power monitoring system, smart panels, and circuit breakers. Wiser Energy tracks a household's electricity use, helping the residents manage power usage and solar power generation.
Wiser Energy pairs with the company's Sense app to read the currents from various appliances throughout the house and processes that data to visualize home energy usage.
Our windows are locally manufactured by Bonelli Doors + Windows. The company specializes in large-format glass with minimal frames and doors, and the insulated glass units are made locally by Cardinal Glass at their Buckeye, Arizona plant. The glass is Cardinal LoĒ3-366 with Argon gas, with an additional interior low E coating of i89.
Our water supply piping is FlowGuard Gold CPVC. It meets the stringent National Sanitation Standard 61 and is certified by the National Green Building Standard. This product has been successfully used in homes for over 60 years. We also selected BlazeMaster CPVC piping for our fire sprinkler system.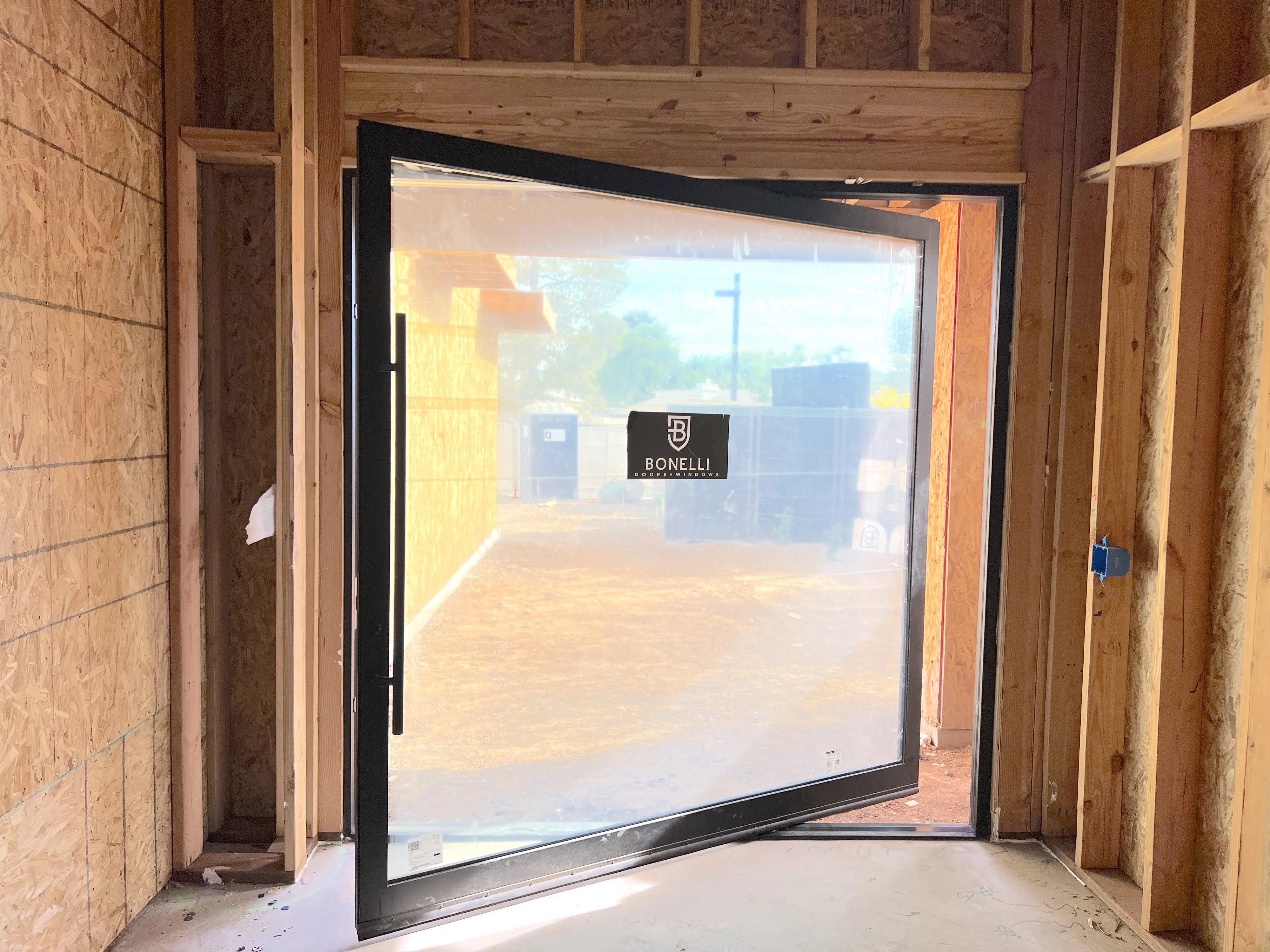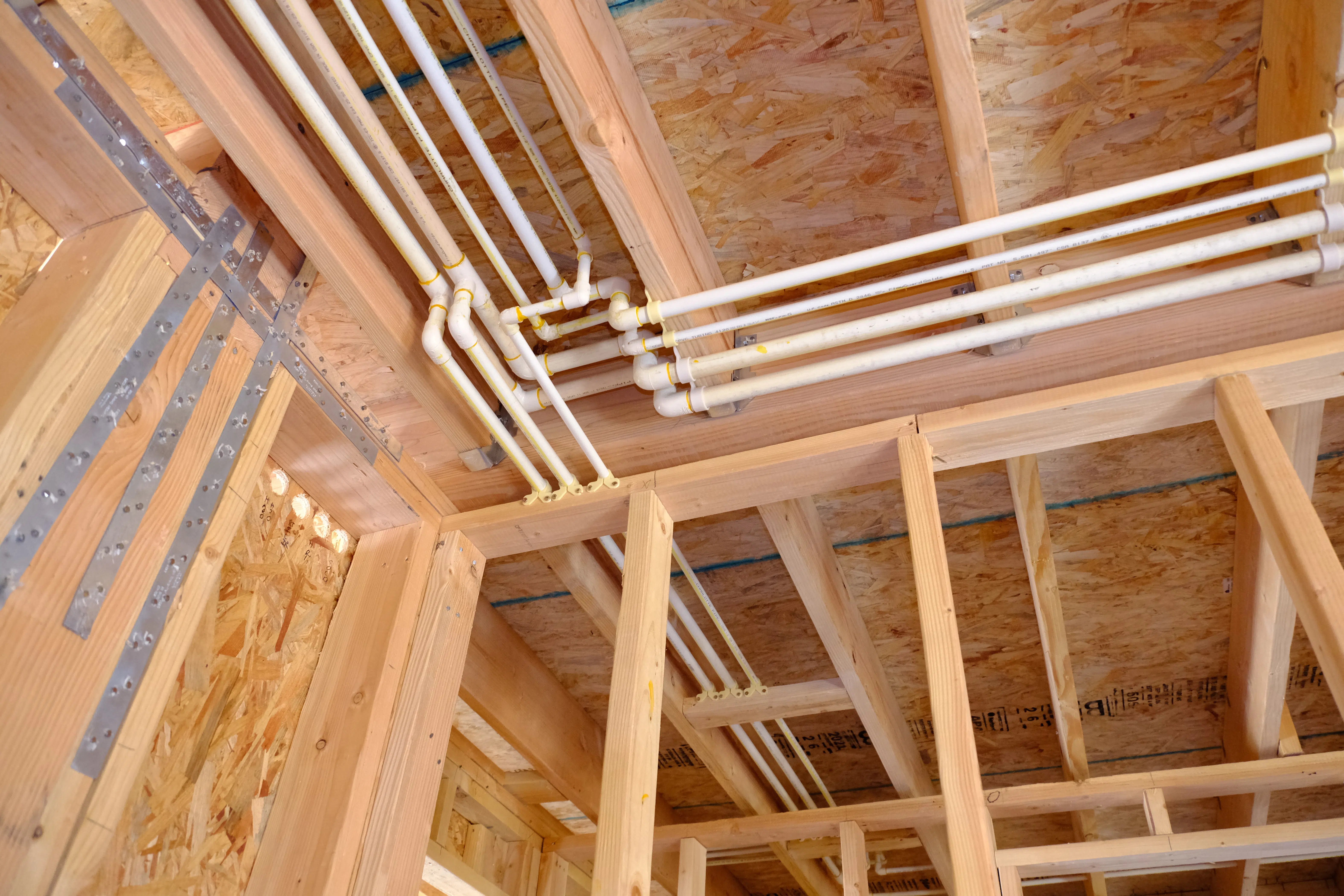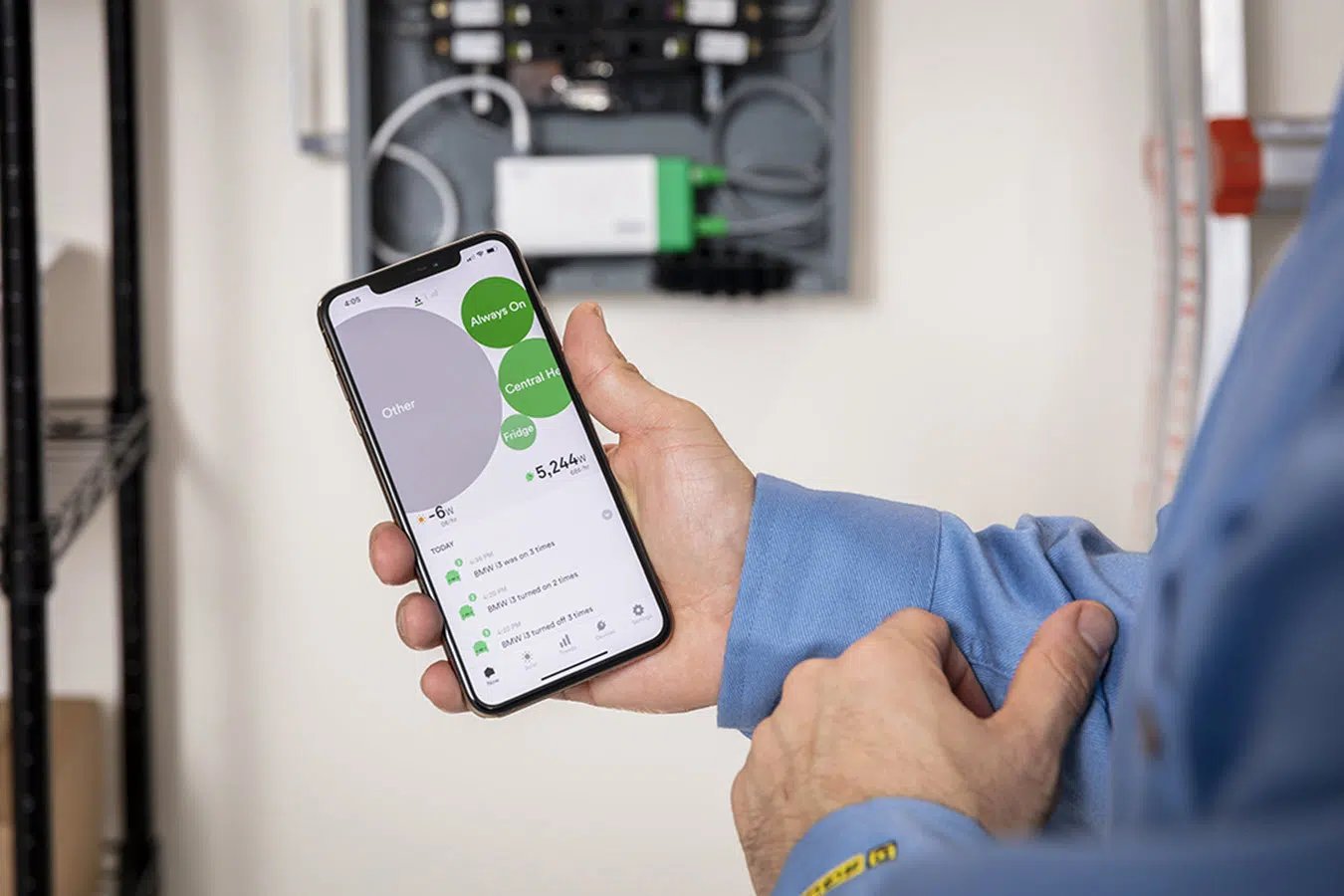 Swimming Pool
The filtering of water for swimming pools is often the second-largest energy user in homes. We selected the Hayward TriStar VS 950 variable speed pump because it has a Weighted Energy Factor (WEF) of 12.9, nearly double the efficiency of every other manufacturer. We also selected Paramount's in-floor cleaning system, which saves chemicals and heating energy, and provides better circulation.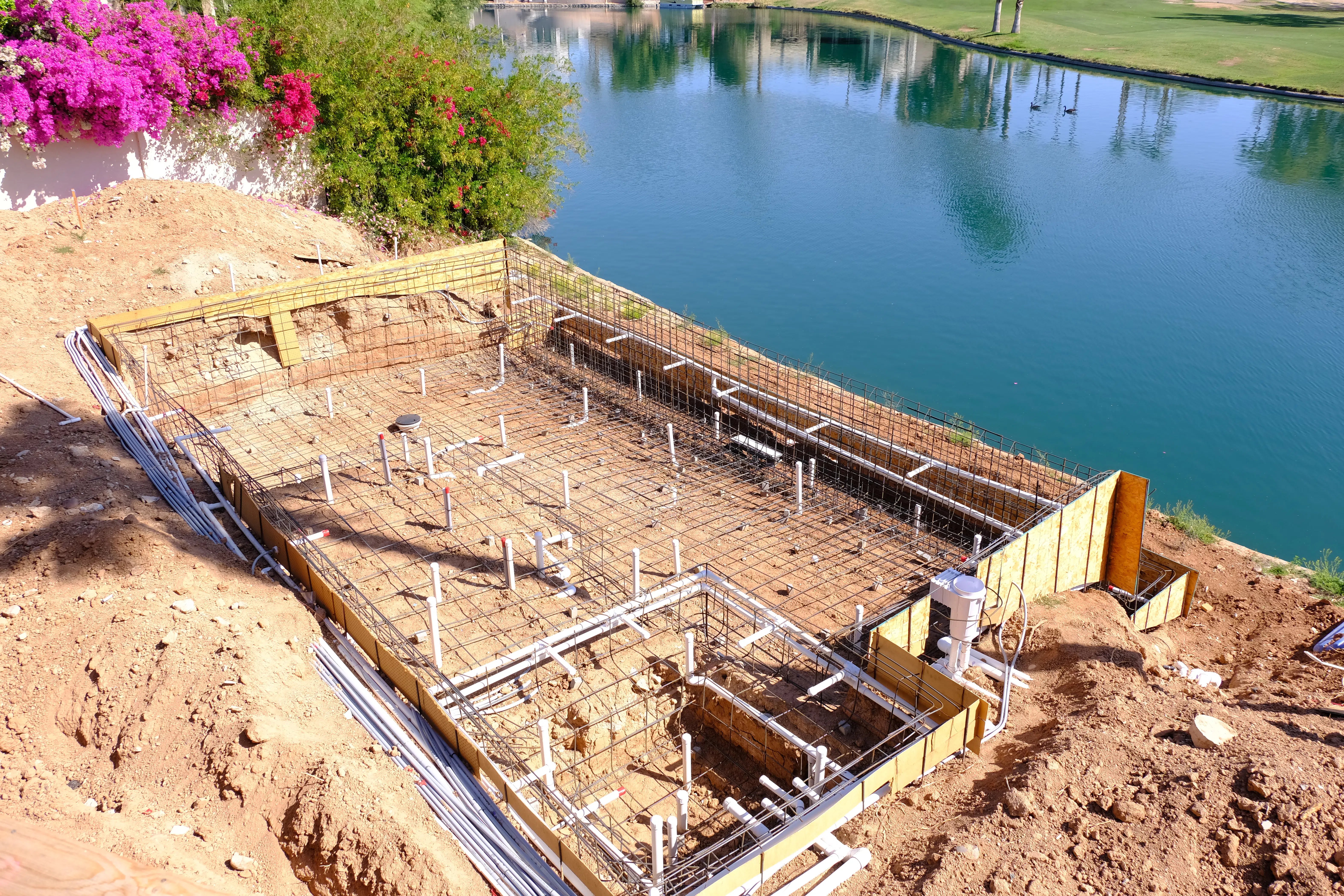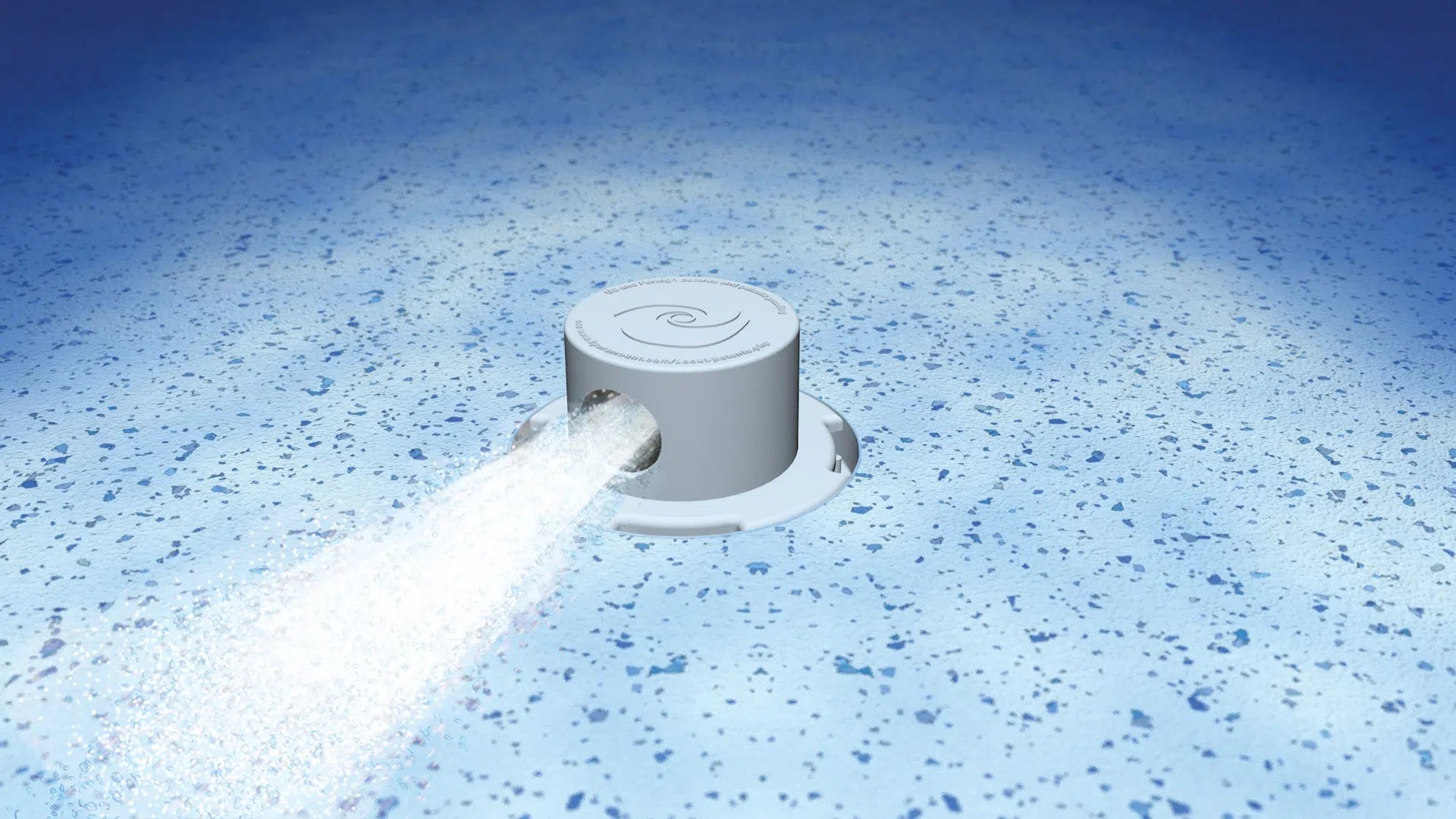 Jun 30, 2022 10:33:01 AM · 6 min read