New Technology Enhances Home Water Savings

Samantha Carlin
4 min read
LIXIL's Hydrific technology offers a suite of solutions that drive water sustainability.
At VISION House Transcend, resource conservation is a top priority to reduce the project's environmental impact. With respect to water savings, LIXIL has stepped up to the plate to facilitate responsible water use in Transcend homes and communities.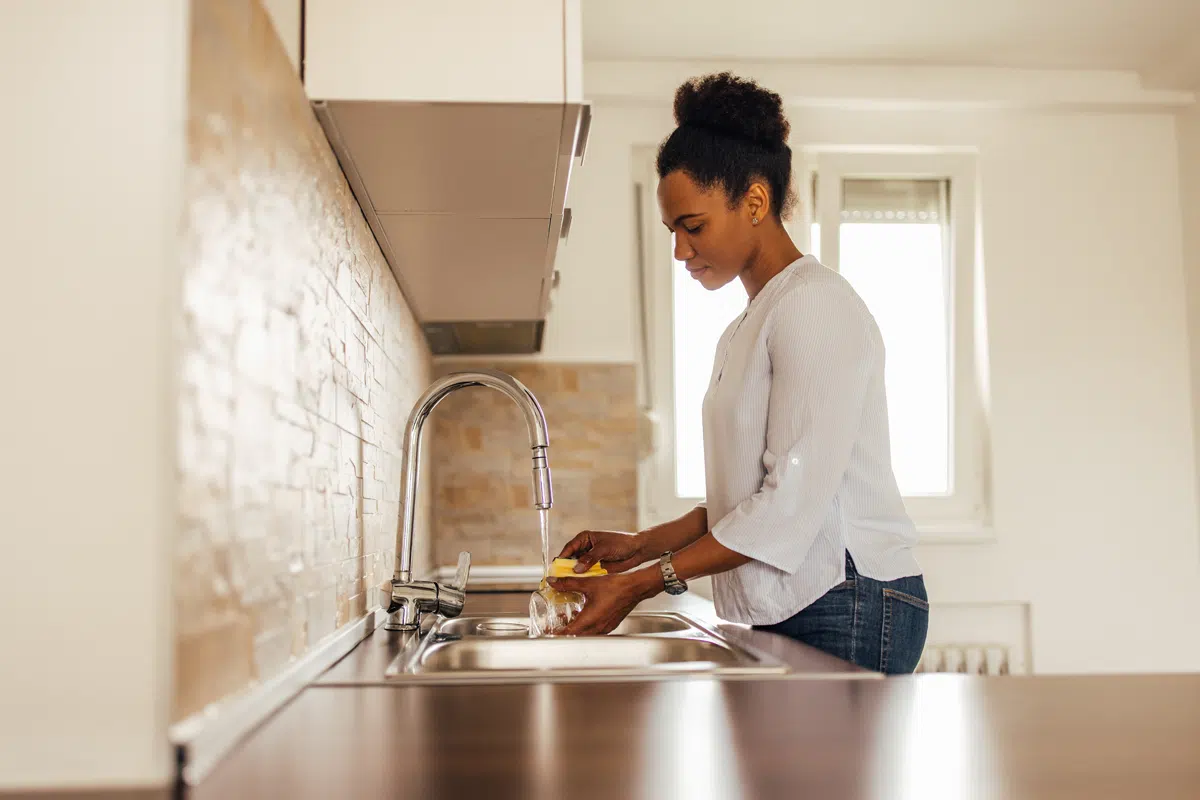 As a pioneer in water and housing products, LIXIL strives to make better homes a reality. The company's commitment to innovation and quality of life, coupled with a human-centric design philosophy, results in environmentally conscious and functional products.
"We believe that water is not simply a resource —it is the basis of life, a source of joy and foundation of a home. Our American Standard, GROHE and DXV products used for the Transcend project not only provide a great user experience but are also designed to help reduce water consumption," says Trey Northrup, Leader, LIXIL Americas.
LIXIL offers high-performance water-saving toilets with superior cleaning capabilities, faucets that can adjust water temperature and flow, and smart water sensors and controllers that help detect water leaks and contain damage.
Additionally, LIXIL is committed to circularity in its supply chain–the company uses recycled materials, designs products with long lifespans, and has committed to net zero operations by 2050.
"The Transcend program offers us a unique opportunity to bring to life a fully sustainable and scalable home of the future. It is time to make the change." Northrup elaborates by explaining how LIXIL's products "serve the triple goals of efficiency, performance and aesthetics while pursuing comfort and convenience for our consumers."
Introducing New LIXIL Venture Hydrific
Hydrific is a new business venture within LIXIL exploring innovations around sustainable water solutions. At LIXIL, we make better homes a reality for everyone, everywhere. Thinking about water in this context: Some of us experience severe water scarcity, and some have plenty of water resources (for now). But there is one common denominator: Water is the basis of life. By empowering consumers in their journey to water sustainability, Hydrific will support utilities and communities at large.
Hydrific has created a new Smart Home IoT product, Droplet, balancing modern lifestyle with water conservation needs. "The easy-to-install Droplet provides high-resolution water data and insights to homeowners and tenants. The companion dashboard provides instant access to tools and customized recommendations to easily optimize water usage at home while collectively reducing our water footprint on the planet," elaborates Julia Deister, Leader Hydrific.
Hydrific goes beyond fixtures and fittings to explore new product categories that make conserving resources enjoyable and easy. As a result, property owners, tenants, and builders can take advantage of innovative water management tools to enhance water sustainability in homes. "As our population continues to grow and demands on precious water resources increase, Hydrific will continue to explore ways people can use household water more efficiently, yielding substantial savings on water, sewer, and energy bills." Julia Deister explains.
Managing Health and Water Usage
Many people take for granted that they'll always have clean water to drink, but Transcend includes a whole home water management system to eliminate that stress. This includes GROHE Blue Chilled & Sparkling 2.0, which will be installed in the main kitchen sink faucet, and provides pure, filtered water for drinking and cooking.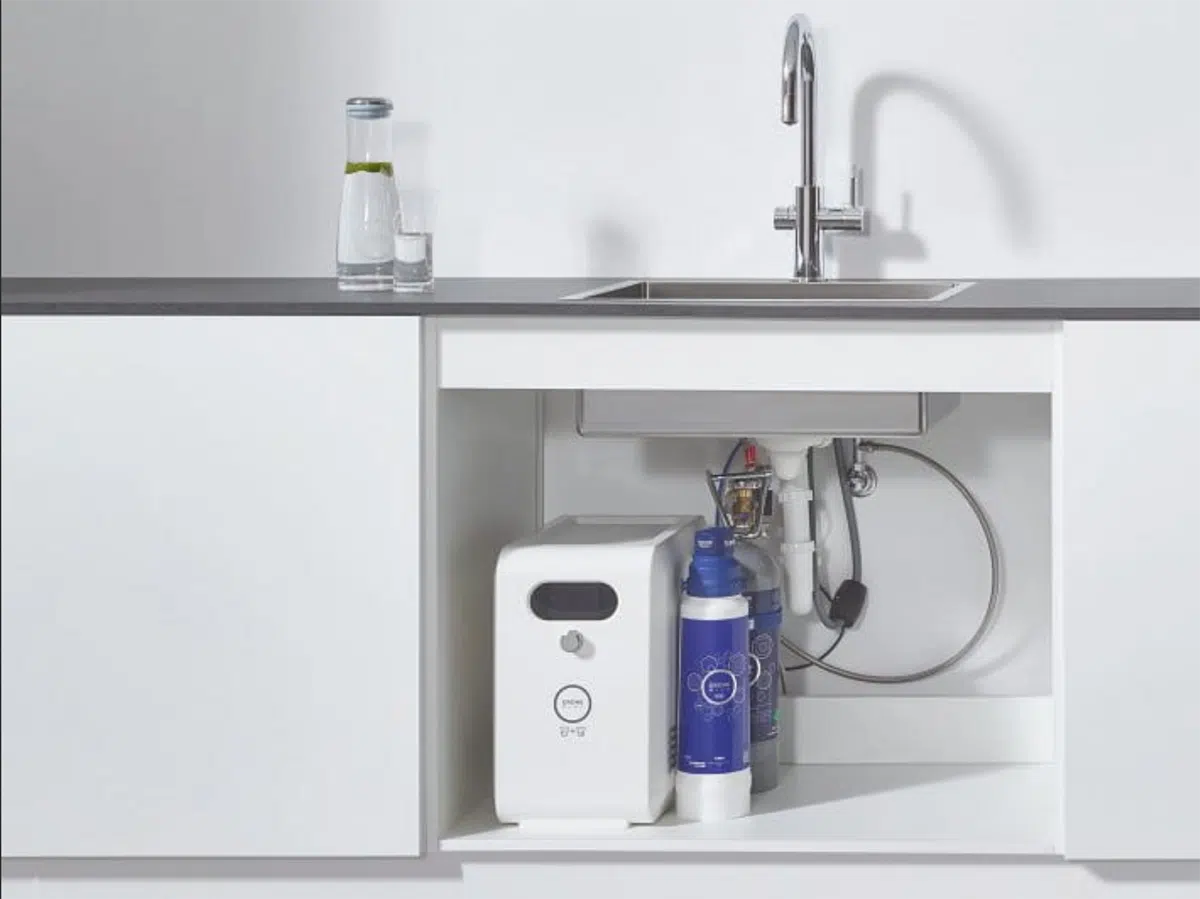 image credit: LIXIL
Grohe Blue wireless local area network (WLAN) capabilities allow users to connect it to their smartphones to effortlessly monitor and track consumption and capacities. This resource-saving solution not only reduces the ecological footprint, but also enables consumers to live more sustainably.
The Transcend Products
At VISION House Transcend, LIXIL's brands, American Standard, GROHE, and DXV, have offered fixtures and fittings for the kitchens and bathrooms. The products have been chosen carefully to complement the uniqueness of the Transcend project and its promise of resilient, low-impact, high-quality living
"We are committed to environmental sustainability and reducing waste in our manufacturing processes as well as inspiring our consumers to reduce waste in their everyday lives. GROHE has adopted the Less Plastic Initiative, a comprehensive approach that includes eliminating the use of all unnecessary plastic and move to establish carbon-neutral facilities," says Northrup.
The shower heads and Atrio bath faucets used at Transcend are designed for maximum performance and boast 1.75 gpm and 1.2 gpm, respectively, which meets WaterSense and CEC regulations. Similarly, the DXV Dual Flush Wall Hung toilet boasts water saving with an efficient 0.8 gallons per flush option for a light flush or a full flush of 1.6 gallons per flush that meets Federal standards. It is also extremely compact and can save up to 10 inches of space by putting the tank into the wall.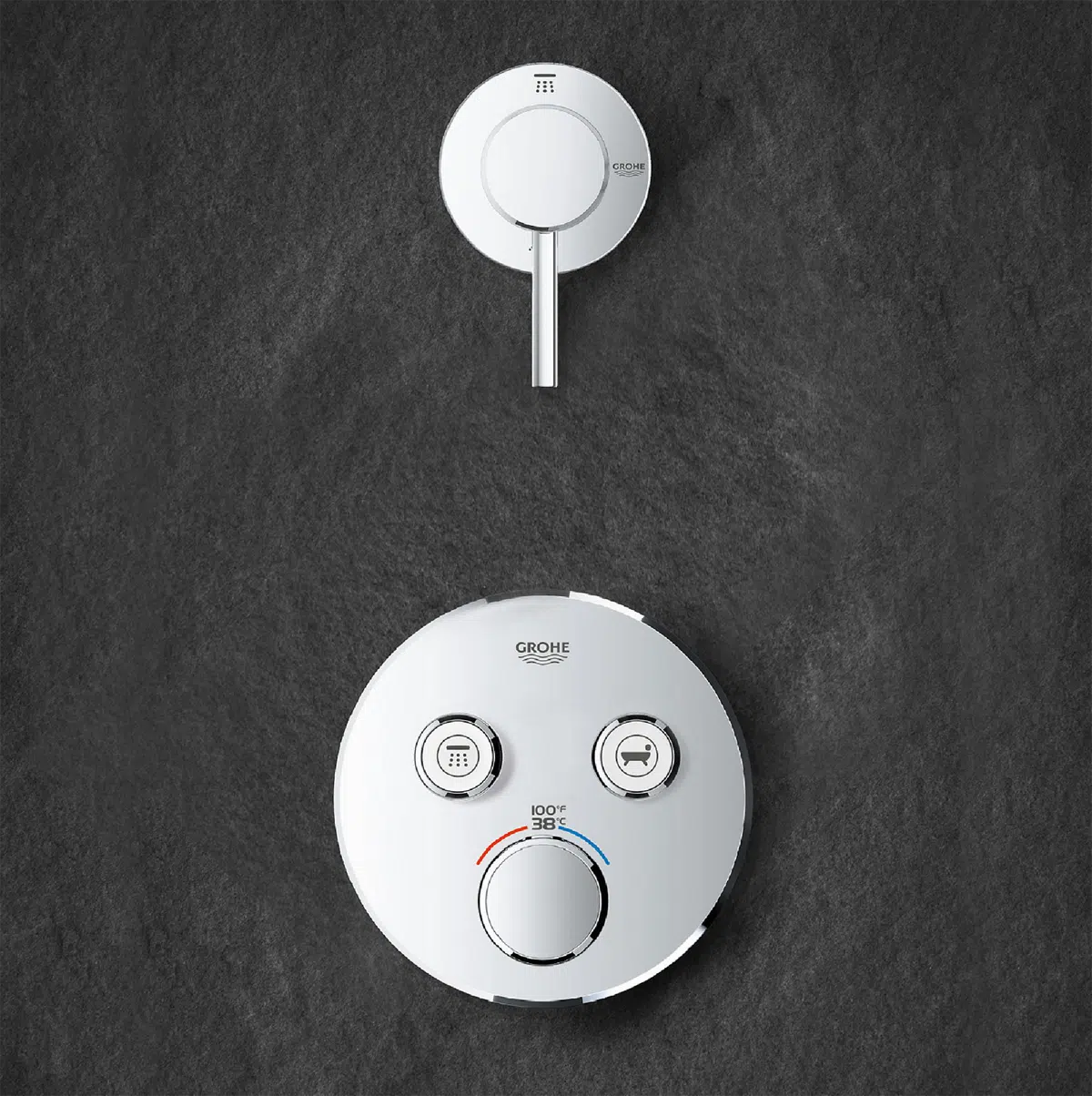 image credit: LIXIL
The GROHE SmartControl Thermostatic Trim in the shower quickly and automatically dials the temperature to the previously set target temperature. This reduces the water and energy that is wasted when fiddling back and forth to find the right temperature. Also, this shower trim has a separate control for flow and temperature, so a button can shut off or reduce water flow when lathering or shaving to save water.
"Globally, resources are being consumed at an alarming rate. Hence, our lifestyles and consumption patterns must change to conserve these resources. This mindset of conservation starts at home. Prefab homes, such as Dvele, provide a viable option for healthy and sustainable modular homes. They promote healthy, safe, net-zero and intelligent living. American Standard, GROHE and DXV products are designed for the same. Our products are based on design and technology to reduce water and energy usage in kitchen and bath to reduce the carbon footprint of our consumers," explains Northrup.
Subscribe to updates on VISION House Transcend and LIXIL's participation.
Dec 21, 2022 10:48:22 AM · 4 min read
---

Samantha is able to express her passion for the environment -- both natural and built -- as the special projects manager at Green Builder Media. Prior to joining the Green Builder Media team, she worked as an order management specialist at C.A. Fortune, a consumer brands agency. She is a recent graduate of the Master in Environmental Management program at Western Colorado University with an emphasis on sustainable and resilient communities. Originally from the suburbs of Chicago, she is currently thriving in Gunnison, CO where she enjoys the surrounding geology, mountain biking, and skiing.