How to Choose the Right Door

Samantha Carlin
3 min read
Learn what features matter most and the advantages of selecting the perfect door.
When selecting an entry door for your home, there are three main considerations: curb appeal, energy efficiency, and security. The entry door is a statement piece and one of the first things people see, so choosing the right door with the proper product features is important.
Green Builder Media's audience has selected Therma-Tru as the Brand Index leader for four years in a row in the door category based on the company's high design, energy efficient, and durable products.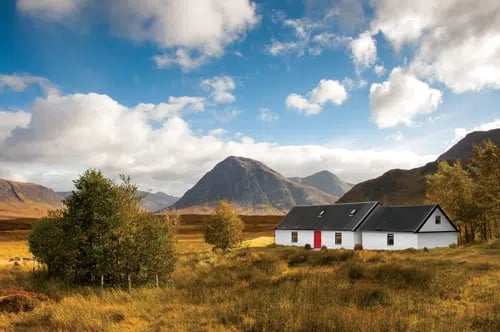 This Smooth-Star fiberglass entry door by Therma-Tru is impact and rot resistant and fire rated.
"Therma-Tru offers a complete door system, from the door slab to the components, engineered to work together and covered by comprehensive, industry-leading warranties," explains Mark Ayers, SVP of Marketing and Product Development at Therma-Tru.
Energy Efficient Doors
The low U-value and Solar Heat Gain performance of Therma-Tru doors provide significant energy savings for homeowners. The U-Value measures the amount of heat that passes through the door (the lower the U-Value, the better the thermal barrier.) The Solar Heat Gain calculates the amount of sun reflected by the glass in the door, preventing it from passing through into the home (the lower the Solar Heat Gain, the higher the reflectivity of the door).
Ayers explains how "Therma-Tru doors have low U-Values, meaning the door helps keep the home cool in the summer and warm in the winter. The low Solar Heat Gain of Therma-Tru glass helps keep the home cool on hot, sunny days."
The company is able to achieve improved U-values and Solar Heat Gain performance through the use of urethane material in the core of Therma-Tru doors. For added energy efficiency, Ayers notes that "we offer a Low-E glass option, and more than 85% of our door and glass options are ENERGY STAR certified." All aspects of a Therma-Tru door system are engineered to work together, providing a robust seal around the door and glass to reduce air, heat and cooling loss.
Aesthetics are Still Important
Homeowners shouldn't have to sacrifice beauty for energy efficiency. Ayers adds that "curb appeal is a top factor for home buyers, according to a recent survey of 252 real estate agents.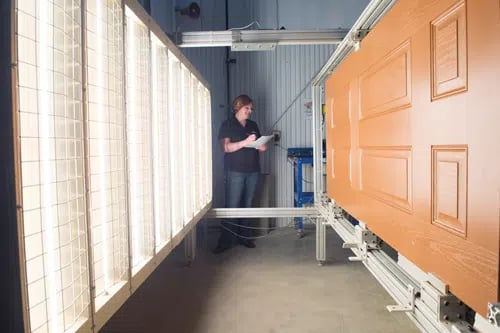 Therma-Tru puts each product through multiple rigorous tests to ensure that PrismaGuard finish is built to last. PrismaGuard helps each door resist fade, weather, corrosion and wear and tear.
Therma Tru offers beautiful doors for virtually any home style, combined with energy efficiency, durability and security. Plus, our internal testing shows our fiberglass doors are up to 30% more resistant to kick-ins than standard steel doors, providing security and peace of mind."
Beyond Manufacturing Doors
"Therma-Tru Thrive is our commitment to building a better world by making safe and sustainable products, supporting the communities where we live and work, and leaving a positive, lasting impact on the environment," says Ayers.
"Thrive focuses on three pillars – our home, including responsible manufacturing and sourcing initiatives; your home, which is about making products that make life better at home for our customers; and their home, which focuses on charitable contributions, community service, and diversity, equity and inclusion initiatives," Ayers summarizes.
Therma-Tru prioritizes innovation and continuous improvement in all areas of its business. For example, the company is reusing scrap lite frame material to manufacture new lite frames, and over half of the fiberglass door end rails are made from over 95% recycled content.
The company even looks beyond designing and manufacturing the door, creating programs to ensure proper installation for the homeowner. "When it comes to proper installation, we offer a Certified Installer program that teaches trade professionals how to properly install a Therma-Tru door system, ensuring performance, energy efficiency and durability for years to come," asserts Ayers.
Aug 17, 2022 8:39:08 AM · 3 min read
---

Samantha is able to express her passion for the environment -- both natural and built -- as the special projects manager at Green Builder Media. Prior to joining the Green Builder Media team, she worked as an order management specialist at C.A. Fortune, a consumer brands agency. She is a recent graduate of the Master in Environmental Management program at Western Colorado University with an emphasis on sustainable and resilient communities. Originally from the suburbs of Chicago, she is currently thriving in Gunnison, CO where she enjoys the surrounding geology, mountain biking, and skiing.