Green Builder Brand Index 2022

Matt Power, Editor-In-Chief
6 min read
New winners, new losers, as manufacturers jostled to control the sustainable high ground.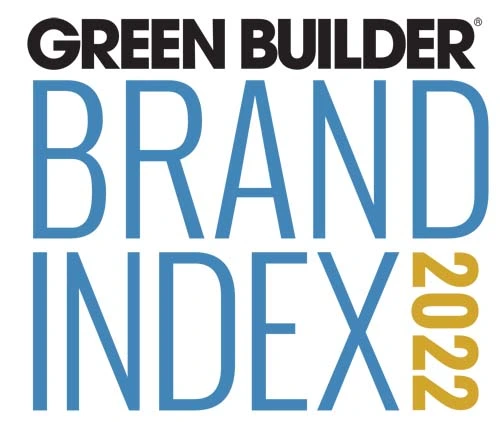 In this year of anxiety and change, the public's mental space shifted in unpredictable ways. Their attitude toward housing overall, toward "green" living, opened some doors and slammed shut others for manufacturers.
To arrive at a fair estimate of a given brand's perceived "value" in the market, we combined three metrics: survey data, public sentiment, and market visibility or "mentions." We weighted and averaged these scores to arrive at a company's comparative rank.
A few big-name players fell behind, not even making the top five within their category, while other, lesser-known companies hit the brand heights for the first time. Sometimes the reasons are clear. In other cases, it's anybody's guess.
---
Featured Brand Index Winner - Trane

As America's Most Trusted® HVAC System, Trane is known for building reliable and sustainable products that are efficient to operate throughout all seasons with less energy consumption. From its high-efficiency heat pumps that automatically adjust to maintain a set point within a 1/2 degree to its all-aluminum Spine FinTM coils on all outdoor products—Trane's calculated engineering of these state-of-the-art systems ensures each unit runs cleaner, while reducing long-term energy usage.
Learn more about Trane's Vision for a Sustainable Future
---
Appliances
Samsung has been fine tuning itself in recent years, moving from seventh in 2019, to fourth in 2020, to No. 1 overall last year. The company's appliance brands now compete aggressively with long-time favorites LG and Whirlpool.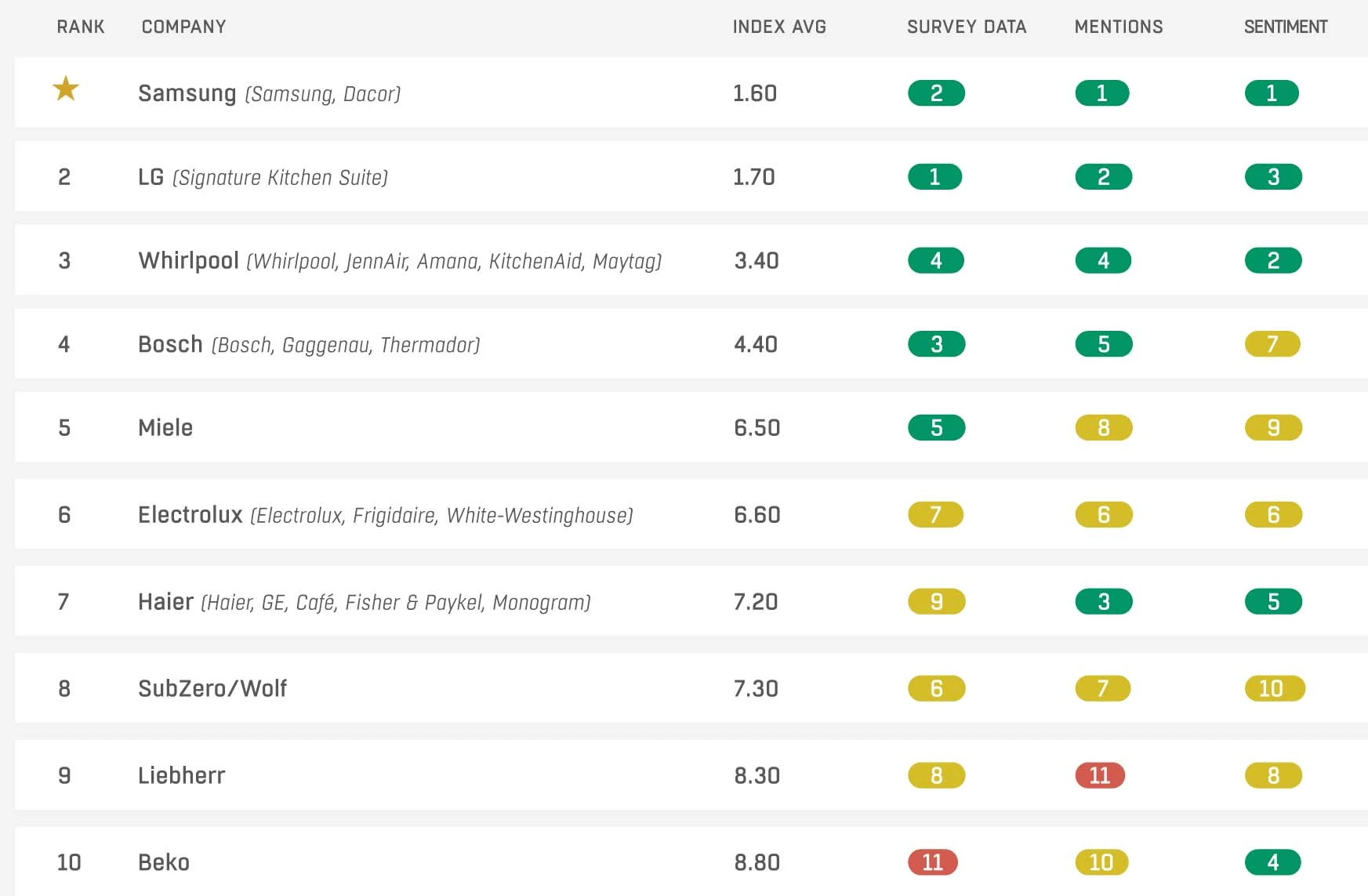 Building Wrap
After several years in the top three, DuPont moves to the No. 1 spot, slightly ahead of Cosella Dorken, and way above everyone else. Owens Corning, the 2020 winner, lost popularity among the general public but remains a favorite with current customers.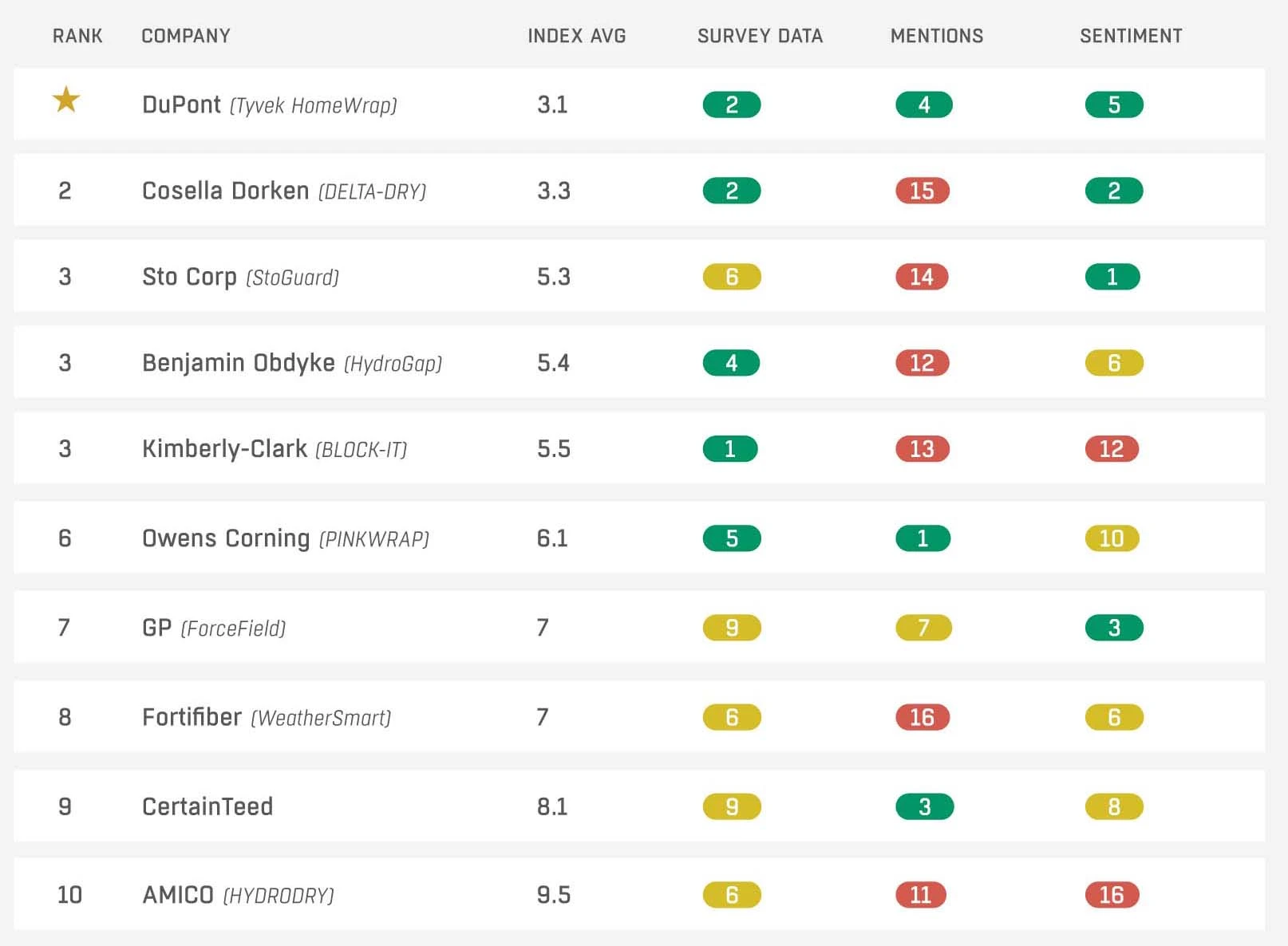 Cabinets and Shelving
Few cabinetmakers can lay claim to an exceptionally IAQ-friendly cabinetry, but until this year, IKEA told a more convincing story. With a new leader in the brand space, perhaps we'll see some real material change.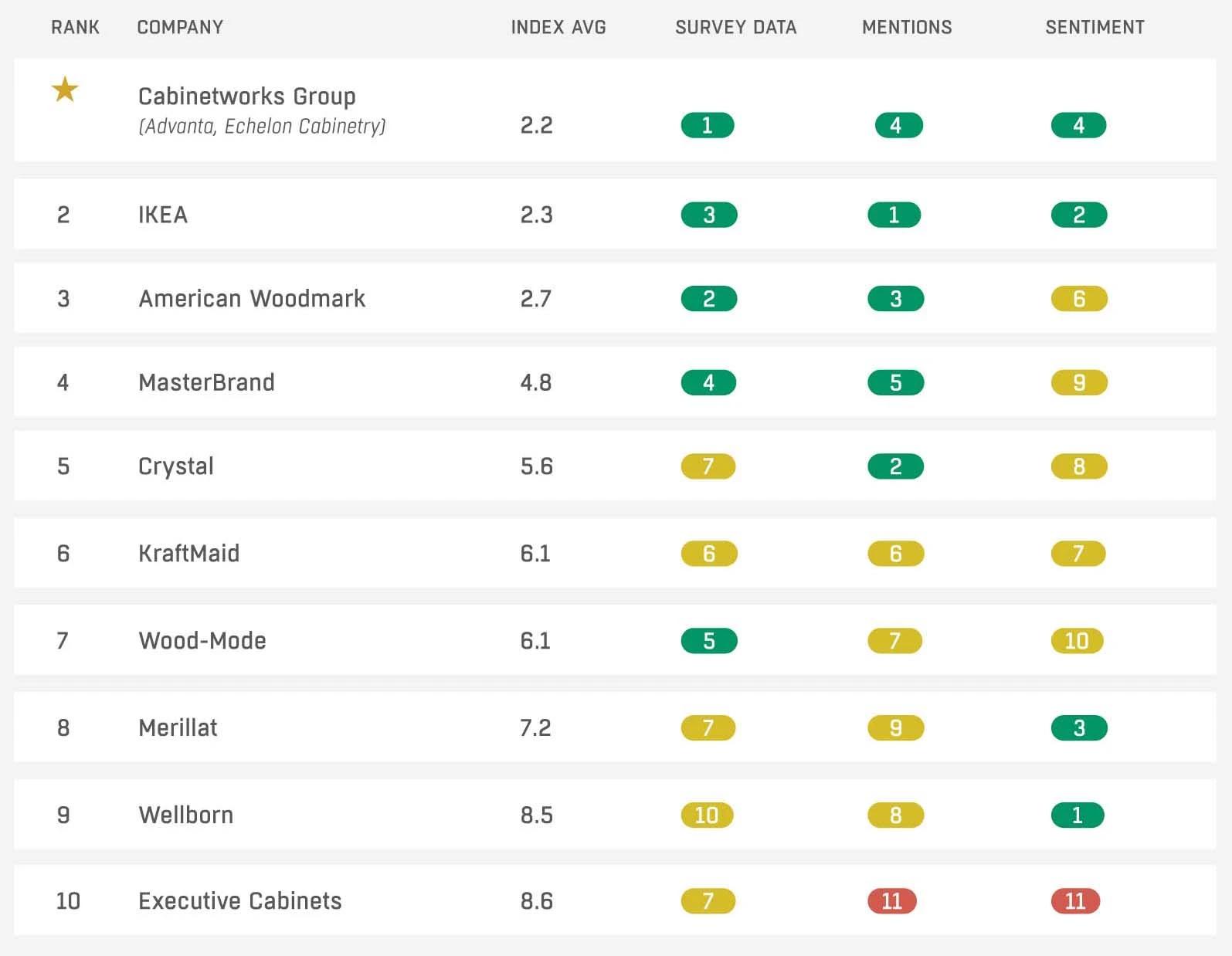 Countertops
For the fourth time in five years, DuPont Surfaces is perceived as a sustainable choice. Some green messaging is getting through, however. Notably, Caesarstone, Cosentino and Cambria's more eco-friendly products made the top 10.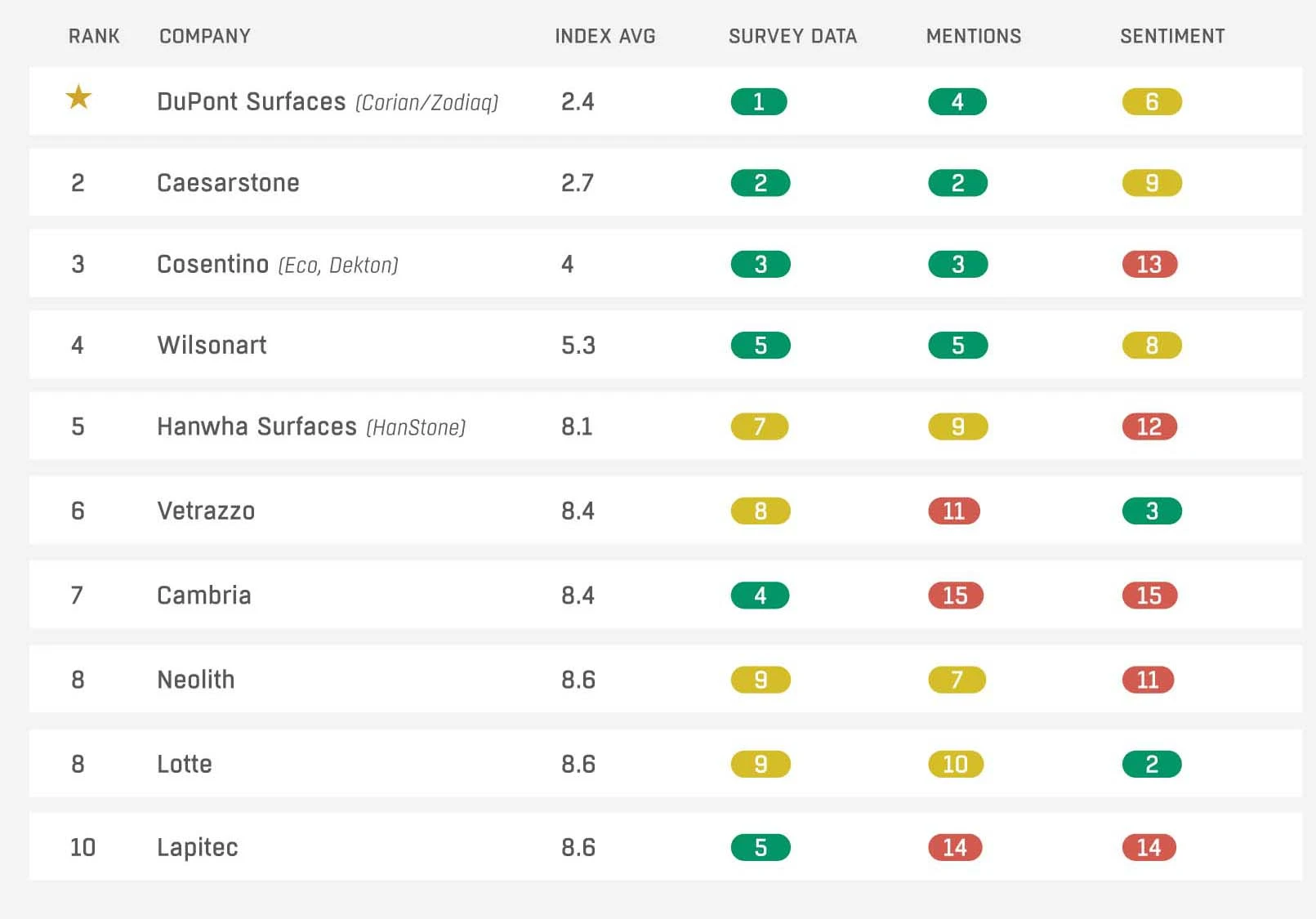 Decking
Trex hung on to its well-deserved rank at the top of sustainable decking brands. But other composites are not far behind. The cluster of composites in the top 10 hints at a growing brand awareness about the eco-advantages of recycled and durable deck materials.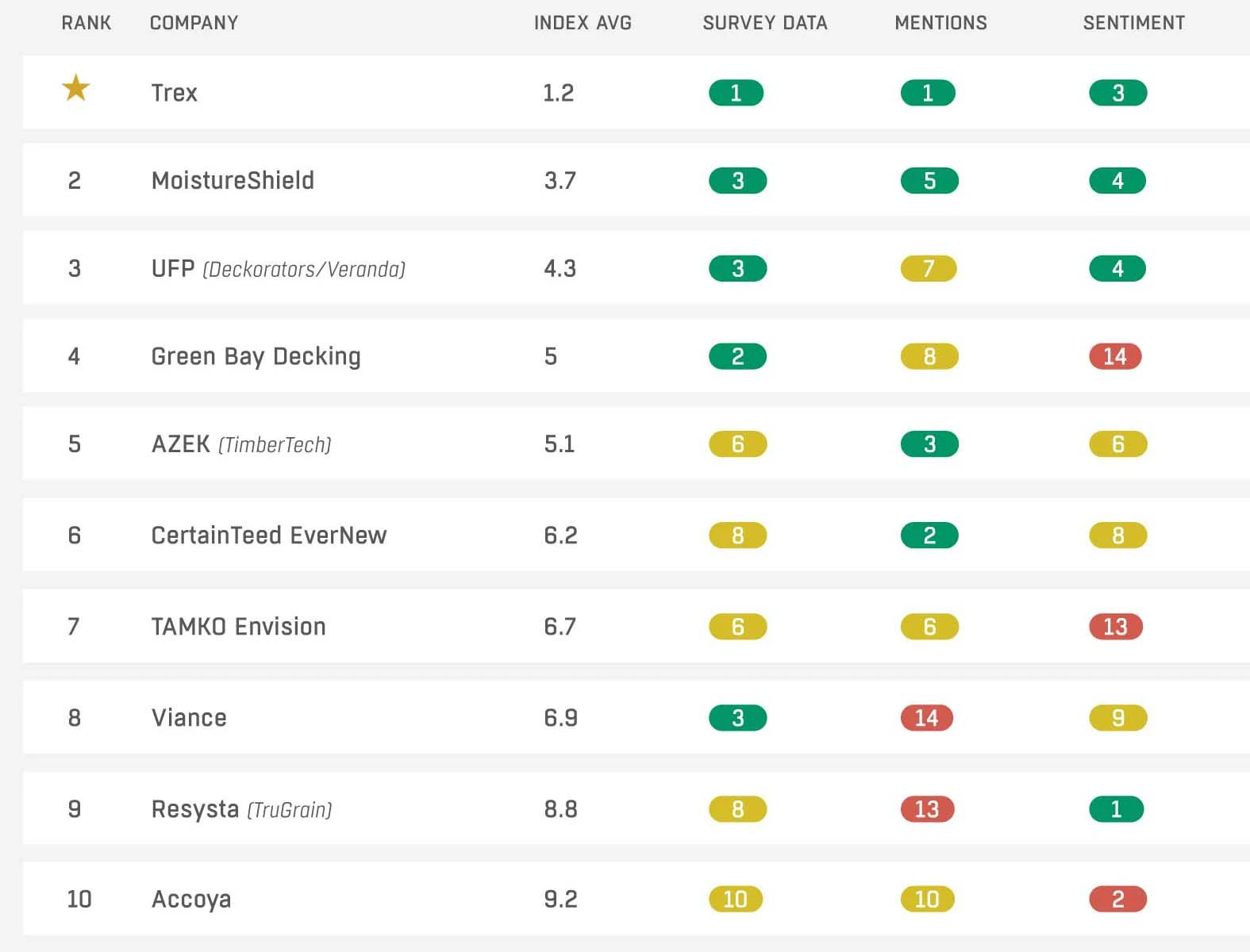 Doors
Therma-Tru continues its dominance among door makers, finishing atop our survey for a fourth straight year. That company notably continues to raise the bar on its architectural looks, yet offers well-insulated, durable products. Simpson's solid wood line also hits the right sustainability notes.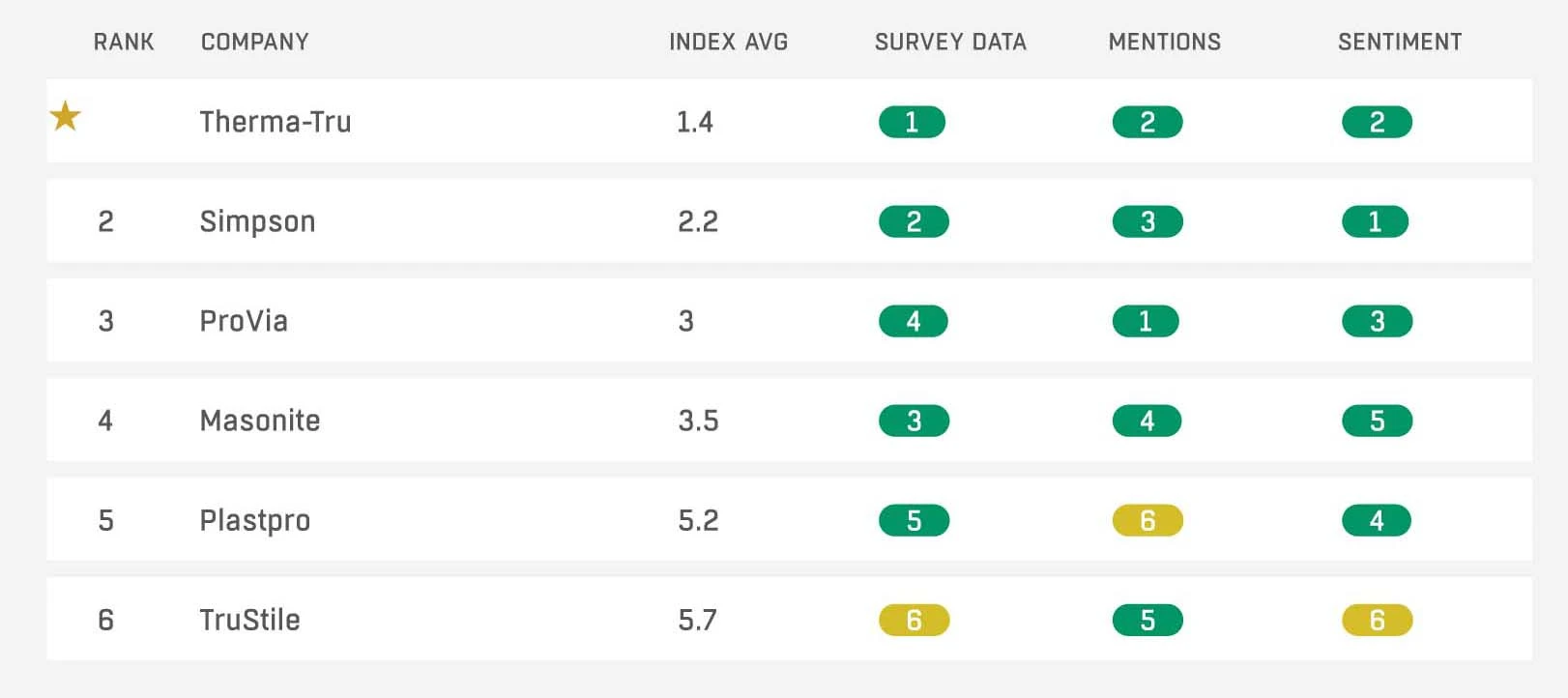 Flooring
Armstrong and Mohawk remain at the top, with the former taking the No. 1 spot for the third time since 2018. The public images of other brands, however, need work. Top five regulars Cali Bamboo and Shaw still lag behind the big brands in terms of overall sentiment and loyalty from the public.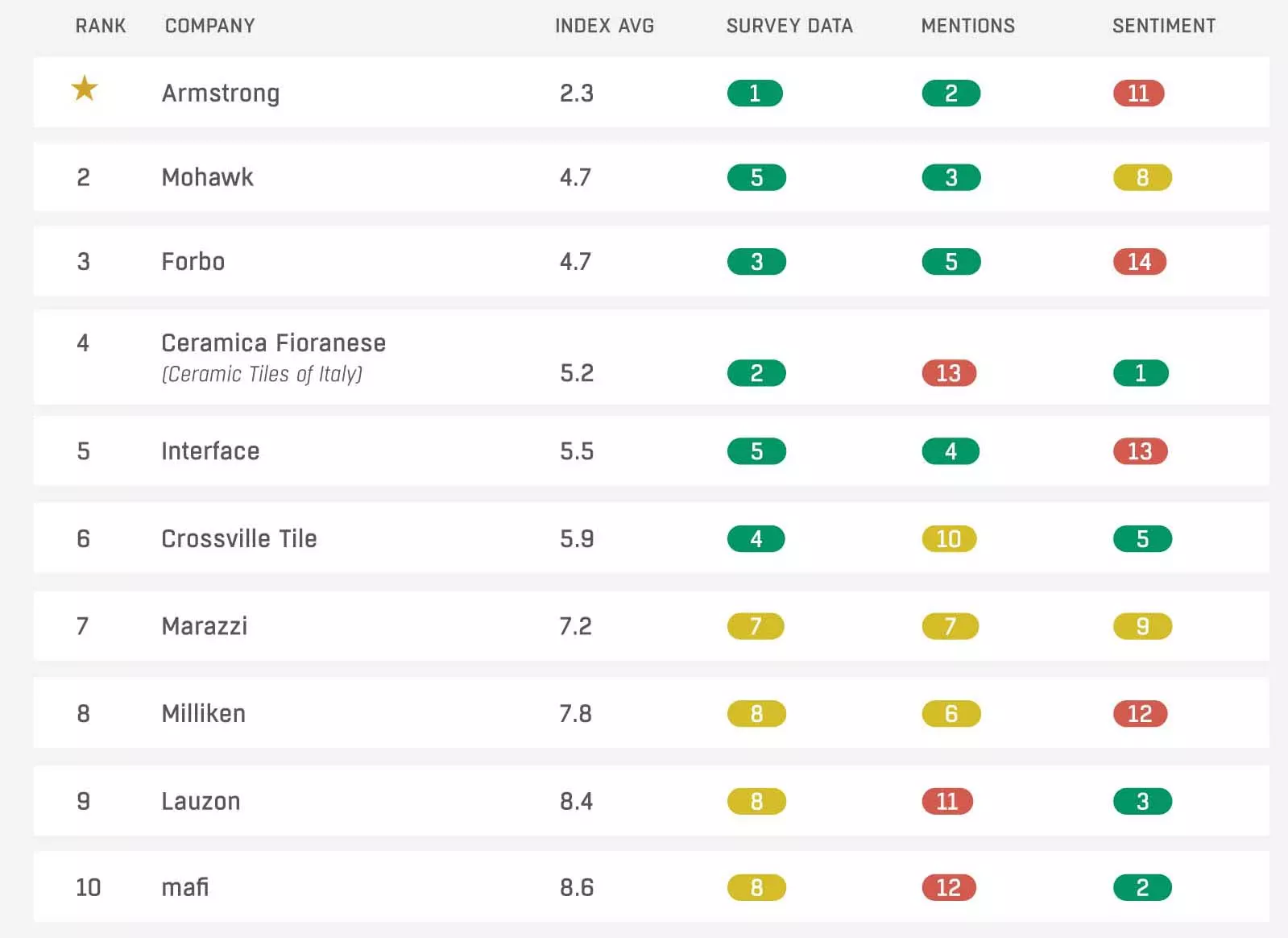 Hot Water Systems
After sharing the No. 1 slot with Rheem last year, A.O. Smith got the positive word out and pulled away from the field. Rheem, now third, is still a prominent force as is runner-up Bradford White, which typically has been middle of the pack until this year.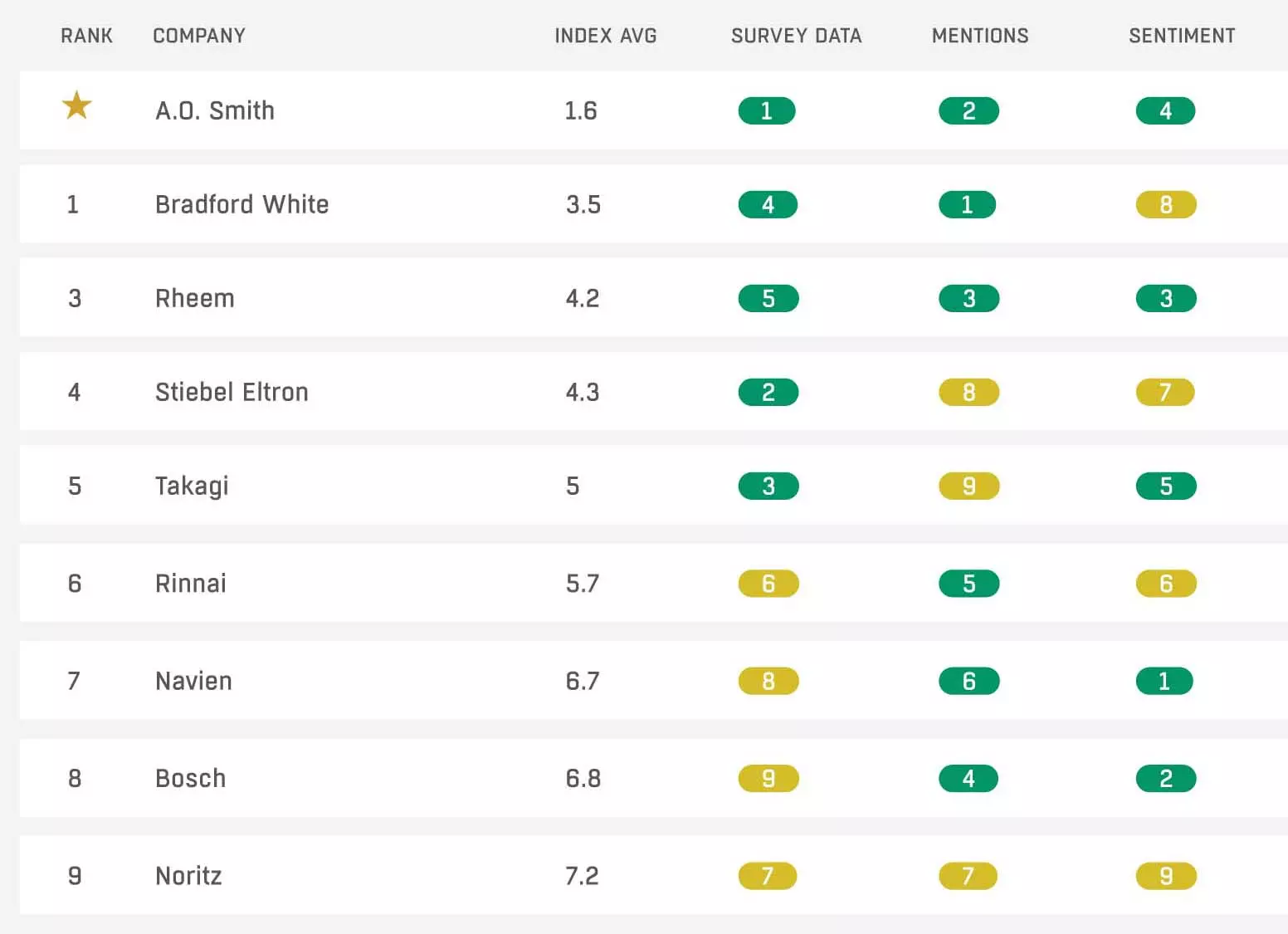 HVAC
Trane returned to the top after being knocked down to second place last year, although it only had to maintain its market share to do so. The competition shuffled around from 2020 standings, as manufacturers jostled to tell their building science success stories with regard to product performance.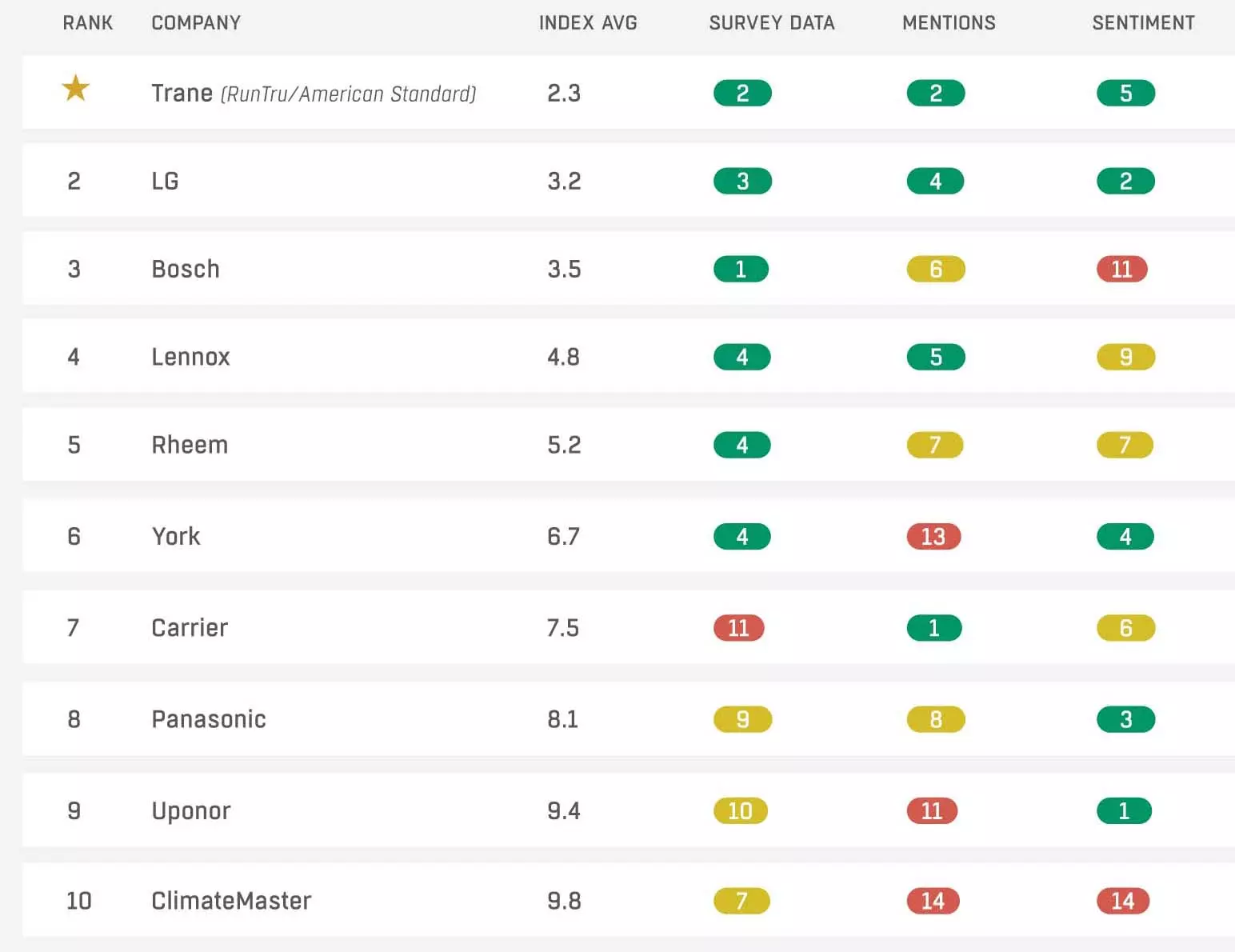 Insulation
Owens Corning managed to keep people thinking pink, and for the rest of the field it was pretty much business as usual in 2021. But that's not necessarily good news: Some top finishers did well in Green Builder's survey, but still encountered high levels of negative commentary online.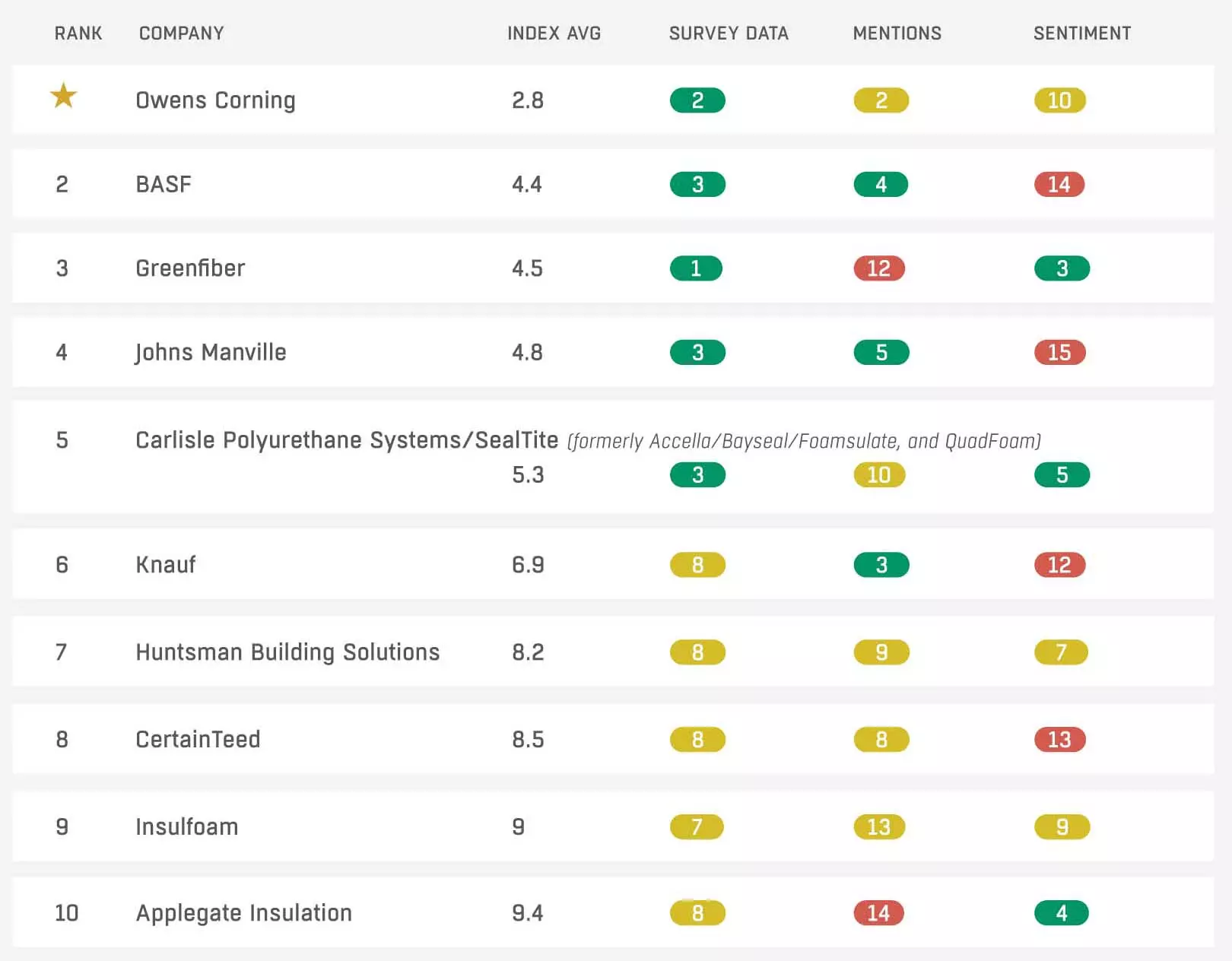 Lighting
How do lighting companies become associated with sustainability? Ask Eaton Lighting. Perhaps it's a public announcement of sustainability goals. Or is it simply familiarity with lighting controls and systems. The folks at Philips and GE may want to dive deeper into this brand loyalty questions.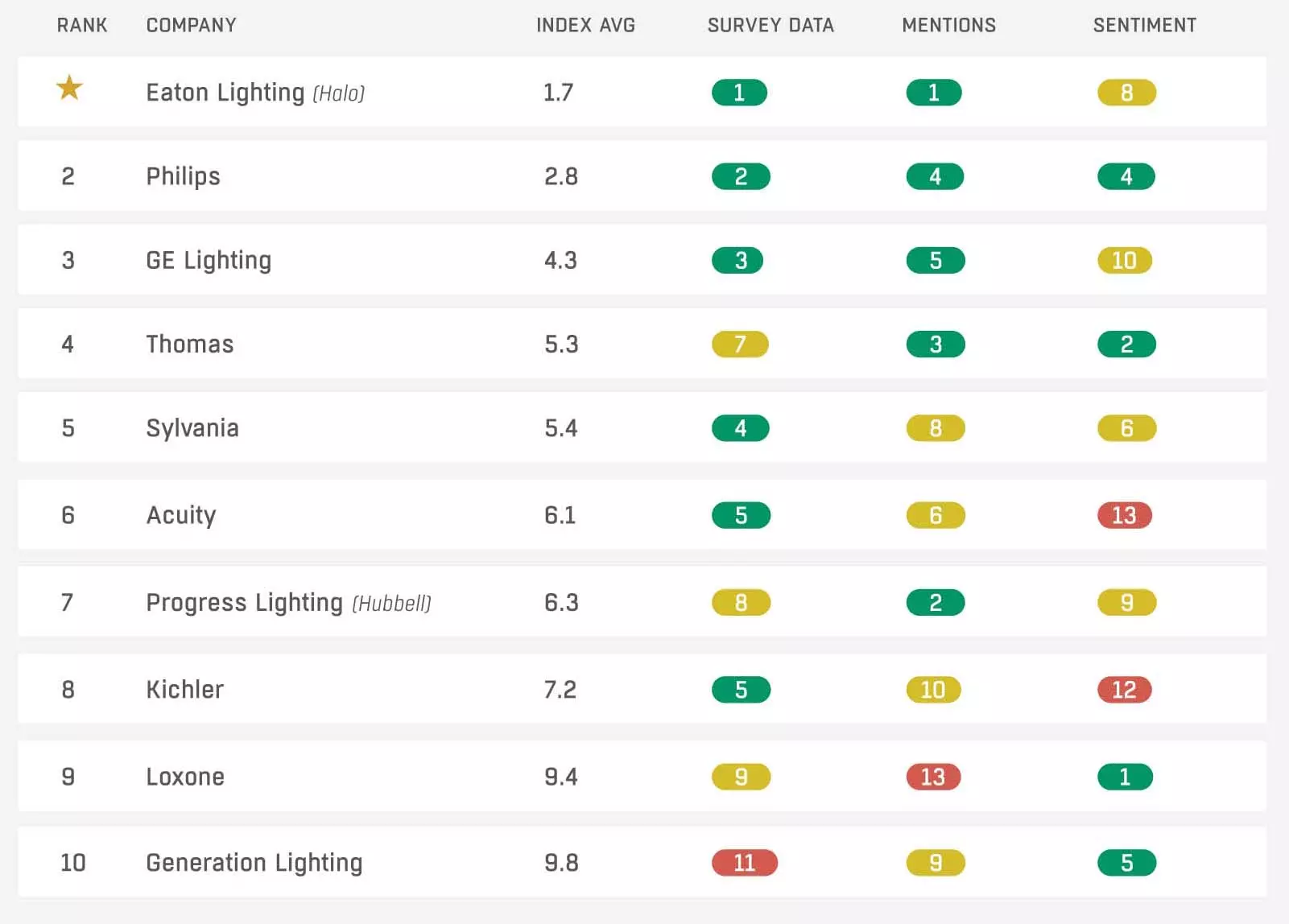 Paint and Coatings
Back at the top for the fifth time in six years, Sherwin Williams is again the choice of builders and consumers. With almost a 2 to 1 lead over second-place Behr—itself a much more popular product maker than in years past—it's Sherwin-Williams' market to lose. At the moment, that seems unlikely.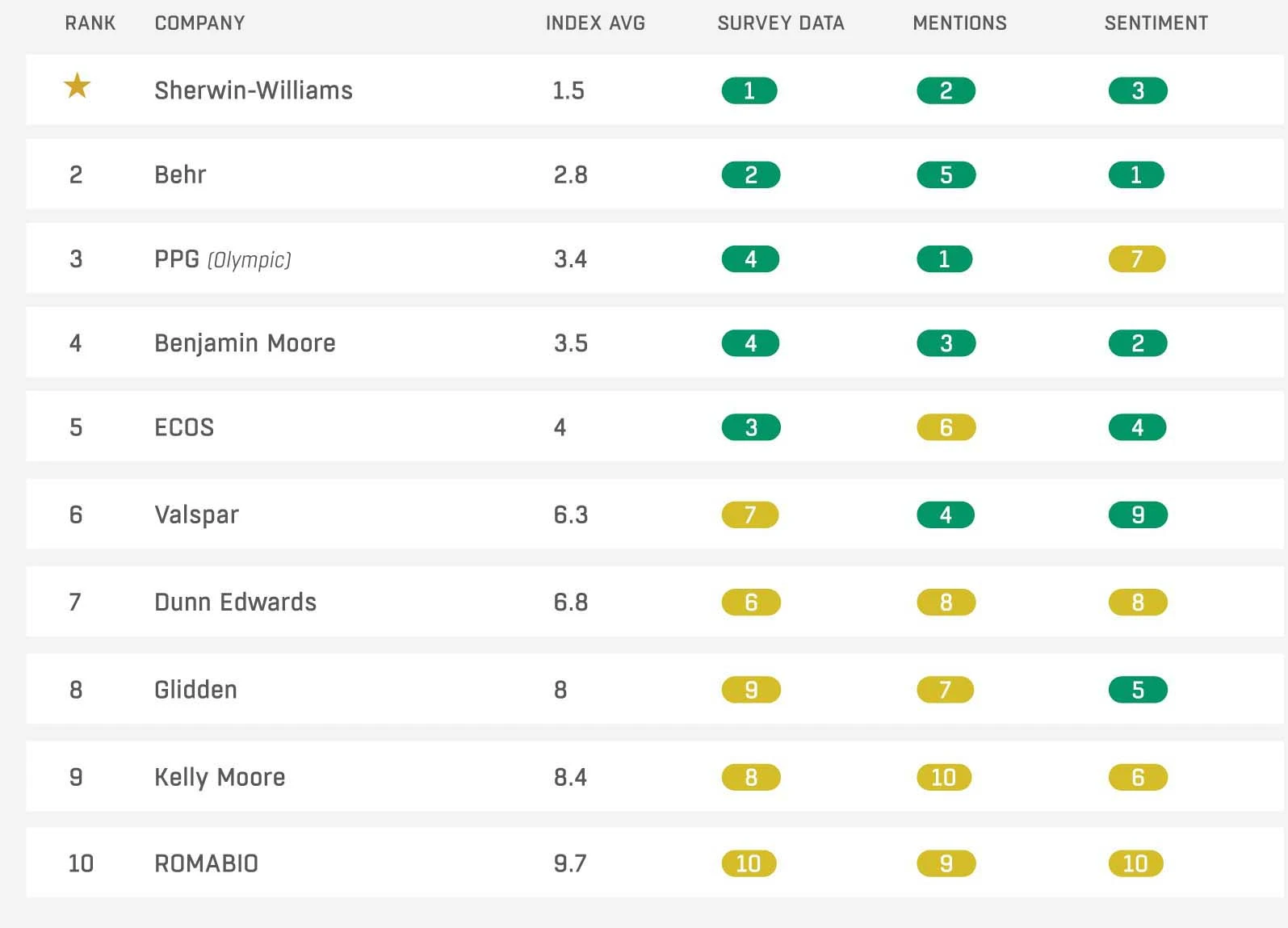 Photovoltaic Systems
Repeat champion Tesla—a top two finisher for the seventh straight year—maintained its lead in the public's imagination, despite the low market penetration of building integrated photovoltaics (BIPV). Other companies with new, advanced tech panels, such as JinkoSolar and Panasonic, are on the rise.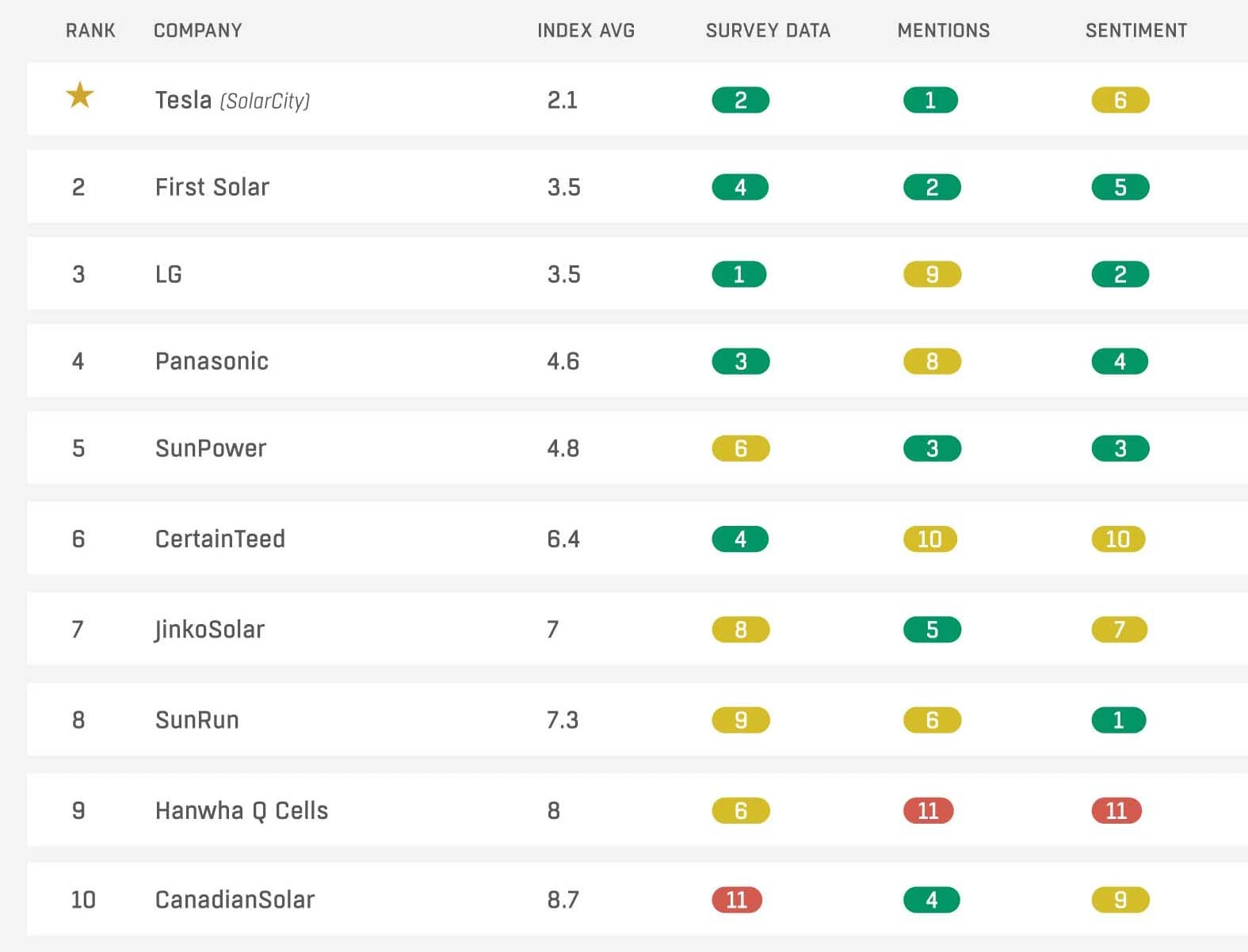 Plumbing
After missing the top 10 in 2020, Niagara's consistent green messaging pushed it all the way to the top this year. Almost everyone else dropped a notch or two as their overall popularity slipped. Hangrohe was an exception, with a sustainability story that clearly resonated.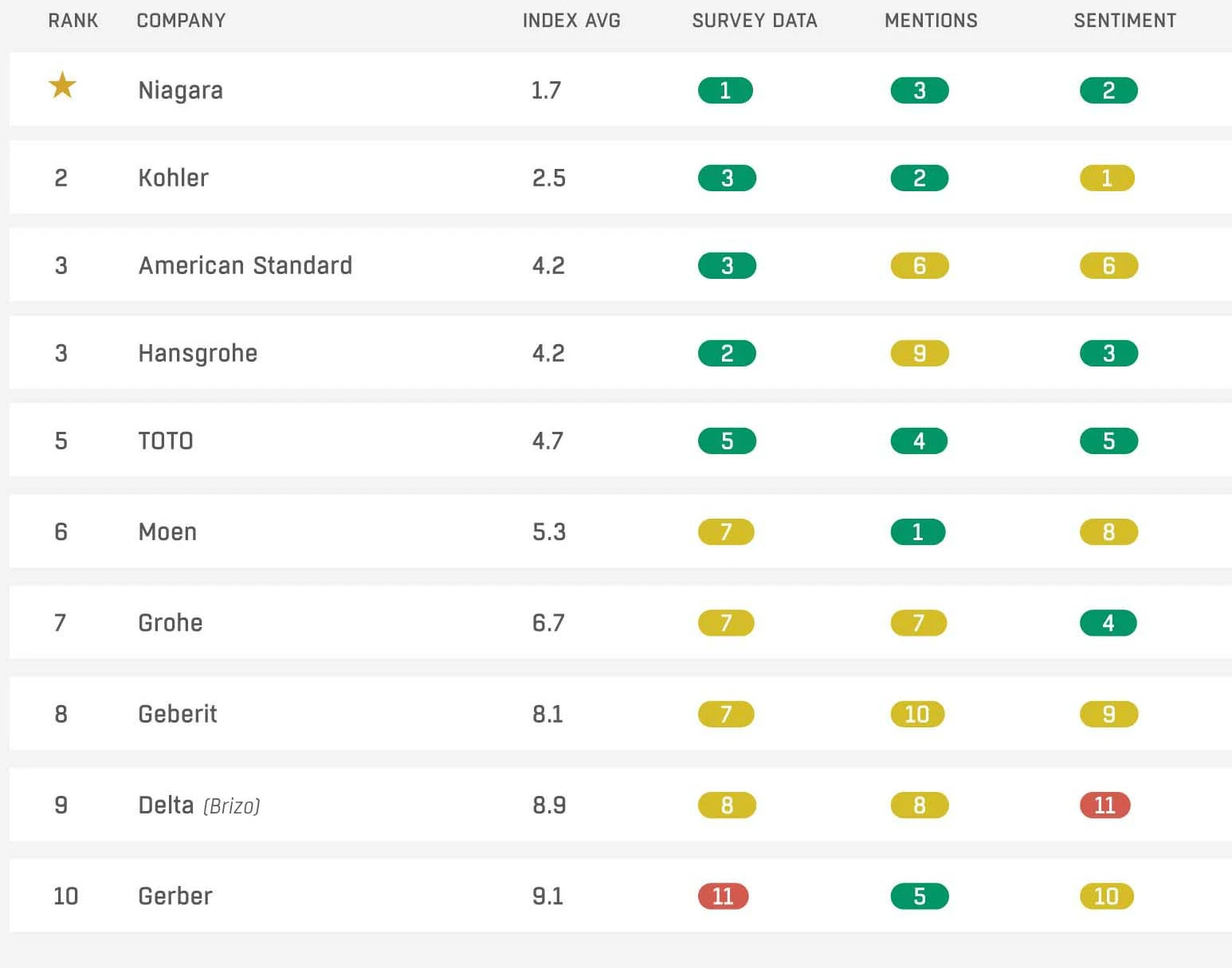 Roofing
It's no surprise, in the age of wildfires and extreme heat, that a concrete/clay tile manufacturer—Boral Roofing—would take the top brand space. But durability and resilience compete closely with conventional products for loyalty in this category.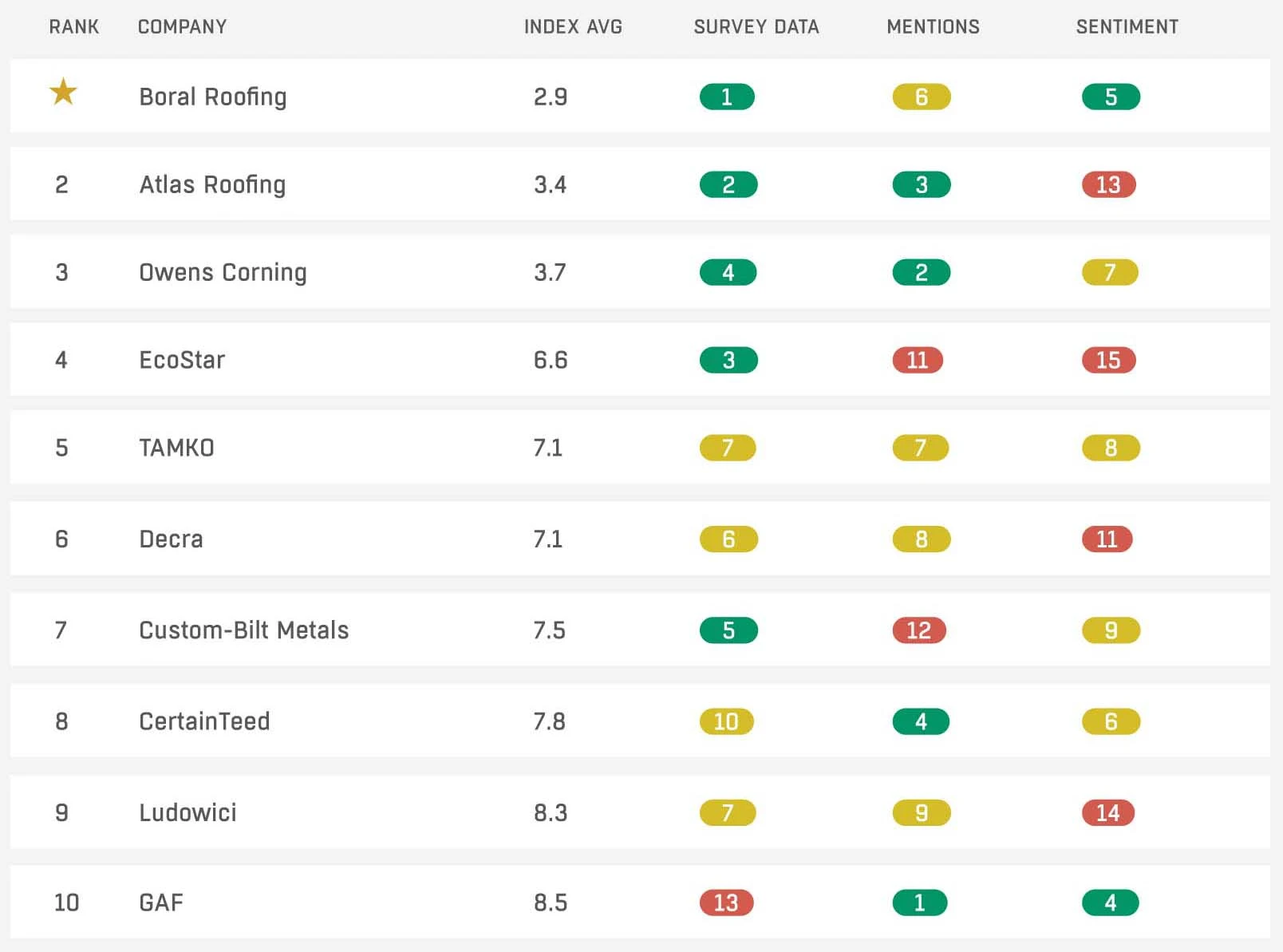 Siding
Last year's survey showed a growing unhappiness among the public toward siding makers. This year, five new companies made the top 10 list. Stalwarts LP Building Solutions and James Hardie remain at the top, thanks to a growing industry respect and better marketing. But after that, it's anyone's game.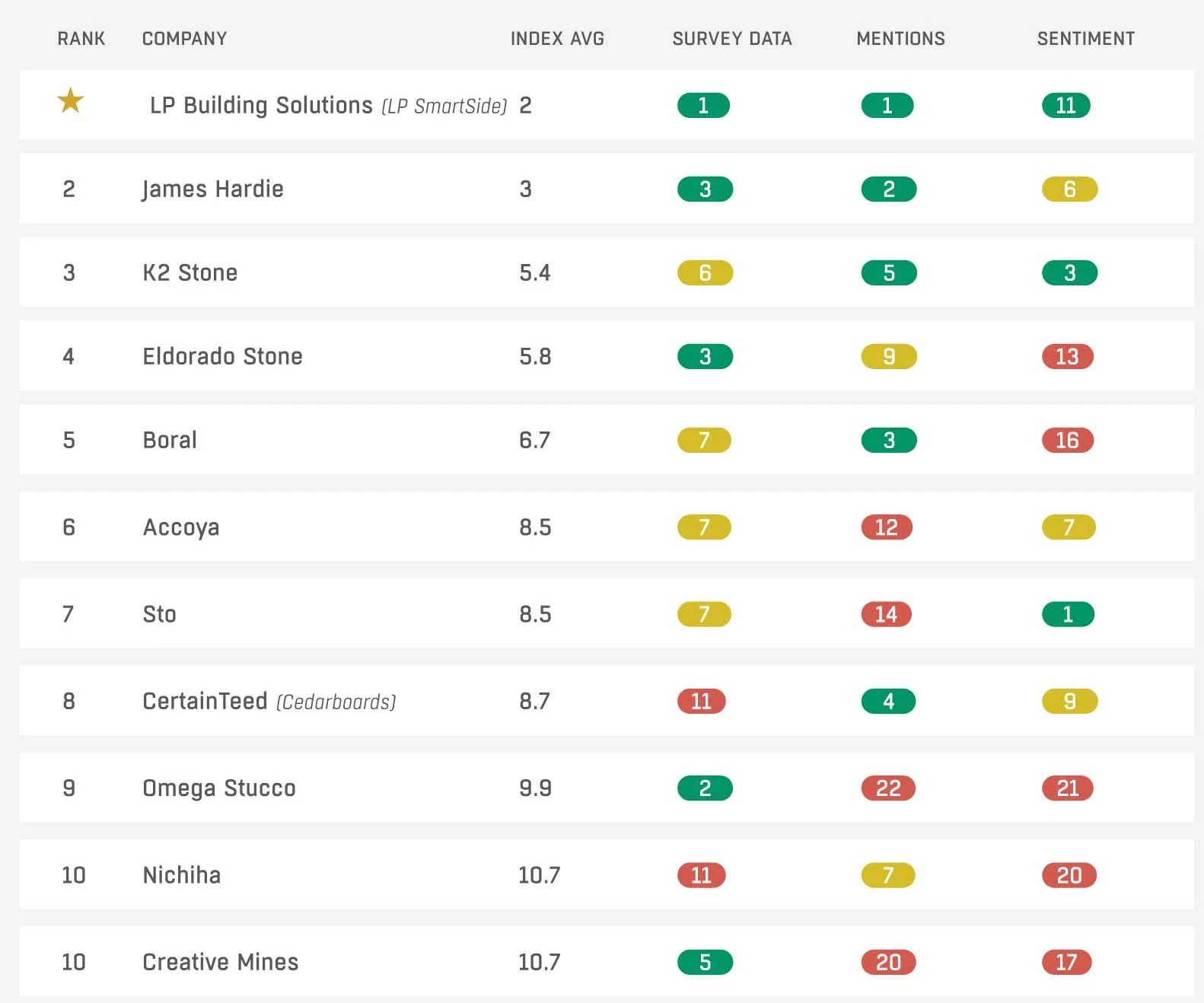 Smart Home Technology
Smart tech giant Amazon grew even bigger in 2021, as people continued to turn to online shopping. The seven-time winner is the first choice of builders and consumers, and has significantly improved its image since 2020. Or, perhaps people are more tolerant, given that face-to-face interaction and sales taactics are not part of ordering off the web.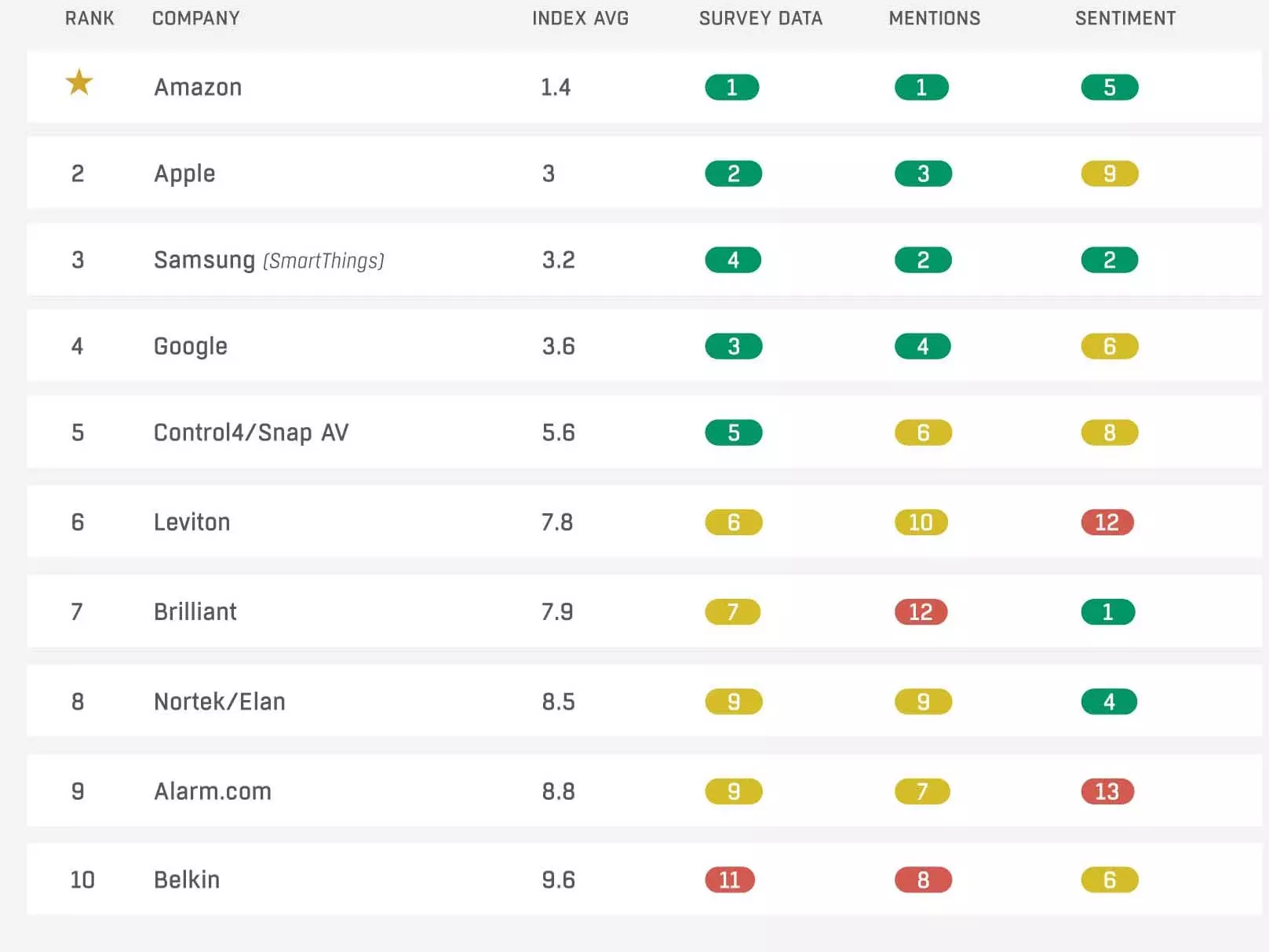 Smart Switch
TP-Link finished No. 1 in this category, completing its upward trend of the past few years. Perhaps work-at-home living has nudged smart controls toward the mainstream, especially lighting. Note also that Schneider Electric, Orro and Etekcity made to top 10 for the first time.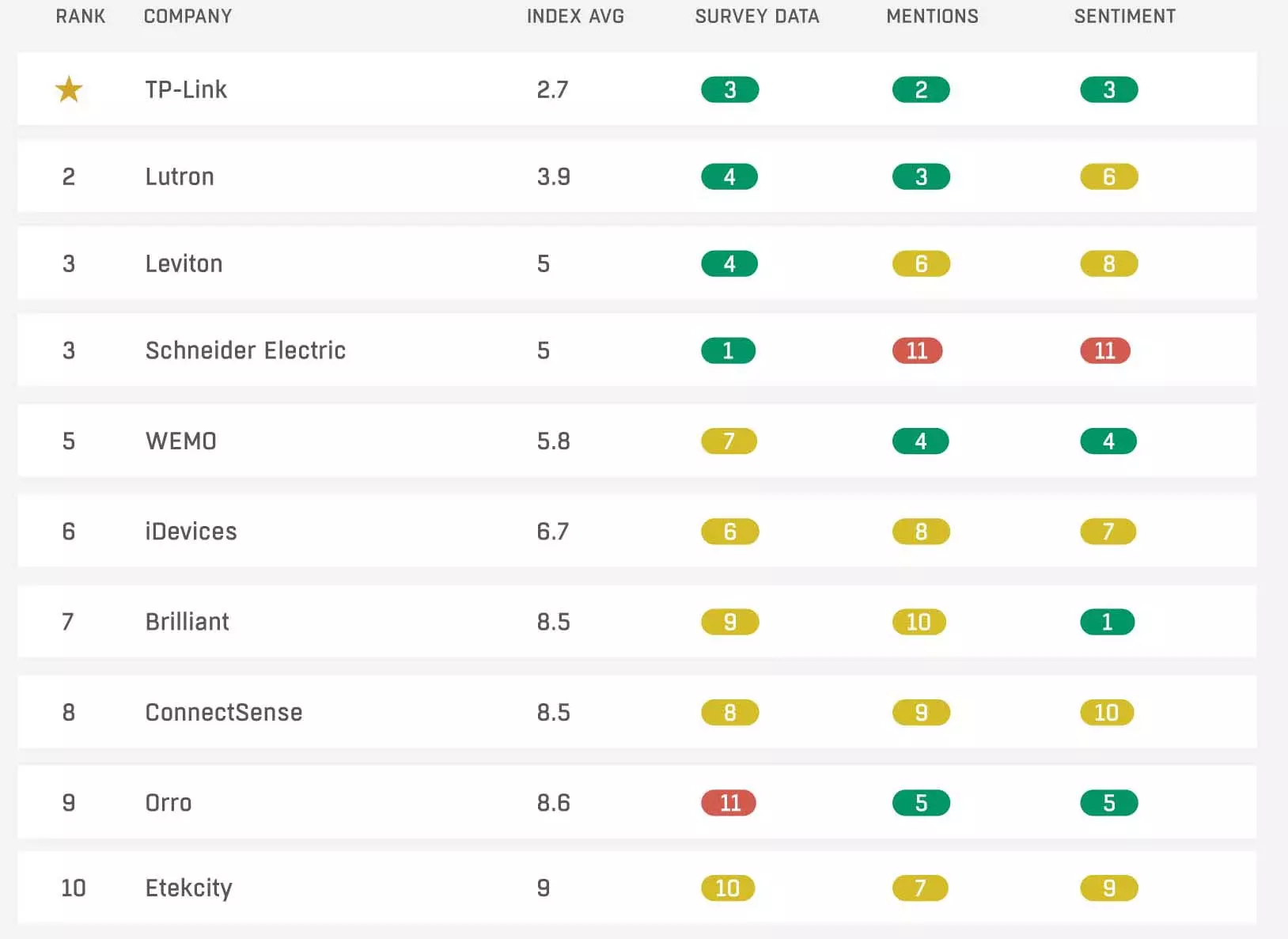 Solar Components
Despite Elon Musk's regular cadence of controversy. Tesla reclaimed some mental space in the solar storage and tech space in 2021. A 50 percent improvement in overall survey score from 2020 moved it to No. 1. Life in general was good for the top five, as solar took a greater hold on homeowners' lifestyles.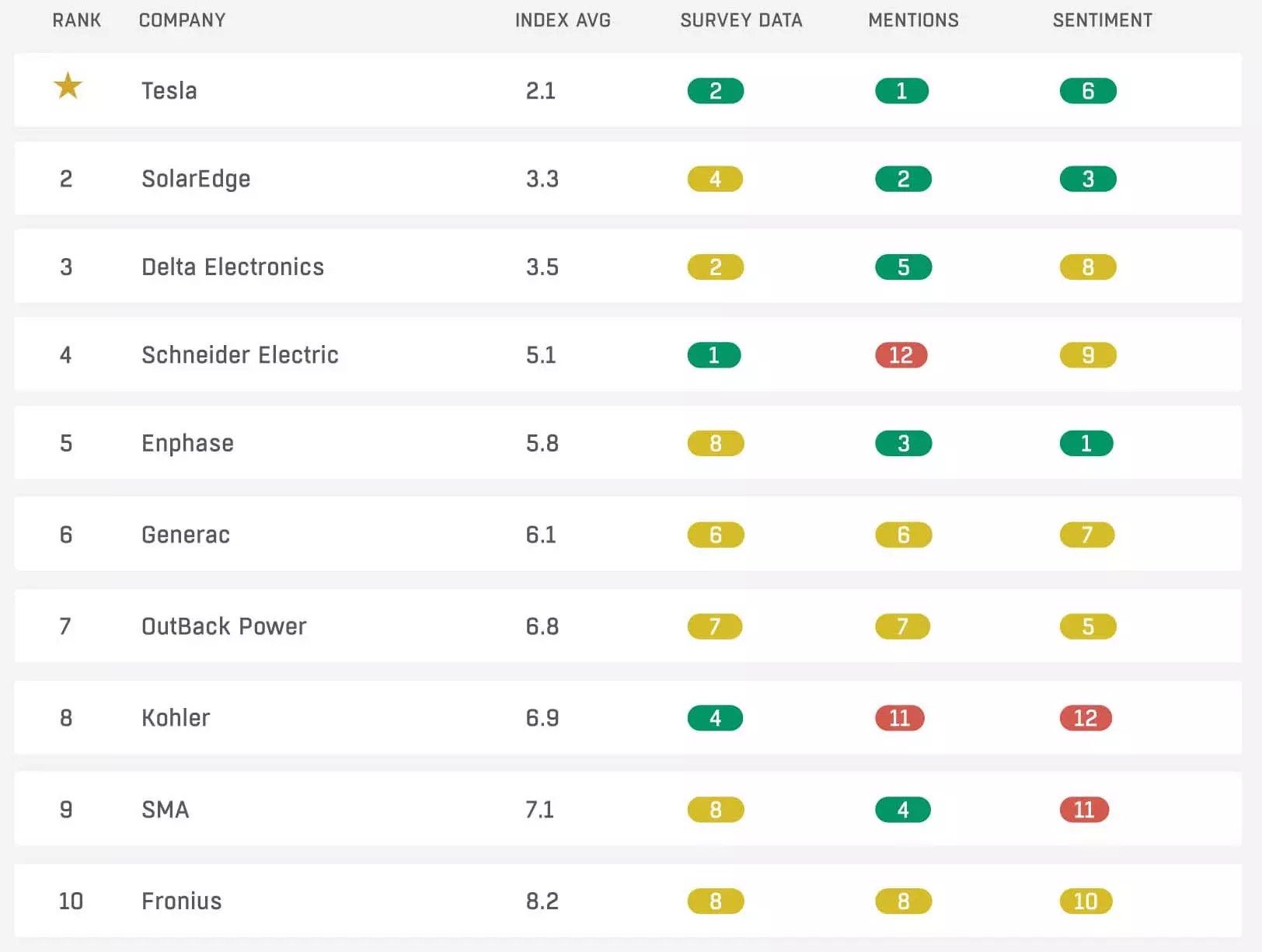 Structural
What a weird year for structural product makers. Half of the top 10 are new names, led by a well=regarded Simpson Strong-Tie at No. 2. Of the five veterans, only one, premier Building Systems, maintained its position from 20202. Weyerhaeuser moved up to No.1. Note also that several returnees suffer marketing and public sentiment problems.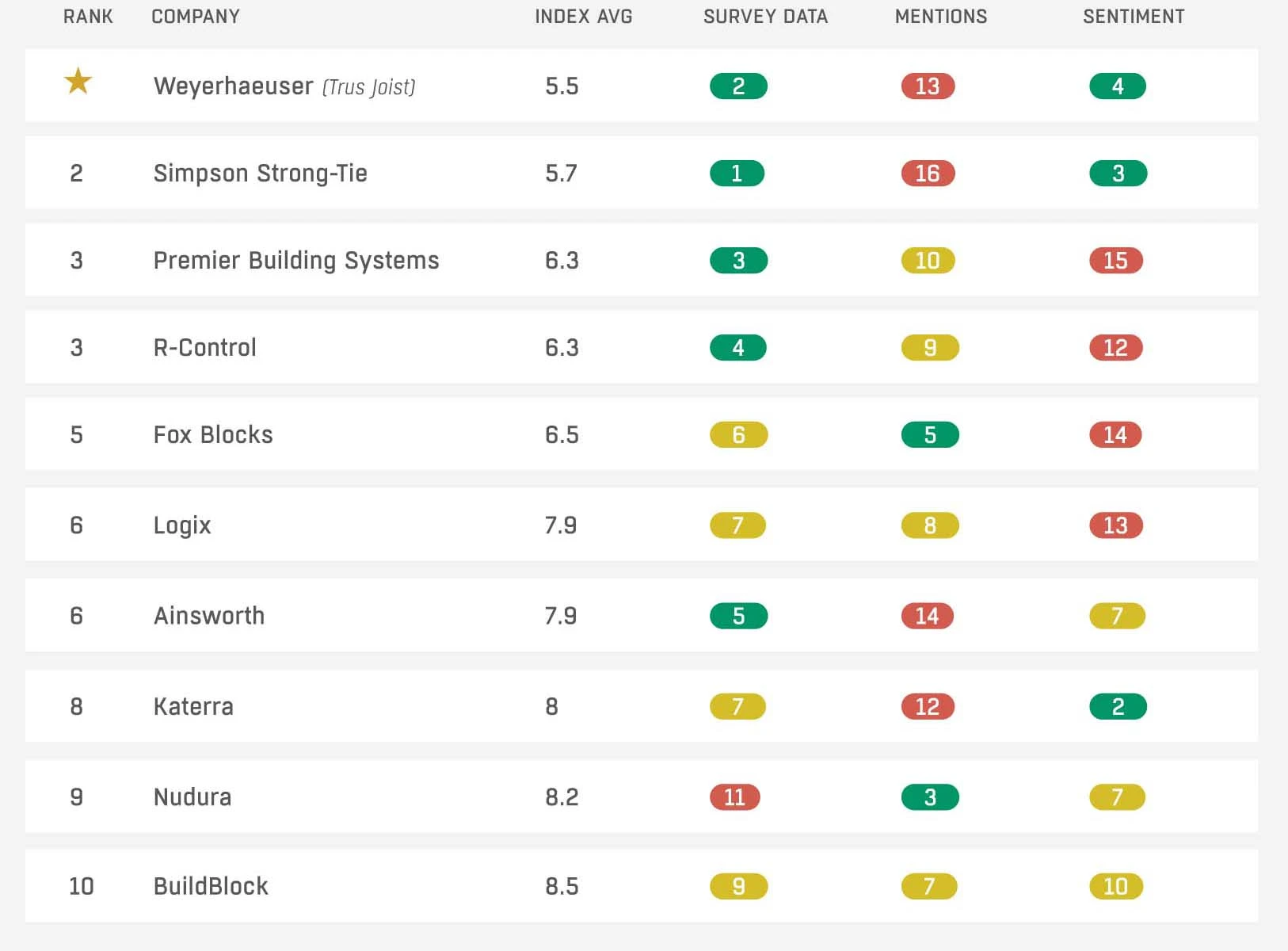 Thermostat
With thermostats, when you're right, you're right. Most of 2021's top five has been the same for years. Nest, Resideo and Bosch shuffle places, with Nest on top consistently. ecobee remains a solid choice, while Sensi's upward trend could pop it into the top three next year.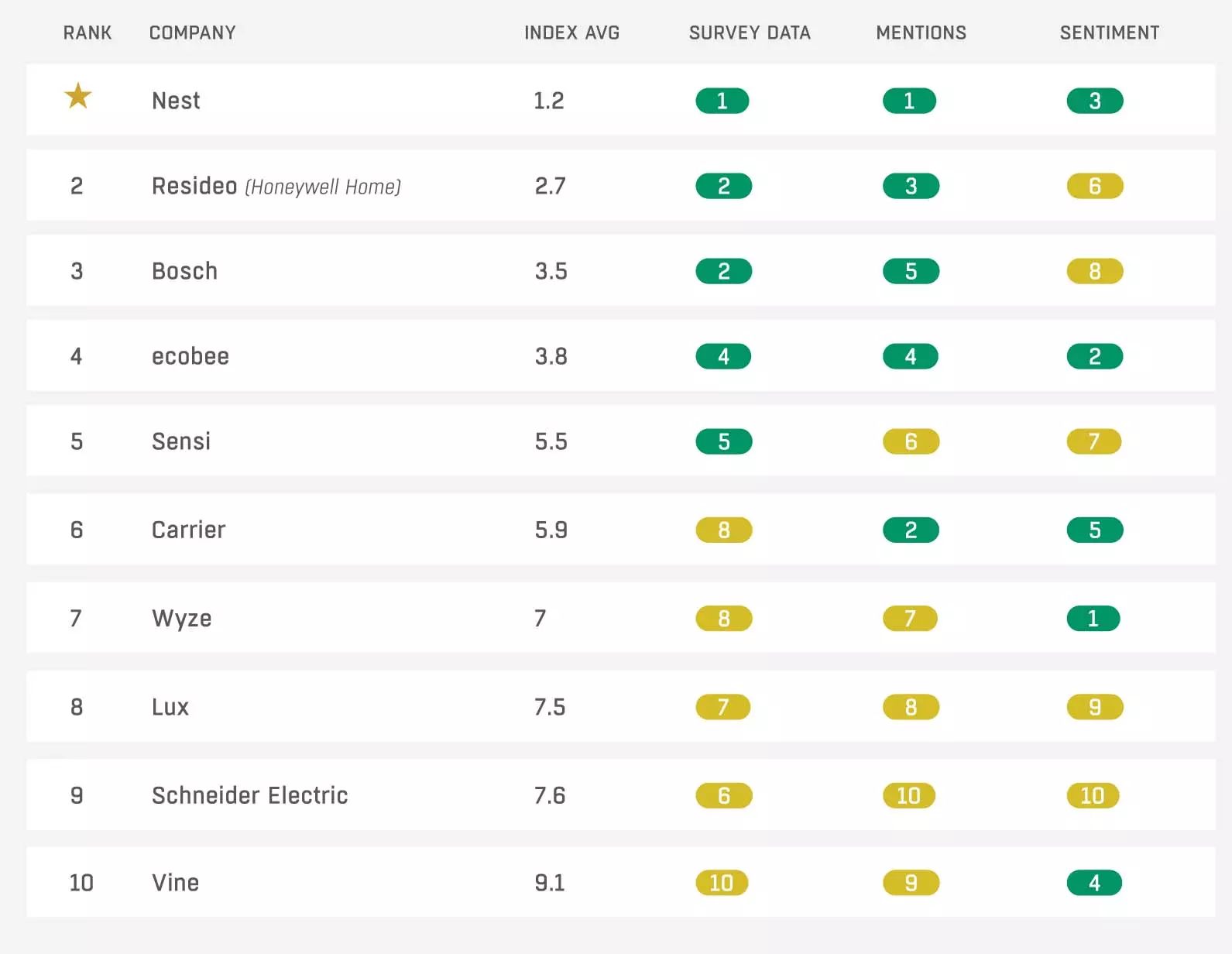 Ventilation
Except for Greenheck, which debuts here, the 2020 and 2021 lists of top ventilation product makers are the same. Panasonic and Delta Breez are again dueling for No. 1 (Panasonic and Delta Breez are again dueling for No. 1 (Panasonic is 4-0 since 2018), while Broan-NuTone is a solid third place choice. And Greenhack? Lots of early buzz, but customers are still lukewarm.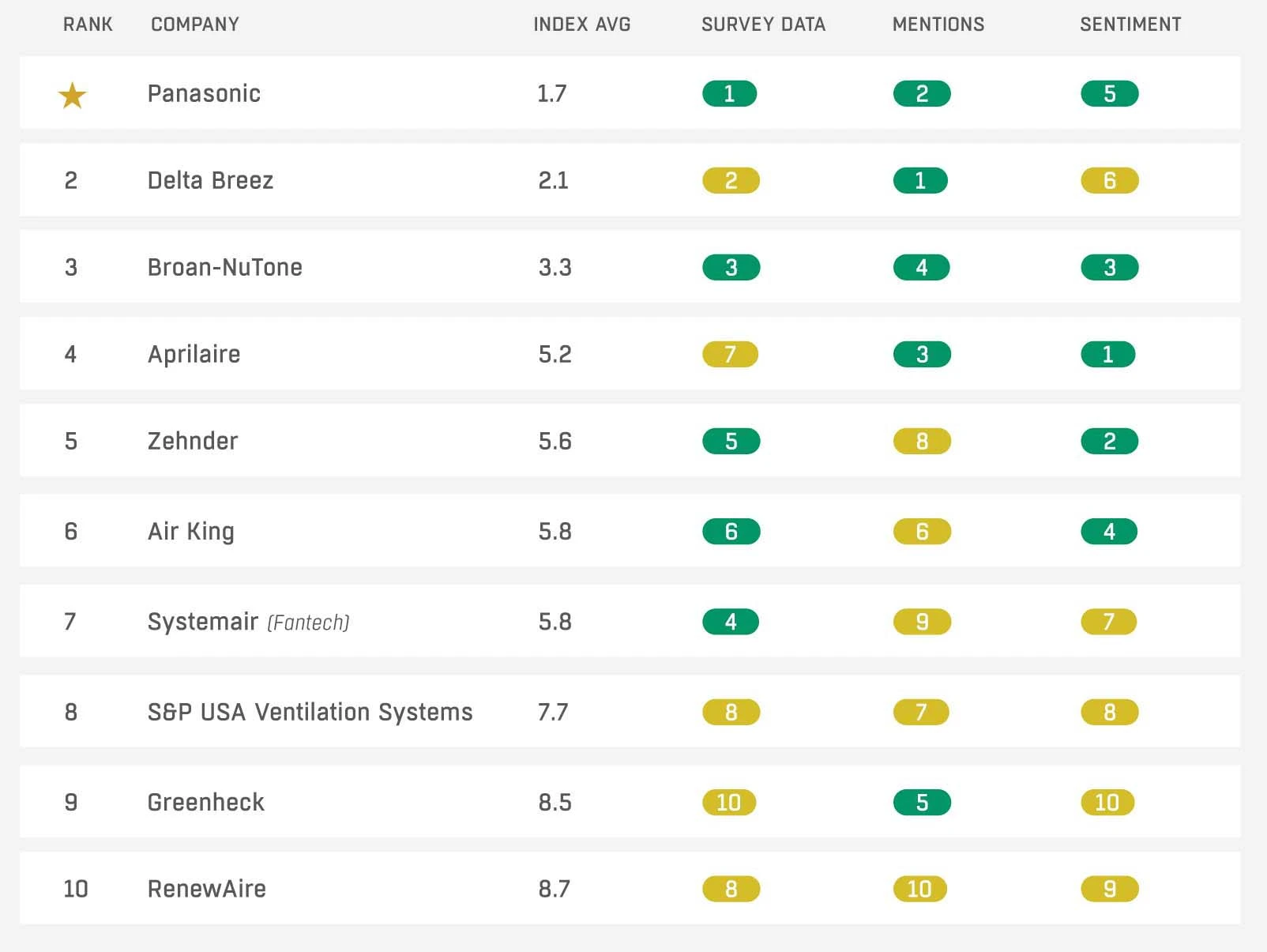 Window
While Andersen continues to be a solid leader in the Windows category—behind PGT and Marvin this year—eyes are focused on Simonton, which entered the top 10 in 2020 and has since moved up to fifth. Its popularity among builders and the general public make it favorable for the top three next year.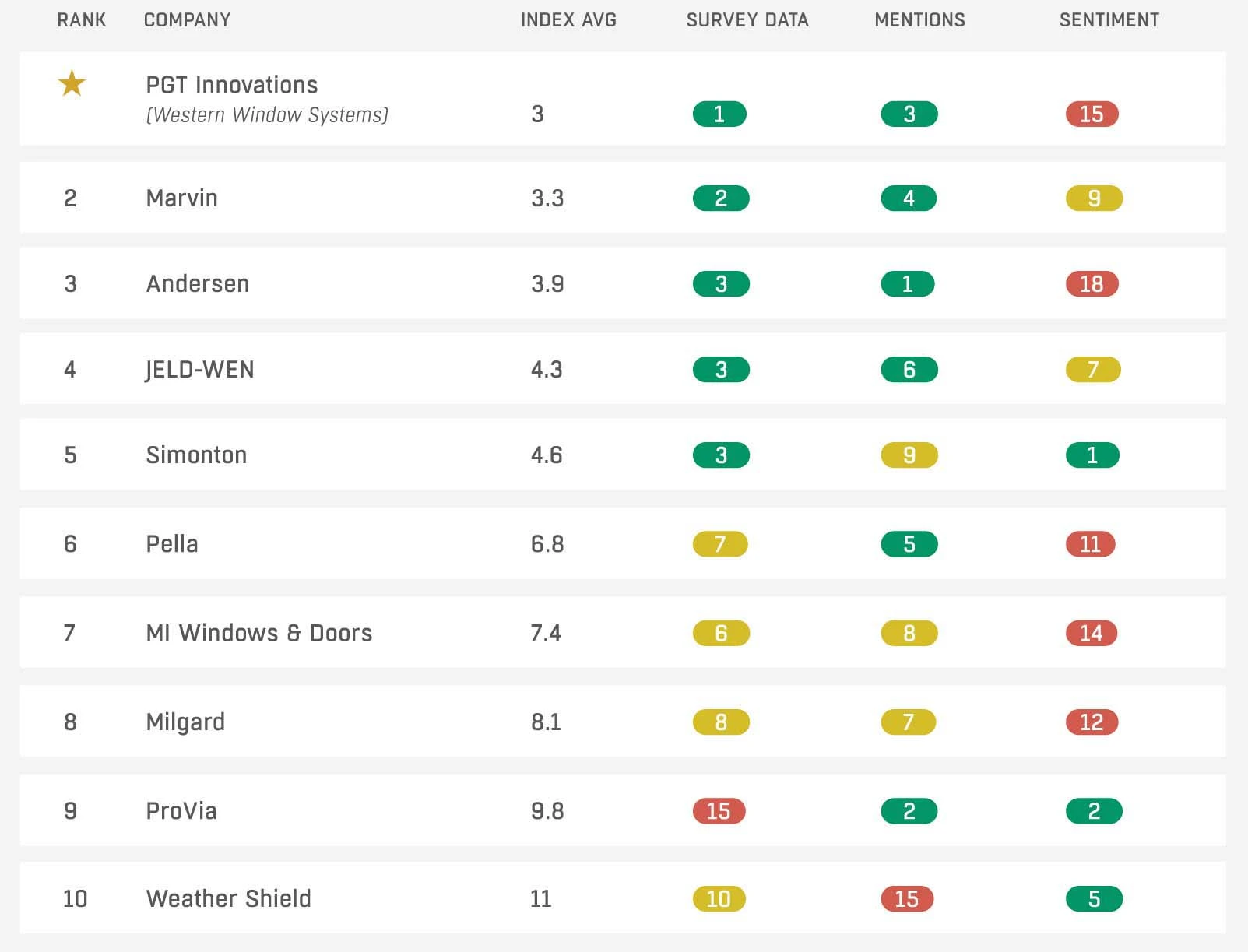 Work Vehicle
For the fifth time in six years—last year's Mercedes-Benz upset being the exception—Ford and Toyota have taken the top two spots among work vehicles. Ford wins this time, thanks to its new emphasis on electric cars and trucks. But although the two automakers lead in terms of perception, buyers seem to be waiting to test new models in the real world.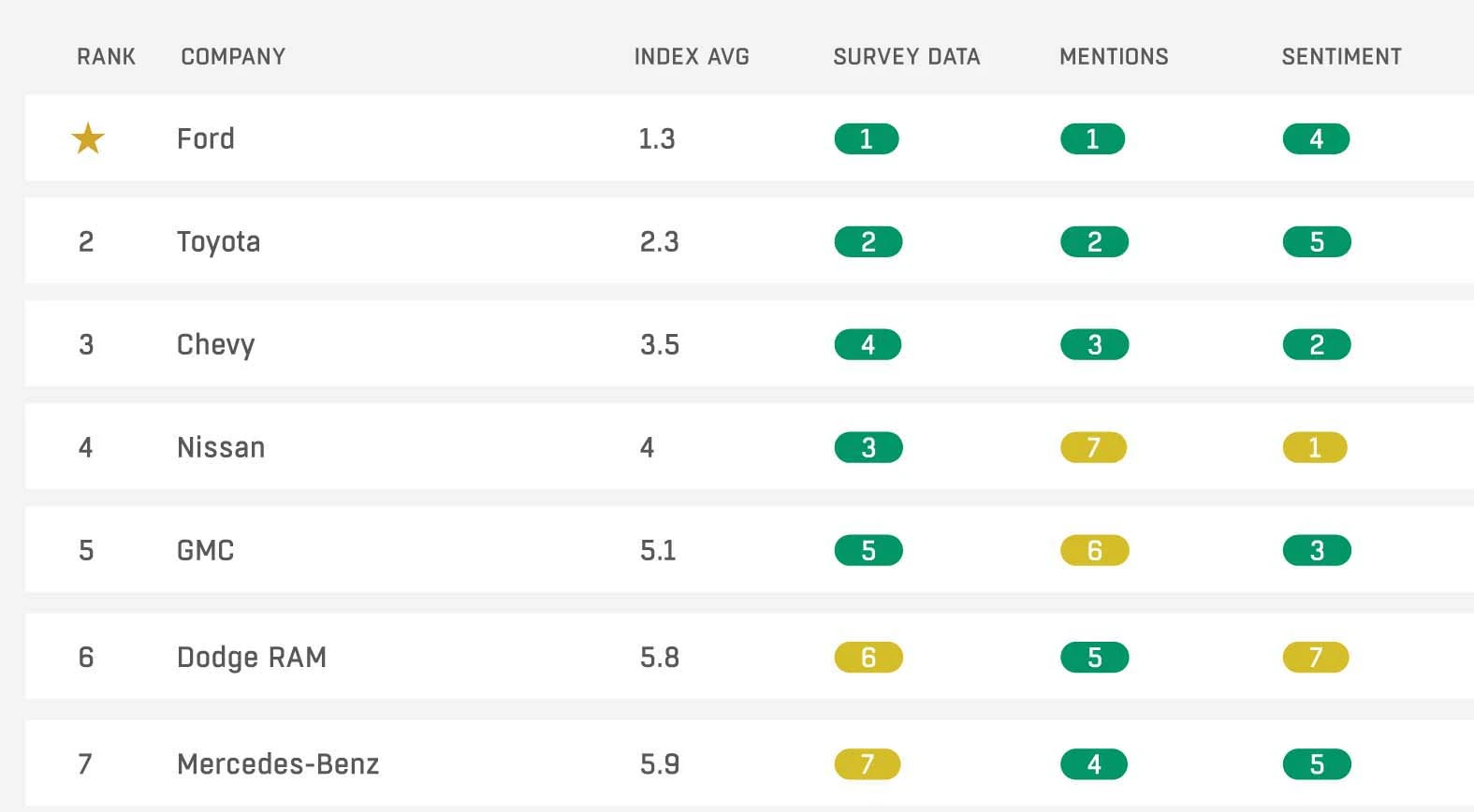 Apr 29, 2022 1:38:57 PM · 6 min read
---

Veteran journalist Matt Power has reported on innovation and sustainability in housing for nearly three decades. An award-winning writer, editor, and filmmaker, he has a long history of asking hard questions and adding depth and context as he unfolds complex issues.