Factory-Built Homes Resilient to Climate Change

Michele Lerner, Associate Editor
4 min read
Strength and flexibility are both required for homes to resist and recover from natural disasters and extreme weather events.
Resilience refers to the ability to withstand shock without permanent deformation or rupture, and to the ability to recover or adjust easily to change, according to the Merriam-Webster dictionary.
For houses, resilience is increasingly important to mitigate the effects of climate change and natural disasters. While not every location faces the same risks, designing a house that can protect the occupants and resist damage from a variety of potential threats is part of the mission of Dvele and Green Builder Media's partnership to create the Transcend Series of prefabricated homes.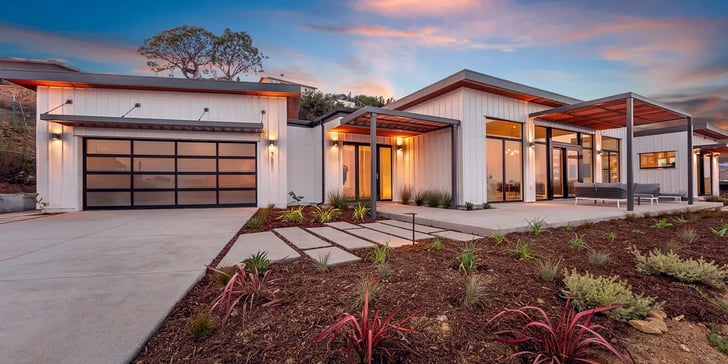 The Transcend Series homes are backed by decades of research and building science expertise, then precision engineered in the Dvele factory. Each module can be configured into multiple floor plans that match the lifestyle of the buyers and the topography of the lot. The first Transcend demonstration home is installed near Lake City in the San Juan Mountains of Colorado.
"We've designed a building envelope that provides durability and resilience in any climate," says Brandon Weiss, cofounder and chief innovation officer of Dvele. "The way we build our homes offers innate resilience benefits."
Transcend Homes, which are all-electric, net zero, cost-effective, high-performance, healthy homes, can be manufactured, delivered and installed in six months. The factory-built modules offer particular benefits for post-disaster rebuilding.
"You can't make a mass manufactured product unless certain aspects are unchangeable and work for any climate," says Weiss. "For example, the thickness of the exterior insulation has to be uniform so that any module can work with any other module even if the homeowners add more modules in the future."
Transcend Communities, which will feature multiple configurations of Transcend Homes, are designed for the health, wellbeing and protection of residents from the effects of climate change.
Protecting Occupants from Climate Events
While the number of dangerous storms and wildfires increasingly threatens homes and people around the world, Transcend Homes provide protection for occupants from less dramatic but equally damaging aspects of climate change. For example, the homes are designed to make it easier for residents to manage extreme temperatures, poor air quality and lengthy or rolling power outages.
Transcend Homes start with a conservation-first approach to energy use, which helps the house withstand both heat waves and freezing conditions.
"We have a well-defined air barrier, a thermal boundary that sits on the outside of the structure to make it resilient to extreme temperatures, and high-performance glazing on the windows for additional protection from the elements," says Weiss.
The tight building envelope manages moisture and air infiltration and keeps the temperature consistent throughout the home. The latest in heat pump technology provides heating and cooling for Transcend homes as well as water heating. The all-electric house uses less energy than it produces. The limited need for energy means the house can be self-sufficient for a longer time if there's a power outage.
The solar array and battery backup with 26kw of battery storage means that Transcend Homes can be off grid if necessary and resilient to power outages. Each home is anticipated to produce 20% to 30% more power than it uses, leaving enough to charge a car and to store for outages. As technology improves, Dvele hopes to increase that excess power to an even higher percentage, Weiss says.
Transcend Communities will be able to harness the excess power from homes and share it through a mini-grid system. So, if one or a few homes in the community are impacted by a power outage, the power generated by other homes along with battery-stored energy should be sufficient to support the energy needs of the homes that lack power.
The tight envelope and self-powered efficiency of the Transcend Homes also need ventilation to bring fresh air into the homes. That air is filtered and distributed to the living areas and sleeping areas in the house, while air that has moisture, odors and possible toxins from inside the house is extracted from the kitchen, bathrooms, laundry room and garage.
But when the outdoor air quality is poor, such as when humidity levels are extremely high or when smoke is in the air from wildfires, the automated ERV system can stop importing air from outside. The sensors and systems in Transcend can adjust to provide optimal indoor air quality under nearly any conditions.
Natural Disasters and Resilience
The materials used to build Transcend Homes, including light gauge steel and special cladding and sheathing, are designed to stand up to natural disasters.
"We have built-in wildfire resiliency and seismic resiliency with the materials and construction of the Transcend house," says Weiss. "We can easily get to hurricane resilience, too."
The airtight, precision construction of the Transcend modules in the Dvele factory provides extra support for the homes against high winds and storm-related damage. Inside the Transcend Homes, the Dvele IQ smart home system includes multiple sensors for indoor air quality, leak detection, water management and heating and air conditioning systems that can help homeowners manage their properties in normal circumstances and during extreme weather conditions.
Fresh drinking water can be an issue during natural disasters, when water filtration systems and wastewater management may be impacted by a flood, storm or power outage. Transcend Homes have water filtration systems to provide clean water to every room. In addition, plans for Transcend Communities include potentially creating a private wastewater management system for the homes that could mitigate water issues.
Transcend Communities will not only include Transcend Homes, but they are designed for people to support each other and for sustainable living. Technology for durable homes is important, but for a truly resilient community, you also need neighbors working together to withstand an increasingly stormy world.
Dec 16, 2022 1:35:55 PM · 4 min read
---

Michele Lerner is an award-winning freelance writer, editor, and author who writes about real estate, personal finance, and business.