COGNITION Hot Take: Remodeling Trend on the Rise

Sara Gutterman
2 min read
As people are spending more time in their homes, they're investing in a wide spectrum of upgrades to enhance comfort, functionality, efficiency, and wellbeing. We're tracking one trend that recently started surging: ergonomics.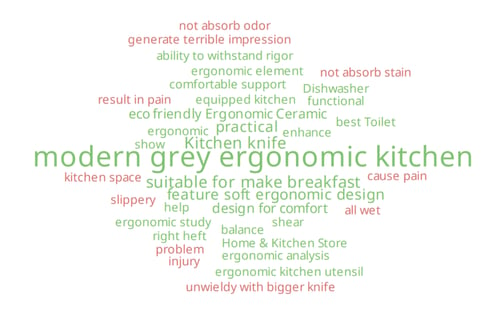 According to COGNITION Smart Data, Green Builder Media's suite of market intelligence services, DIY projects have soared by 75 percent since the onset of the pandemic, even with concerns about spending.
Millennials are spending more money than other age group on DIY projects, investing on average $12,500 per project.
Paint, lawn & garden, and general home maintenance have been the most common DIY projects, but there has also been an uptick in more complex projects like plumbing, HVAC systems (including ventilation fans and ERVs), and electrical work.
Recently, COGNITION unveiled an increasing interest in ergonomics to enhance the efficiency of spaces, particularly in kitchens and offices (which isn't surprising given the marked increase in cooking and remote working.)
Specifically, homeowners are talking about three main ergonomic-related topics: furniture, lighting, and countertops.
Furniture
Consumers are looking for ergonomic furniture for home offices, that can address shoulder, neck, and lower back pain and stimulate blood flow. The Herman Miller Aeron chair is the most commonly searched piece of ergonomic furniture.
Lighting
Online conversation about ergonomic lighting is focused on creating well-lit spaces by blending natural light (which boosts energy levels, enhances productivity, and improves sleep quality,) with lights that have the proper brightness (lux) and color temperature. Circadian lighting that changes brightness and color to match the time of day is gaining attention as homeowners embrace smart technology to create routines within their homes. There is also growing awareness about how lighting impacts moods—for example, warmer lighting helps stimulate relaxation and is better for bedrooms, whereas cooler lighting enhances productivity and is appropriate for activities, task lighting, and in offices.
Countertops
Now that consumers are cooking more at home, they're getting to know their kitchens quite well. Homeowners are increasingly reporting neck and back pain resulting from cooking activities, which is most often the consequence of improper countertop heights.
Standard countertops are installed at 36", but 40-42" counters are better for taller individuals and 30-33" counters are better for those with a shorter stature. Ergonomically positioned countertops should be approximately 3-6" shorter than the height of the user from elbow to ground. The average American woman in 5'4 with an elbow height of 36 to 39", which means that an ergonomically correct counter should be installed somewhere between 33-36". For average American men, the ideal countertop height is 42-44".
For more information about homeowner trends, sign up for a COGNITION subscription.
---
About COGNITION Smart Data:
COGNITION Smart Data offers advanced intelligence and insights about market trends and important customer information like behavioral patterns, purchase drivers, buying preferences and sentiment. COGNITION enables clients to make informed business decisions, yielding specific deliverables and tangible results. COGNITION provides a definitive competitive advantage by allowing companies to stay a step ahead of their competitors.
For more information on how you can tap into the power of COGNITION Smart Data, visit www.greenbuildermedia.com/cognition or contact Sara Gutterman at sara.gutterman@greenbuildermedia.com.

Nov 5, 2020 2:51:51 PM · 2 min read
---

As cofounder and CEO of Green Builder Media, Sara is a visionary thought leader and passionate advocate for sustainability. A former venture capitalist, she has participated in the life cycle (from funding to exit) of over 20 companies, with an emphasis on combining sustainability and profitability. She lives in Lake City, Colo., with her husband, where she is an avid long-distance runner, snowboarder, and Crossfit trainer. She is also on the Board of Directors at Dvele, runs the Rural Segment for Energize Colorado, and is a former County Commissioner.