Build Sustainably, and Livability Will Follow

Marc Huminilowycz, Guest Columnist
4 min read
It's the energy savings, not the foyer. That's the premise suggested in this new model home project near Milwaukee.
So you're excited about the idea of purchasing a green home with the latest building science and technology built into it. But what about its "livability"–the design elements, the curb appeal, the comfort, the space, the flow and the conveniences that make a house a home?
That's one of the premises to be tested in the VISION HOUSE Sussex, a new project constructed by Tim O'Brien homes, in partnership with Green Builder Media.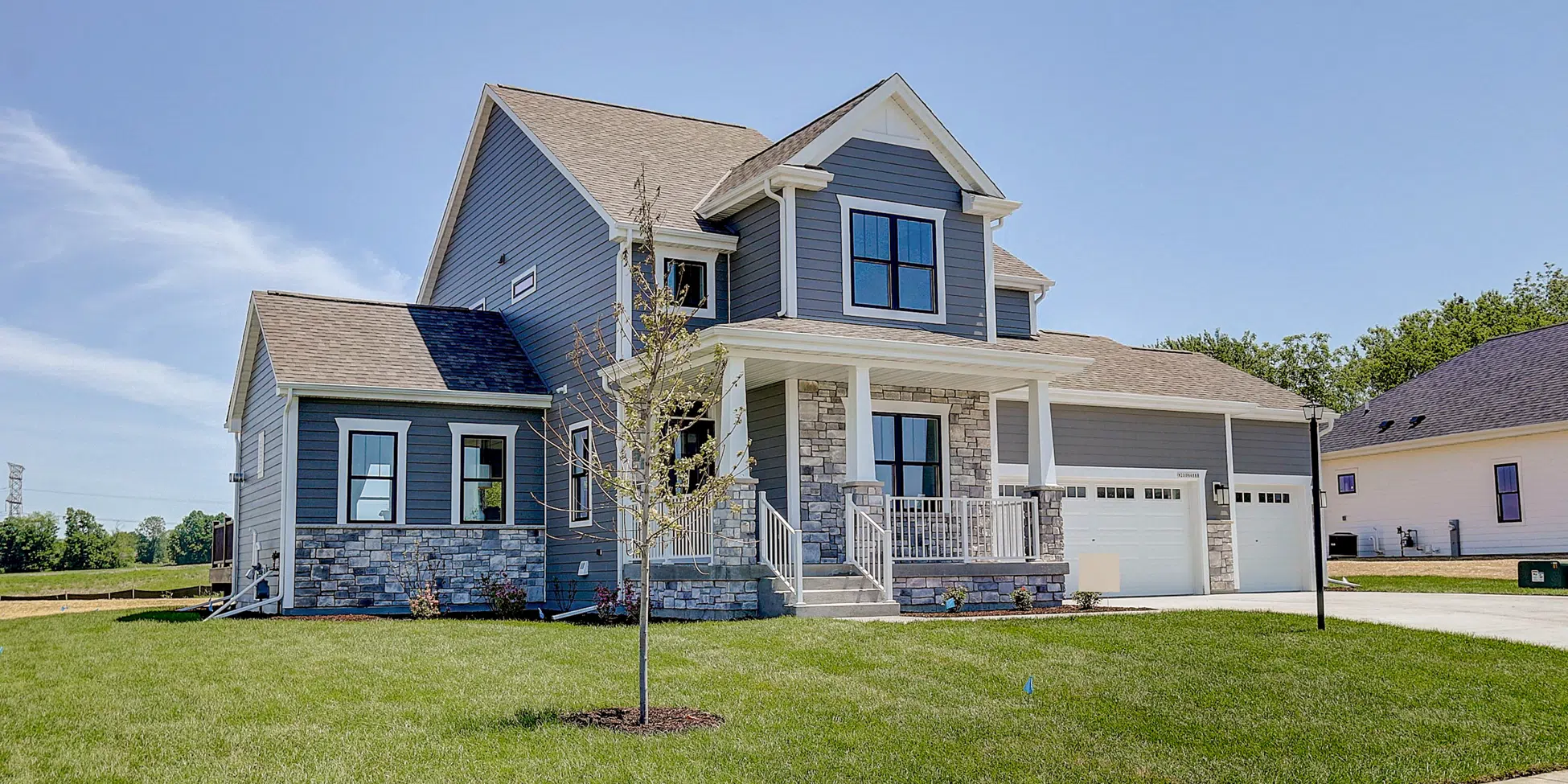 "For every home we design, we ask ourselves the question, 'How are you going to live in it?" says O'Brien, who is president of his Wisconsin based namesake company. The company has built over 2,000 high-performance homes in the greater Milwaukee area.
"Should a large front hall foyer be the number one priority, or should you allocate your money to more practical, energy-efficient design, like a functional back-door foyer?" asks O'Brien. "Ninety percent of the time, people enter their home via the garage or a rear foyer, so doesn't it make sense to organize those 'drop your stuff' areas with things like storage cabinets and plugs for your phones?"
It's all about "space in the right place" based on your lifestyle – not over-size and not under-size—O'Brien adds, giving examples such as placing the washer and dryer near where clothes are kept, adequate closet space, a walk-in pantry, good cabinet layout and circulation design in the kitchen, and de-stressing areas.
All Tim O'Brien homes come with numerous design features as standard. Large master bedroom suites have walk-in closets. Floor plans are open concept, with an expansive kitchen island for cooking and entertaining.
Countertops and flooring are made from high-quality, sustainable materials, and the kitchen pantry and bedroom closets are fitted with Organized Living intelligent shelving systems. A comprehensive lighting package sets the right mood while saving energy. And, practical features aside, Tim O'Brien homes have attractive "curb appeal." They simply look great on the outside.
In the beginning, the company offered free energy efficiency upgrades, then began adding these to the "all-in" cost of homes, according to Tim O'Brien. "We focused on selling the many benefits of our green homes to our customers. Persistence paid off in year-end customer surveys," he says.
"Yes, our homes cost about 3% to 4% more than a comparable home built to building code, but the annual energy (and money) savings are impressive," says O'Brien. The Home Energy Rating Score (HERS) is a national index that shows where a home lands on an energy scale–the lower the score, the more energy-efficient the home. Homes built to code score about 100. Older homes typically score 150 and higher.
By contrast, every Tim O'Brien home is tested with an average score of 45. What does all this mean to the homeowner? According to Tim O'Brien Homes' website, a typical thirty year-old home in the U.S. comes with an average $2,622 in annual energy costs. O'Brien homeowners can potentially pay $790 per year less than this.
Energy efficiency benefits aside, there are other things to consider, like comfort, air quality, and higher home resale value. "We want our customers to live in a comfortable and safe home environment. Because we build tight homes, air quality is vital," says Tim O'Brien.
Indoor AirPLUS is a partnership and labeling program that helps new home builders improve the indoor air quality in their homes through construction practices and product specifications that minimize exposure to airborne pollutants and contaminants. This is standard in every Tim O'Brien home.
"Radon, a naturally-occurring but potentially harmful soil gas, is an issue in our region, so every one of our homes has been equipped with an Active Sub-soil Venting System for over ten years now," says O'Brien. "And a RenewAire Energy Recovery Ventilator (ERV) continually replaces stale indoor air with fresh outdoor air, while preheating the air coming into the home in the winter and removing heat from the home in the summer."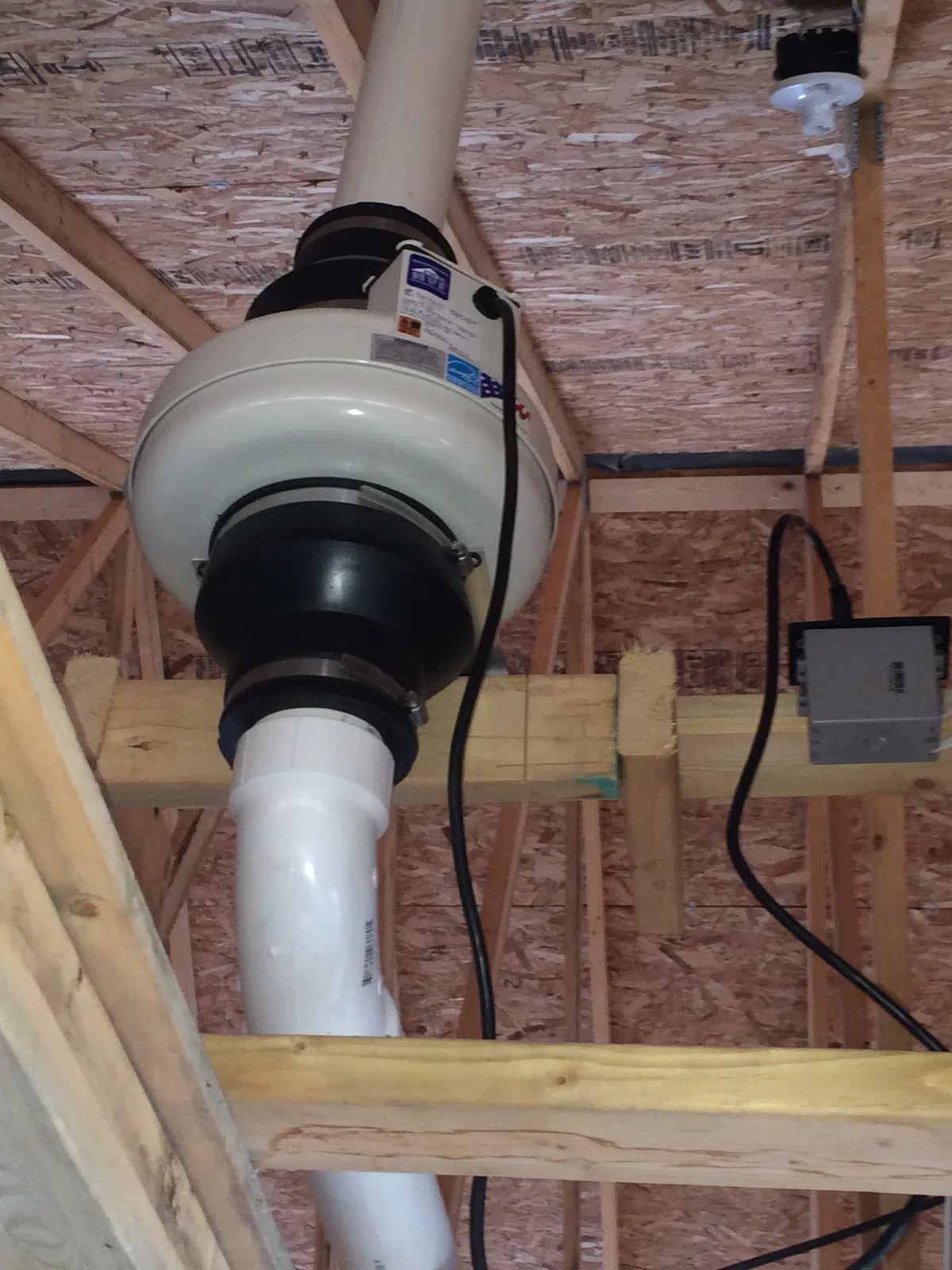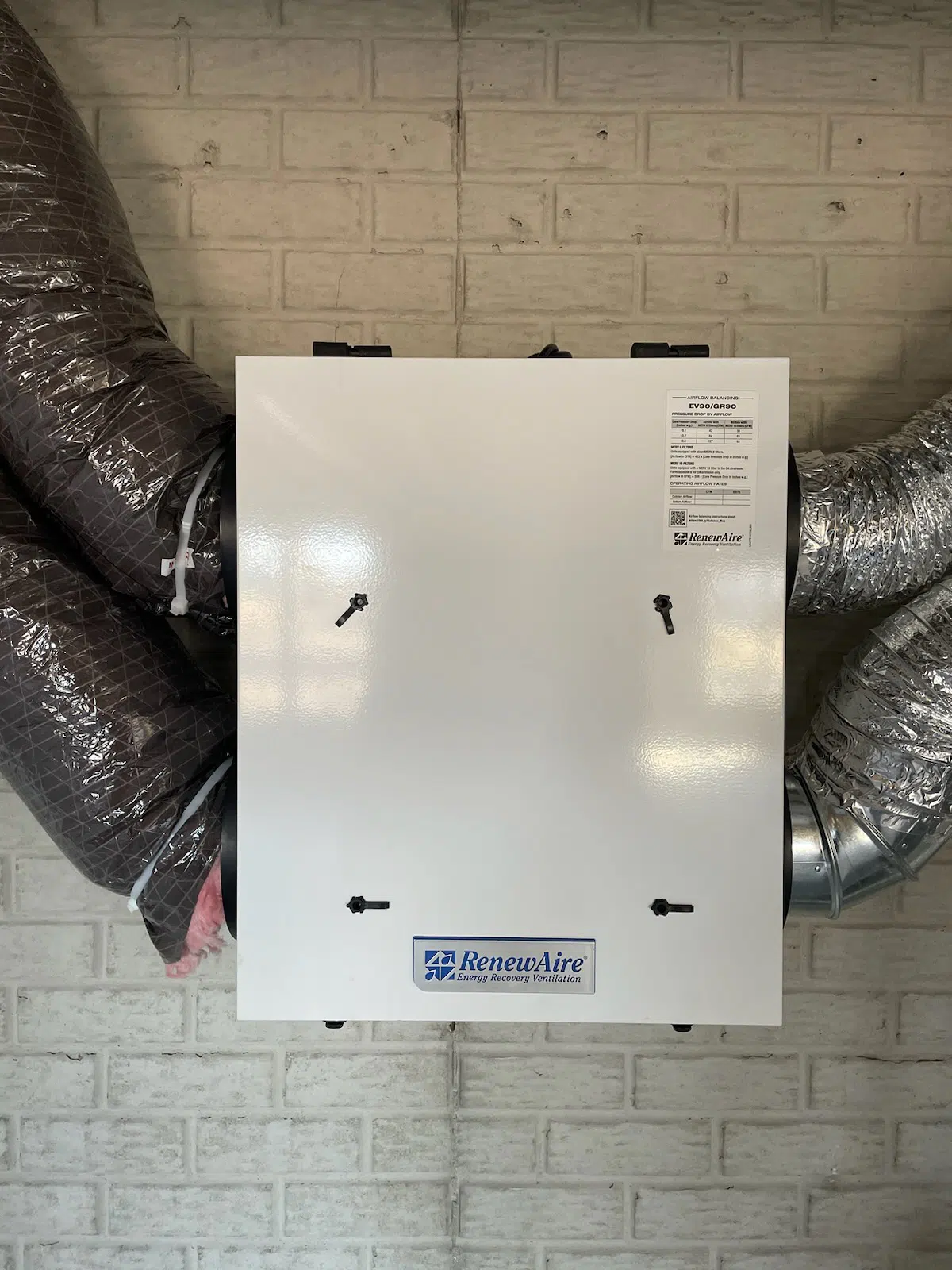 Adding to air quality and comfort in Tim O'Brien homes is a Central Air Return System that draws air from living areas, which is filtered (by a MERV 11 box filter) and reconditioned.
After a final cleaning of all the home's ductwork, Aerosal Aerobarrier duct sealing technology is applied to ensure an air-tight HVAC system, which results in better conditioned air distribution and better indoor air quality because building cavities are not used for air returns. And all interior paints are low VOC.
Many other energy efficiency features come standard in Tom O'Brien Homes.
For example, a whole-house "thermal blanket" of one-inch rigid foam insulation is installed on every exterior wall. (Tim O'Brien is one of only a few local builders that does this.)
Also, strategic insulation of potential air leaks in the basement and the attic is applied, where Closed Cell Foam is meticulously applied in basement box sills and attic penetrations. Every window is ENERGY STAR Low-E, which allows the sun's energy to heat the home while preventing heat loss.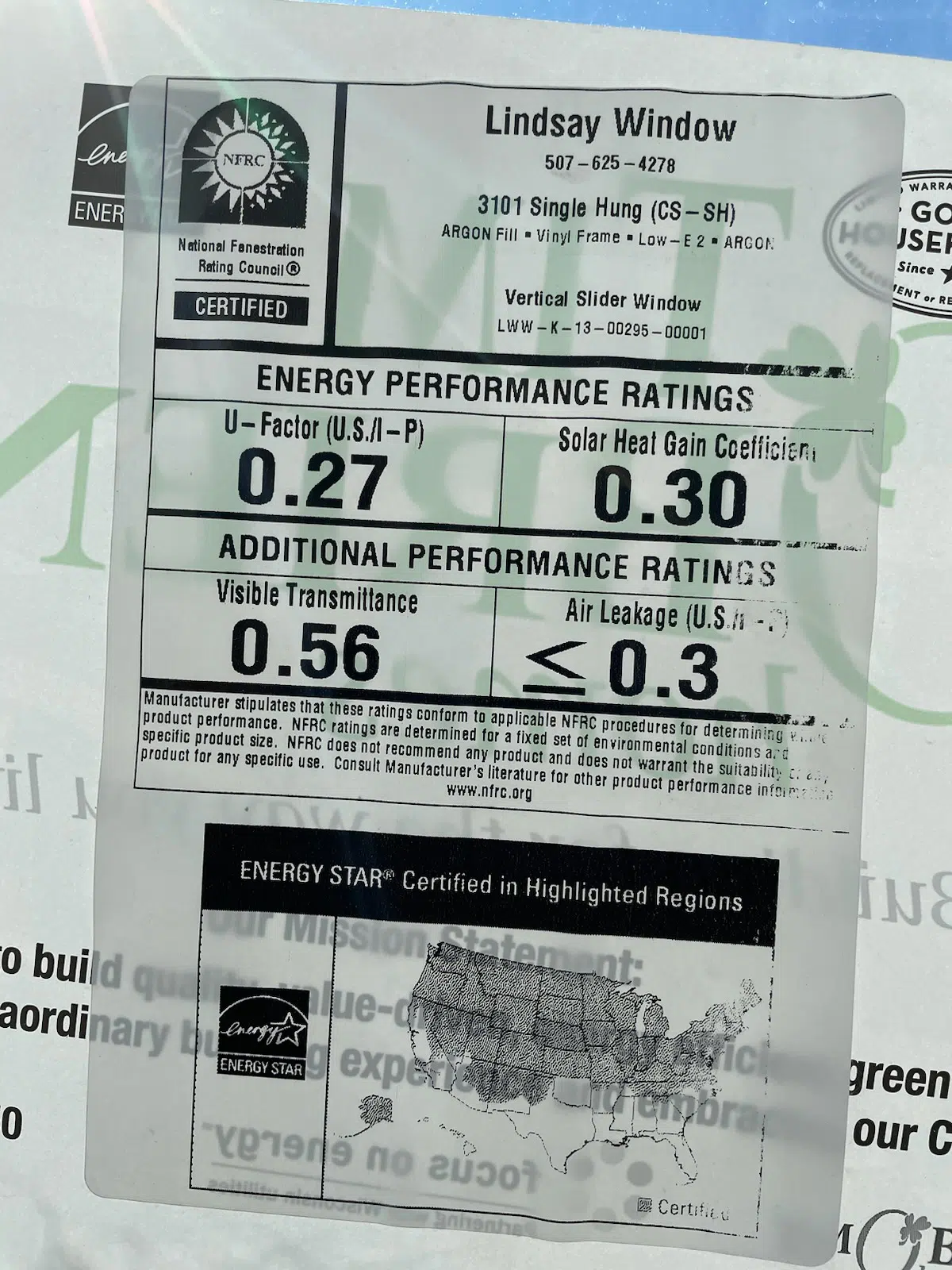 Tyvek HomeWrap, which keeps air and water out while letting water vapor escape, is professionally applied by certified installers. All trades that work on Tim O'Brien Homes —framers, siding installers, window and door installers, roofers and exterior trim installers —are required to have this certification.)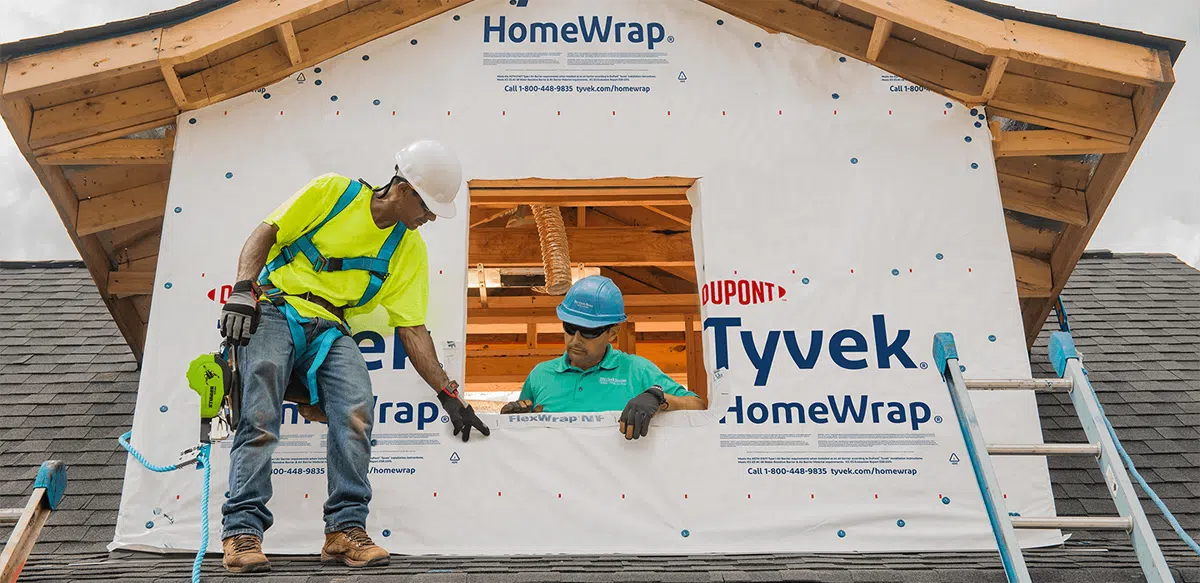 The final stage of construction is perhaps the most critical component in green building: testing and certification. "Other builders only sample test their homes," says Tim O'Brien. "Each and every one of our homes is tested and certified by a third-party, certified professional because we believe that every home is unique and should receive an individual test."
Homeowners receive a Green Built Home certification report that shows the home's energy savings, as well as a Wisconsin Focus on Energy New Homes Certification Plaque. "It's the icing on the cake," O'Brien adds.
Feb 26, 2023 8:53:00 AM · 4 min read
---

Award-winning content writer and editor specializing in residential building and energy-efficient homes.