Free Ebook Download: Innovation Leads to High-Performance Building Solutions
This free Ebook covers the important systems and products that are designed to manage the building envelope, insulation, and indoor air quality. Here's some of the most advanced of these building science concepts being used in new homes today.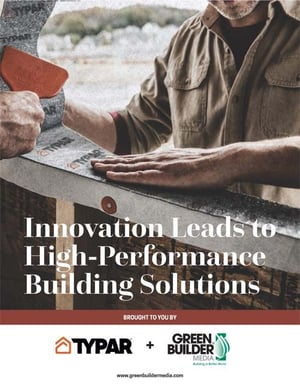 This ebook provides information on:
Envelope Solutions

--How do you reduce energy loss inside a home? What is the role of building products and smart practices in mitigating moisture problems in high-performance homes? What are the best new building wrap and insulation systems?

Continuous and Attic Insulation

--What are the advantages of continuous versus cavity insulation? How do you resolve issues with insulation around windows and hard-to-insulate attics?

Indoor Air Quality

--What is the new guidance on ventilation systems, measuring indoor air quality, and the role of low-emitting materials and particulate pollutants in homes?
Fill out the form on this page to download your free copy.
Your information will be shared with the Ebook sponsor and you may receive occasional emails on building science from Green Builder Media from which you are free to opt out at any time.