Housewrap: What's the Difference?

Matt Power, Editor-In-Chief
8 min read
It's a connundrum: How do you prevent water from entering a building, while also allowing any moisture that does make its way in to escape? This is the formidable task given to housewraps, and increasingly to roof underlayments. Housewrap, a common type of weather-resistive barrier (WRB), is installed between the cladding layer and the sheathing, while roofing underlayments go directly under shingles or other roofing material, forming a second line of defense against the elements.
Housewraps: Effective Air Barriers? Although a housewrap's main job is to resist moisture and release water vapor (i.e., "breathe"), its role as an air barrier is becoming more important, thanks to stricter codes. The 2012 IECC raises air leakage standards for new residential construction, by requiring both blower door and visual inspection tests. A 2000 "cradle-to-grave" analysis by Franklin and Associates estimates that correctly installed housewraps can reduce the energy needed to heat and cool infiltrated air by 10 to 50 percent, yielding an annual energy savings of between 12 and 60.2 million Btu for a typical home. Taking into account the embodied energy of the product, this amounts to an estimated energy payback of between seven and 54 days. Though the air permeability of housewraps varies from product to product, non-perforated housewraps generally resist air penetration better than perforated versions.
In the past, tar paper, now called felt, was the go-to product for roofs and walls, and in fact, many builders still swear by it. Felt has undergone an evolution over the decades. The product originally consisted of fabric or paper impregnated with tar, and used to be much heavier. So-called 15# felt actually weighed 15 pounds per 100 square feet; today's #15 felt weighs significantly less. Felt is highly water resistant, but it's heavy and prone to tearing. It traditionally comes in three-foot-wide rolls, making installation somewhat labor-intensive. For walls, some builders prefer building paper—kraft paper saturated with asphalt—especially for stucco applications.
WALL DEFENSE
While felt and building papers still have their adherents, synthetic housewraps offer some hard-to-resist advantages. They're lightweight, durable and come in large-width (usually nine-foot) rolls, making them quick and easy to install. Some of these products are made from a weave of synthetic polypropylene; some include "micro-perforations" which allow moisture to escape. Other companies eschew the woven fabric in favor of spun fibers that are bonded together. Paradoxically, this water-resistant "fabric" contains many tiny holes that allow water vapor to escape. Tyvek, which has almost become a generic term for housewrap, is a good example of this second type.
Today, there are more products than ever, including drainable housewraps, liquid-applied housewraps and "peel-and-stick" housewraps, which eliminate the need for fastening and taping. Companies are likely to tout their products' air-sealing benefits along with their moisture resistance and breathability, though achieving an air seal with a WRB requires sealing the "laps" and places where the wrap terminates, such as bottom plates. More stringent energy codes are driving some of these innovations; in addition, the use of rigid foam exterior insulation has sparked competition for insulated housewraps.
SYNTHETICS RISING
Although roofing felt—made from asphalt-impregnated cellulose fibers—is still the industry standard for the second line of defense under the primary roofing material, more companies are offering alternatives, typically made from thermoplastic polyolefin, that are lighter and more tear resistant.
In the end, good installation counts as much as choosing the right product: making sure the product is shingled properly, with adequate overlap; creating the right flashing details around openings; including an air gap when necessary; and making sure the product isn't exposed to the elements for too long before covering it with the cladding.


---
HOUSEWRAPS
Henry Blueskin VP
BlueskinVP 100 is a peel-and-stick, tri-laminate polypropylene wrap that was introduced to the market in 2010. It can be applied to plywood, OSB, wood, concrete block, steel, aluminum and galvanized metal. Because it requires no fasteners, it greatly reduces the number of penetrations through which air and water can potentially flow. Henry's outside research claims the product reduces energy use by 23 to 50 percent. However, it also states its limitations: the membrane must be rolled after application to ensure adhesion to substrate and laps, and it may not stick well in colder temperatures (below 40 degrees). It's also not designed for permanent exposure beyond 150 days. www.henry.com
---

Fortifiber Polymeric Housewraps
Fortifiber offers two grades of housewraps, one for residential, the other for commercial-grade applications. Both are made with a polymeric weather-resistive barrier, utilizing a high-strength nonwoven substrate and a monolithic non-perforated coating of smart polymers. The chart above gives specifics about the differences between the two high-tech products. www.fortifiber.com/housewrap.html
---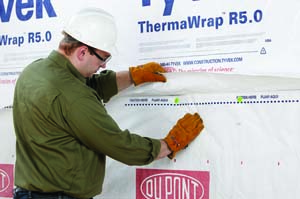 DuPont Tyvek ThermaWrap R5.0
DuPont Tyvek ThermaWrap R5.0 Launched in November 2013, the newest product in DuPont's Tyvek line is an insulated housewrap made with 20 percent pre-consumer recycled polymers, including polyolefin. It adds R-5 to the building's insulation envelope and reduces thermal bridging. Non-insulated six-inch flaps at the start and bottom of each roll allow vertical and horizontal seams to be installed shingle-style, reducing the potential for bulk water infiltration into the wall assembly. This is a clear advantage over rigid exterior insulation products. Tyvek is a continuous non-woven, non-perforated sheet made by spinning extremely fine continuous high-density polyethylene (HDPE) fibers, which are fused together to form a strong uniform web. The fibrous structure is engineered to create millions of extremely small pores that resist bulk water and air penetration, while allowing moisture vapor to pass through. www.dupont.com
---
Tamlyn TamlynWrap Drainable Housewrap
There are a number of "drainable" housewraps out there now, including Benjamin Obdyke's HydroGap and Pactiv's GreenGuard RainDrop. This newest offering from Tamlyn claims that it removes at least 100 times more bulk water from a wall, compared to standard housewraps. Spacers measuring 1.5 mm are bonded to the material, creating a drainage gap throughout. It can be installed in any direction. TamlynWrap has a 96 percent drainage efficiency (as tested independently by Architectural Testing). It comes with a 10- or 15-year-limited warranty and a UV rating of 120 days. www.tamlyn.com
---
Owens Corning TruWRAP
This translucent woven polyolefin fabric allows installers to see the framing underneath. The company claims TruWRAP reduces air infiltration through exterior walls; it also contains micro-perforations that permit trapped moisture to escape from the wall to the exterior. It can be left uncovered for up to 270 days before any siding is installed. TruWRAP meets the requirements of a weather-resistant barrier and a Grade D building paper. It boasts excellent tensile strength and tear resistance, to help withstand installation and wind-driven loads. Rolls comes in a number of widths, from three to 10 feet. www.owenscorning.com
---
Kimberly-Clark BLOCK-IT
Hot off the press, this cloth-like, non-woven WRB uses in-house technology to create a breathable barrier. BLOCK-IT features a unique patterned surface that channels any liquid that reaches the side of the home to the ground. The product meets industry standard tests, as reflected in ICC-ES Report #3641, and also passes the optional ASTM E2273 Drainage Test. It is currently available at Menards, and will be at additional retailers and distributors later in the year. www.kimberly-clarkbuildingmaterials.com
Testing, Testing
Manufacturers often make claims about their products meeting the standards of this test or that. You will probably encounter at least one of these test names once you start comparing housewraps. Just remember, these tests are performed on small samples, not on real buildings out in the field.
Durability. Housewraps are tested on three components:
ASTM D5034 and ASTM D882: These Grab Tests measure a material's strength, or resistance to tearing. A piece of the material is placed into a machine, which measures the force required to literally tear it apart.
AC38 Section 3.3.4: Also known as the Cold Mandrel Bend Test, this ensures the material won't crack at low temperatures.
UV Exposure: Manufacturers often state the maximum period of time a material can be exposed to sunlight before its performance is compromised.
Water Resistance. Three separate tests measure a housewrap's water resistance:
ASTM D779: In this, known as the Boat Test, the tester forms the material into a pocket and places it in a bowl of water. To pass, water cannot pass into the "boat" for at least 10 minutes.
CCMC 07102: In the more stringent Pond Test, an inch of water is placed inside a bowl made of housewrap material. To meet the standard, the bowl must hold the water for at least two hours.
AATCC Test Method 127: In this most rigorous test of all, a piece of housewrap material is affixed to the base of a 20-inch column of water. The exerted pressure simulates the force of driving wind. To meet the standard, the material must resist water passage for at least five hours.
Permeability.
ASTM E96: This test measures how much water vapor will pass through a substance in a 24-hour period. To meet the standard, housewrap must rate at 5 perms or higher. The higher the number, the more permeable the material.
Drainage, Air Permeability and Fire Rating tests are optional.
Roofing Products and Underlayments
MFM Building Products Peel & Seal
This all-in-one product is appropriate for low-slope roofs and other surfaces that require waterproofing. Peel & Seal is an exclusive laminate comprised of reflective aluminum foil, rugged, cross-linked polymer films and a thick layer of rubberized asphalt. The asphalt compound adheres to most surfaces and seals around most punctures, forming a protective waterproof barrier. It requires no tapes or glues. A high-quality release liner is applied to protect the adhesive surface until installation. The product comes with a 10-year warranty. www.mfmbp.com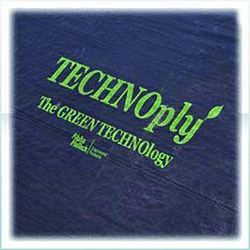 Alpha ProTech TECHNOply
This underlayment is made from 100 percent woven polypropylene and contains post-industrial recycled materials. TECHNOply is also 100 percent recyclable. It comes with pre-printed nailing pattern and overlap lines, and a proprietary walking surface. The company claims the product is 2.5 times lighter than #15 felt, and 25 times stronger. TECHNOply comes with a 25-year warranty, is Class A fire rated and is UV resistant for up to six months. www.alphaprotech.com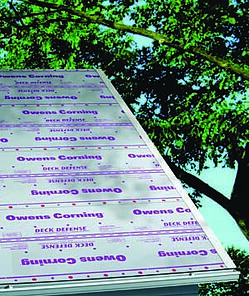 Owens Corning Deck Defense High Performance Roof Underlayment
This synthetic underlayment, made from 100 percent polyolefin, features a unique bottom surface coating that reduces the chance for tears that cause leaks. It can be left uncovered for up to six months and comes with a 30-year limited warranty. Extra-wide rolls cover approximately five times more than standard felt rolls. Preprinted nailing patterns and overlap lines help speed installation. www.owenscorning.com
InterWrap Roofing Products Titanium UDL
The Titanium UDL series includes synthetic felt replacements for use under metal tiles, slates, shakes and asphalt shingles, clay and concrete tiles and more. Its gray coloring allows for a cooler roof and up to six months' UV exposure. The company claims the UDL-25 is eight times lighter and 20 times stronger than #30 felt; it also features a ridged walking surface and slip-resistant coating. The product comes with a 30-year limited warranty, meets the Class 4 Hail Rating and contributes to LEED points. Titanium UDL contains a certified minimum of 20 percent reclaimed content and is 100 percent recyclable. Included in the series is Titanium PSU-30, a peel-and-stick coated woven synthetic roofing underlayment for sloped roofs. www.interwrap.com
Self-Adhesive Flashing Self-adhesive flashing makes waterproofing around windows and other openings a cinch, and it offers several advantages over mechanical or metal flashing. Made of rubberized asphalt, this flexible tape conforms to shapes and is easy to use around curves—arched windows, for example. When properly applied, it creates a waterproof seal around the entire window, and because it's self-sealing, it doesn't require staples or other penetrations. On the con side, it doesn't stick well in less-than-ideal conditions: if the substrate is dirty or moist, or in cold temperatures. It also likes to stick to itself, meaning the installer must remove the backing with care. While self-adhesive flashing works very well on windows with nailing flanges, it's not suitable for windows without them. It's also expensive compared to mechanical flashing and requires rolling, which equates to more labor. Finally, it adds yet another petroleum-based product to our buildings. Metal flashing, on the other hand, can be made of recycled materials and is itself recyclable.
Jun 9, 2014 8:46:00 PM · 8 min read
---

Veteran journalist Matt Power has reported on innovation and sustainability in housing for nearly three decades. An award-winning writer, editor, and filmmaker, he has a long history of asking hard questions and adding depth and context as he unfolds complex issues.